Best Hex Wrench: Hex key sets are mostly used to screw or unscrew the Allen screws. This basic tool has been in our industry for more than one hundred years, making them one of the first instruments that our ancestors used. The reason for using these kinds of screws is the strength they have compared to other screws. As they are made of intensive metal, their breaking chance is near to zero.

With this article, you will learn how to choose the best wrench for your screws and the different features that any kind of tool has and the variety of products that exist under this category.
Hex key set contains all the different sizes of screws that a customer need. But the general issue to care about are going to be mentioned in the following article. Considering the factors in this article will consequently have the output of the best tool to use and buy.
---
What Things Should Be Focused on When Buying Best Hex Wrench
There are some aspects of tools you need to focus on when you want to buy Allen wrenches. Some of the features to concentrate on are as follows: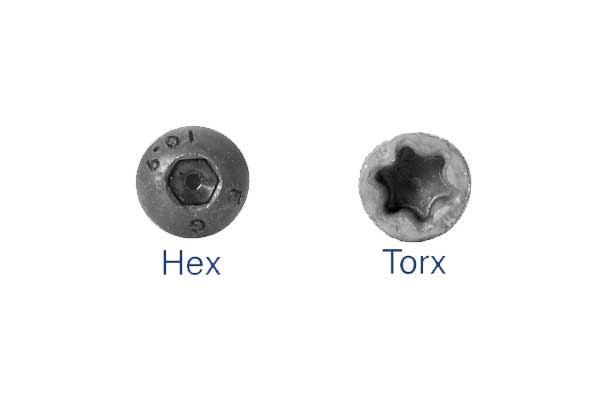 ✅ Handle: The handle of the tools plays an important role in operation. If the handle is made of high-quality materials, the tool would work as well as possible, but on the other hand, if the handle is not in a proper position, so the function is affected and the tool would not work properly. The next factor is the if the handle foldable or not. If you need to have more space according to your tools' storage, you need to choose the foldable handle.
✅ Material: Tools are instruments that are mostly used under pressure. Screwing or unscrewing needs force and this will lead to the breaking of the product, if they're not made of high-quality materials.
The body of the Allen wrench needs to be strong enough to stay stable under that amount of pressure and force that is made by the users. So, this factor seems to be a bit more important than the other options. In this category, the best type of material could be Chrome Vanadium steel, which is very hard and it has a bit more durability rather than the other materials that are used in different tools.
✅ Length of the Tool: Any tool has different lengths; due to the duty they need to do. If you need to work in places that the unreachable, or very tight that the user's hand could not move in any direction, the length of the tool might help a lot. But you need to adjust your job to the duty of the tool you need to choose. But most of the Best Hex Wrenches are not longer than 4 inches (10cm). So, if you need to have a tool that is longer than this amount, you would require to use an extra tool to lengthen your Best Hex Wrench.
✅ Storage: If you have enough space or your tool box is spacious enough, so you could simply choose the one that is not foldable, as they are a bit stronger than the other type of Best Hex Wrench. But if you have the problem of storage or space, so you have to go for foldable tool, which need less space compared to the first type.
✅ Hex/Torque Allen Wrench: There are two different types of Allen screws: Torque and Hex.
The torque type is like a star and could only work on this kind. While the other one is the Hex screw that has a hexagonal shape and it looks like a square. The difference is one in shape, not only they have no difference in strength, but also, they are both with the highest durability and the highest strengths.
Different Types of Best Hex Wrench:
Generally, Best Hex Wrenches are in two types; the hex type and torque type. The hex type looks like a hexagon and the keys to open them have the same shape as the screws themselves. While torque type is similar to a star as it has six angels, so the keys for this kind of screw looks like a star. Different companies have made products and tools that help the customers to screw or unscrew the hex and torque type of Best Hex Wrench, but here we are going to discuss about the most famous ones.
Ronix RH-2020 Folding Hex Key Set and RH-2021 Folding Torque Key:
The Ronix RH-2020 Hex Key Set is one of the most flexible hex key sets in tools industry. This key set contains 8 different kinds of sizes to fit in 8 different types of Best Hex Wrenches. This hex key set is foldable which makes it much easier for the users to get use of and the rubber handle makes this hex key set easy to use and convenient.
The quality of this product is one of the highest materials that are used in industry making this type of hex keys proper for the professionals to get use of.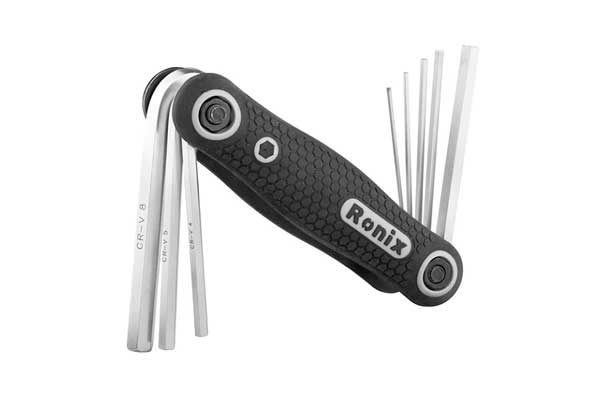 This tool provides the customers with the highest quality as you press it a lot will not make any problems for the tool. What this type of product suggests the users is the folding option that would make this product very convenient and usable.
There are two products that are somewhat the same; Ronix RH-2020 and RH-2021. The similarities and differences between these two products are as follows:
🟢 RH-2020 is hex-like; it means it can open the hex screws that are made with six sides. While the RH-2021 is star-like, making it possible to open the star screws.
🟢 The similarity between these two tools is that both have handles that are made out of rubber, making it impossible for the hand to slip while operation.
If you are in need of hex key set, these two tools might be one of the first products to consider about are these two.
Ronix RH-2040 Folding Hex Key Set:
Ronix RH-2040 Folding Hex Key Set is another product that has been manufactured under this category. The body of this product is made out of Aluminum and the reason for this is to make this wrench much lighter than the other types of Best Hex Wrench.
This tool includes seven different sizes of Best Hex Wrench making it easier for the customers to get advantage of such product. The sizes are 1.5,2,2.5,3,4,5, and 6 mm. As the name shows, this type of tool has foldable hex key wrench that is useful for the tool storages that are low in space and they are not spacious enough.
This kind of Hex Key Set appear to be useful for the customers who try to get the most out of their tools as this tool provides the customers with the best materials and gives the consumers the open hand to work in any condition under any situation with no problems of materials or functional issues. As this type is hex like, so they're best choice for the people who like to work with the best tools and materials.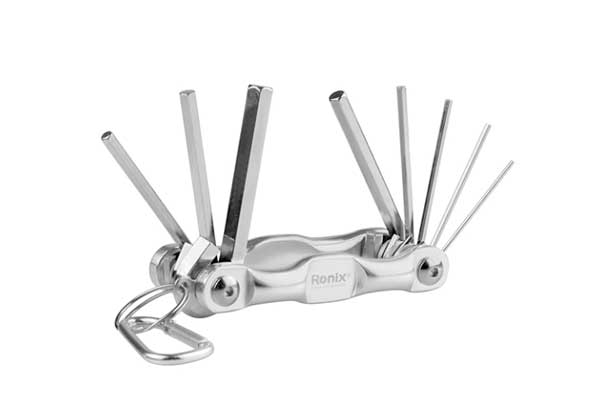 Ronix RH-2041 Aluminum Folding Torques Key Set
Ronix RH-2041 Aluminum Folding Torques Key Sets is the next tool that is very convenient to use and it has a lot of benefits compared to the other companies' products, which we are planning on explaining in this article fully.
Talking about the material of the body of this product, we have to mention that this product is made out of aluminum to let the customers and users feel the lightness and convenience all in just one tool.
This product is provided with 8 different sizes of torque-shaped keys and the sizes of the keys are T9, T10, T15, T20, T25, T27, T30 and T40; It means that all of the desired sizes for any kind of job exists in this single product. The handle of this tools is foldable and it suggests the right angle for maximum leverage, which gives the user the feeling that the he/she is using a screwdriver rather than a Best Hex Wrench.
This product, which is made by Ronix, is useful for opening any kind of torques screws and it could be used for any device like cellphones, MP3 players and any device that has included torques screws. The material that has been used in this product is from the highest quality giving it higher durability and strength.
This product is mainly designed to be used by any kind of user, from professionals to home users. This is manufactured and made by Ronix with the most up-to-dated technologies.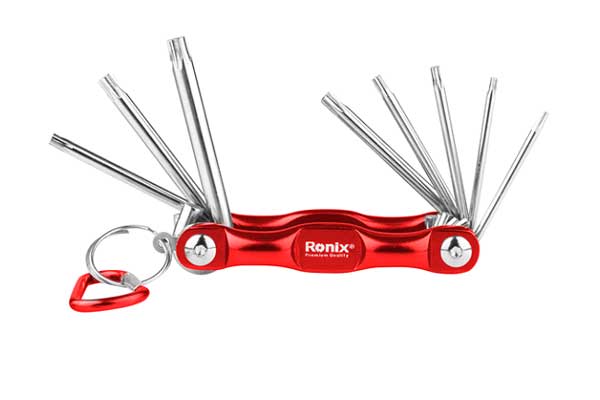 Stanley STHT71839 Folding Hex Key Set
This product is made by Stanley and it could be used for normal and not professional uses. This tool offers a lower price rather than the other products, but this lower cost results in a bit less quality.
The sizes that this tool provides the users with are: 1.5, 2, 2.5, 3, 4, 5, 6, and 8mm. Stanley Folding Hex Key Set uses a foldable handle, just like the other types of Best Hex Wrenches. Unfortunately, this product could not cover all the duties you need a tool to do for your jobs. But as the handles is foldable and adjustable, you could simply adjust the angel you want to work with the tool in any direction. For instance, if a place is unreachable or you need to semi-open the handle, the only thing needed is to just adjust the handle and then start operation and working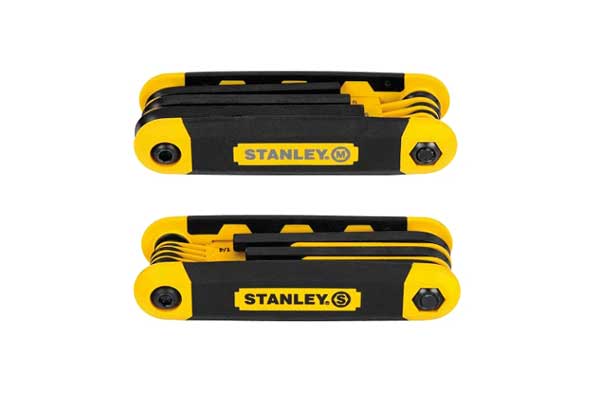 Why do Chinese tool shops recommend this rotary hammer? Because unlike many best-selling rotary hammers with three operation modes, this Ronix product gives the user the pleasure of using a rotary hammer with four operation modes: drilling (for drilling materials such as wood, stone, etc.), hammering only (for drilling brick, concrete, etc.), chiseling (for chipping rigid materials), and hammering with rotation (to drill through hard workpieces in different angles).
Most well-known rival rotary hammer tools weigh more than 3.3kg; however, this ergonomically designed and lightweight tool weighs only 3.3kg. The gadget is lighter thanks to its die-cast aluminum casing.
This housing provides excellent heat dissipation and is specially intended for long working hours with minimal hand fatigue. The anti-shock auxiliary Ronix-design handle rotates 360°, allowing the operator to move it practically anywhere.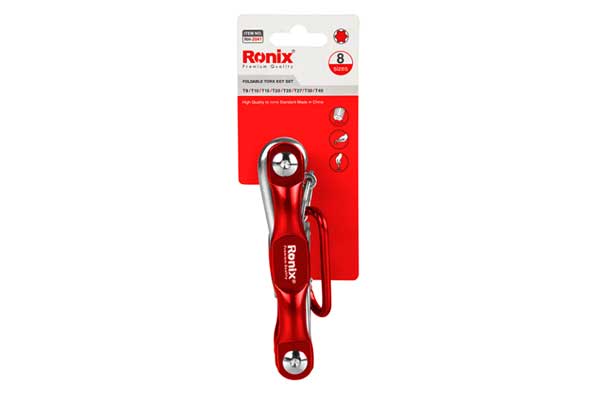 ---
FAQ ❓
Is Ronix providing the customers any other types of Best Hex Wrench rather than folding?
The answer to this question is yes. Our company provides the consumers with different types of Allen wrenches, in different sizes and lengths.

Do Makita have the same products?
Makita covers a wide range of products to fulfill customers' needs. It also has different types of Allen wrenches as well as Ronix.

What are Ronix Allen wrenches made of?
As mentioned in this blog, all of the Ronix products are made of Chrome Vanadium steel, as Ronix has tried to produce products that could be operated in any different situations.

Conclusion 📃
Best Hex Wrench: In this article, we tried to introduce the different products that exist in our company or other companies, giving you the open hand to choose the best tool you need. But, considering the points mentioned above is what you need to care about for a better tool. Caring about the tools, you need to choose the best one according to the duty you want the device to do.