Find the Best Wood Routers You Need in 13 Minutes
If you were a tech-enthusiastic wood carver in the 1900s, and you wanted to buy the most cutting-edge electric carving tool, you needed to bring a big cart to the store, because it could weigh around 5 times more than what you get in 2020s! Surprised? The first Electric Wood Router, produced in 1905, weighed 27kg!
However, no matter how many kilos, or how much big, from when they were invented as heavy as lead to the present-day compact ones, routers are swiftly making new ways in the wood industry. But not all of them offer the same quality!
Just scroll into Amazon, Home Depot, or walk into a tool store, then you can find out how many versions and types are out there. Seeing these all, how can you find the ONE that fulfills your expectations? For finding the Best Wood Router you need to know some technical points about different features of it including its types, accessories and attachments, the best brands, and so on.
I have discussed some of the most important points about the best router for woodworking, follow them if it is your concern too.
For the first step, I will briefly talk about their features overall and then I will get into different types of them, and the most popular kinds.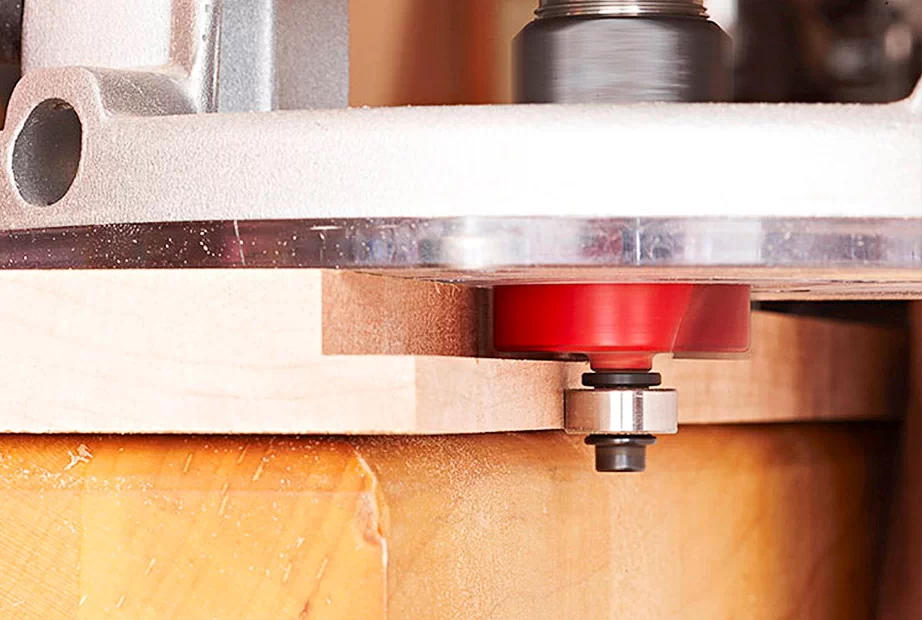 Best Wood Router Overall
Time saved, energy conserved, and you will get the best results in creating decorative patterns, making joints, hollowing out, and wood shaping if you have the best wood routers at hand. They can be both powered with electricity or pneumatic sources, so considering their power type, they should deliver specific traits. I'll share some general points with you first, then I will go into more specific details in the following sections.
Proper Power Range
A router's power is measured in AMPs, and it determines the tool's capability to cut through different types of wood. Higher amp ratings generally mean that the tool can handle more demanding tasks. Look for routers with at least 6 to 10 amps for general woodworking tasks. If you want to know how much should it be for different routers, here is what you need: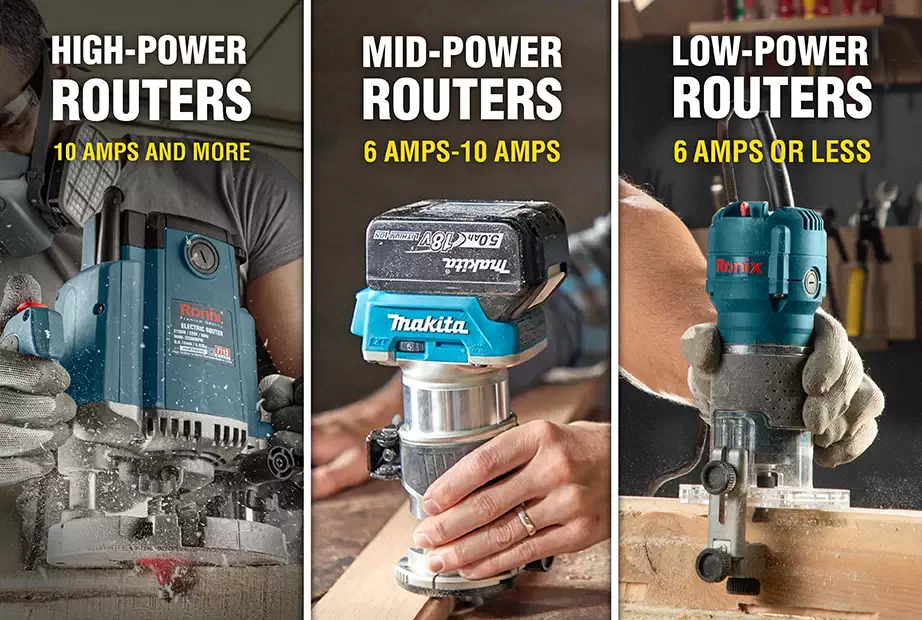 Variable Speed
If you are seeking the best professional wood router, you should never forget about its speed ranges:
Low-End Speed Range: The low end of the speed range for a wood router is typically around 8,000 to 10,000 RPM. This speed range is suitable for cutting soft wood, plastics, and other materials that require a slower speed.
Mid-Range Speed Range: The mid-range of the speed range for a wood router is typically around 10,000 to 20,000 RPM. This speed range is suitable for general woodworking tasks such as edge routing, trimming, and light profiling.
High-End Speed Range: The high end of the speed range for a wood router is typically around 20,000 to 30,000 RPM. This speed range is suitable for harder woods, larger bits, and deep cuts.
You may be working with pine or cedar which are among softwoods, or oak and maple which are denser, or MDF and Plywood. For carving, edging, or grooving, you need to use different ranges of speed. The table will help you see what is the maximum speed for each material: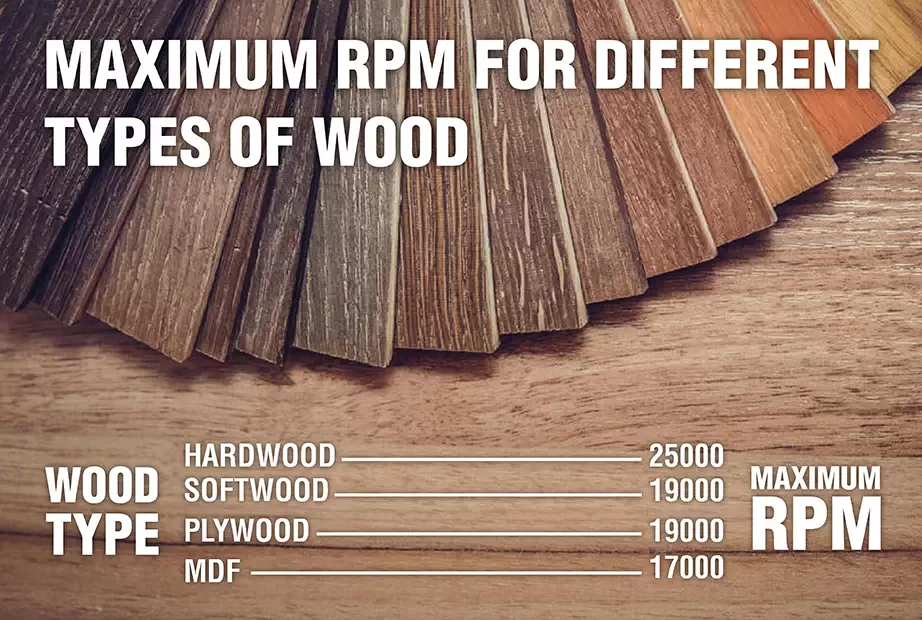 Depth Adjustment
A depth adjustment feature allows you to adjust the depth of the cut, which is important for achieving precise cuts and working with different types of wood. Then, if you want to try different depths you should consider that for shallow cuts, you need a range of 1mm to 3mm for medium cuts 6mm to 13mm, and for deep ones a depth adjustment range of 13mm to 26mm, or more is ideal.
Collet Size
A router's collet is the part that holds the router bit in place. For finding the best routers for woodworking, look for ones with a collet size that fits the type of router bits you plan to use. collets come in two sizes: 13mm and 6mm. The first one is suitable for larger bits such as those used for deep cuts, heavy profiling, and raised panel work. and the second is used for smaller bits such as those used for edge routing, trimming, and light profiling.
Soft Start
A soft start feature gradually increases the speed of the router when you turn it on, which reduces the likelihood of the tool jerking or jumping when it starts up.
Dust Collection
A dust collection system helps to keep your workspace clean and free of sawdust and debris. Look for routers with a dust port that can be connected to a vacuum or dust collection system.
Comfortable Grip and Ergonomics
A comfortable grip and ergonomics are important for reducing fatigue and making the tool easier to handle and control.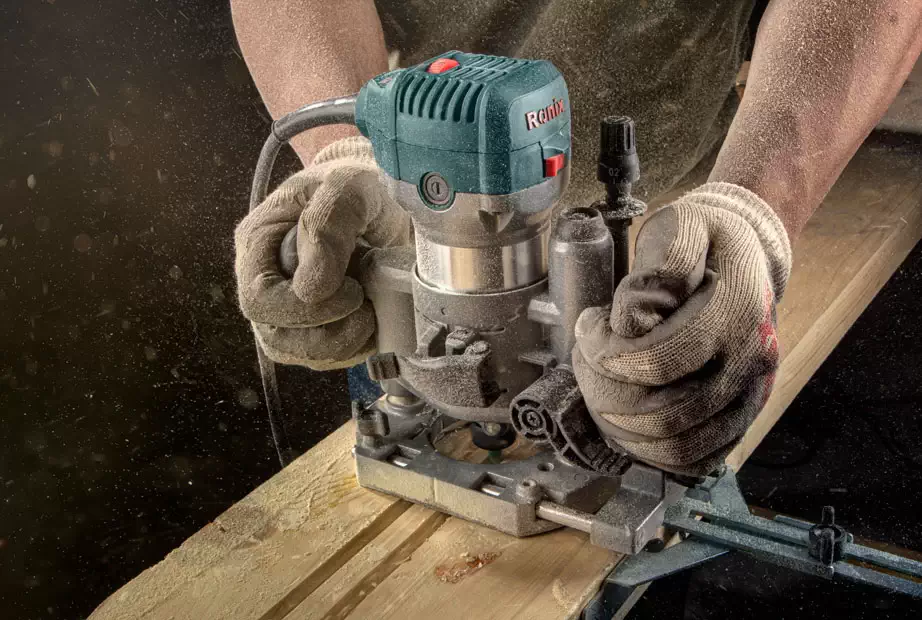 Table Compatibility
If you plan to use your router with a router table, make sure that the router is compatible with the table you plan to use.
Accessories
The best routers for woodworking should be complete regarding the accessories, I mean they should include several attachments such as a parallel guide, guide bar, blades, and spanner.
Now you have a comprehensive image of the features of the best routers for wood. Now let's talk about the types to approach the details more.
Types of Wood Routers
First started with a 40cm high primitive electric one, with no depth adjustment, but developed to include several types with varying qualities. Some have stationary bases, while others are adjustable regarding cutting depth, some have simple structures, and some work with computers even! Fixed base routers (with fixed depths), trim routers (for shaping small sizes of wood), CNC routers (computer-controlled ones), and plunge and palm routers are among the most practical ones. Among them, the last two are so popular that I will go into more detail about them:
The Best Palm Wood Router (Compact Router)
One hand free and you will work as easily as a pie with a palm wood router at hand! That seems great because it will make jobs so cool, especially when you want to work in tight places or on delicate pieces. But don't rush if you want to have one. They are helpful and handy only when they deliver specific features.
The first one that makes it the best wood router is its power range, as I mentioned before. For such a small router, you need at least 6 amps. While their speed should range from 10,000 to 25,000 RPM. Then a 6mm collet would be the most common size for it because of the need for smaller bits. For depth adjustment, all you need is to choose a micro-adjustment, even for greater precisions. Last, but not least, the ease of use is a leading factor for palm types, because they are meant to be ergonomic and compact, otherwise they will lose their main functionality.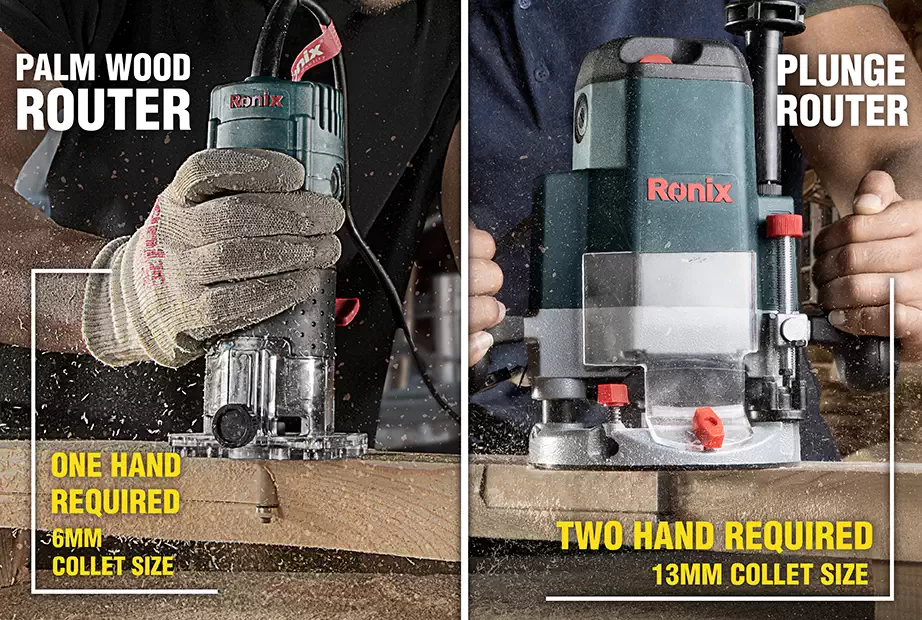 The Best Plunge Router
For this type, you need both hands and great concentration, because it is bigger and more complex. With their plunge plates, they make work in different depths possible, so they are meant to be more versatile than other types.
Regarding their structure, the best one is the one with a smooth and easy-to-operate plunge system equipped with a plunge lock lever. It helps controlled and accurate cuts and raises stability and control.
The second point that will indicate a plunge router is high quality is its base. It should be sturdy and easy to adjust. Look for a plunge router with a fixed or adjustable base, depending on your specific needs.
The speed range and collet size are the other important factors that I will mention in the table below:
Speed Range: 10,000 to 25,000 RPM
Collet Size: 13mm
Best Cordless Wood Router
If you ask me what are the most popular tools, I will say "The Cordless" with no hesitation! Then, when it comes to wood routers they are no exception. You can have one at hand and go far and do your woodcarving jobs in the middle of nowhere, even where there is no rural power available. This cannot be any better.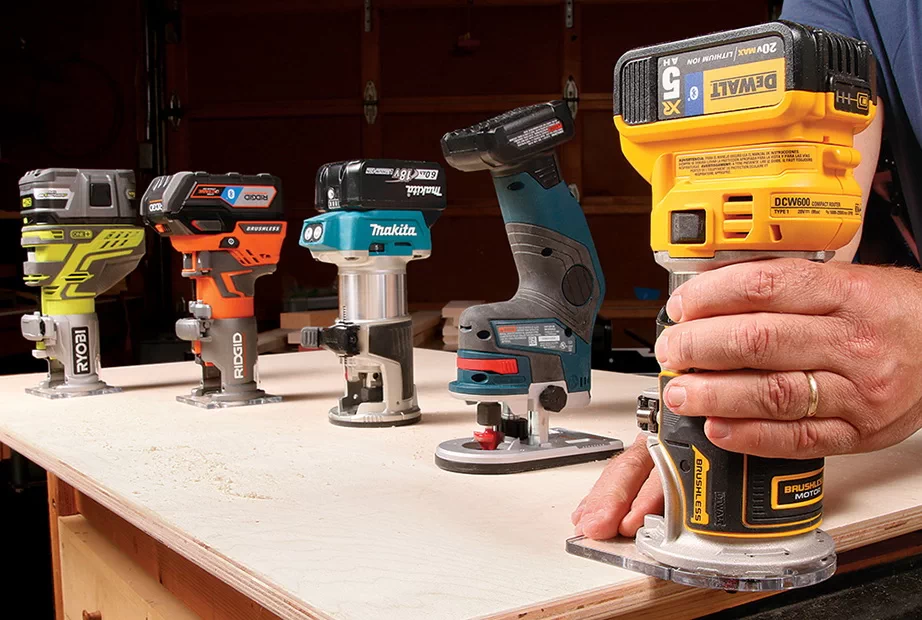 But professionals don't stop here. They seek specific features that make a battery-powered a great assistant for their job. Do you know what are they? Follow me up!
First, consider the batteries. They play the starring role here. They should have long life spans, long run times on a single charge, and high capacity. I recommend ion-lithium batteries with at least 4Ah capacity.
As to motors, the brushless is the ideal match for the cordless. They will add to the tool's efficiency, power, and durability and reduce the noise they produce.
Of course, all the factors I mentioned above are also true about cordless wood routers too. So, consider them when choosing a cordless one as well.
Here, we talked a lot about the technical features that the best router for woodworking should have. But now let's get into a new issue. What should a router offer to a beginner user to fulfill their needs? In the next section, I will talk about it.
The Best Wood Router for Beginners
You left the idea of using a wood router as a junior just because it was so heavy, or difficult to work with? I suggest you think twice and give it another chance! You may have chosen a very complex one, a heavy item, or maybe the one which did not match your type of work, or simply a low-quality one.
But, you may find a better option only by following some guides you bet. Let's see what are:
As a beginner, you need to first pay attention to the user experience they bring. It should definitely be intuitive and easy to communicate. When you are a newcomer in a field, you need the overcome the complexity of the field itself more, so a simple structure tool can help you soon go further in your way. Trim Routers and palm routers are so easy to use and may be good choices for you, but you should notice the following points as well:
Consider the soft start feature. It reduces the torque and allows the motor to gradually build up to speed, which makes it easier to control the tool. It reduces the risk of kickback. So, if you don't have enough skill to control a flying tool, it will help you very much.
Pay Attention to the Depth Stop function. A depth stop feature allows you to set the depth of the cut and make precise adjustments, which is important for achieving accurate results.
Choose One with Clear Baseplate. A clear baseplate allows for better visibility of the workpiece, which is important for accuracy and precision.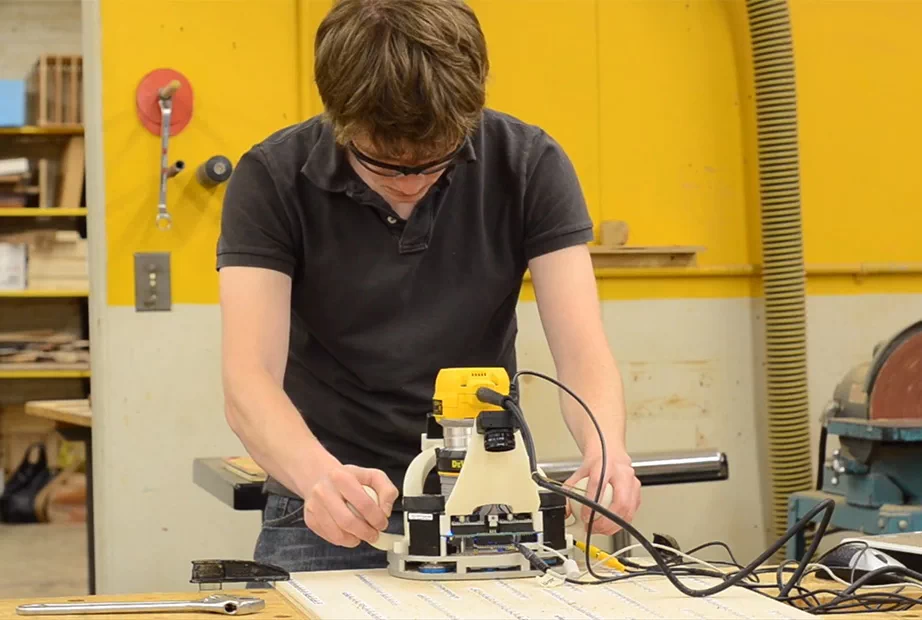 After talking about the best wood routers for beginners, I think we need to speak about some non-technical points, I mean the financial issue and the brand names that offer the best professional wood routers.
Best Wood Router Brand
Best wood router brands are definitely the ones that deliver the most practical and efficient qualities and are offered at fair prices. Based on the entire points discussed in this article I came up with the following list:
DeWalt
DeWalt is a popular brand that is known for its high-quality routers. They offer a range of routers that are designed for both professional and hobbyist use, and they are known for their power and ease of use.
Makita
Makita is a trusted brand that has been around for over 100 years. They offer a range of routers that are known for their durability, power, and precision.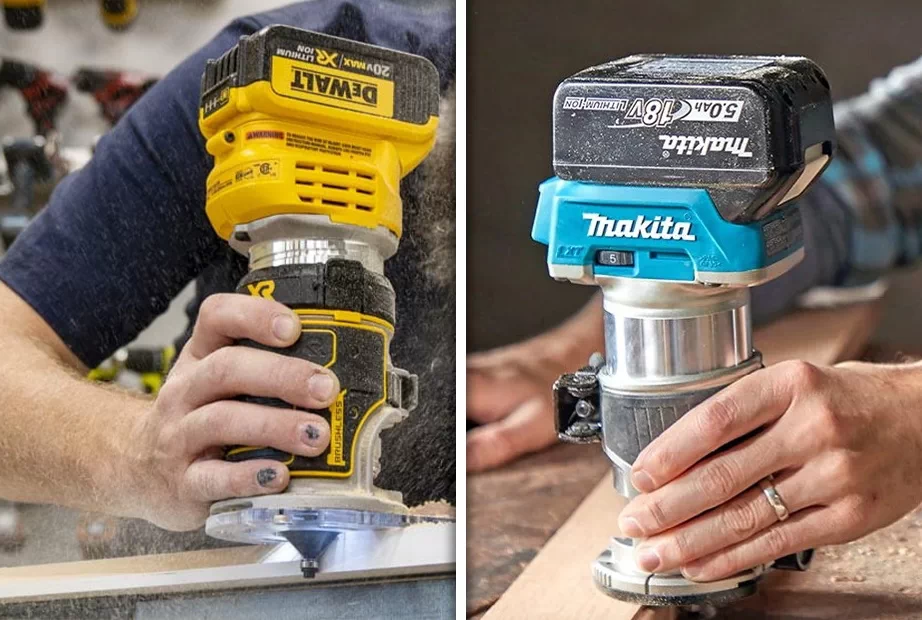 Porter-Cable
Porter-Cable is a well-known brand that offers a range of routers that are known for their power, durability, and ease of use.
Ridgid
Ridgid is a brand that is known for its innovative features. They offer a range of routers that are designed for both professional and beginner use and are known for their precision and ease of use.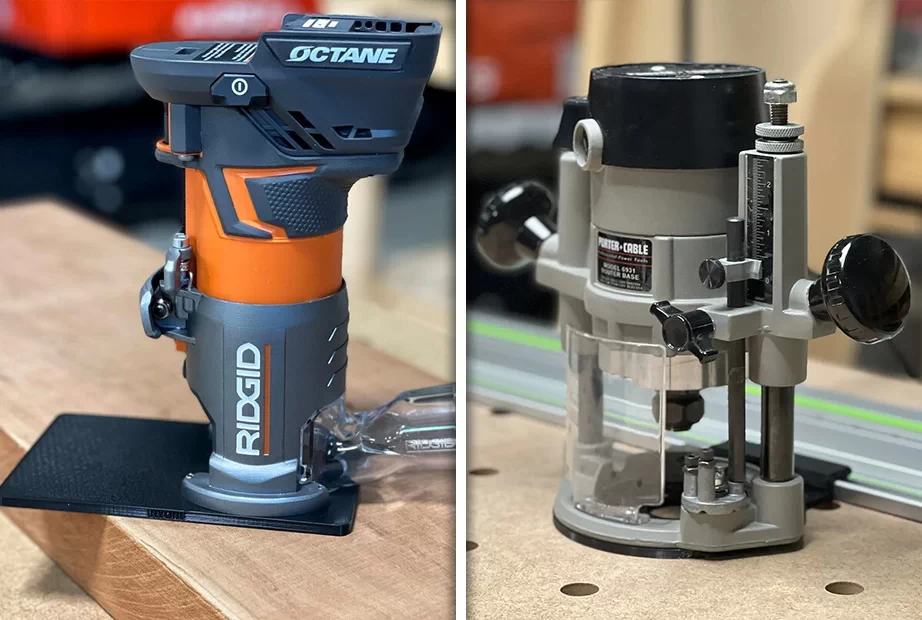 Ronix
Ronix is a brand that produces a wider range of tools, including wood routers. Ronix focuses on offering a complete set of wood routers and trimmers including all their attachments. Ronix provides tools with the best raw materials, produced under the supervision of a professional QC team. Being Precise, ergonomic, and having a wide range of power and speed is what they are known with.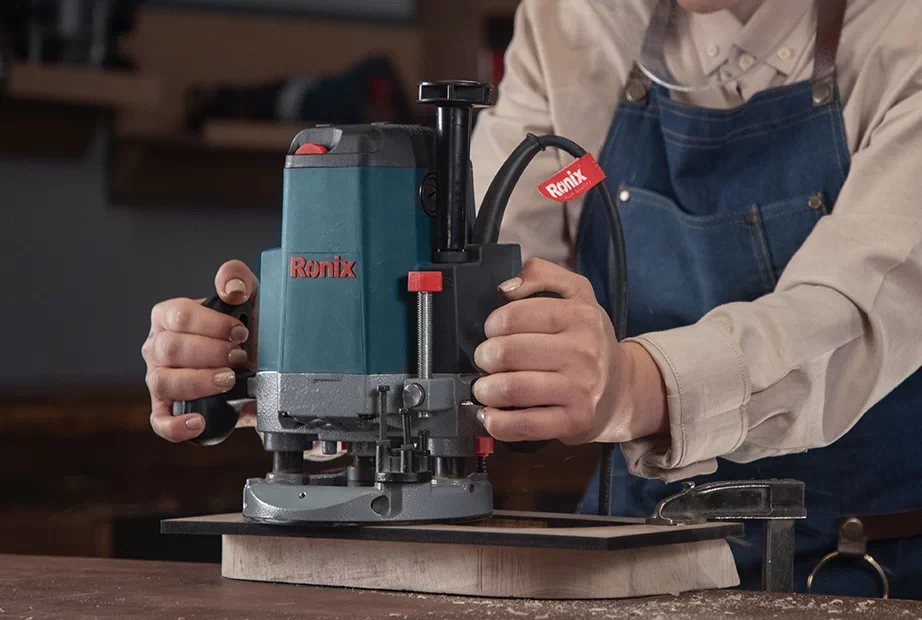 Best Wood Router for The Money
Right! Quality talks louder than anything else, but let's give voice to financial issues too! Every Penny that you spend on a tool is that cannot be spent on something else! So, why not change the rule and buy first-rate tools at reasonable prices? To tackle the issue there are developing brands out there that attempt to bridge the gap between quality and affordability. Ronix Tools is one of them that puts affordable quality as one of its core values.
So, whenever you found it hard to find any ideal tool on an economical budget, you can rely on Ronix.
Best Wood Router, Buying Guide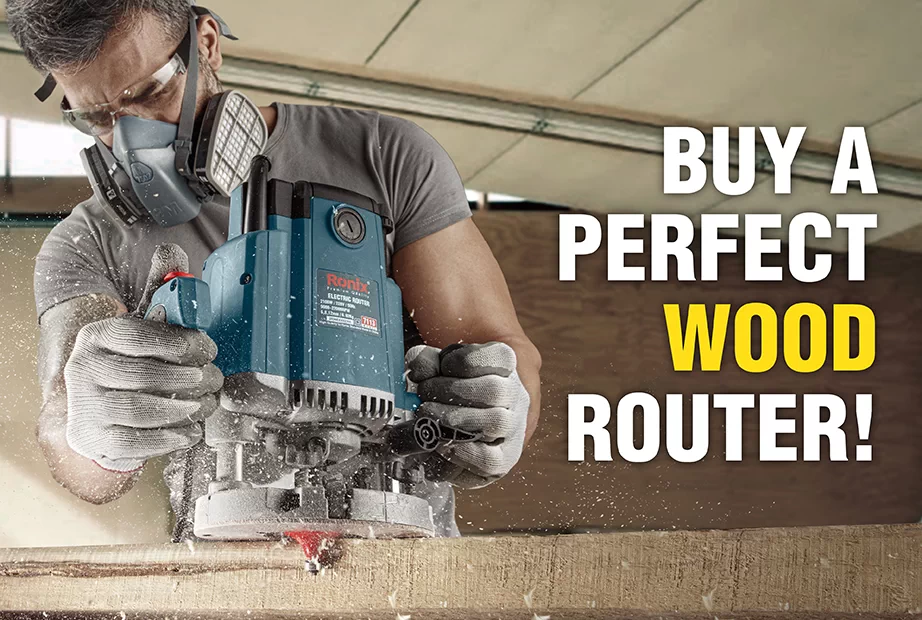 Ok, I am here to write the last words and finish the article here. For wrapping it up, let's circle back to the hints we discussed before to provide a guide for buying the best wood router if you are convinced that you need it for your job. So, to purchase one consider the following traits:
There are many types of routers including fixed base (like palm routers) and plunge base (like plunge routers). Fixed base routers are ideal for edge and pattern work, while plunge base routers are best for deep cuts and grooves. Consider the type of woodworking you'll be doing to determine which router type is best for you.
The higher the power (indicated with Amps), the more powerful the router will be. A more powerful router can handle tougher jobs and cut through harder wood. However, a high-powered router may be too much for smaller projects.
Look for a router with variable speed control. This allows you to adjust the speed of the router to match the type of wood you're working with and the task you're performing.
Don't miss out on collet size. Just find the size that fits the size of your required bits.
The woodworking space is full of chips and dust. So, look for a router with a dust collection system. This will help keep your workspace clean and reduce the amount of dust you inhale.
A reputable brand can ensure you of the quality. so, go for them. Brands like Bosch, DeWalt, Makita, and Ronix are known for producing high-quality routers that are reliable and long-lasting.
Wood routers are offered at a wide range of prices. Consider your budget and the features you need to determine the best router for your needs.
By considering these factors, you'll be able to choose the best wood router for your woodworking needs. So, consider it when visiting the shop or scrolling the online shops.
FAQ❓
What are the essential features to consider when selecting the best wood router for woodworking projects?
The router type, brand, power and speed range, collet size, and the bits it needs are the main factors you should consider when choosing a wood router.
What are the different types of wood routers available and how do they differ in functionality and application?
There are many different types including plunge, palm, trimmer, and CNC wood routers available in the market, which differ mostly in terms of their plate type (fixed or adjustable).