If your hobby or profession involves sewing pieces of Fiberglass, wood and plastic together, staple guns should have a special place in your tool box.
Whether you want to make a frame, install carpets, assemble furniture or secure wires, this gun is a must-have tool: just load it with staples, close the magazine, aim and FIRE!
Regardless of your shooting skills, however, a low-quality or unfit choice of gun will burden you with headaches like misfires, stuck staples, and loose attachments, to name a few.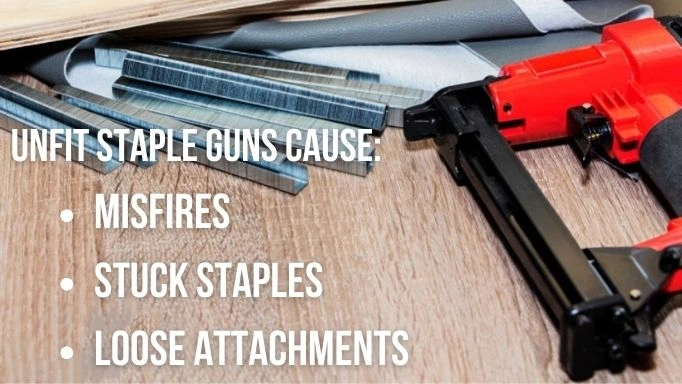 Believe it or not. It is easy to just rush into a purchase but taking some time to learn how to choose the best staple guns for your specific projects, will save you a lot of time and trouble later.
Buying Guide for The Best Staple Gun
Best staple gun is the title not every stapling tool deserves! It needs to be a well-rounded package of different features, tailored for your needs in the task at hand.
To choose a staple gun that is right on the money, you should first learn all about the characteristics that differentiate models and make each the perfect fit for a special task.
Let's explore:
Power Source
The primary factor distinguishing stapling guns is their source of power. These clamping rifles are of three types:
Manual
Electric
Pneumatic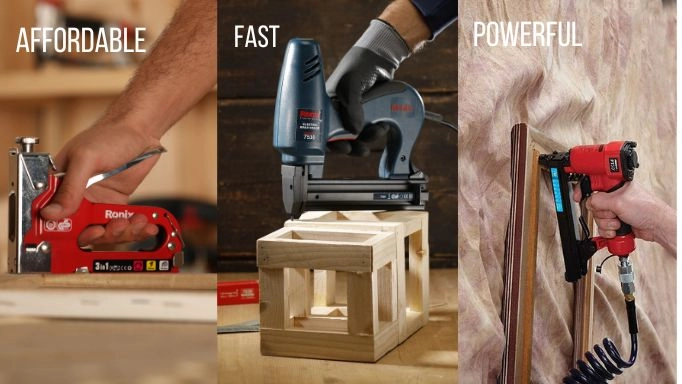 Manual staple guns are conveniently portable and are the most affordable choice among the three. They are the perfect fit for light-duty stapling tasks such as securing loose upholstery. These guns, however, have limited power. So, for more demanding activities like carpentry or carpet installation you'd better go for electric ones. Fed on electric outlets or batteries, these staple guns are faster, more powerful and easier to use.
Last but not least, pneumatic guns are the most powerful and fastest option for users and are therefore the best fit for heavy duty stapling tasks like assembling furniture and cabinets or joining wooden beams.
Among all the types mentioned above, cordless and pneumatic staple guns are the most popular choice for professional users.
Best Cordless Staple Gun
Cordless models are the best electric staple gun for those of you who seek a balance between portability and power and the ones who work where there is no access to electric outlets.
The best cordless staple guns are engineered to deliver a powerful, fast, accurate and convenient operation. To make it happen, the best electric staple gun in this category is equipped with high-capacity rechargeable Li-ion batteries to achieve maximum run-time. It has an ergonomic and lightweight design to protect you from hand fatigue and has a built-in LED work light to increase visibility and accuracy.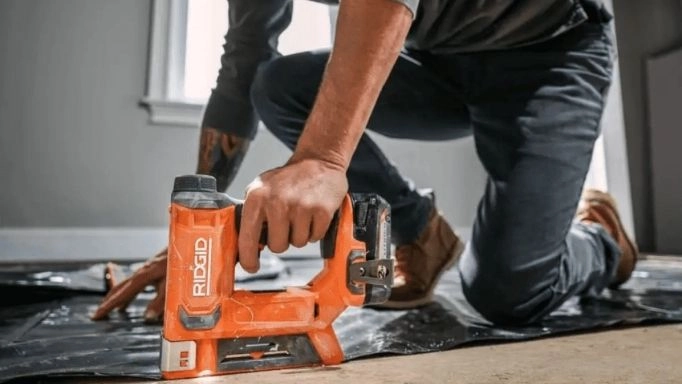 Furthermore, such a best electric staple gun also enjoys anti-jam mechanism that ensures an uninterrupted operation. It offers an ample magazine capacity for making fast attachments and features a rapid staple loading mechanism for a much more efficient operation.
Additionally, it is compatible with various staple sizes and types for added versatility and is equipped with a staple indicator window to let you keep the number of your bullets in check at all times.
Best Pneumatic Staple Gun
Pneumatic models are the best staple guns for those who plan to work on thick and dense material or undertake heavy-duty tasks in construction sites or other industrial job sites.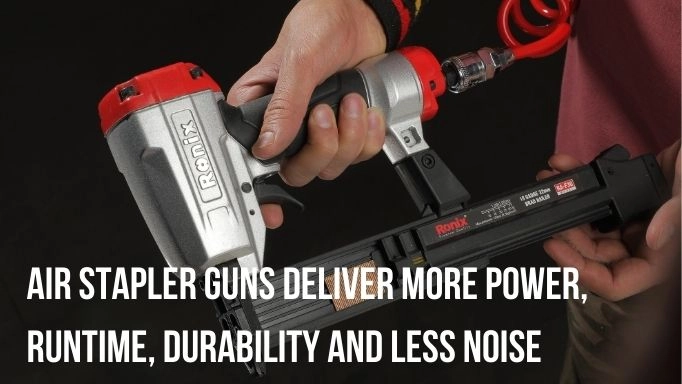 These power tools run on compressed air, therefore provide a more consistent power and runtime compared to their manual and electric counterparts. Additionally, they make less noise and last longer in your toolbox.
What makes a pneumatic staple gun the best in its class is the power, speed, durability and versatility it offers.
If you are looking for the best pneumatic staple gun, look no further than Ronix RA-8016.
As the best staple gun on the market that runs on compressed air, this power tool is exceptionally powerful. With a pressure that can go up to 120PSI, it can drive staples on the wooden surfaces that are up to 12.9mm thick.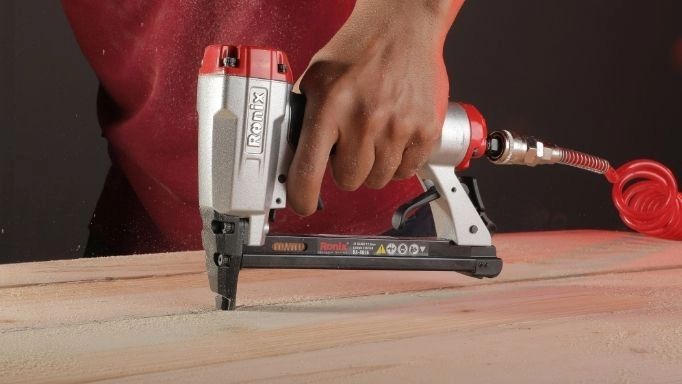 RA-8016 has a magazine of a huge capacity that can take up 140pcs of 6 to16mm in one go. It is also comfortably lightweight (0.91kg) and enjoys an easy-to-open finger latch for an easy access to the magazine.
Material
All stapler guns are mainly made using either metal or plastic. A metal frame makes a gun better suited for heavy duty tasks, while a plastic construction turns it to a good choice for lighter duty operations where portability and affordability are more important than durability.
Compatibility
Staples come in various types, sizes and wire gauges; Based on the material you need to secure, you can make a choice between standard, narrow/wide crown, box, insulated staples that range from 6mm to 55mm in size. Remember that the staples with higher wire gauge are the most suitable choice for heavy-duty stapling while the ones with thinner wire gauge are made for lighter duty tasks.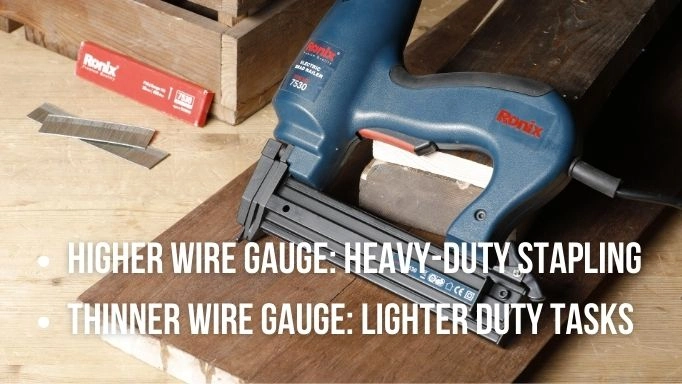 When buying a staple gun, you should choose a model that is compatible with staples that best fit your needs in the project at hand.
Firing mechanism
Firing mechanism is another important factor you need to consider when buying a staple gun.
If control and precision are your priorities, opt for staple guns with a sequential firing mechanism. With this type, you'll need to press the trigger each time you want to fire a staple, which takes more time but provides full control.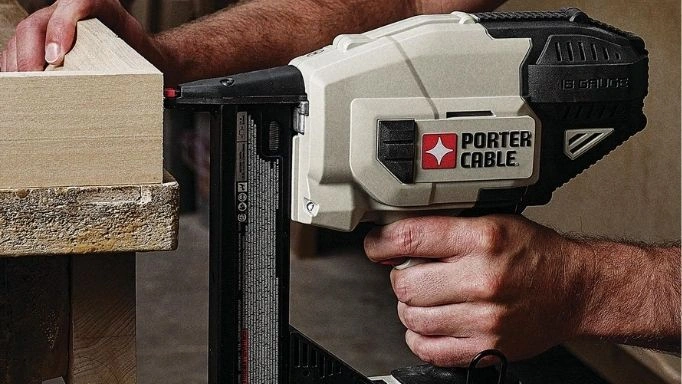 For projects where speed is the primary concern, it's better to choose a tool that operates using a contact or bump firing mechanism. In such guns, you only need to press the trigger, and the staples will fire rapidly back-to-back as long as the tool remains in contact with the target surface.
Best Staple Gun Overall
It's not easy to pin down the best staple gun because different situations and tasks may require different features for an optimal performance.
However, there are some general features that that can make a staple gun a great choice for all users, regardless of their needs and expectations.
Best-of-the best staple gun is made of the best material. It is reliable, safe and efficient.
Here's all the boxes a tool should check to win the best staple guns competition:
Durability
Compatibility with different staple types and sizes
High power
A light body
Ergonomic design
High firing and penetration rate
anti-jam mechanisms
User friendliness and an easy reload process
large magazine capacity
Affordability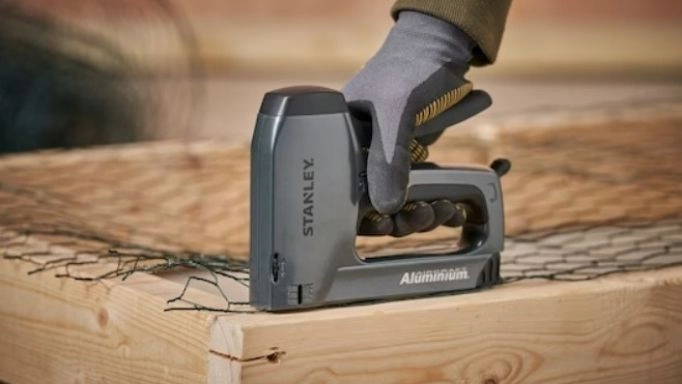 If you are looking for a safe option with all the features mentioned above, the Stanley 0TR250 staple gun can be a great pick.
Best Heavy-Duty Staple Gun
For demanding stapling tasks you'd face in carpentry, cabinet making, roofing and flooring installation, you'd need a staple gun that is above all durable, efficient and safe to use.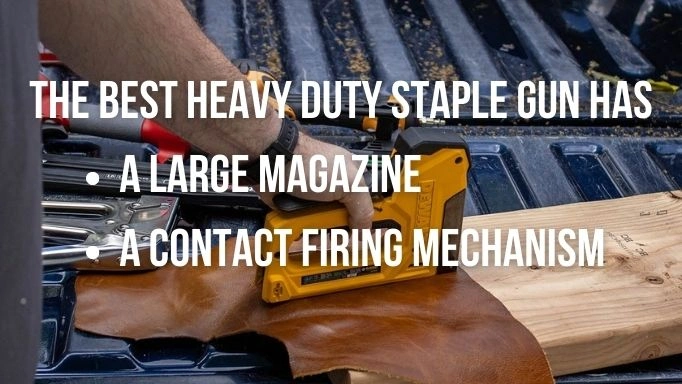 To minimize the downtime and get over with the tasks as soon as possible, this gun should have a large magazine, be compatible with different types and sizes of staples and have a contact firing mechanism.
In addition to all-metal body for utmost durability, the best heavy-duty staple gun comes with all the essential safety features like Contact Safety Mechanism to prevent accidents and an adjustable depth control to avoid over penetration that can damage the workpiece.
Try DeWalt DWHTTR350 heavy-duty aluminum hand stapler/brad nailer and this beast won't disappoint you.
Best Lightweight Staple Gun
If you need a lightweight staple gun for light repairs, crafting projects or picture framing, go for cordless models that promise an added maneuverability.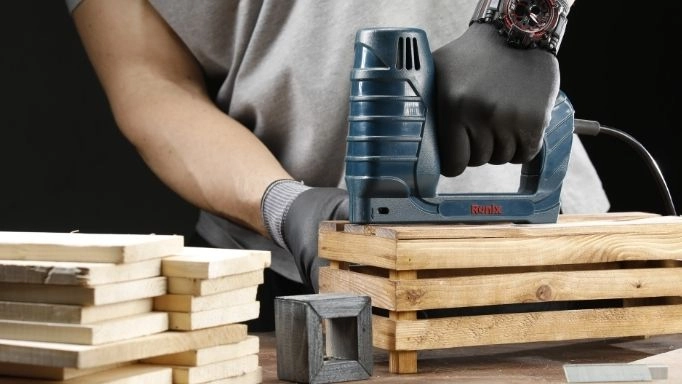 The best lightweight staple gun is the one that maximizes user comfort with features like an ergonomic design and a soft grip to prevent hand fatigue. Such an ideal tool is also compatible with different types and sizes of staples to omit the need for frequent reloading.
Best Staple Gun for Beginners
If you are a starter, you better focus on staple guns that are safe to use and user-friendly.
The best staple guns for a beginner feature:
lightweight body
sequential firing mechanism
contact trip lock
compatibility with a variety of staples
Jam release
Easy to open magazine
Rotating head
Best Staple Gun for Crafts
When it comes to the realm of art and creativity, you'd need a staple gun that is easy to control and can be used for precision work.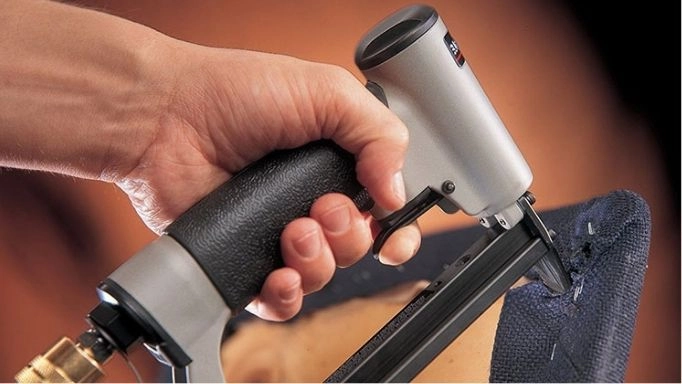 Due to the delicate nature of such tasks, the tool you choose should have a thin and long nose for added accuracy and a thin wire gauge to be compatible with thinner wires and leave a finer finish.
To achieve a clean and professional finish on your artwork, you should go for a tool with anti-marring features. This feature will protect your workpiece from scratches, dents and marks other staple guns usually leave behind.
Best Staple Gun for Upholstery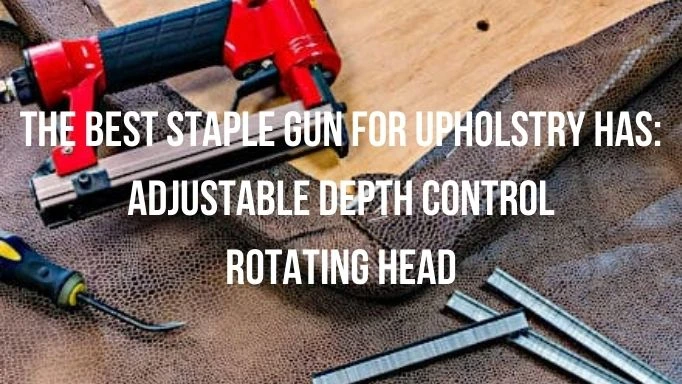 Choosing the right tool is crucial for minimizing challenges when stapling upholstery. To achieve the best results, consider the following factors:
Adjustable Depth Control: Look for a staple gun with adjustable depth control to find the right balance between securing the fabric and avoiding damage.
Rotating Head: An ideal stapling gun for upholstery should have a rotating head to reach tight spots and irregular angles.
Type of Material and Project Scale: Depending on your project's scale and the material you're working with, choose between heavy-duty and light-duty staple guns. However, always prioritize durability and compatibility.
Best Staple Gun for Picture Framing
The Best staple guns for picture framing are manual models that feature:
Compatibility with small staples of various lengths
Adjustable penetration depth
Lightweight and Ergonomic body
For picture framing purposes, you cannot do better than the Ronix RH-4804 gun. It is an all-steel manual gun with adjustable driving force and quick jam release features.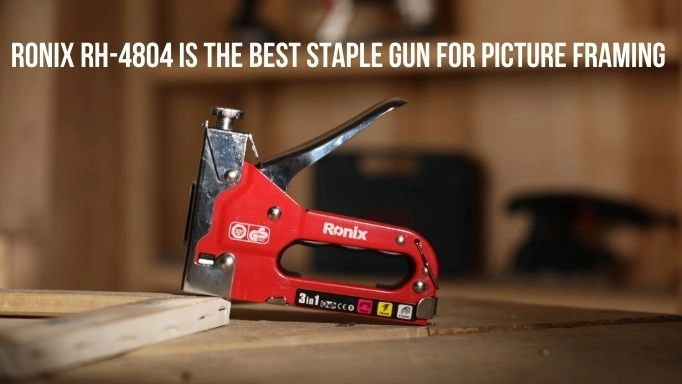 Ideal for plastic, Cardboard, Foam, Softwood and Plywood, this ideal staple gun is compatible with 4-14mm Flat or Round crown staples and T-nails for added versatility.
Best Staple Gun for Insulation
An insulation project involves using staple guns to securely attach insulating materials such as fiberglass and foam onto a building's frame. This process helps reduce energy loss and improve the thermal efficiency of the building.
When working with insulating materials, the best staple guns are either pneumatic or electric because manual ones are not fit for a demanding task like this.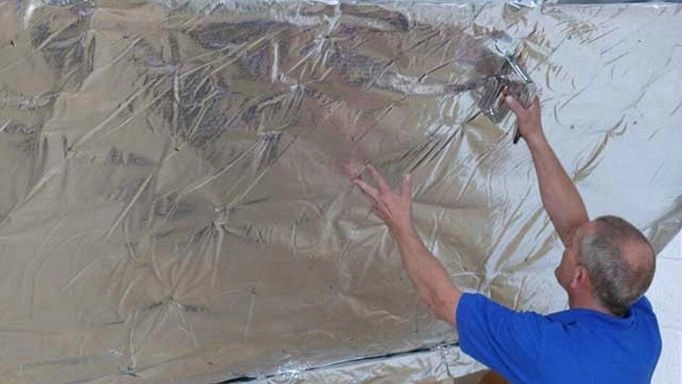 Go for the models with highest power and magazine capacity. A High firing and penetration rate, anti-jam mechanism and a bump or contact firing mechanism can further raise the efficiency of the operation.
If you can't make up your mind between all the powerful and efficient models available on the market, Bostitch 18-Gauge 5/16-in Wide Crown Cap Pneumatic gun can be a good choice for your insulation projects.
Best Staple Gun for Wires
When working with wires, accuracy and accessibility matter the most. The best staple guns for electricians are the ones compatible with wire staples, including cable staples, flat/round crown, insulated and low voltage models.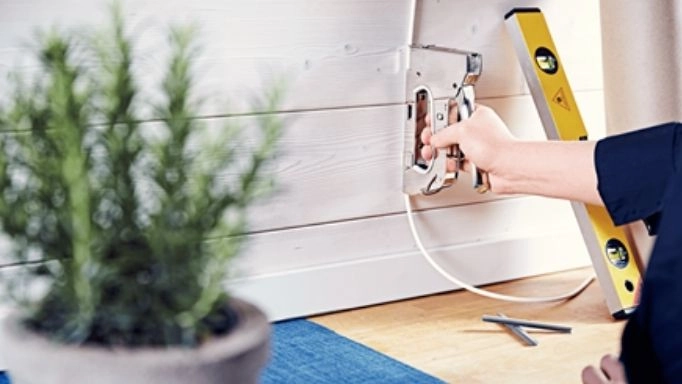 Choose a gun which allows you to control and adjust the penetration depth not to damage the wires.
In case you are working with wire installations concealed in hard-to-reach areas, you should choose a staple gun with a rotating head.
When it comes to the best staple gun for wires, the DeWalt DCN701B steals the spotlight from its competitors.
Best Staple Gun for Cables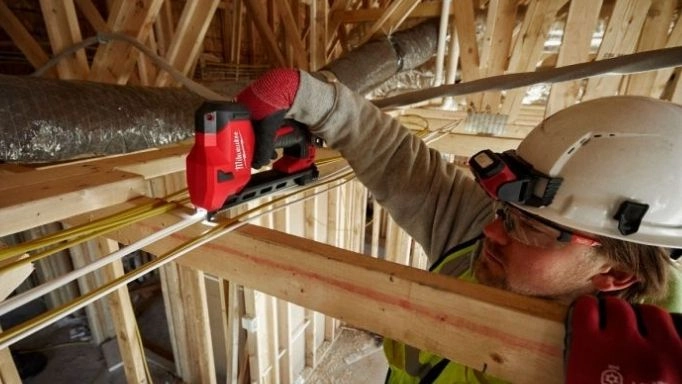 While the best staple guns for securing cables share many similarities with those used for wires, they are compatible with larger staples and often come equipped with a contact firing mechanism. This is because cables are less prone to damage compared to electrical wires.
If you have cables to staple, go for Milwaukee M12 BCST Cable Stapler for the best performance.
Best Staple Gun for Carpet
The staple gun you choose for carpet installation depends on the scale of your project. Heavy-duty pneumatic tools should be used for demanding industrial carpeting projects in which durability and power is all that matter while electric and manual ones are recommended for lighter and more domestic tasks.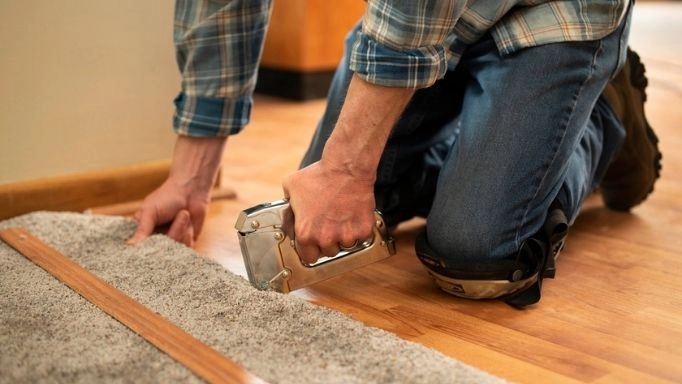 However, as a general rule of the thumb, the gun you choose should be compatible with 3/16-inch narrow-crown staples that are commonly used for securing carpets.
Best Staple Gun for Lattice
Whether you are making a lattice to support your climbing plants or just as a decorative element in you house or garden, stapling is an important part of the process that can ensure the durability of the structure.
The best staple guns for securing lattice, are the ones compatible with galvanized narrow-crown staples, durable enough to stand the test of time and powerful enough to secure the lattice to the supporting structure.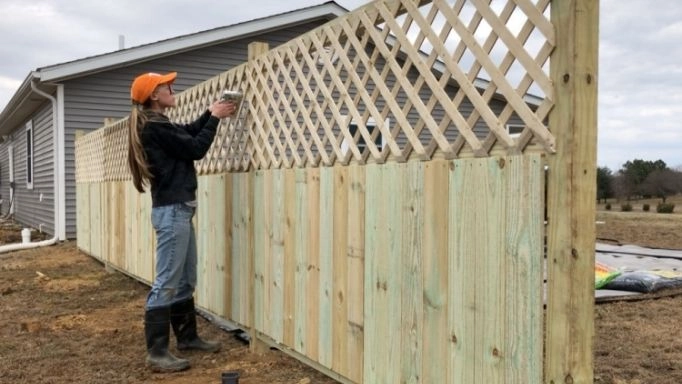 These optimal staple guns feature a contact firing mechanism and are equipped with a narrow nose to facilitate precise stapling in tight spaces between lattice strips.
Staple guns fire support at your wildest creations and fix your ideas in place. Choose them wisely!