If you live in an area with long and cold winters, then you have come to the right place to get recommendations for the best electric snow blowers you can buy!
Living in an area where you get heavy snow in the winter can be exhausting and even dangerous if you don't have a proper snow blower. If you live in an area that snows regularly in the winter, you know how tough it is to live without a snow blower. You have to get all the family together, give them all a shovel, and go at it. Of course, it makes for good quality time with your family, but there are other ways to achieve quality time with the family; perhaps around the fireplace while you are all watching a movie.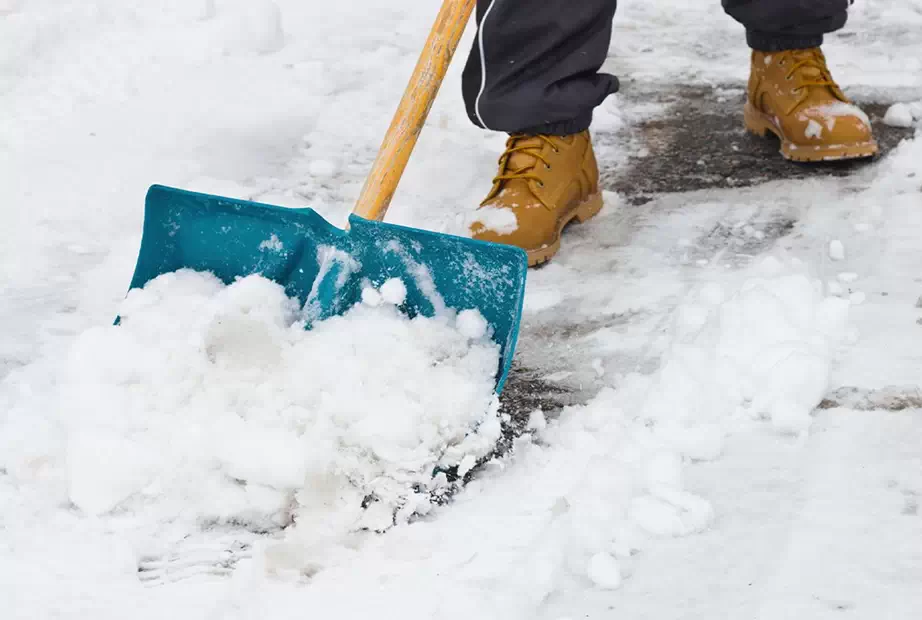 It goes without saying that if you scarcely experience heavy snow in the winter, then hiring someone to plow your driveway might be the best and the most economical option for you!
There are two types of Snowblowers in terms of their power source: fuel-powered snowblowers and electric snowblowers. In this article, we will talk about the best electric snowblowers you can find on the market.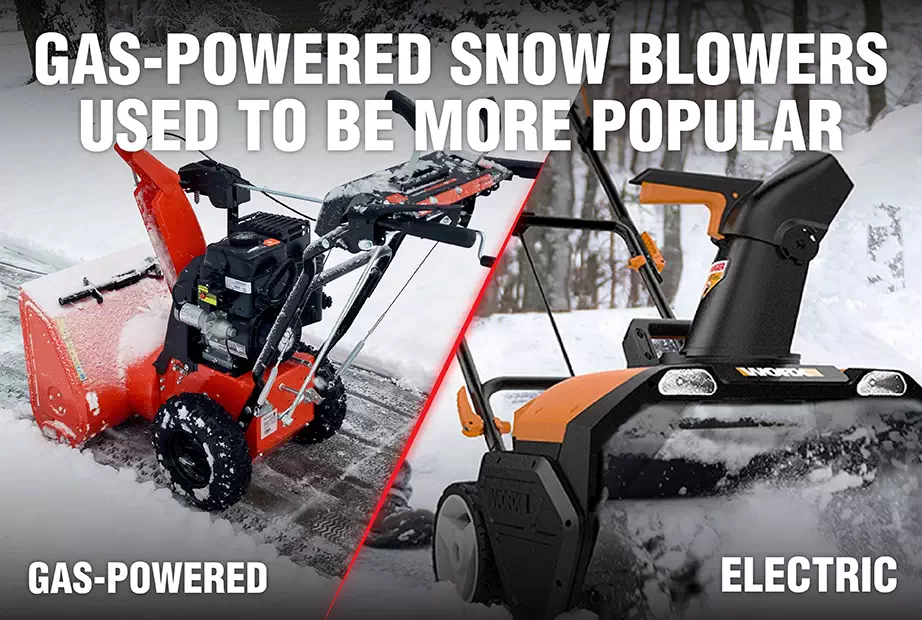 There are two important factors to think about when buying electric snowblowers. One of these factors, even if you are buying a fuel-powered snowblower, is choosing between single-stage and two-stage snowblowers. There are not a lot of two-stage snowblowers on the market. Another factor is choosing corded vs. cordless electric snowblowers.
To find your desired machine among all the options in the market, take a look at all the following sections that contain the best electric snow blower reviews.
Best Electric Snow Blower Overall
The fact that electric snow blowers come in two types of corded vs. cordless might give the impression that corded and cordless snowblowers can be compared, but nowadays cordless snow blowers have become the dominant category of snow blowers, simply because it's just not such a good idea to use cords in the middle of snow! Our pick in this category is definitely a cordless one!
The most important factors we have considered in picking the best option in this category are the following:
Depth of clearance
Width of clearance
Power and efficiesncy
Throwing distance
Ease-of-use
Take our guidelines for picking the best option for you with a hint of salt. You should always assess your options for buying a snowblower based on your unique circumstances like the amount of snow you get, how big the area you need to clear is, etc.
We don't recommend corded electric snow blowers for clearing heavy snow. Because of this, whatever we have picked in the category of cordless snow blowers as the best option is our pick for the best electric snow blower overall.
Best Cordless Snow Blower
One of the advantages of cordless tools over corded tools is that you don't rely on municipal power so if power is out, you will not be stuck if you have a corded snowblower.
The best cordless electric snowblower should have the following features in addition to what we have already talked about:
High battery capacity
Long run-time
Again, it's worth reminding you that you should always pick the best electric snow blower for your needs based on your unique circumstances but if you want to avoid a lot of hassle, you should buy a unit with a high-voltage battery. Currently, Toro makes models with the highest battery capacity. Toro uses two 60 V batteries in their high-end models.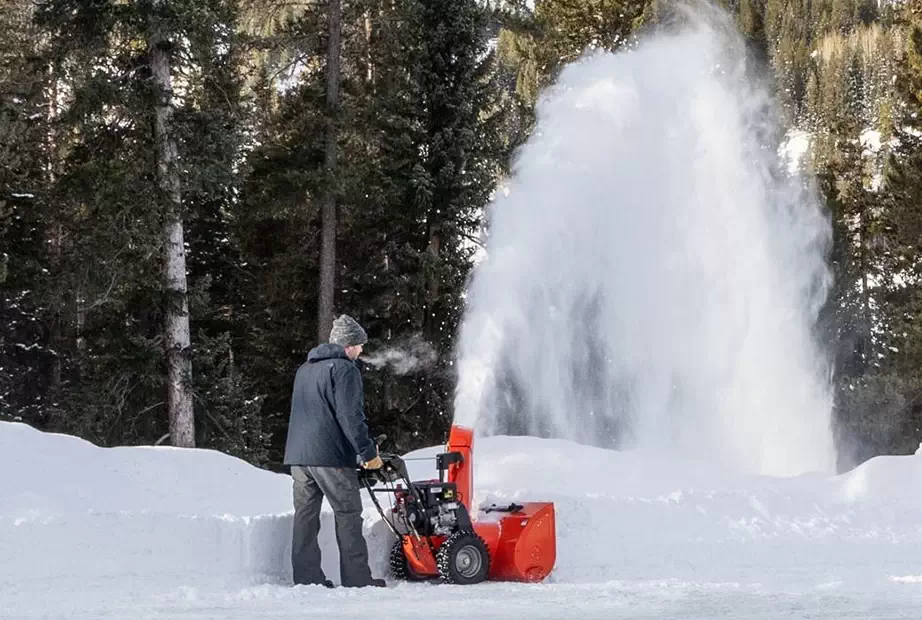 Our definitive pick from all the best electric snow blowers in this category is Toro's 60V Max 24″ SnowMaster Snow Blower. This model is made by one of the best brands in the snowblower game. This cordless snowblower covers a width of 24 inches. This model has an adjustable skid shoe that allows it to be operatable in different terrains. The chute in this model can be easily adjusted and it is exceptionally maneuverable.
Another product that is comparable to our pick is the EGO Power+ 21-inch 56V Cordless Snow Blower. This model has an amazing run-time and clearing capacity and it also has exceptional ratings online and is feature-packed and easy-to-use.
Best Corded Snow Blower
We have already talked briefly about the disadvantages of getting a corded snow blower but you can certainly get a corded model in addition to your cordless or fuel-powered model. Corded snow blowers can be used to clear your deck or your patio of excess snow. Corded snowblowers could even be dangerous. Be careful when using corded snowblowers and check that you are not running over the cord with the snow blower.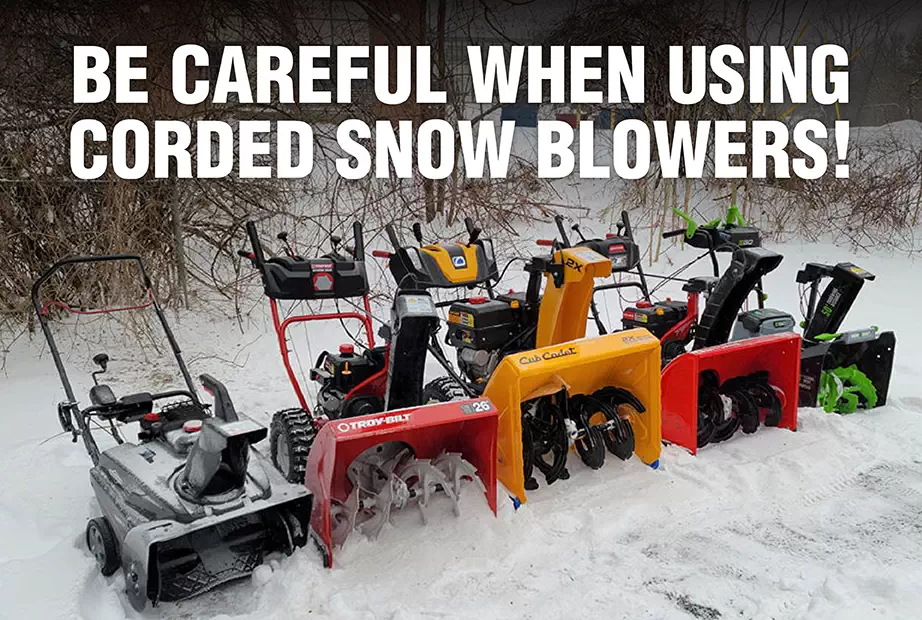 One thing that you should look for in corded machines is a cord management system that allows you to securely attach an extension cord to your device.
Out of all the best electric snow blowers in this category, we will recommend two products. One of these products is a corded snowblower and the other is a snowthrower. A snowthrower is a snowblower without a chute. Snowthrowers hurl the snow forward out of the auger itself. Snowthrowers are ideal for low levels of snow.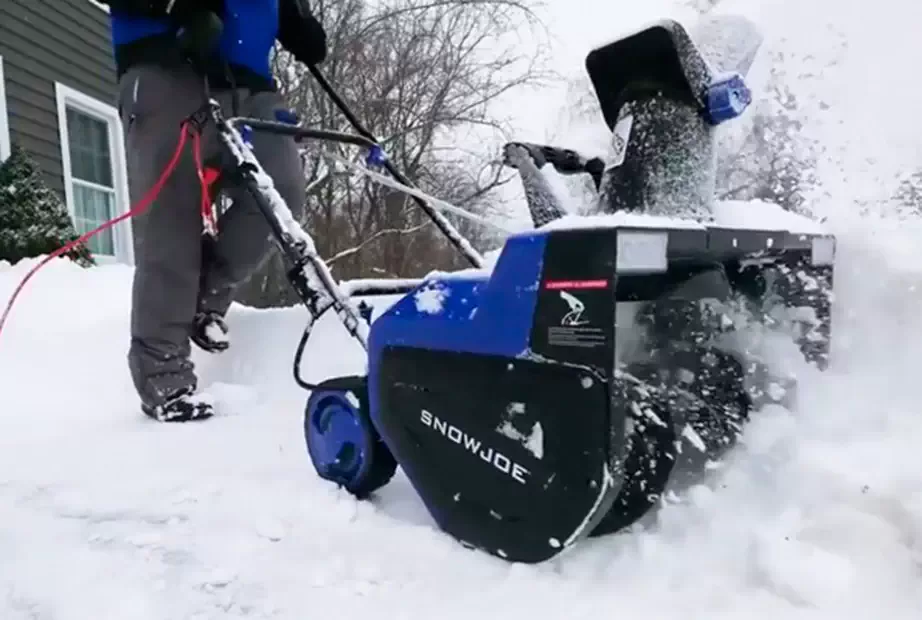 Snow Joe SJ627E Electric Walk-Behind Snow Blower is a corded model that consistently gets positive ratings online. This product has a reliable auger made of durable steel, a powerful 15-A motor, and a 22-inch clearing depth, making it ideal for homeowners with small to medium-sized driveways.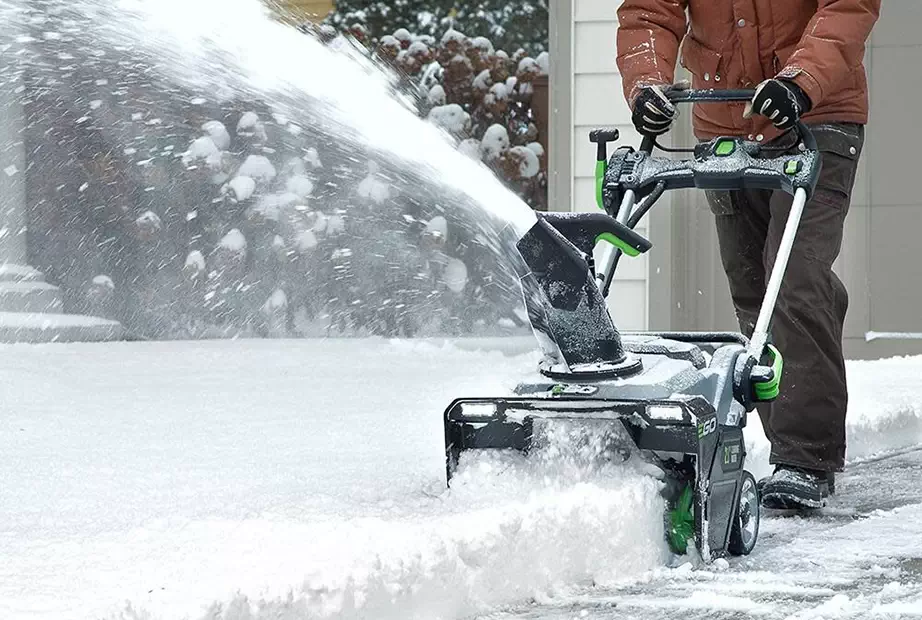 Greenworks 20-Inch 13 Amp Corded Snow Thrower is a powerful tool and enough clearing capacity to rid you of the hassles of a winter day with light snow.
Best Single-Stage Electric Snow Blower
The main difference between single-stage snow blowers and two-stage snow blowers is the power and efficiency of two-stage models. This is due to an extra component inside two-stage machines. Both these types of snow blowers contain an auger that collects the snow and propels it. In single-stage snow blowers, the auger is the only component that is responsible for propelling the snow. In two-stage models, there is an extra component, called an impellor, that accelerates the rate at which the snow is thrown out of the chute.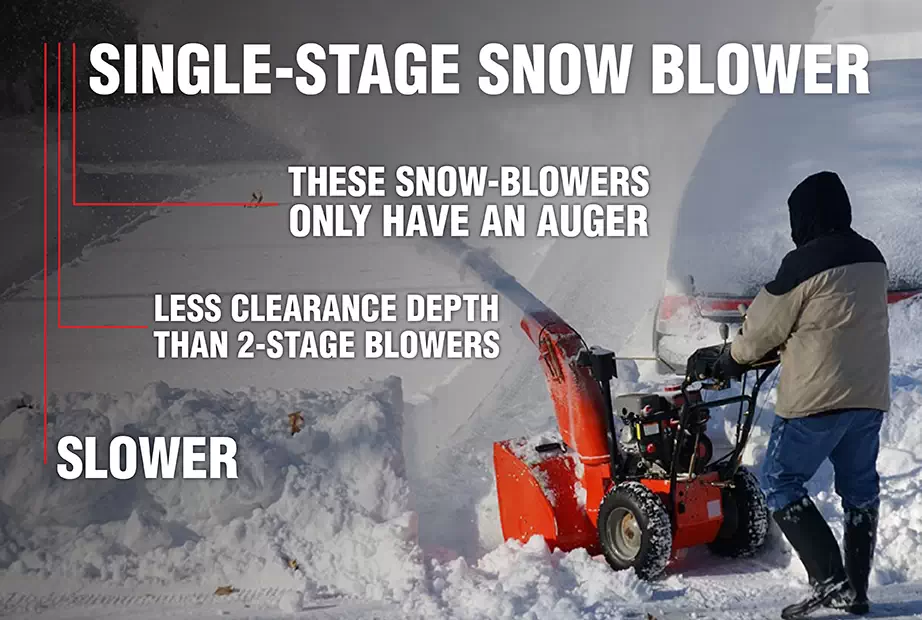 Of all the best electric snow blowers in this category, our pick for the best single-stage electric snow blower is Ego Power+ SNT2112. This model is a powerful beast with a brushless motor and it has a ton of favorable reviews online. So, if you want to buy an efficient and feature-packed device, get this model.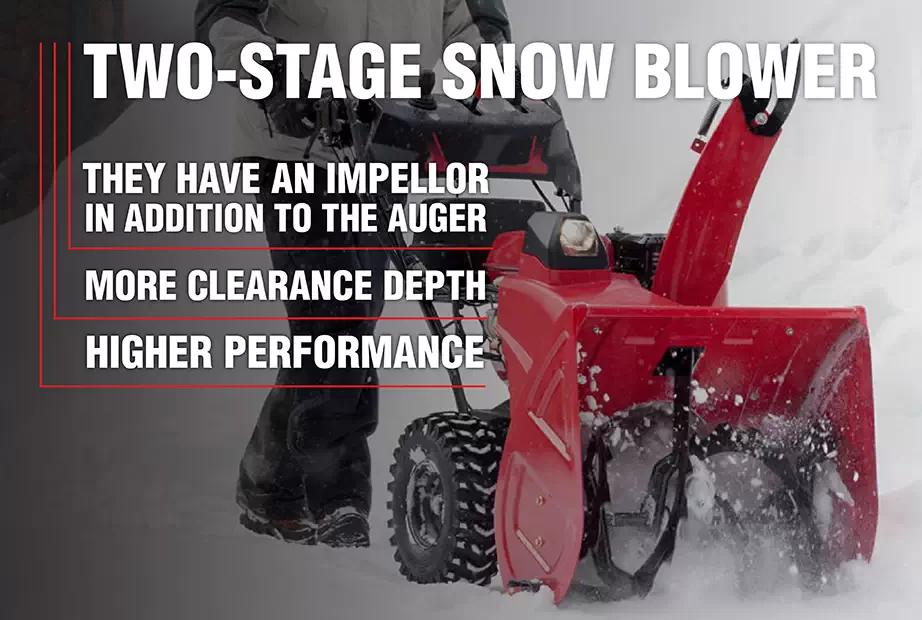 Best Two-Stage Electric Snow Blower
Two-stage snow blowers are more powerful and efficient than single-stage snow blowers. Two-stage models used to be only available in fuel-powered models, but recently more and more cordless two-stage models have entered the market.
We have already talked about the superiority of cordless products over corded models. The most important thing that you need to have in mind when buying a two-stage cordless snow blower is the run-time that the battery can provide you.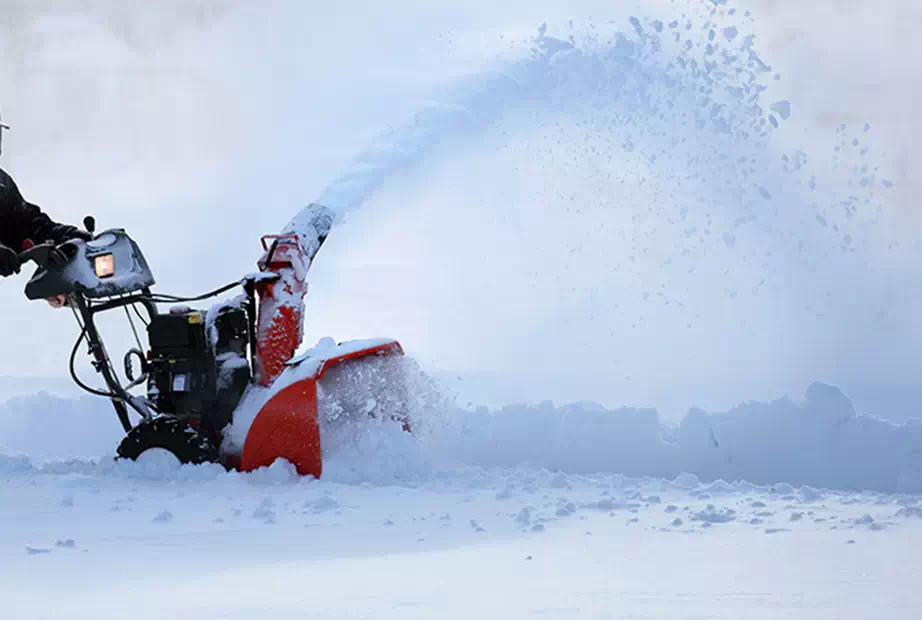 Our top pick in this category among all the best electric snow blowers is Toro's 26 in. (66 cm) Power Max e26 60V* Two-Stage Snow Blower. Apart from this model's efficiency, power, and durability, the most distinguishing feature of this model is having 3 battery ports. You can get yourself a third battery and put it into the port and increase your run-time even more.
Best Heavy Duty Electric Snow Blower
If you live in one of those areas with constant heavy snow, you will need a more powerful snow blower to be able to survive, get groceries, and get your children to school in case it's not closed in the winter!
We already know what a heavy-duty electric snow blower should have: power, efficiency, long battery run-time, high clearance depth, and width. But one thing that gets overlooked when choosing the best electric snow blower for heavy-duty uses is ease of use. An easily adjustable chute is an essential feature. Ergonomics is also one of those other things that easily gets overlooked.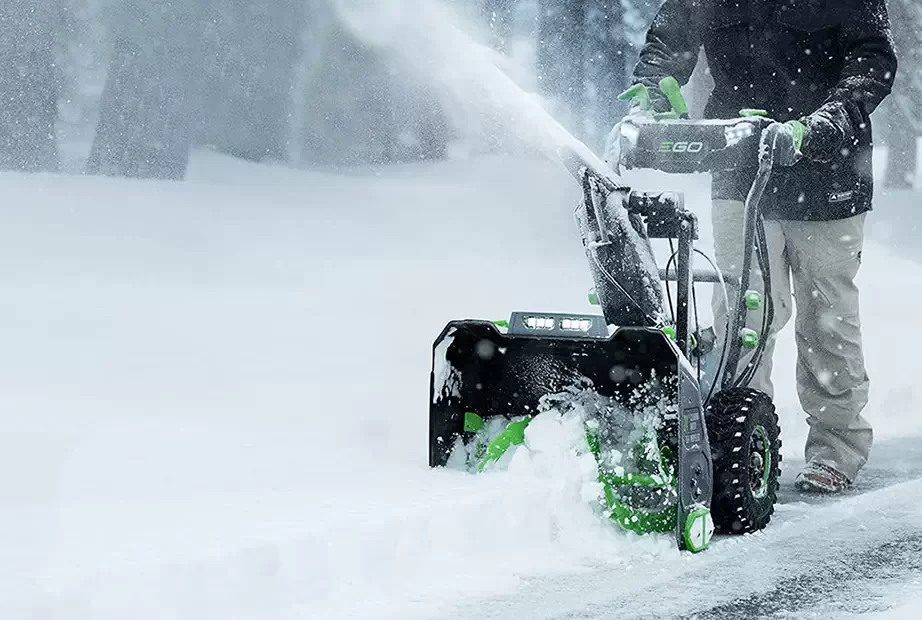 Out of all the best electric snow blowers, our pick in this category is the EGO Power+ SNT2400 Cordless Two-Stage Snow Blower. This product is an extremely powerful, efficient, and weather-resistant tool with an ergonomic design and a push-button that easily starts the device.
Best Electric Snow Blower for Gravel Driveways
It is important to know what kind of terrain you're working on when you're clearing snow. You should always make sure that you won't damage the surface of the terrain or the machine itself. Some snowblowers come with a rubber paddle attached to the auger. Rubber paddles are ideal for concrete and paved surfaces but they should not be used when working with gravel.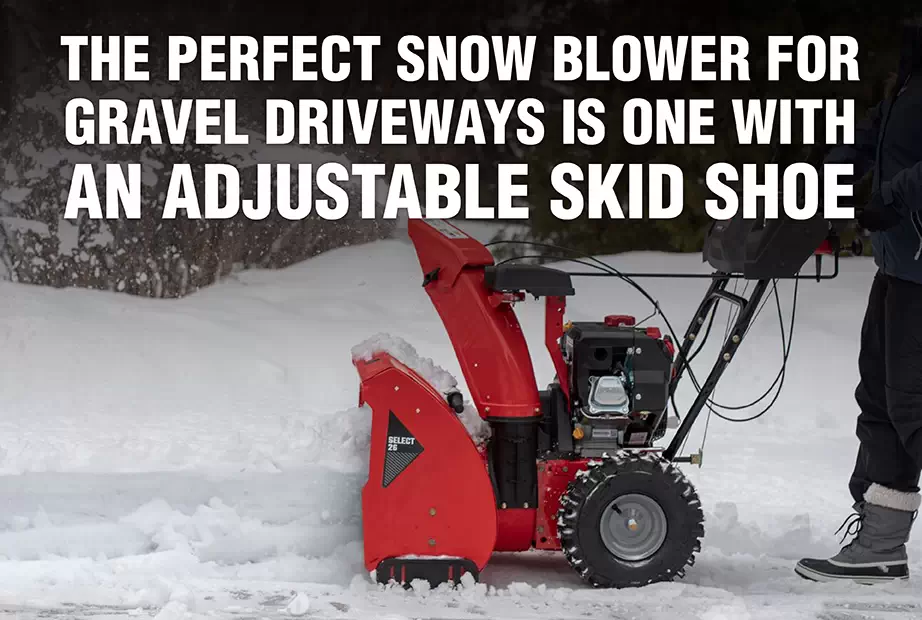 One other essential factor is whether the snow blower's clearance height can be adjusted. Some models contain a skid shoe that can be used to adjust the snow blower to your desired height. When working with gravel driveways, you should set the clearance height of the snowblower above the height of the gravel. If you fail to do this task, the machine will eat the gravel and it can damage the auger or clog the chute, or even be hurled at an unsuspecting neighbor!
Our top pick in this category among all the best electric snow blowers is Toro's 60V Max 24″ SnowMaster Snow Blower or any other Toro model with adjustable skid shoes. This model already has all the qualities that you would want in a blower, but what makes it specifically the top pick in this category is how easy it is to adjust the skid shoes.
Best Small Electric Snow Blower
What is the point of a large snow blower if you don't get high snow depths consistently during the winter? Nothing! Why buy a big electric model and pay so much money when a small one is actually the best electric snow blower for you?
Most models that are considered "small" have a lower clearance depth and width than their larger counterparts, but you can find yourself compact models that can have the same level of power and efficiency as the bigger models in the industry.
Out of all the best electric snow blowers we researched that are small in size, our pick is EGO Power+ SNT2102. This product features a powerful brushless motor. This model gives you a clearing width of 21 inches and a depth capacity of up to 13 inches. This model is feature-packed and efficient. If you are looking for a compact model that is ideal for clearing small and medium-sized driveways then look no further.
Best Lightweight Electric Snow Blower
Power and efficiency are not the only features that should be considered when buying an electric snow blower. If you are gonna use your electric snow blower consistently for a long time, then you should opt for a maneuverable and lightweight option.
The cake goes to Greenworks 80V 20-Inch Cordless Snow Thrower. This model is extremely lightweight, weighing only 33 pounds without the battery. The weight of this model is exceptional when compared to all the other models in the market. It has 20 inches of clearance width and 12 inches of clearance depth. It is extremely powerful and efficient and it comes with a high-capacity 80 V Li-ion battery.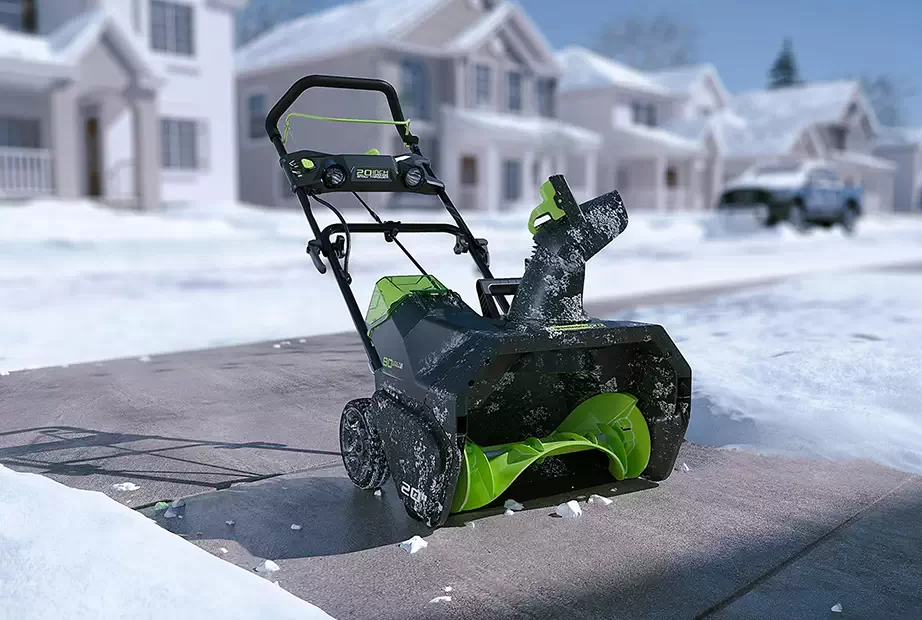 Best Electric Snow Blower for the Budget
One of the disadvantages of the electric snow blowers that we have introduced so far is the fact that they are too expensive. If you want an affordable product there are many options on the market that can compete with the top names in the market.
Our pick is the Greenworks PRO 80V Cordless Snow Thrower. This model gives you performance, power, strength, and long run time at a more affordable price point than most products in the market.
Best Brand of Electric Snow Blowers
There is no shortage of good brands when it comes to electric snow blowers. Again, it all depends on your particular application and your needs. Some of the best brands in the market are Toro, Ego, Greenworks, SnowJoe, Cub Cadet, Husqvarna, Ryobi, and Worx. You should look at the catalog of all these brands and decide for yourself based on your needs and what the market can provide you in your geographic location.
Buying Guide for Best Electric Snow Blowers
These are the points that we considered when we compiled this list:
Corded vs. Cordless: We have concluded the best electric snow blowers on the market are cordless ones. Not only because cordless models are more high-end but because of a more fundamental flaw that relates to the nature of corded models. Having a cord on your snow blower is inconvenient and even dangerous!
Power and Performance: You would want a snow blower that can give you a motor with enough power that can save you on snowy days. Otherwise, what's the point of getting a snow blower? You already have a snow shovel, I assume!
Clearance Capacity: Depending on the amount of snow you will get, you will need the right amount of clearance depth and width. If you get deep snow you need a higher clearance depth and a higher clearance width helps you clear your driveways easier.
Ergonomics and Maneuverability: One of the most essential qualities when it comes to snow blowers is how easy it is to maneuver and operate a snow blower. A device that is built tough and inconvenient will end up in your basement and be replaced by a better one.
Battery Capacity and Run-Time: A long run-time is essential for electric snow blowers, especially for cordless ones. Having to charge your batteries in the middle of a snowy day when you have to do chores is just painful!
Auger: You need an auger that is high quality, durable, and capable of dealing with hard and frozen snow.
Adjustable Clearance Height: Being able to adjust the height of the auger is essential, especially when you need to clear terrains that contain gravel. Always look for a model with an adjustable skid shoe if you have gravel.
Safety Features: One of these features is having LED lights for when you want to clear snow during the night. One other safety feature is a safety switch.
Affordability: This one speaks for itself, especially given the average price of snow blowers on the market!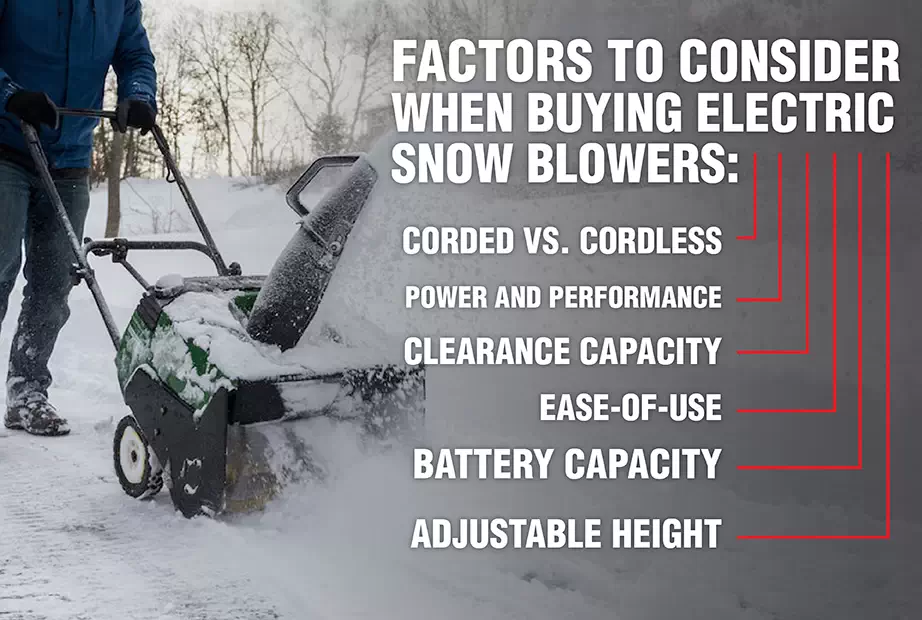 And this concludes the end of this article. Have fun buying a snow blower. Hopefully, we have given you enough data to make the best purchase for you and your family's needs. Get yourself prepared for the winter! Hope you found your favorite model among all our best electric snow blower reviews.
FAQ❓
What is a good electric snow blower to buy?
A cordless snow blower is recommended in most cases. To buy a good electric snow blower for you, you have to consider all these factors: power and performance, battery capacity, clearance capacity, ease of use, and adjustable clearance height.
Are electric snow throwers worth it?
Snow throwers are smaller than snow blowers. Their main difference with snow blowers is that they don't have a chute and the auger in these machines, just pushes the collected snow forward. If you frequently get low depths of snow, a snow thrower might save you time. Otherwise, only buying a snow shovel will suffice.