Any jobs that require you to make changes in the shape of wood, metal, and plastic into your desired shape, like carpentry, woodworking, or metalworking, … call for the best router bits.
A tree is beautiful on its own, yes. As much as we might not love it, a part of our lives is surrounded and shaped by wood. So, why not take the liberty to shape it as beautifully as possible and pay our debt to the trees?
But as you know, it's not just trees. Glasses, plastic, and metal all have the potential to be shaped the way we want them to. This is why you should not settle for anything less than the best router bits to give you the world you deserve.
Let's go into the depth and diameter of router bits and learn which ones fit which of your tasks!
Best Router Bits Overall: A General Overview
Most tools share some indications of being the best. Like:
Being built using high-quality materials
Being versatile
Being durable
Having safety features
Offering consistent performance
Being user-friendly
Having good value for long-term use.
But specifically for the good router bits, their:
Bit type
Bit shank size
Sharpness and edge quality, and their
Compatibility to work with different materials are the criteria.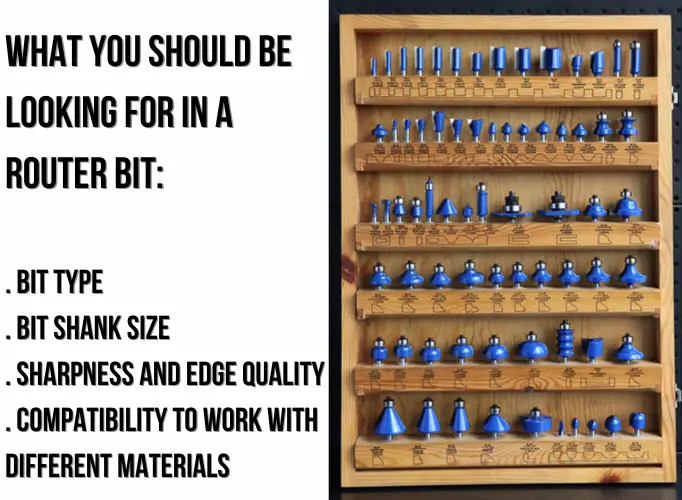 This list gives you a good picture of what you should generally be looking for when choosing router bits. But that's not the only thing you came here looking for, is it?
Best Router Bits for Woodworking: Don't Settle for Rough Edges
Have you experienced your shirt, pants, or even hair being caught through the rough edges of a poorly made wooden chair or table? Or even the wood chips flaking and annoying you, the user? This is probably because the person who made the table or chair didn't care enough to use high-quality router bits to carve the wood or to make the grooves.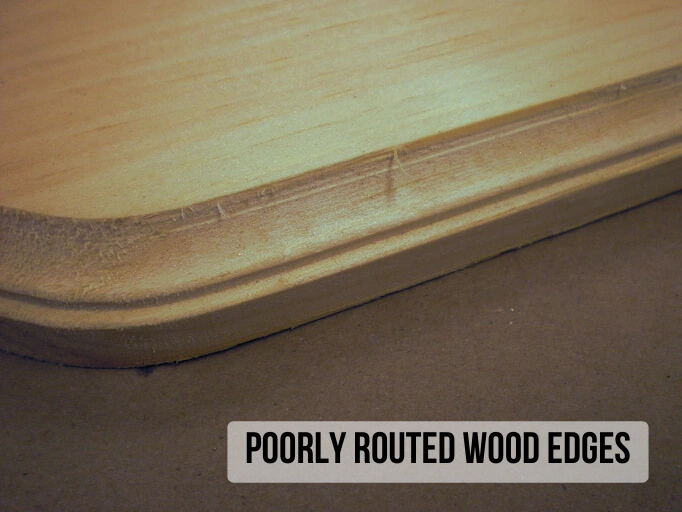 But if you're a carpenter, you can save future users -that may include yourself- from being annoyed and save them from the trouble. So, to choose the best-quality router bits consider these:
Sharpness: Achieving a smooth finish requires your bits to cut through the wood like butter. It also helps you avoid the tear-outs we warned you about earlier. One other thing having a sharp router bit can prevent is to avoid burn marks. Working with dull routers can result in built-up heat that can even leave burn marks. Well, that's -probably- not the kind of art you want to intentionally make.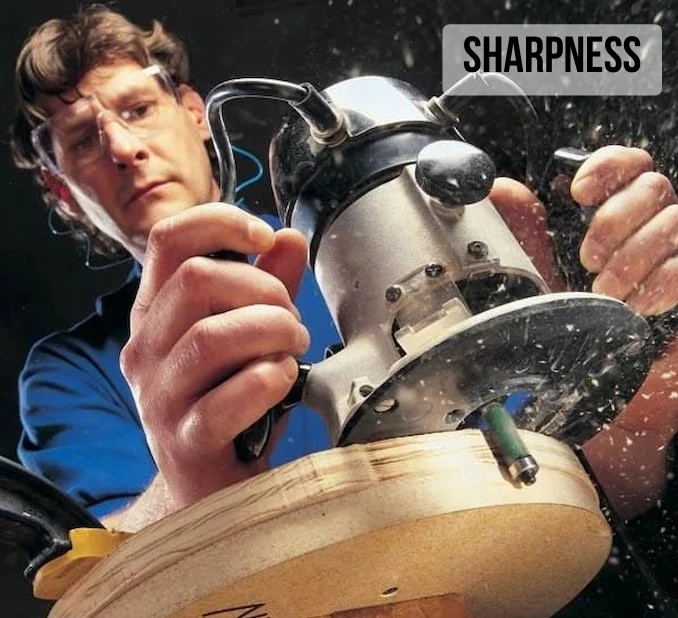 Precision: Whether you just like to have things clean, accurate, and symmetrical or just your tasks require accuracy and precision to work, you need to have the best quality router bit. This also helps with having less material wasted; because you won't need to sand your surface as much.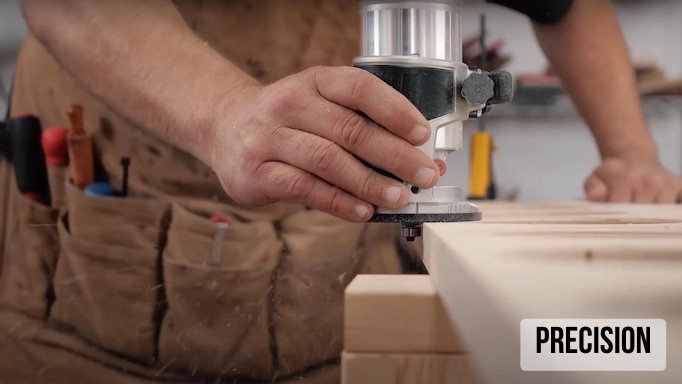 Durability: Best router bits are expected to be made from carbide or HSS. These materials ensure the bits last longer and you won't need to replace them as often.
Balanced Design: Non-smooth cuts aren't always the result of a dull bit. If the device vibrates too much, you literally can't perform at your best when working with the router. So, the best router bit is quite well-balanced.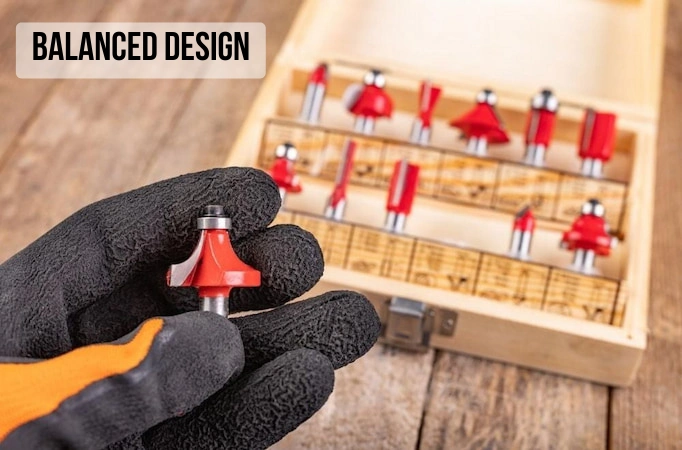 Efficiency: Having a sharp knife with good-quality steel that is not super heavy can completely change your experience of cooking. It's the same when working with wood and using a tool like a router. High-quality bits in your router put less pressure on your hand and body.
Safety features: We always welcome additional features. But of course, in the best router bit, safety features better not be additional. Features like anti-kickback and such are a must for reducing the chance of incidents.
Consistency: Interrupted work sessions can be frustrating. So, one indication of the top router bit is that you can work with it for a good period of time without it wearing out.
Ease of Use: We're a fan of anything that enhances the working experience. The easier and user-friendlier, the better.
So, in a nutshell: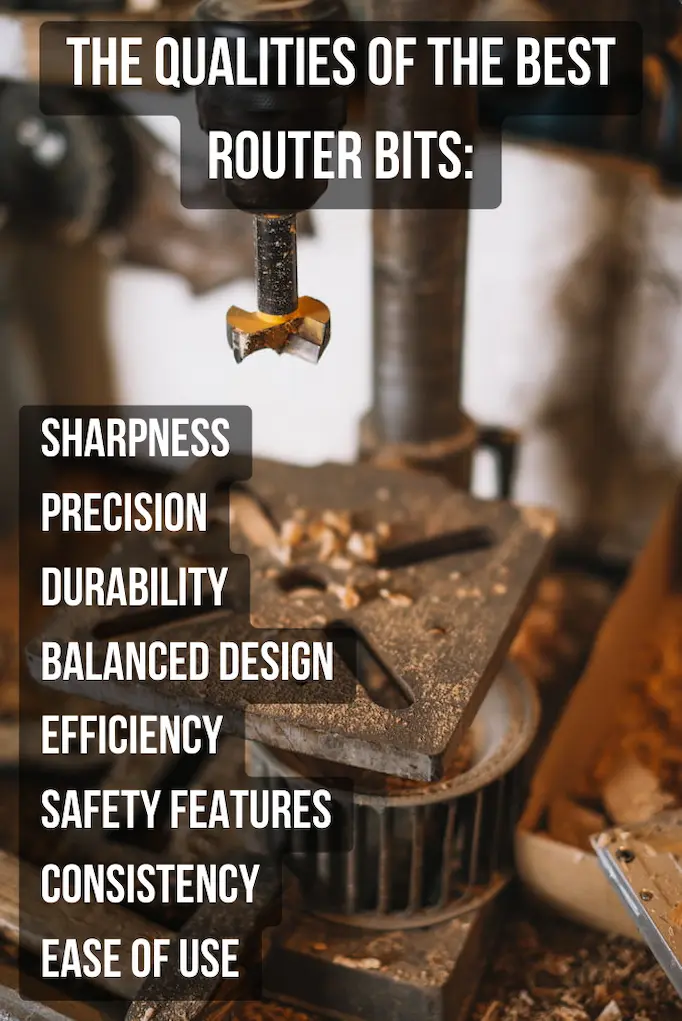 Best Router Bits for Hardwood: Needs a Bit More Attention
Most of the things mentioned for the best router bit for woodworking also apply to hardwood. But there are some minor differences:
Maintaining Sharp: Hardwood is going to be harder on your router bits due to it being abrasive. It will probably dull the bit way sooner than softwood. So, if this is the material you work with the most, you need to opt for the best quality router bits.
Durability: The good router bits for working with hardwood need to be more durable than working with softwood. Materials like carbide can bear a harsh material like hardwood.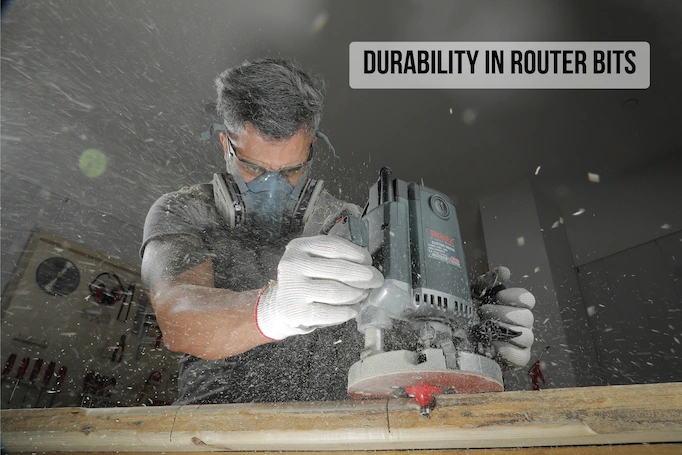 Efficiency: Hardwood is more susceptible to friction and or heat buildup due to its abrasiveness. Therefore, the design of the bit you're choosing should comply with that.
Surface Finish: Due to the reasons we listed above, the best router bit to choose when working with hardwood should be specifically designed in a way that reduces roughness.
Heat Resistance: If the router bit is able to cut the wood easily and with minimum effort, the chance of burning will be minimized.
Strong Cutting Edge: Since hardwood demands a stronger power to cut through, the bit you choose for this task should be in accordance with that.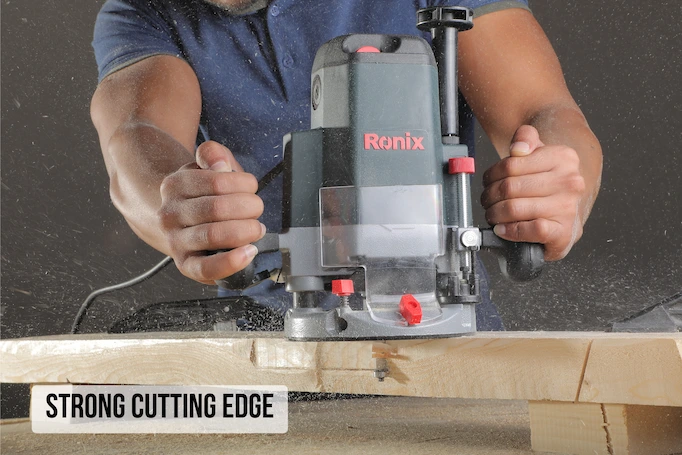 Best Professional Router Bits: The Best for The Best
All the things we named in the previous parts are to be considered when choosing the top router bit if you are a professional. The durability and consistency need to be exceptional. Of course, a sharp router bit is the only thing that can satisfy a professional. This ensures a clean and smooth finish which is what is expected from you as a professional. Also, you probably want to work with your router for as long as it can bear so you should choose one that provides you with consistent performance. If you're looking for suggestions on the best router bit brands, Whiteside, Ronix, Freud, Amana Tool, CMT, and Bosch are all great choices.
But not everyone is a professional. You might not be one either. While buying high-quality and durable tools and devices never hurt, as a beginner you may need to consider certain things and choose as wisely as possible. We're here for you!
Best Router Bits for Beginners: Easy Peasy!
Beginners in any field, appreciate versatility and user-friendliness so they can perform different tasks with ease. But which types are the best router bits for beginners?
Straight Bits: These bits are versatile and give you the chance to easily cut straight edges. You can use straight bits for edge profiling, dado joints, etc. They are also user-friendly and give you the opportunity to improve your routing skills.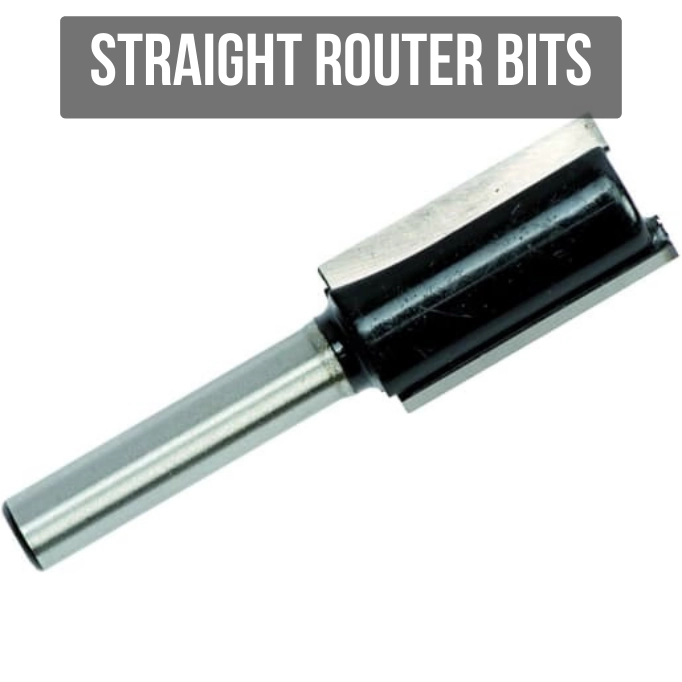 Roundover Router Bits: As you can tell by the name, these bits can be used to make rounded edges that can have decorative purposes. They are extremely easy to use and leave less room for mistakes or splintering.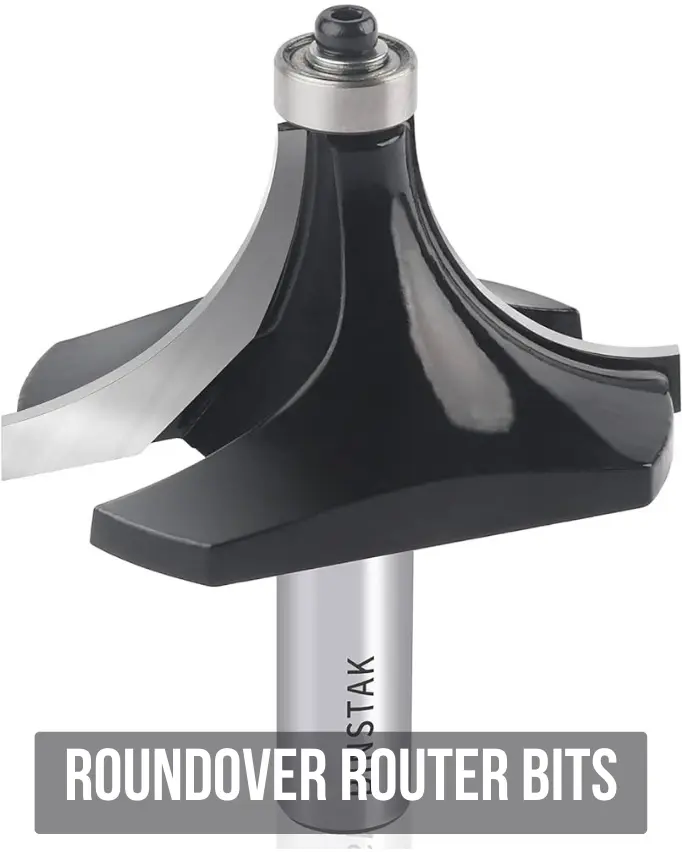 Flush-Trim Router Bits: You can use these bits to trim the edges of your wood surface. If you are a beginner and want to achieve clean finishes in your projects, these bits come to the rescue.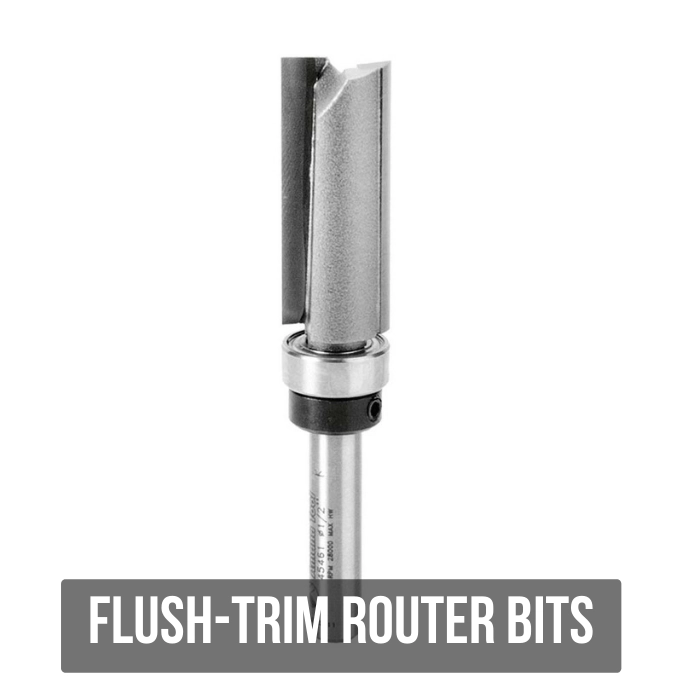 Chamfer Router Bits: Getting rid of the sharp edges of what you're working with is this baby's job. It will not only make it beautiful but also prevent splintering. It's a non-complex choice for you that helps with creating controlled beveled edges.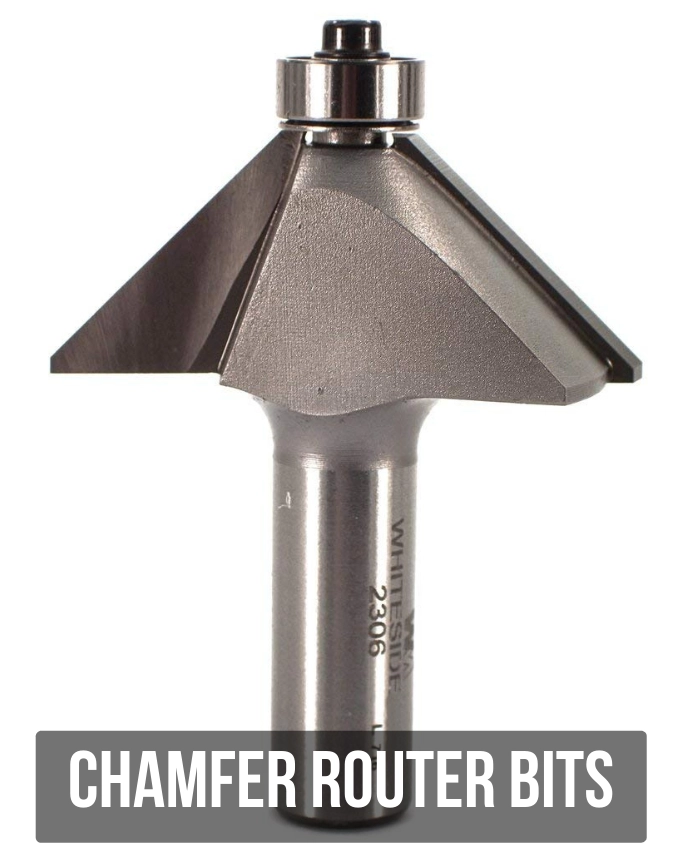 Rabbet Router Bits: At the stage of getting to know joinery basics like creating dadoes or rabbit joints, these bits are your bros! They are versatile and are used in making cabinets, drawers, and other basic joints.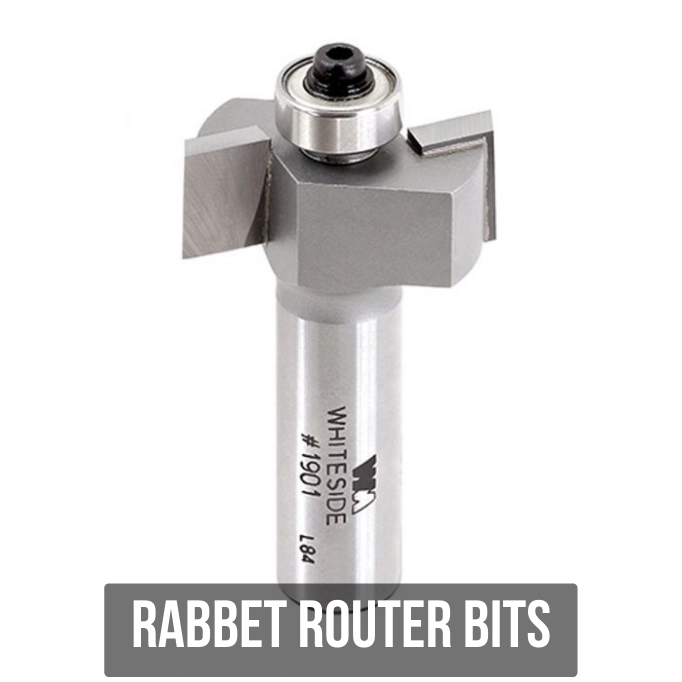 Dovetail Router Bits: These bits are optional to use but they also help you when you are beginning your journey with joints. But they offer a bit more advanced techniques than rabbeting bits.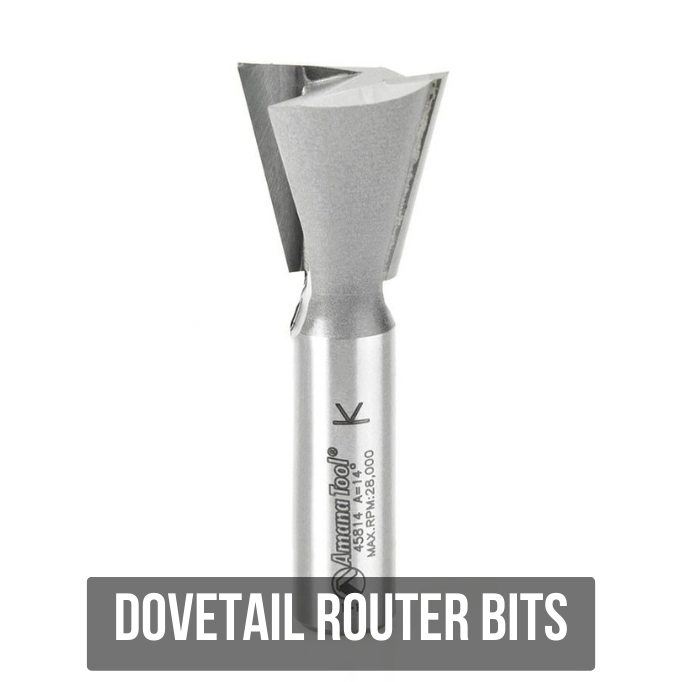 Piloted Beading Router Bits: These bits allow you to add decorative details to your work but they are optional if you are a beginner. They also can introduce you to molding techniques if that interests you.
V-Groove Router Bits: These bits are not necessary if you're just a beginner but they can add a nice and special touch to your work.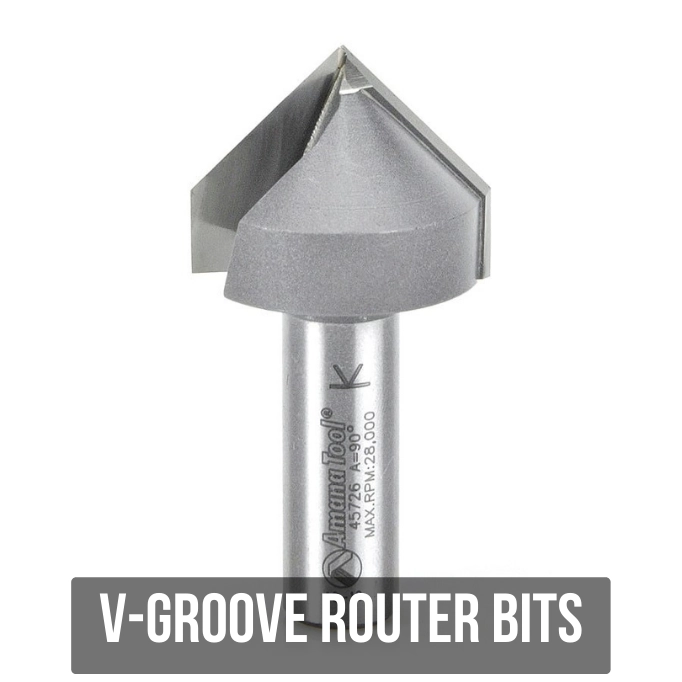 Best Router Bits for Dadoes: The Best Match to Attach
Dadoes are those grooves or channels that are cut into the wood to enable attaching to other pieces of wood.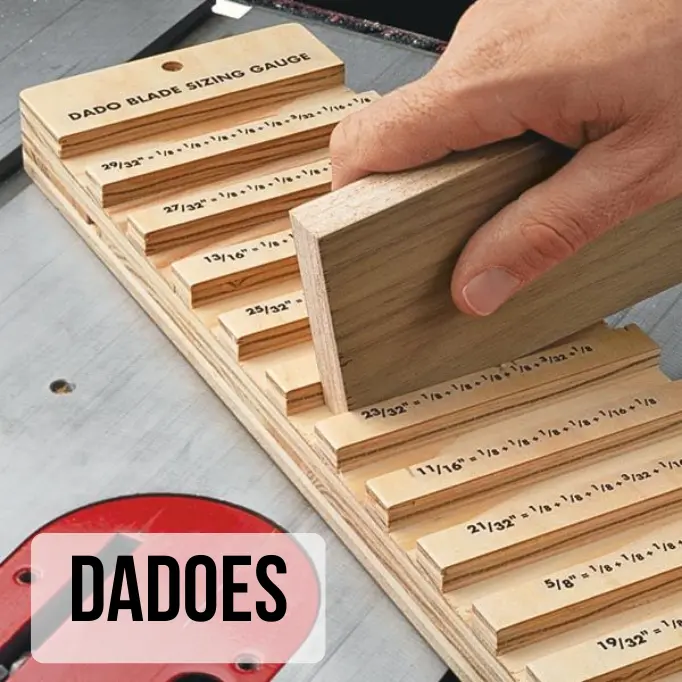 The good news is there are specific bits for doing this. If you are specifically looking for the router bits to create dadoes, you can buy a Dado router bit set. But we can't leave you alone in the process of choosing, can we? So, alongside the overall characteristics of the best router bits, keep these in mind:
Choose a set that provides you with a wide range of cutting widths so you can create different sizes of dadoes.
One dimension of size is depth. So, a set that allows you to dive into different depths of wood is the best choice for you.
Following these two characteristics, the more bits there are in a set, the more versatile it's going to be for you.
Including chippers and spacers is a good addition to your set that will allow you to create different widths of dadoes.
Any bits that you use, including dado bit sets, need to be balanced and stable to make sure of a clean and smooth cut.
Your Dado set better be compatible with your router's arbor size or else you'll face serious problems.
It's not essential but it's better if your set has a storage case or box to keep all the bits and blades collected.
Best Router Bits for Dremel: Be Kind to This Delicate Tool
A Dremel is a rotary power tool used for cutting, grinding, sanding, polishing, engraving, etc.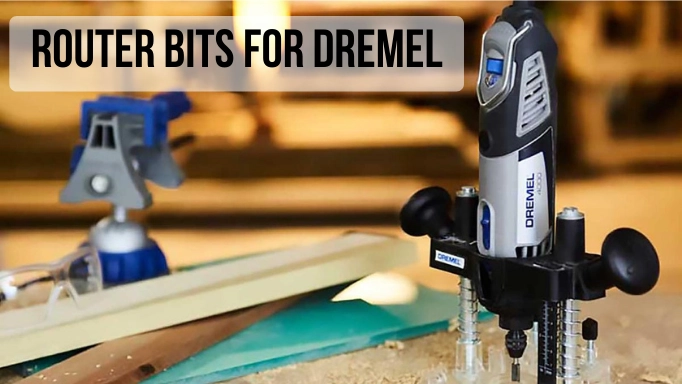 The best router bits to use on a Dremel should primarily be compatible with the smaller size of a Dremel. But the characteristics of the best ones are:
Having Carbide Tips that offer a longer lifetime of sharpness.
Having High-Speed Steel (HSS) that can cut through different materials. These materials are also more affordable.
Having Small Bits that can fit the Dremel perfectly. The best diameter is 1.8 inches or smaller.
Being versatile and having engraving, carving, straight, roundover, v-groove, and flush trim bits.
Best 1/4 Router Bits: 10 Types
Let's just cut to the chase and give you the list of the best router bits with an ¼ inch shank:
Straight
Roundover
Chamfer
Flush Trim
Rabbeting
Cove
Dovetail
Piloted Beading
V-Groove
Roman Ogee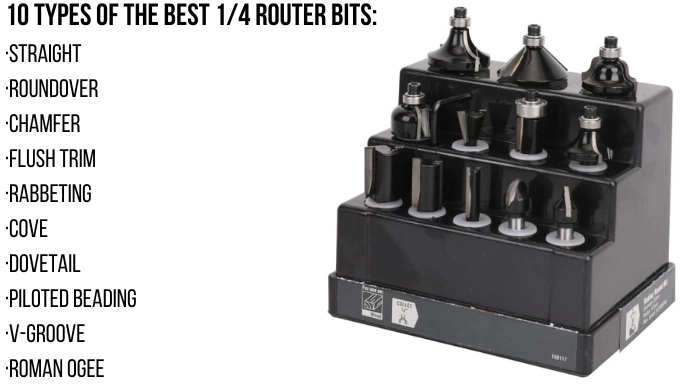 It's noteworthy that choosing the best ¼ inch router bit depends on what you are planning to do and what your tasks require.
Best Router Bits for the Money: 5 Most Valuable Brands
The best-value router bit brands are the ones that offer both a high quality and a reasonable price. Here's a list that can help you find the best router bits brands:
Freud 91-100 13-Piece Super Router Bit Set: This affordable and versatile set allows you to perform different tasks.
Bosch RBS010 1/2-Inch and 1/4-Inch Shank Carbide-Tipped Router Bit Set: This set from a reputable brand offers you durability at a good price.
Ronix RH-5341 Router bit set-12PCS: This set gives you the opportunity to work on a variety of tasks with the various sizes it offers. It's also one of the most affordable choices you can make when choosing between the best router bit brands.
MLCS 8377 15-Piece Router Bit Set with Carbide-Tipped 1/2-Inch Shanks: Using this set allows you to perform a variety of tasks while caring for your pocket.
Yonico 17702 70-Bit Router Bit Set 1/2-Inch Shank: This set has 70 different router bits and is a great option for your various works.
These are some of the best router bits brands options for you.
Best Router Bits Buying Guide: In a Nutshell
We hope you found the information you needed up to here but why not give you a comprehensive buying guide for the best value router bits?
These are what you should be keeping in mind when looking for the top router bits:
Router Bit Types
Shank Size
Material and Build
Coating
Versatility
Brand and Reputation
Application
Enabling Diverse Depths and Diameters
Safety Features
Budget
Reviews and Recommendations
Maintenance