The reciprocating saw is a versatile tool for cutting through various materials, from wood to metal. It's affordable, lightweight, and portable, making it ideal for professionals and DIY enthusiasts alike. Different blades cater to different materials, making it an essential tool for construction and woodcutting tasks. In this article, we are going to help you choose the best reciprocating saw for your needs.
Buying Guide for the Best Reciprocating Saw:
There are several factors to consider while looking for the best reciprocating saw that you can purchase: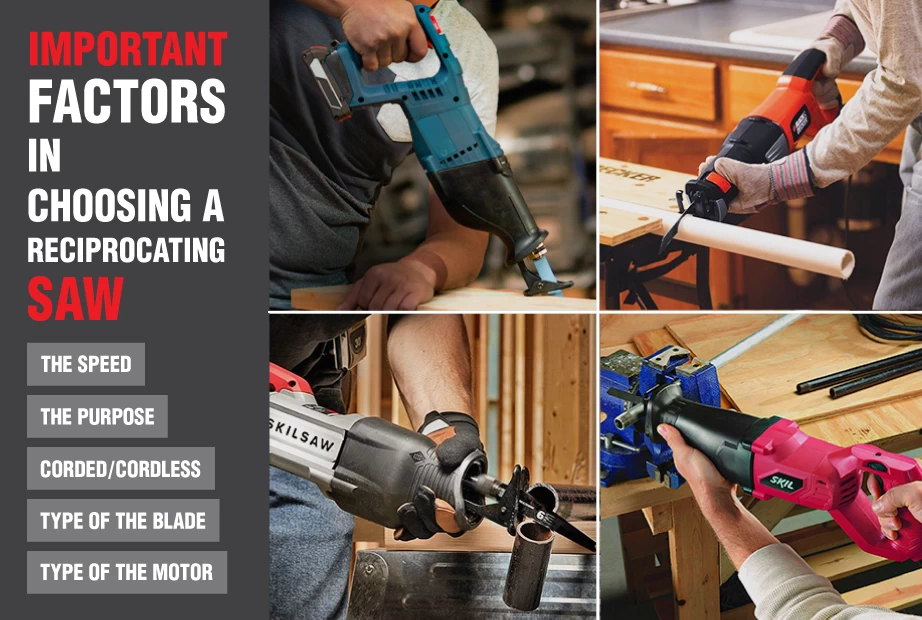 Unlocking the Versatility: Unleashing the Power
"What am I going to use it for?" is the first question you need to ask for before starting to look for reciprocating saws. Well, lucky for you, these saws are all-in-one wonders! They are multi-purpose, all-in-one tools that can cut through any type of material if used with the right blade. Just pick the perfect blade, and you'll have the best reciprocating saw for your needs!
2. Power Unbound: The Potential of Corded and Cordless Reciprocating Saws
One of the most important factors that will affect the type of reciprocating saw you choose is whether it's corded or cordless. They both have their advantages and disadvantages, but your choice will depend on your usage. If you need consistent and continuous power while using your saw, the corded version is for you. If you work in areas that will make accessing electricity difficult, or in situations where cords can be problematic, then the cordless option is the best choice.
3. The Art of Blade Selection: Mastering the Cut for Every Material
The type of blade you choose can be the difference between a clean, precise cut and a rougher and not-so-great cut; so, what do you need to consider before choosing your blade? Well, there are several important factors when it comes to a blade that you need to know:
TPI
Tooth-per-inch (TPI) is one of the first things to things you need to think about. It ranges from 3 to 24 and will affect your cut, so it has to be chosen based on what it will be used for. The lower the number, the quicker you will cut through your material, but the cut will be rougher and not as clean as you may want it to be. For softwood, your TPI should usually be 3-5 and for rougher types of wood, you will need 5-8 TPI. But what if you need a cleaner cut, or if you're trying to cut through plastic and metal? Well, in that case, you will need to start looking at blades with 14 to 24 TPI to do the job.
The Material Used in the Blade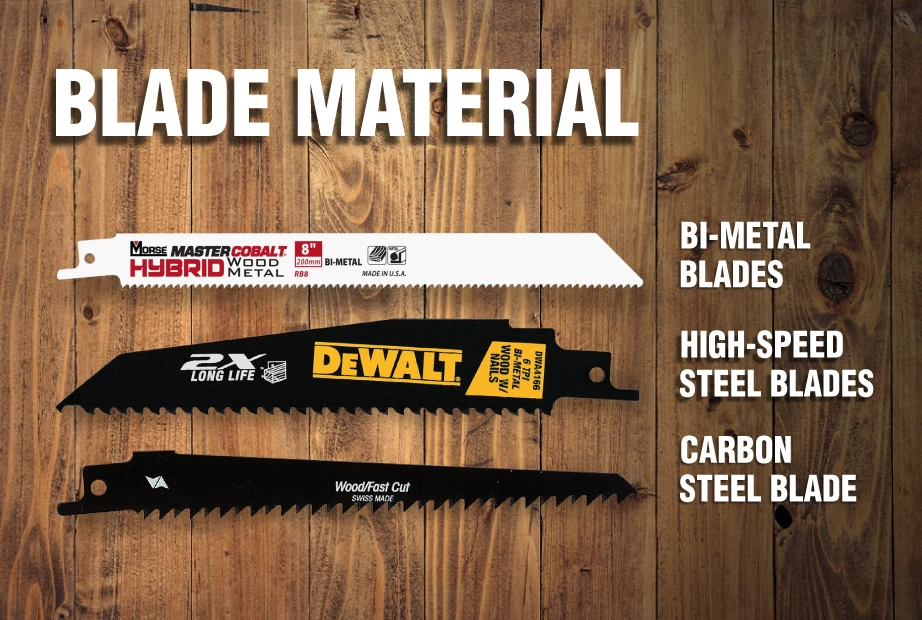 In this section, we'll discuss different types of reciprocating blades and their materials. The better the material, the higher the cost, but it's worth it for durability. Let's explore three main types:
Carbon Steel Blades: Affordable, flexible, but dull quickly. Suitable for quick DIY projects with soft materials like softwood and plastic.
High-Speed Steel Blades: Last longer and stay sharp, but less flexible and more brittle.
Bi-Metal Blades: A combination of flexibility, durability, and sharpness, but they come at a higher price.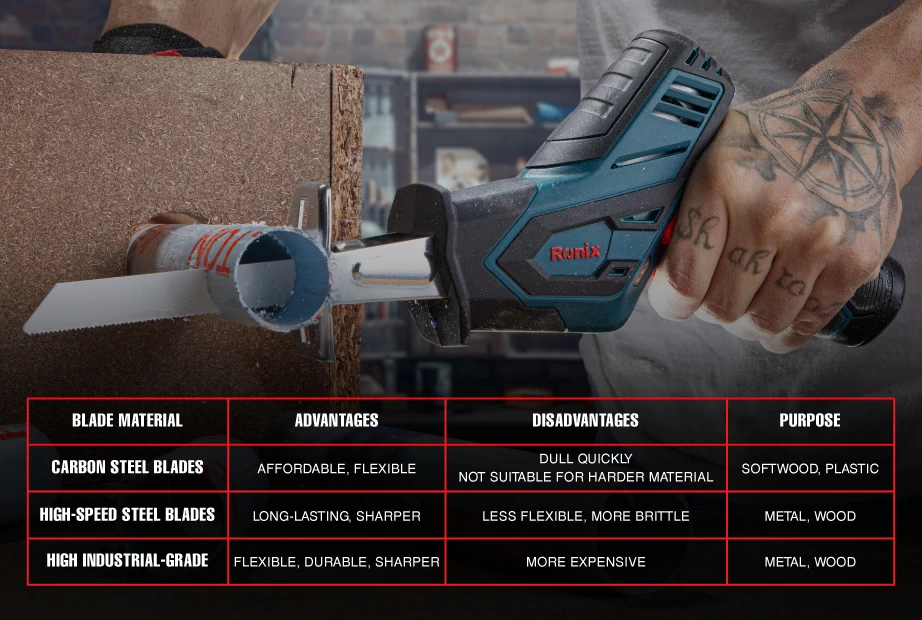 Another important factor is the material used in the teeth of the blade, which determines its cutting capabilities: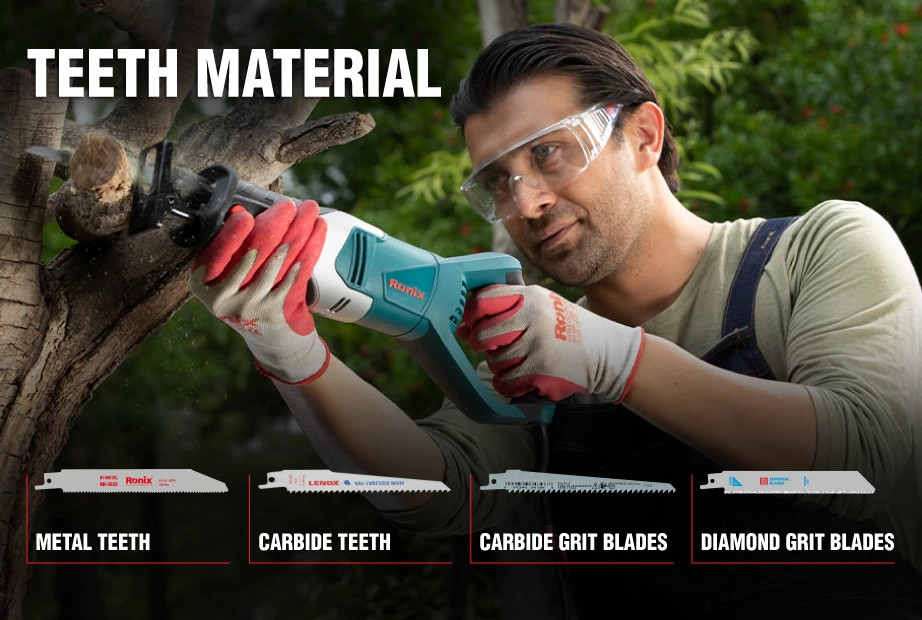 Metal teeth: Common and inexpensive but not ideal for heavy use.
Carbide teeth: Last longer, suitable for cutting plastic and wood, but not recommended for metal.
Carbide grit blades: are ideal for harder materials like fiberglass or ceramic but should not be used on wood, unless you want to burn down the place!
Diamond grit blades: The most durable and precise option, capable of cutting through various materials, including masonry, cement, and glass.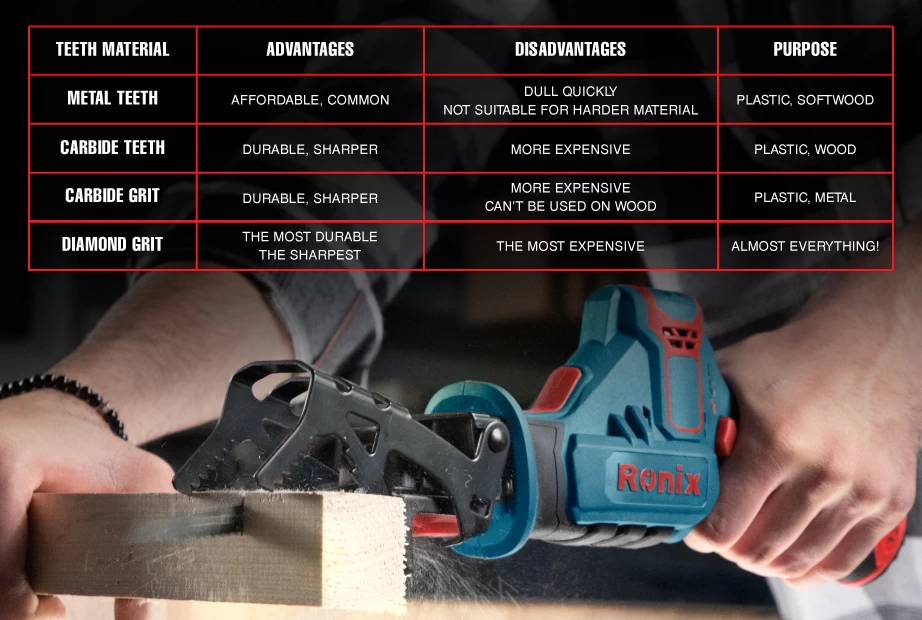 Choose the right blade based on your specific needs and the materials you'll be cutting.
The Power Source: Unveiling the Motor Mastery
There are two main types of motors that are commonly used in the best reciprocating saws on the market, the brushed and the brushless motors.
Brushed motors are the more basic older type of motors in the market They are less expensive but have more friction in the motor, which decreases the tool's life span. What causes the friction? The carbon brush, also called the motor brush, is a very small part of an electric motor that conducts the electrical current between stationary and rotating wires inside the motor. Carbon is used in the motor because it's a good conductor and it's soft enough to have consistent contact points. The softness, however, leads to wear in the carbon brushes over time and needs to be replaced regularly.
The more advanced type of motor is the brushless motor. Admittedly, brushless motors make the tool more expensive, sometimes even 50% more expensive than the brushed version, but considering the advantages they bring to the table, they make the extra cost well worth it. Brushless motors have less resistance and friction in them, which results in more power and efficiency, and if your reciprocating saw is cordless, it will lead to a longer battery life compared to the brushed versions. Brushless motors also have longer life spans which will be great for professionals who use their tools every day.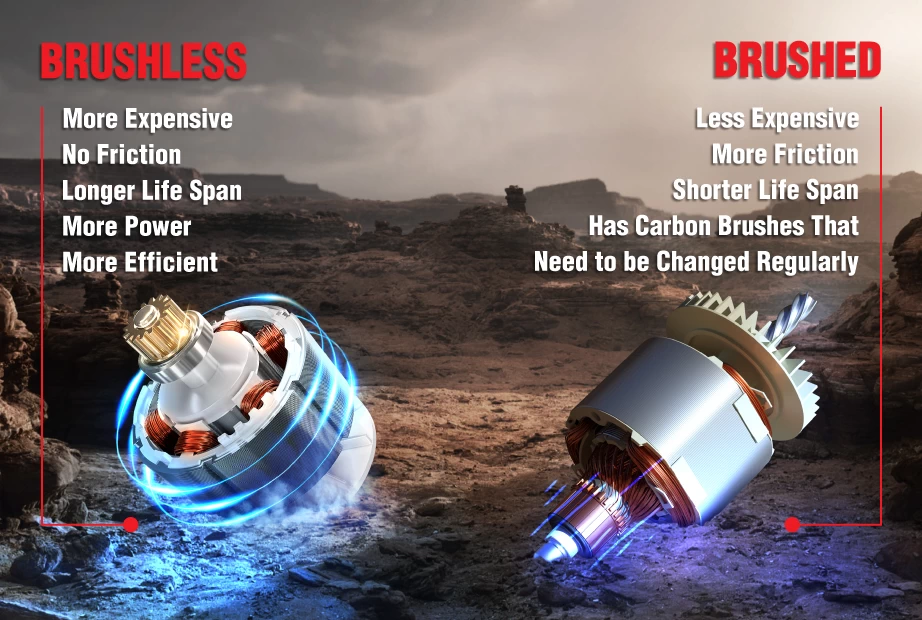 Revving Up Efficiency: The Cutting Fury
A feature that has become important in the best reciprocating saws on the market is the cutting speed of the saw and the ability to adjust it based on the user's needs. The cutting speed of reciprocating saws usually ranges from 2,600 to 3,300 strokes per minute which is more than enough variability!
A great example of the best reciprocating saw with adjustable cutting speed is the Ronix 8103K Cordless Reciprocating Saw which has an infinitely variable speed that allows the operator's comfort to be adjusted with a simple switch.
Lastly, some other features may be included on certain models are orbital action settings which also move the blade in a slightly circular motion while the blade is doing the normal push-pull motion. This can help with cleaner cuts in certain softer materials. Another feature the best reciprocating saws may have is an LED light that can help you work with your saw in darker spaces or situations.
Best Reciprocating Saw for Construction:
The best reciprocating saw for construction needs to achieve a variety of tasks. It needs to be powerful, precise, and safe. The saw must be able to cut quickly through many different materials and have up to 3,000 strokes per minute. Also, since the heavy-duty tasks that construction requires will take a toll on the saw, it's best to choose a tool with a brushless motor, so it has a longer life span with a more powerful mechanism.
If you are looking for the best reciprocating saw for construction, look no further! DeWalt 20V Reciprocating Saw with its 4-position blade clamp, an array of positional versatility, a variable strokes-per-minute rate of up to 3,000, and an extremely comfortable grip would be the perfect choice for you.
Best Reciprocating Saw for Cutting Wood:
As we discussed before, the type of materials used in the blade is one of the main factors that determines what the reciprocating saw can be used for. Usually, the best reciprocating saws for cutting wood have either a metal or a carbide blade, which are less expensive and the most common type of blades. They can both cut through the wood cleanly, with high accuracy. Carbide blades would be better because of their higher durability and flexibility but are a little more expensive than their metal counterparts.
Bosch RS325 is one of the best reciprocating saws for cutting wood. It is a corded mid-sized lightweight model with a cushioned rubber grip which makes it a great choice for cutting lumber and using it for extended periods.
Best Reciprocating Saw for Cutting Metal:
Cutting metal is a different story, as it requires more power, durability, and precision. For the tool itself, it is best to choose a powerful model that can handle up to 3,000 Strokes-per-Minute and tackle the challenge of cutting through metal. You will also need either a bi-metal or carbide grit blade since they are sturdier and stronger. As for the TPI (Teeth Per Inch), your blade needs to have at least 8-10 TPI for cutting aluminum, 14-18 TPI for cutting through metal tubes, angle irons, or metal pipes, and lastly, 18 TPI and above for anything harder. Keep in mind that to cut through metal and harder materials, the higher the TPI, the better, but the optimal TPI can still vary based on factors such as the type of metal, the thickness of the material, and the cutting application.
The best reciprocating saw for cutting metal has to be the Ronix 4221 Reciprocating Saw, with its brushless motor, impressive 3,000 Strokes-per-Minute capability, and versatile blade options. The Ronix 4221 stands out as one of the most powerful and high-quality cutting tools from this company. The keyless saw blade replacement mechanism and the ability to adjust the cutting depth are other advantages that make this model one of the best reciprocating saws on the market.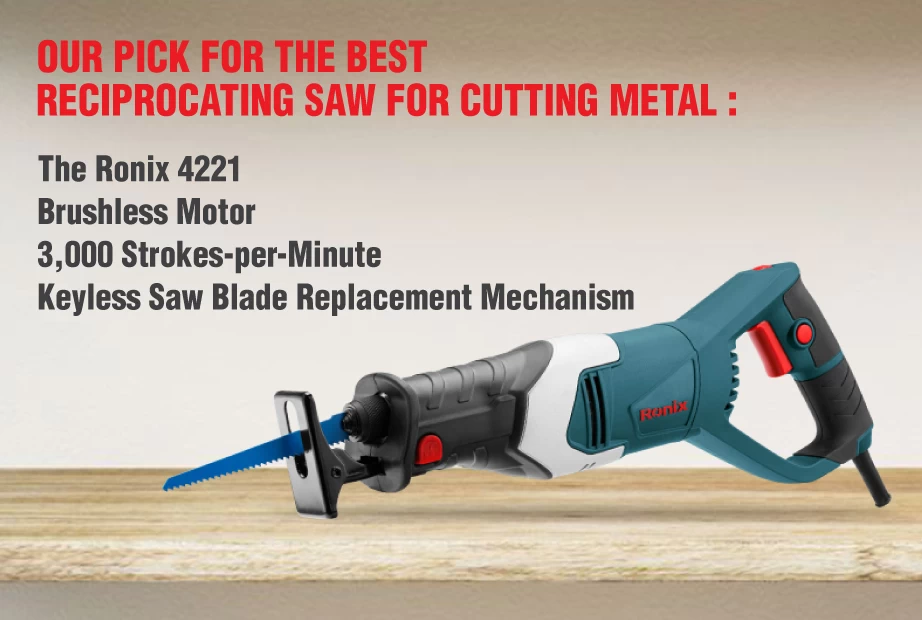 Best Corded Reciprocating Saw:
If you need a reciprocating saw with consistent power that would have no downtime, then corded options are for you. You can use them uninterruptedly and not worry about running out of power, which can be crucial for heavy-duty and construction work. As a plus, corded models are relatively cheaper so you can look for a corded model if that's a concern.
The best corded reciprocating saw that we can suggest is the Milwaukee 15-amp Super Sawzall. When it comes to power, this tool is a beast. It can cut through anything you throw at it with ease. This model has some interesting technologies to make your life easier, like the "Constant Power Technology", meaning the blade's power doesn't diminish even when under pressure, or the gear-protecting clutch which helps to soak up those massive forces that occur should the blade lock up.
Best Cordless Reciprocating Saw:
But what if you wanted a battery-powered model that you can take with you anywhere you want without having to worry about lack of electricity? Well, then you need a cordless reciprocating saw in your arsenal. They can be a bit more expensive, but the comfortable feeling of knowing that you can use your tool in any environment will be well worth it.
So, what is the best cordless reciprocating saw? The Ronix 8103K Cordless Reciprocating Saw, 12V, 2700RPM is exactly what you are looking for. It comes with two 12v batteries in the case and adjustable speeds of up to 2,700 Strokes-per-Minute with the charger's fast charge system, which allows for optimal performance in challenging work environments. It's relatively light at only 2.4 so you don't get tired while working.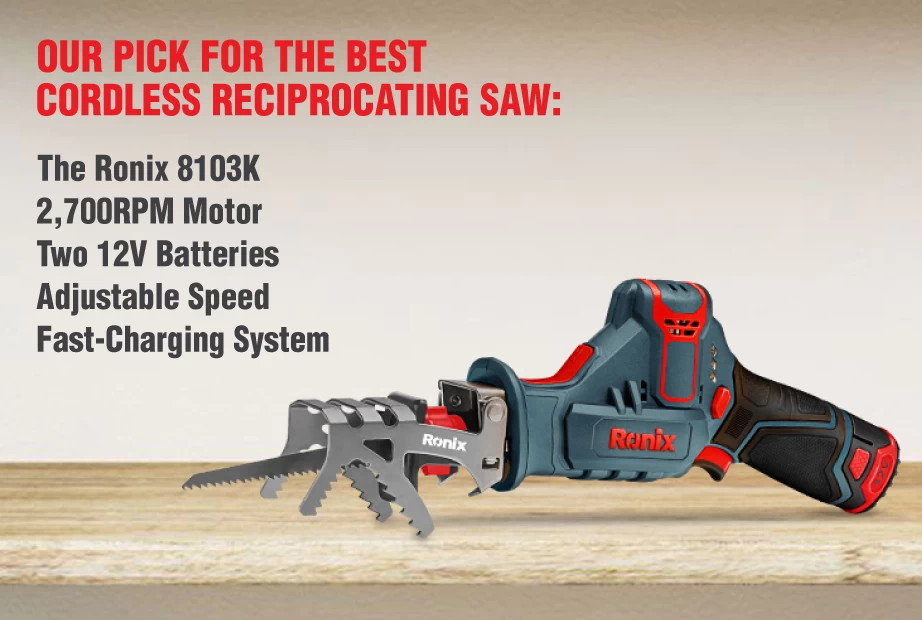 Best Affordable Reciprocating Saw:
Budget can be a very significant factor when shopping for a reciprocating saw. Spending a lot of money on a saw as a beginner that you may only use for DIY projects or light tasks wouldn't be logical, so what are your affordable options?
Well, the Ronix 8904 Cordless Reciprocating Saw would be an amazing affordable reciprocating saw option. It's equipped with a variable-speed trigger for cutting power up to 3,000 Strokes-per-Minute, a lithium-ion battery, and two woodworking and metal saw blades in the case which can help you with your projects and tasks; so if you are looking for the best affordable reciprocating saw, take a look!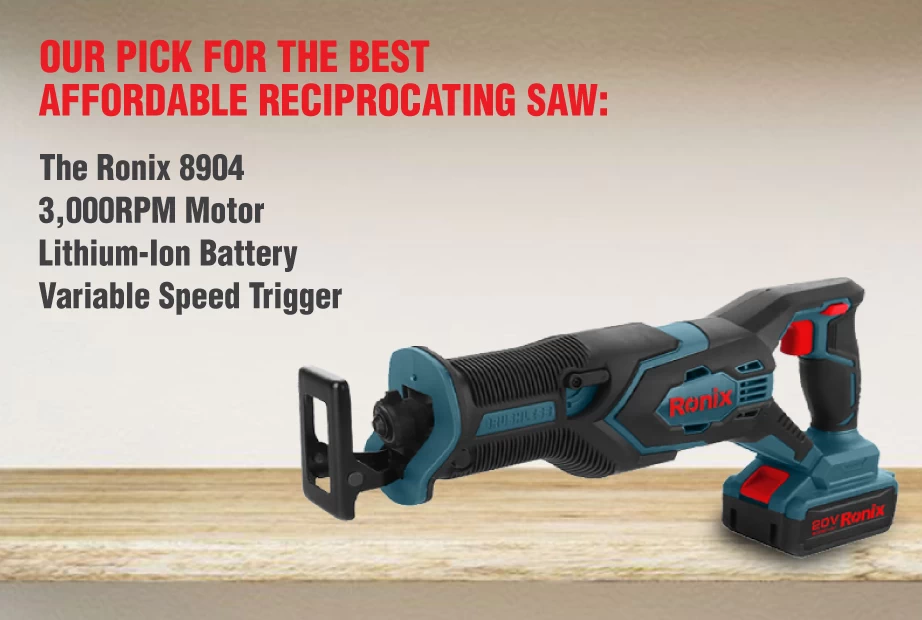 Best Versatile Reciprocating Saw:
As a professional, you may be looking for a reciprocating saw which is an all-in-one, multi-purpose tool that will let you cut through everything from simple wood to fiberglass and metal. Your reciprocating saw would need changeable blades, adjustable Strokes-per-Minute, and a high-quality battery. What could match those descriptions?
Milwaukee M18 ONESX-0 ONE-Key Reciprocating Saw 18 Volt is the best versatile reciprocating saw you can find on the market. It may be a bit on the expensive side, but with the 18v lithium-ion battery, 3,000 automatically-adjusted Strokes-per-Minute, and the automatic brake it will be worth the money.
Best Reciprocating Saw for Beginners:
If you are a beginner and you've recently become interested in woodworking, you will need a beginner-friendly tool that will let you start your journey into the vast world of reciprocating saws! It needs to be lightweight, easy to use for simple tasks, and easy to adjust based on your needs.
The Black + Decker Cordless Kit (BDCR20C) comes with those exact specifications. This model is compact as well as lightweight and is perfect for beginners. It comes with a variable speed trigger, allowing you to control the speed easily. It also has an electric brake which works as a built-in stopping mechanism, adding a layer of safety to the device.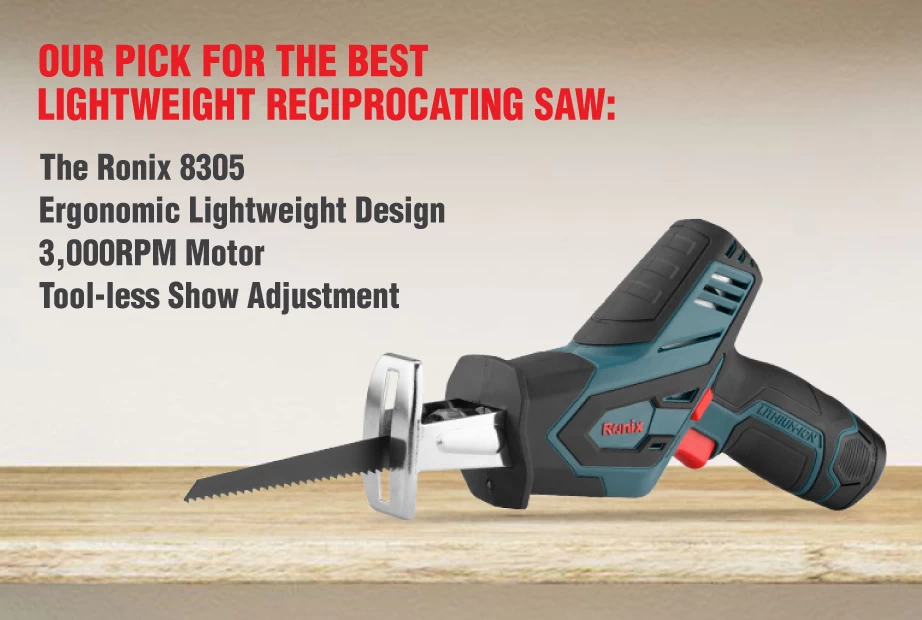 Best Reciprocating Saw for Heavy-Duty Tasks:
Heavy-duty tasks require the perfect companion for heavy-duty users in construction – the ultimate best reciprocating saw for tackling a variety of tasks with power, precision, and safety. It needs to withstand the toll construction and other heavy tasks take on the saw, and it needs to last long in difficult environments. Choosing the best reciprocating saw for heavy-duty tasks may seem difficult, but lucky for you, we're here to help!
The Milwaukee Sawzall with Quik Lok Blade Clamp and All Metal Gearbox is the ideal tool for handling a variety of tasks. Great efficiency, enhanced safety features, and reliable construction make this saw ideal for jobs that require precise cuts. One of the most useful features of this saw is its Quik Lok Blade Clamp. This allows the user to switch between blades quickly and the mechanical latch makes opening and closing easy. Additionally, when using a heavy blade with this tool, the counterbalance mechanism reduces vibration for a more precise and stable cut.
Best Lightweight Reciprocating Saw:
For people that carry around their reciprocating saws a lot, weight becomes an important factor. It may become the difference between having backache all the time or being comfortable with your toolbag in hand everywhere you go! So, what are your options when it comes to the best lightweight reciprocating saws?
Well, the best option seems to be the Ronix 8305 Reciprocating Saw. It was designed with the user's comfort in mind, from its ergonomic lightweight design to its tool-less shoe adjustment for different cutting operations. This tool has a soft grip that reduces vibration and there are no tools required for changing its blade. Despite its weight and size, the Ronix 8305 is a powerful saw with 0-3,000 Strokes-per-Minute and a 12V battery, to match your needs.
Best Compact Reciprocating Saw:
For certain users, heavy, two-handed reciprocating saws may be difficult to use or just not ideal. Plumbers, electricians, and even gardeners may need a small one-handed tool where the performance is less important and the focus is on comfortable use.
The Ridgid 18V Octane Brushless One-Handed model is a prime example of a compact reciprocating saw. It's a cordless saw with orbital motion and an adjustable shoe, perfect for one-handed use and DIY projects.
Best Reciprocating Saw Overall:
The best reciprocating saw overall should be a combination of the best features of every tool we have talked about in this article. It should be the fastest, most durable, and most powerful reciprocating saw on the list we've had so far. So what's the best reciprocating saw overall?
The Milwaukee 2720-21 M18 Fuel Sawzall Reciprocating Saw Kit is the best you could ask for in the world of reciprocating saws. This beast is a brushless, cordless, 18V lithium-ion tool with variable 3,000 Strokes-per-Minute that can cut through everything that is thrown in its way. It's perfect for heavy-duty and construction users, and can cut wood and metal alike. The coordination between the tool, battery, and charger is critical to guarantee superior performance and avoid overloading. This leads to an optimized output and enhanced protection. If you are looking for the best reciprocating saw overall, this is the one to go with.
Conclusion:
The reciprocating saw is a versatile tool suitable for professionals and DIY enthusiasts, offering speed, power, and versatility in various tasks like construction and woodworking. Its blades are designed for different materials and user comfort, enhancing efficiency and productivity. Specimens like the DeWalt 20V, Bosch RS325, and Ronix 4221 cater to specific needs, while affordable options like the Milwaukee 2720-21 M18 Fuel Sawzall Reciprocating Saw Kit offer superior performance. This comprehensive buying guide helps choose the best reciprocating saw for your specific needs.
FAQ:
Can you cut straight with a reciprocating saw?
A reciprocating saw is the go-to tool for cutting a perfectly straight line.
Are reciprocating saws worth it?
The reciprocating saw is versatile and efficient, cutting through branches, pipes, and metal. It is a necessary tool in every DIY enthusiast and professional's toolbox.