Power and precision are without a doubt the two best terms to sum up a miter saw. There are many tools for cutting wood, but the distinguishing feature of the best miter saws is their precise angled cuts at the highest speed. A power miter saw is the fastest machine for a carpenter to use for doing angled cuts, and precise 90-degree crosscuts and a common tool in the woodworking and carpentry industries.
These wood-cutting tools have a wide range of usage in woodshops and carpentry workshops. They can be used for cornice making, crown molding, trim works, interior designs, DIY, wood joinery works, and other common carpentry applications.
Related Article: Best Miter Saw Blades: 6 Features to Consider
There are various types of miter saws with different features and capabilities. Based on your type of work, there are many tools titled as the best miter saw among numerous brands and models in the market.
They can be categorized based on their power source which are
Electric miter saws
Cordless miter saws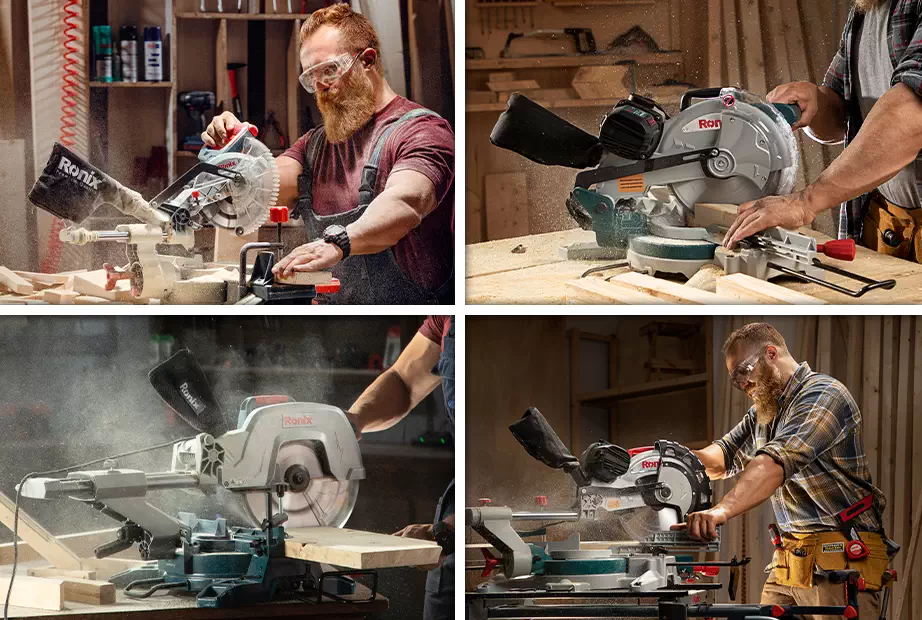 Or, based on their function they are categorized into three types:
Sliding miter saws: There is a sliding bar that lets the blade slide forward and backward across the wood piece. It has a deeper cutting capacity.
Dual bevel miter saw: It has the ability to perform angular cuts in both the left and right bevel without the need to lift the workpiece and reposition it for the opposite bevel cut.
Compound Sliding miter saws: A compound miter saw has a sliding rail with a dual bevel capability to do all angle cuts at a minimum time.
Choosing the best miter saw requires knowledge of its various types, models, brands, and functions. In the following, we will consider each type of the best miter saws available in the tool market and introduce some well-known worldwide miter saw brands that can be a great assistant in your carpentry tasks.
Best Miter Saw for Beginners
Purchasing a new miter saw without prior knowledge about it comes with trial and error. You might choose a machine that doesn't meet your needs and will become useless in your future woodworking projects. Therefore, to make a successful purchase and choose your first tool consider the following qualifications: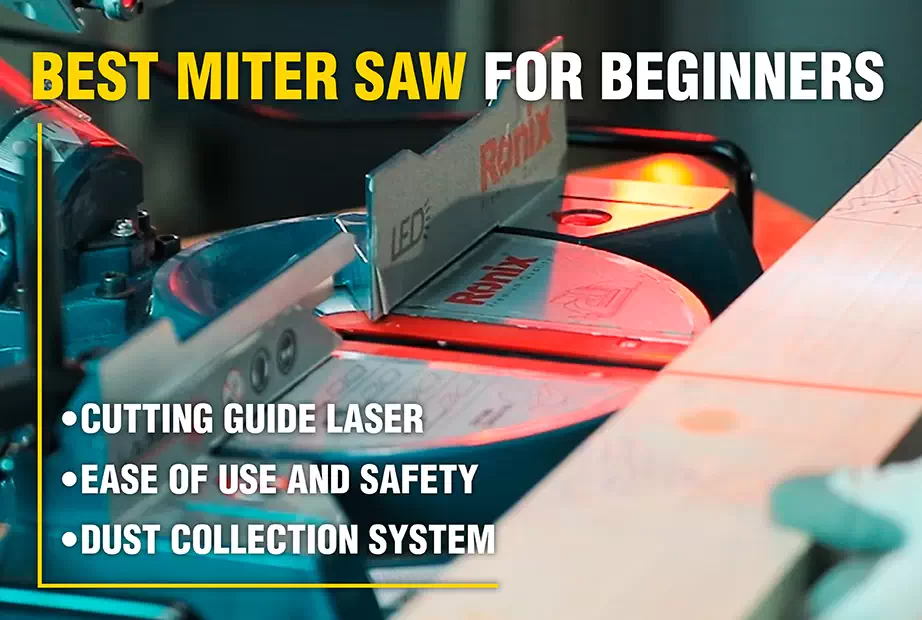 Cutting Guide Laser
For beginners, a laser guide might be a useful feature. It aids in the accuracy and precision of your cuts and allows the user to see the cutting line before lowering the blade. This feature is actually present in the new models available in the market.
Dust Collection System
Given how much sawdust a power miter saw may produce, an effective dust-collecting system helps keep your new workspace clean and safe.
Ease of Use and Safety
The beginner's miter saw needs to be simple to set up and operate due to their lack of experience and knowledge of power tools. It also needs to have high safety measures, such as a blade guard and protection lock knobs, to reduce the likelihood of accidents occurring while in use.
Taking all these features into account,
As a beginner in the world of carpentry, there are numerous brands available on the global tool market that can meet your needs. For your basic woodworking projects, you may get the best miter saws from tool brands like Ryobi, Craftsman, and Metabo HPT. Additionally, DeWalt's extensive selection of practical saws can satisfy the needs of any user, whether they are beginners or professionals.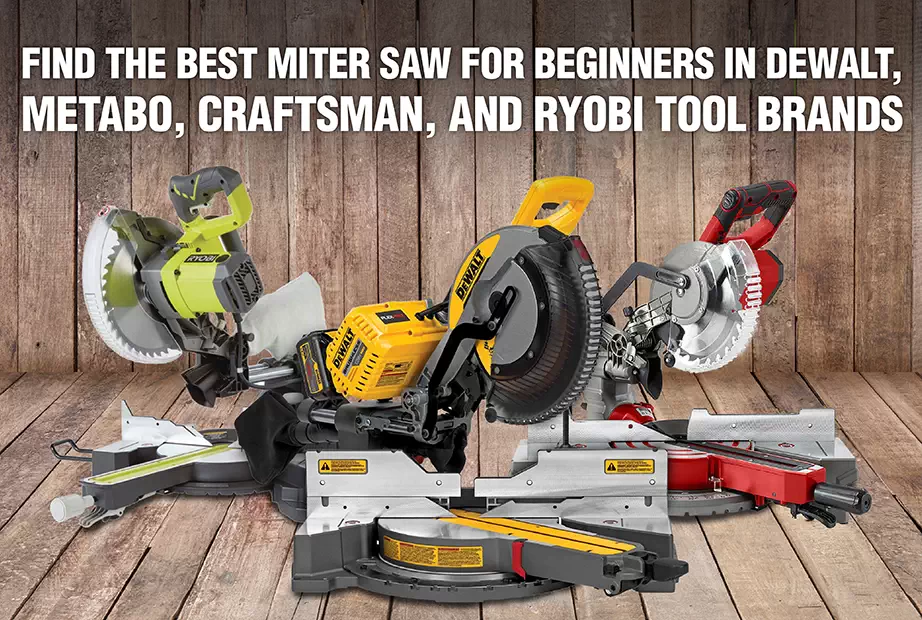 Best Miter Saw for DIYers
As a DIYer, your workshop will be pointless without a high-power miter saw. It is one of the most used power tools in a DIY workshop. So, if you want to do it yourself before buying the best power miter saw, check out the following features:
Precision is the Key Factor
For experienced DIYers, the best miter saw is a model with good cutting precision. In fact, the blade must cut the workpiece correctly and at the correct angle, without slipping off the rail.
Choose the Affordable One
As a DIYer, you don't need to spend a lot of money on a miter saw, but you also want to be sure you're purchasing quality gear that will last. Look for a model that is both inexpensive and offers the functionality you require to complete your DIY projects.
Blade Size and Cutting Depth
Professional DIYers should choose the best miter saw with an appropriate blade size that tackles most of their woodworking applications. There are various DIY saws in the market with different blade sizes. As a DIY expert, you need to first specify the cutting depth of most of your projects, and then purchase the right tool depending on it.
Based on these features,
Professional DIYers can find the best power miter saw for their projects in the following tool brands:
Makita
Bosch
AEG
Ronix
Evolution
Best Miter Saw for Woodworking
One of the first tools that a carpenter decides to buy is a powerful miter saw and it's one of the most useful tools in the wood industry. This machine is undoubtedly a key and important tool in carpentry workshops. It will maximize the accuracy and speed of wood cutting. As a result, tool manufacturers strive to provide high-performance miter saws that are useful in the woodworking industry. As a carpenter, consider the following aspects before purchasing the best miter saw for woodworking.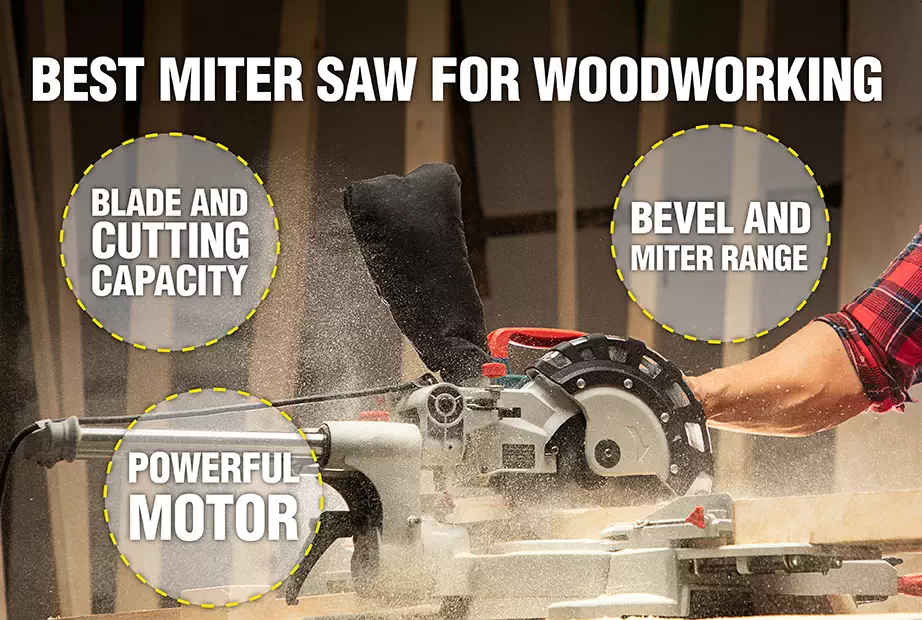 Blade and Cutting Capacity
Because woodworkers work with a variety of wood pieces such as hardwood, softwood, and construction timber, the maximum thickness and width of the material that they cut are usually rather large. As a result, they must select a heavy-duty miter saw capable of holding larger blades for their tasks.
Go for a Powerful Motor
The power of the motor is one of the most significant variables a carpenter should consider before purchasing a saw machine. Carpenters require a high-power miter saw to handle all of their operations since they work with large and high-density wood pieces and lumbers.
Bevel and Miter Range
A woodworking miter saw with a wide range of bevel and miter angles allows for more flexibility in cutting angles, making it easier to create precise cuts. They usually have a miter range set between 0° and 45° both to the right side and left side (in dual bevel machines).
Considering all the above features, you can find top miter saws for woodworking in the following tool brands:
By integrating revolutionary features in the production of their woodworking tools, DeWalt continues to be a pioneer in the category for years to come.
AEG Power Tools claims to offer the precision, power, and reliability that a true craftsman demands in their carpentry tools.
With over a decade of experience in manufacturing high-quality power tools at reasonable prices, Ronix Tools is a perfect woodworking and carpentry solution worldwide.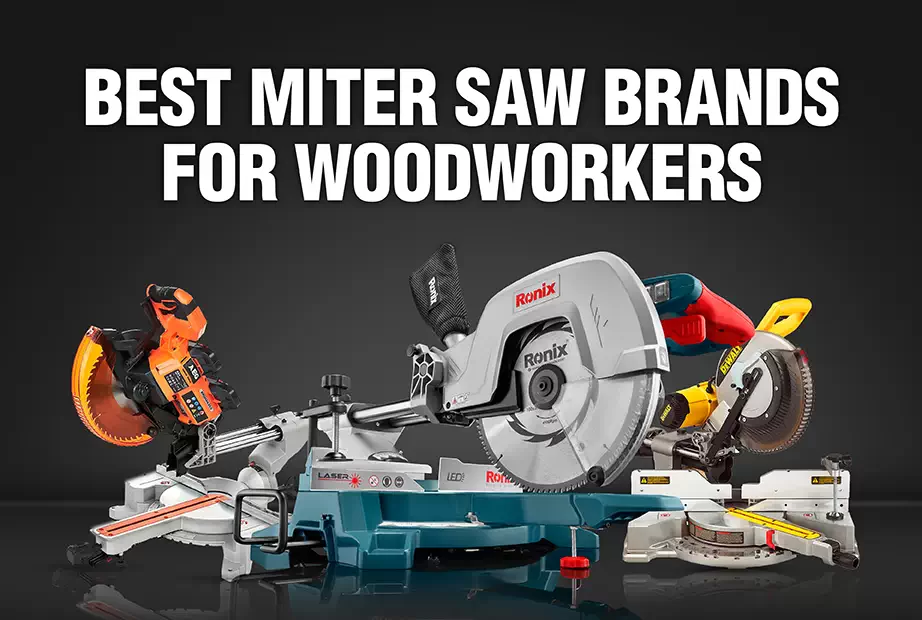 Best Budget Miter Saw
There are various choices available when it comes to high-quality miter saws that offer the best bang for your buck. Many buyers opt for a tool brand that allows them to make a risk-free purchase at a competitive price. The problem arises, though, when budget brands can't satisfy customers with the quality of their tools and equipment.
But no need to worry, you can find a budget tool that meets your needs and allows you to make precise cuts without breaking the bank.
Ronix is a high-grade tool brand that manufactures the best power miter saws at cost-effective prices while maintaining the quality and productivity you require.
Best Sliding Compound Miter Saw
The best sliding compound miter saw gives more freedom to the operator while cutting materials. This type of saw can slide back and forth, allowing for wider cuts. It has a compound feature for angled and bevel cuts. Having an adjustable and expandable base extension in this kind of saw helps with additional workpiece support. What are the important features of the best sliding compound miter saw?
Sliding Bar
The sliding rail on a sliding miter saw allows for the movement of the saw blade back and forth whilst cutting. Therefore, the cutting length becomes wider and helps for more precise cuts.
Versatile Bevels and Angles
Being able to bevel at a wide range of angles is a key factor for a miter saw to be regarded as the best sliding compound one. Make sure your cutting machine has a 45 degrees bevel capability on both the right and left sides for versatile cutting capabilities.
Many brands are experts in manufacturing the best sliding compound miter saw including various models of DeWalt: DWS779, Makita: GSL04Z, GSL04M1, GSL02Z, all Milwaukee models, and Ronix 5401 and 5402 items.
Overall, a sliding compound miter saw is a must-have in your workshop and any of the above would make a great addition.
Best Compact and Portable Miter Saw
The portability of a power miter saw is especially useful in a large-scale workshop when you need to move it around. In such a setting, carpenters will typically acquire a powerful miter saw that is lightweight and compact enough to travel across the area or between multiple operators and projects.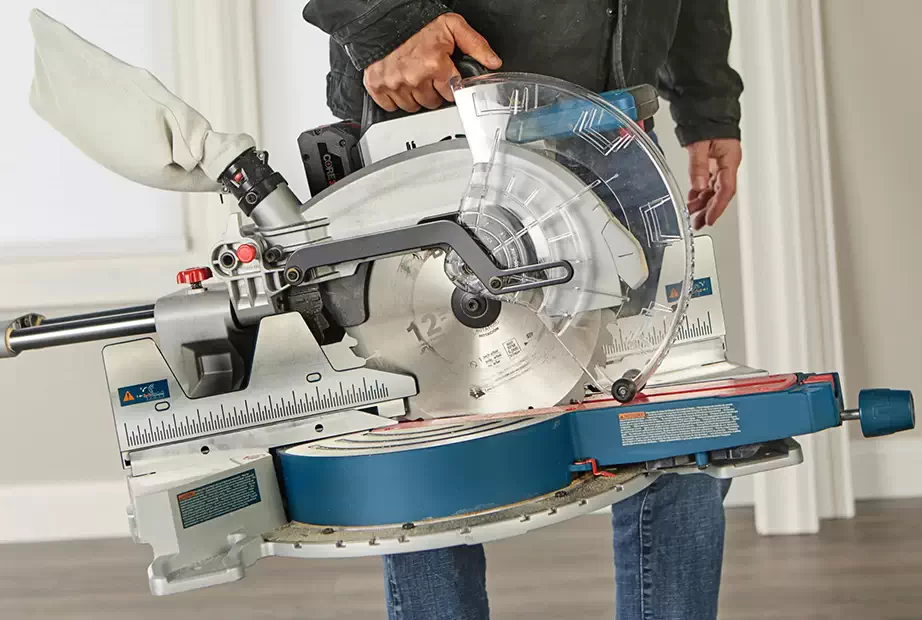 Check the Size and Weight
A compact and portable miter saw should be lightweight and easily movable. Users looking for this functionality should opt for a model that is portable and small enough to store while still being powerful enough to handle the majority of cutting operations.
Many well-known companies include compact miter saws in their lineup as well, so it's simple to find your ideal pick in Ronix, Metabo HPT, and Milwaukee brands if you're looking for a small and portable one.
Best Miter Saw for Crown Molding
Crown molding installation can be a challenging project, and you need an accurate and high-power saw to make precise cuts. The type of cutting tool you choose for your project depends upon various factors but make sure to consider the following features: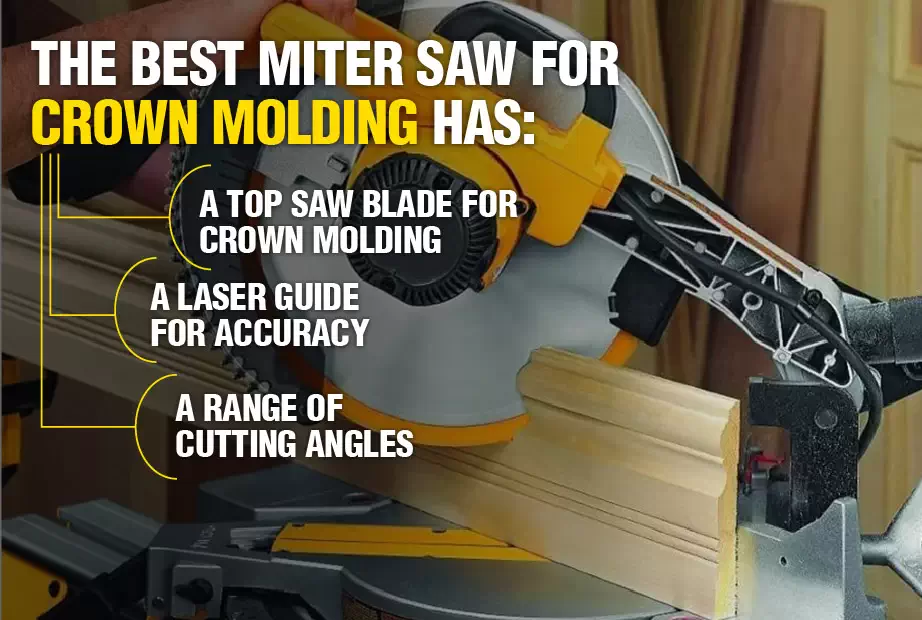 A Range of Cutting Angles
To have a successful crown molding installation, your saw should be able to make different cuts at a wide range of angles and bevels. So, go for a tool that can be adjusted to cut at any angle – obviously, a sliding compound miter saw would be best.
A Laser Guide for Accuracy
To make your finished crown molding projects as precise and beautiful as possible, try to choose a miter saw that features a laser guide, to deliver the highest accuracy.
The Best Saw Blade for Crown Molding
Precise applications need precise tools. For crown molding projects, try to choose a saw blade capable of doing crosscuts and combination cuts with the highest performance.
With all the features we listed above, you can find high-performance miter saws for crown molding in many popular tool brands. Among them, Bosch, Makita, and Milwaukee can give you excellent choices for your future crown molding tasks.
Best Miter Saws for Trim Work
Trim carpenters are most dealt with details and delicate and smaller home projects. Accuracy is at the core of their work and they need to consider precision, power, and versatility of angles as the main features when buying the best miter saw for trim works.
Trim work is the process of utilizing linear wood pieces to seal the gaps between floors, walls, doors, and ceilings. To accomplish this project most perfectly, your go-to saw machine features characteristics similar to those of crown molding installation that we mentioned above.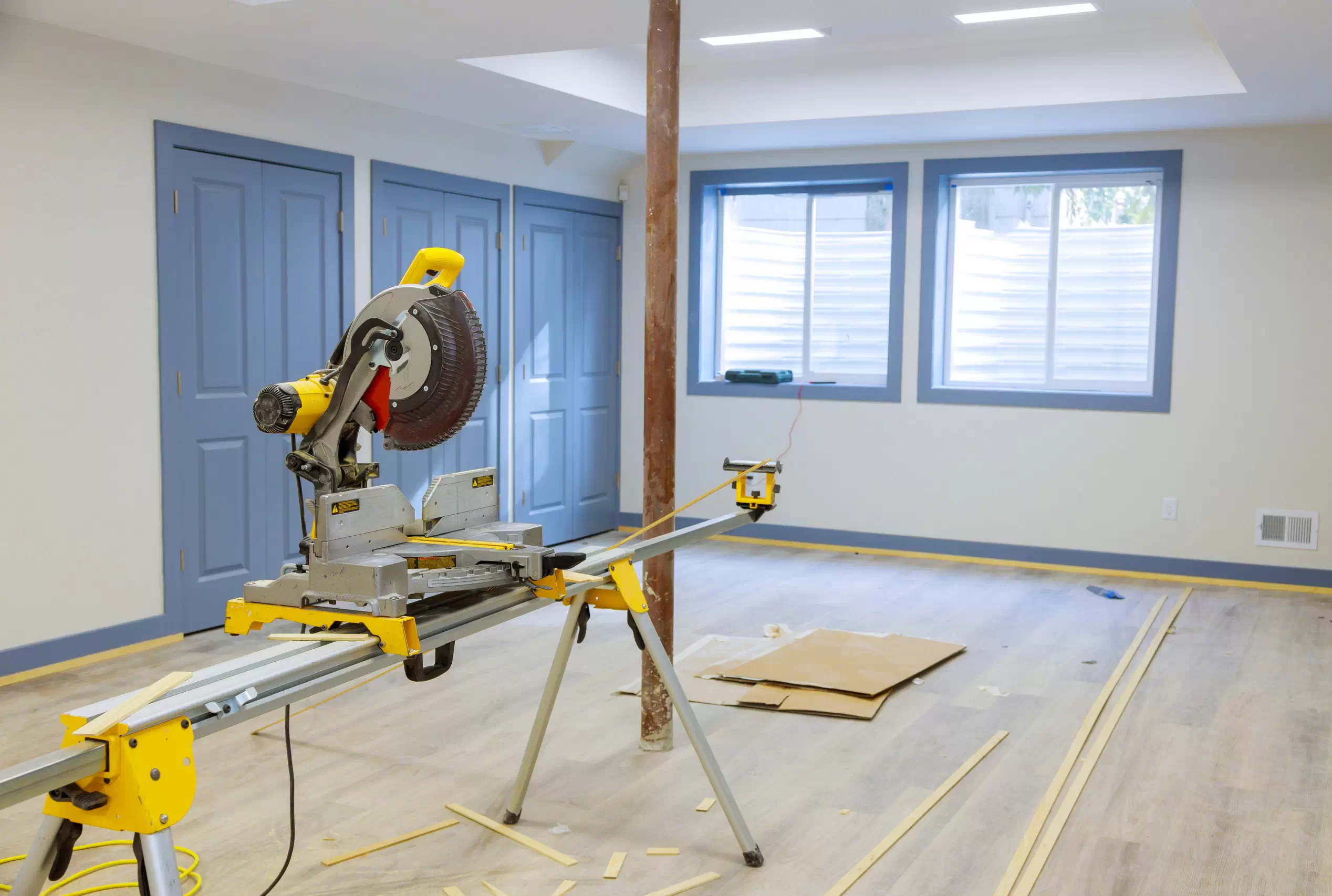 Best Miter Saw for Home Use
Although a miter saw isn't typically used at home, if you're a real tool hobbyist and want to add one to your arsenal, we suggest a compact and inexpensive tool to handle your typical wood-cutting applications.
The Ronix 5100 compound miter saw is an excellent choice for homeowners looking for the best miter saw for home use and applications. It just weighs 7kg yet has nearly all the functionality and qualities that other heavy-duty miter saws do. But you can purchase light-duty and high-performance ones from other manufacturers, too.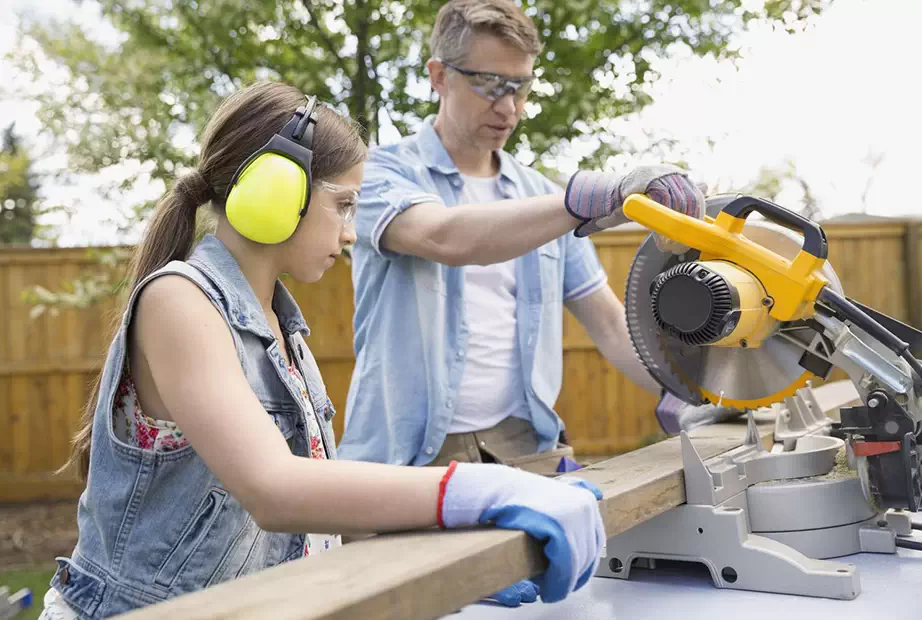 Best Cordless Miter Saw
A cordless miter saw is a battery-powered portable solution. It has the advantage of not needing to be plugged in, although it may have less power than corded ones. Cordless miter saws are ideal for use in large working spaces and woodshops where tool portability is critical.
To have a successful purchase of a cordless miter saw, pay attention to the following features:
High-Power Battery
The battery is one of the most important considerations when selecting the best cordless miter saw. The latest generation of high-capacity Li-on batteries used in cordless tool manufacturing provides for greater power supply independence. Furthermore, the battery capacity is critical because it decides how long it will survive during working hours.
Another important characteristic is the chargers' usage of quick charging technology. When purchasing a battery-powered hammer, consider one that is constructed with the most recent battery and charger technologies.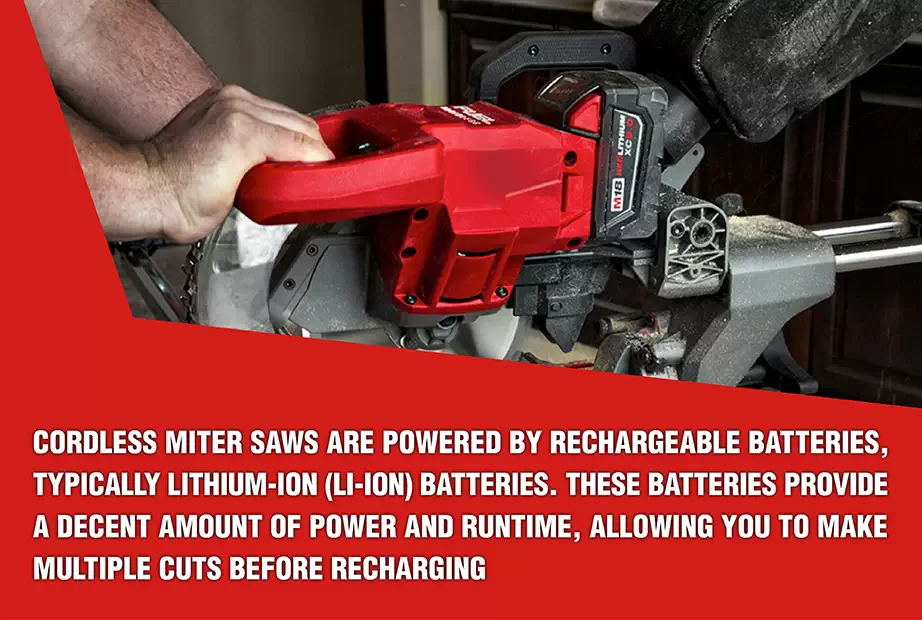 High-Performance Brushless Motor
Brushless motors are the most recent development in the corded and cordless worlds. However, it is most common in cordless tools. Having no brushes to wear out means lighter weight, higher energy efficiency, and lower noise. If you're going to purchase the best power miter saw in the battery-powered category, a brushless one gives you an added lifetime and higher speed.
What companies thus provide the greatest cordless miter saws available globally?
The market is flooded with tool brands that provide both corded and cordless versions of this carpentry tool. DeWalt, Makita, and Festool, however, are the industry leaders in manufacturing high-power cordless tools and have drawn the attention of woodworkers and carpenters to their superior battery-powered miter saws.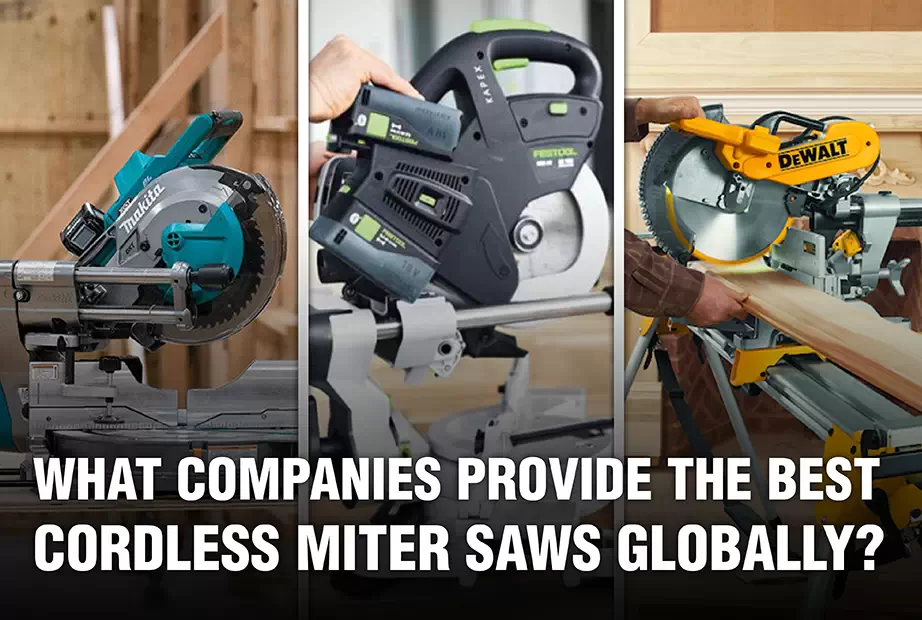 Best Miter Saws with Dust Collection
If you've been a carpenter for a while, you'll know that sawdust is one of the many issues that come with any wood-cutting operation. Actually, it continues to be among the most difficult challenges that tool manufacturers must consider while producing cutting machines. Thankfully, most cutting tools today come with a dust port.
A good dust-collecting system aids in keeping the work environment clean and debris-free. Choose a model that has a dust collection port that can be connected to a vacuum. Most tool companies now include this feature in their cutting tools. As a result, finding the best miter saw with a dust-collecting port is not difficult.
However, if you're seeking the best brands with dust-collecting systems, manufacturers like Makita, Metabo HPT, Ronix, and AEG may have your ideal tool.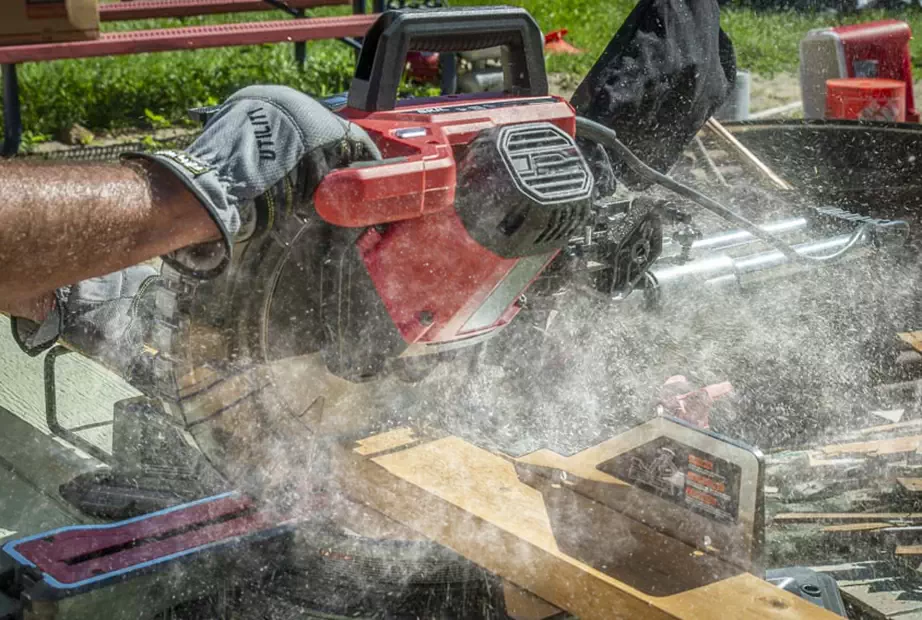 Best 12-Inch Miter Saw
For some operators, the most deciding factor in choosing the best miter saw for their work is the blade size. The size of the blade on this tool varies, and each blade size is best for a certain type of material and thickness. For instance, a 12-inch miter saw has a 12-inch blade, which enables it to cut deeper and handle larger materials.
Therefore, to have a pleasant cutting experience you need to first identify the type of your project, then choose the appropriate blade size and then purchase the best miter saw that meets your demands.
In the following, we'll list some well-known advanced saws that feature a 12-inch saw blade:
Makita GSL04M1 max XGT® cordless 12″ Dual-Bevel Sliding Compound Miter Saw Kit
DeWalt DWS779 12 In. Double-Bevel Sliding Compound Miter Saw
Milwaukee 2739-20 M18 FUEL™ 12" Dual-Bevel Sliding Compound Miter Saw
Bosch GCM18V-12SDN PROFACTOR Surgeon 12 In. Dual-Bevel Slide Miter Saw
Best 10-Inch Miter Saw
The most common blade sizes for power miter saws are 10-inch and 12-inch, but you can also find smaller or larger blade sizes as well. The blade size affects the depth of cut and the type of material the saw can cut.
A 10-inch miter saw is suitable for cutting through most materials. It's important to choose the appropriate blade size based on the types of projects you will be working on. Let us introduce you some of the high-grade 10-inch miter saws in the world of cutting tools:
Makita GSL03M1 max XGT® Brushless Cordless 10″ Dual-Bevel Sliding Compound Miter Saw Kit
AEG 4935440670 Mitre Saw
Bosch GCM18V-10SDN PROFACTOR™ Surgeon 10 In. Dual-Bevel Slide Miter Saw and other tools of this series
Milwaukee 2734-20 M18 FUEL™ 10″ Dual-Bevel Sliding Compound Miter Saw
DeWalt DWS713 Miter Saw, Single Bevel, Compound, 10-Inch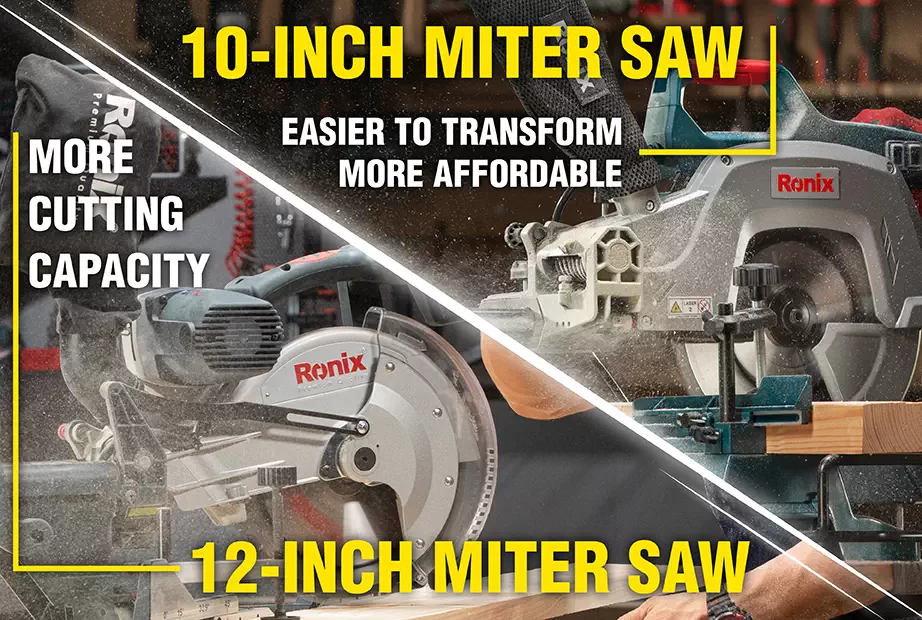 Buying Guide for Best Miter Saws
Choosing the best saw largely depends on the type of your work, but in general, the best miter saw has certain features that are most common to all mentioned above brands.
Cutting Accuracy
As we mentioned previously, the best miter saws are defined mostly with "precision" and it's the most important factor to consider before buying your tool.
Laser Indicator
Whether you're a professional or amateur user, a laser indicator is a helpful feature to cut your wood pieces the most accurately. Most cutting machines on the market have LED indicators or laser lights to assist woodworkers in determining the exact cutting position of the blade.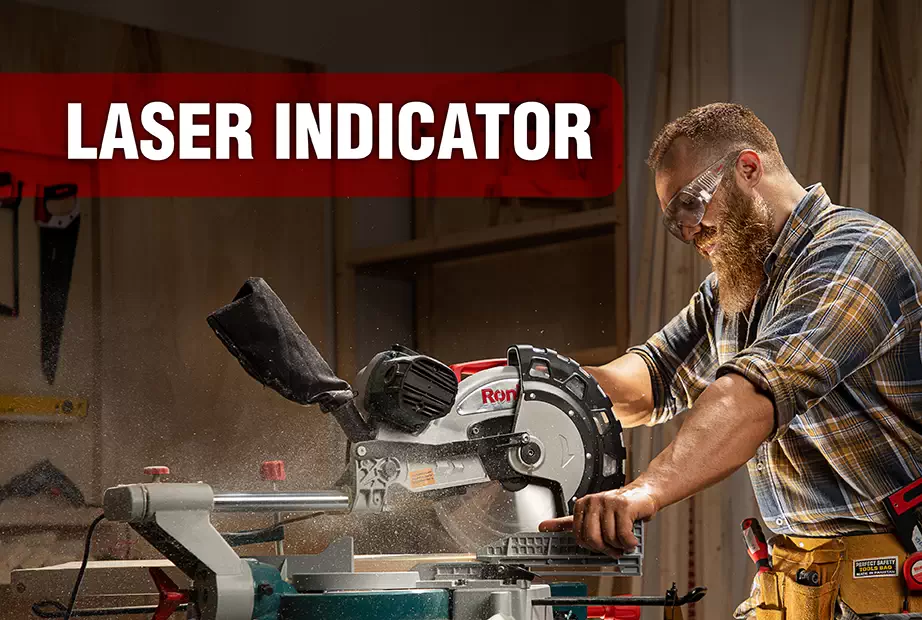 Safety
Safety is a crucial feature of every power tool. Cutting tasks, whether we like them or not, can put us at risk. Manufacturers included various components such as blade guards to avoid such dangers. This function serves as a protective steel covering, preventing the blade from harming your fingertips. In addition, certain models incorporate electric brakes, automatic shut-off, safety switches, and spindle locks for further security.
Therefore, make sure that your future power miter saw will have all the safety features for preventing accidents and injuries while using the saw.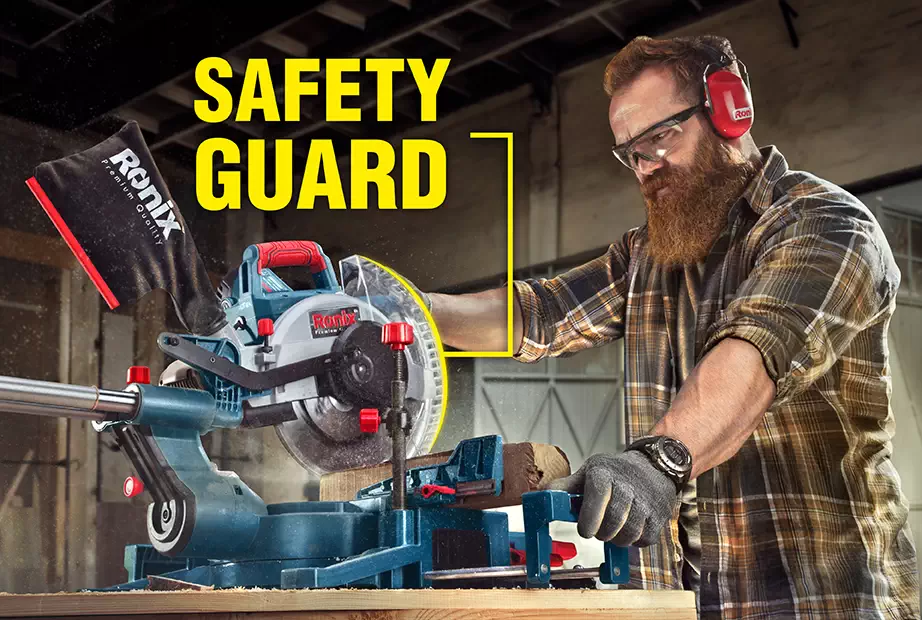 Quality and Durability
The longer the miter saw's lifespan, the higher its quality. Look for a machine with a sturdy base and a solid fence system to ensure accurate and precise cuts. Also, a saw with a long-lasting motor can withstand intensive use without burning out.
Affordability
Pricing is important, but remember to don't sacrifice the quality of your miter saw to have a cheap one. By doing some research you can find high-quality miter saws in the tool market that has a reasonable price.
Overall, based on our investigations and research, we recommend Ronix Tools if you're in a rush to pick one brand to buy the best power miter saw. It is a premium German tool brand that blends quality and affordability to provide customers with a positive experience of owning a high-quality and cost-effective power miter saw that satisfies all of their needs.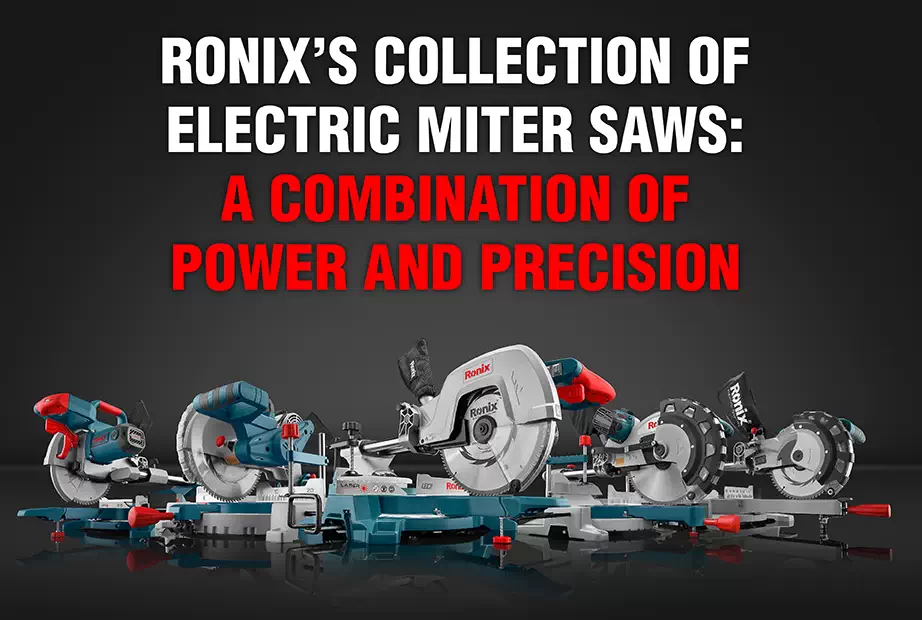 FAQ❓
What is the best miter saw to buy?
The ideal miter saw for you will ultimately depend on your specific requirements, preferences, and financial constraints. Before making a purchase, it's crucial to carefully weigh the features and advantages of each saw and choose the best miter saw based on your needs.
How many types of miter saw are there?
Miter saws are categorized into different types such as sliding miter saw, dual bevel miter saw, and sliding compound miter saw, and each of them has its own features and functions, advantages and disadvantages, and the right choice for you will depend on your specific needs and preferences.