Have you ever wondered if there is a magical solution to remove a stuck screw or drive longer models into any dense material fast and without much effort? If so, you probably need a guide to finding the best impact drivers.
Relying on a spring, hammer, and anvil, these power tools provide a rotational impact force needed to turn any screws and bolts, especially when they are rusted, stripped, or enclosed in a tight space.
As turning screws is considered a basic task for both professional and casual users, carpenters, interior designers, mechanics, DIYers, and even home users are always looking for a fast and easy way to take care of it. That is when the best impact drivers can make wonders!
There is a wide variety of such screwdrivers on the tool market each with its own max speed, torque, impact rate, length, and weight.
Each combination of different features has a reason behind it which makes the tool great for a specific task and application. The following article will provide you with any information you need to choose the value-for-money models in each category.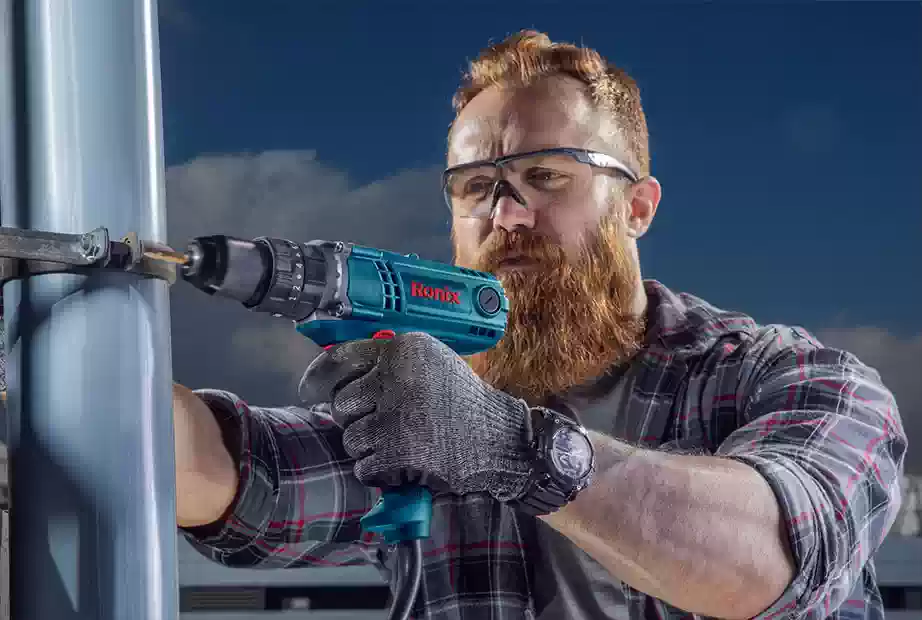 Best Rated Impact Driver
To get the job done, the best-rated impact drivers deliver the highest amount of torque and blows per minute. Such ideal power tools are lightweight and have highly resistant and anti-shock bodies.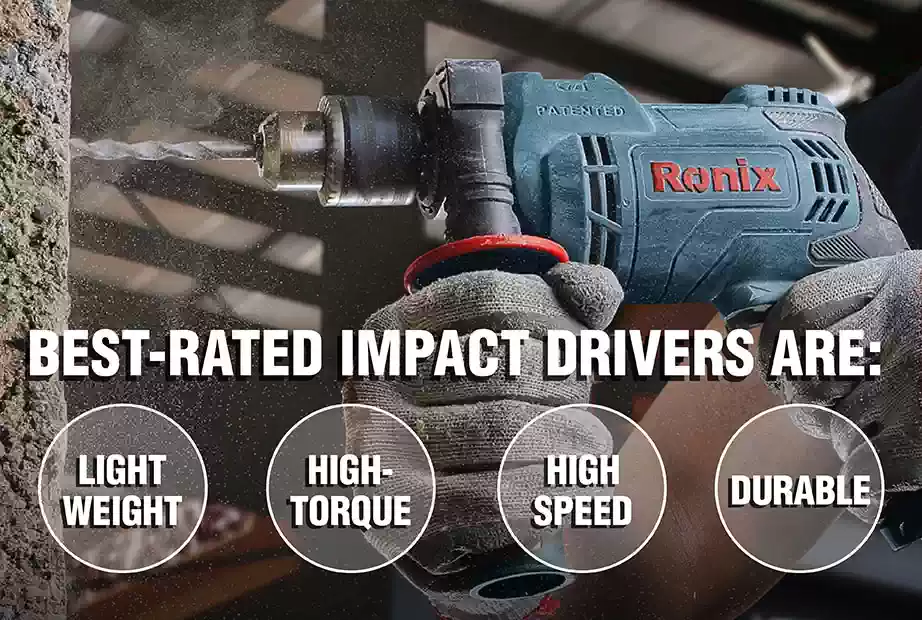 Let's dive into the details:
Weight
It is commonly believed that the more powerful a tool is, the heavier it should be but the best-rated impact drivers on the market are those that are high-powered and yet relatively lightweight. That way they can reduce user's hand fatigue when working on long and demanding projects.
Torque
As the twisting force, the higher the torque is the more powerful and fast the tool would be. So, if you plan to take care of heavy-duty driving tasks in no time, go for the models that can deliver greater torque.
Impact Rate
The Impact per minute (IPM) which demonstrates the number of blows the tool makes against the surface every 60 seconds, is yet another important factor to consider as the higher it is, the faster the whole process of driving screws (in or out) would be.
Body
As professional tools for heavy-duty tasks, best-rated impact drivers are those that come with resistant and durable bodies to be your lifelong companions in dealing with all tasks related to tightening and loosening screws.
If a combination of the above features is what you are looking for, look no further than 8905 which belongs to Ronix's 89 series.
This cordless tool runs on a lithium-ion battery, weighs 1.18kg, and has a lightweight and anti-shock body with an ergonomic design and remarkable durability. It delivers up to 55NM torque and 0-6750 to 0-30000 IPM.
8105k comes with a metal gearbox that enables heavy-duty functions and a longer lifetime, a keyless chuck, and 21 clutch settings for efficient and accurate screwing and reduced fastener damage.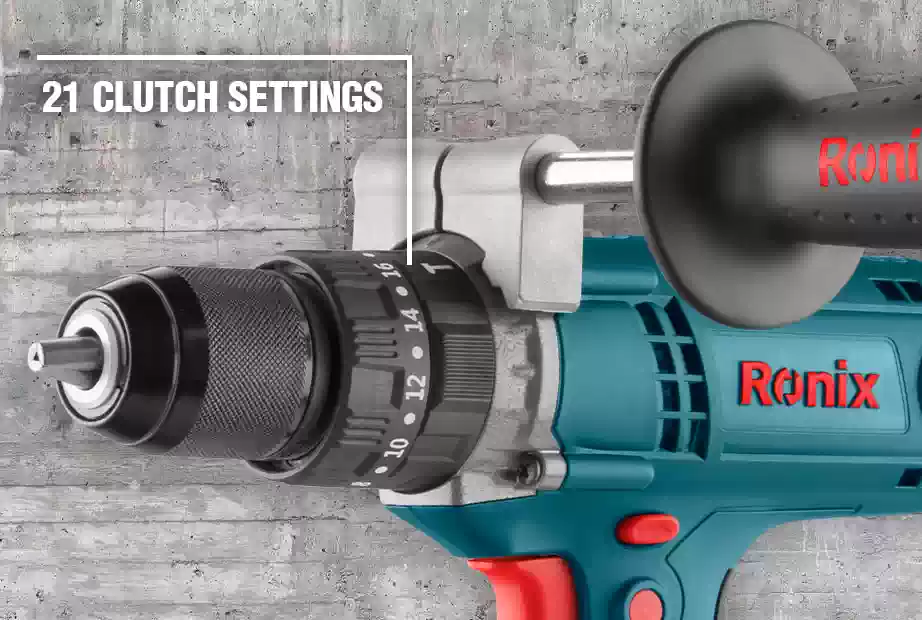 As a bonus, you can also use this tool for drilling and hammer drilling as well!
Most Powerful Impact Driver
The power of an impact driver is determined by a combination of its source of power, torque, no-load speed, and impact rate. Relying on the highest numbers for all these features, the most powerful impact driver is a corded tool that even the densest surfaces cannot resist when it comes to driving a screw in and out.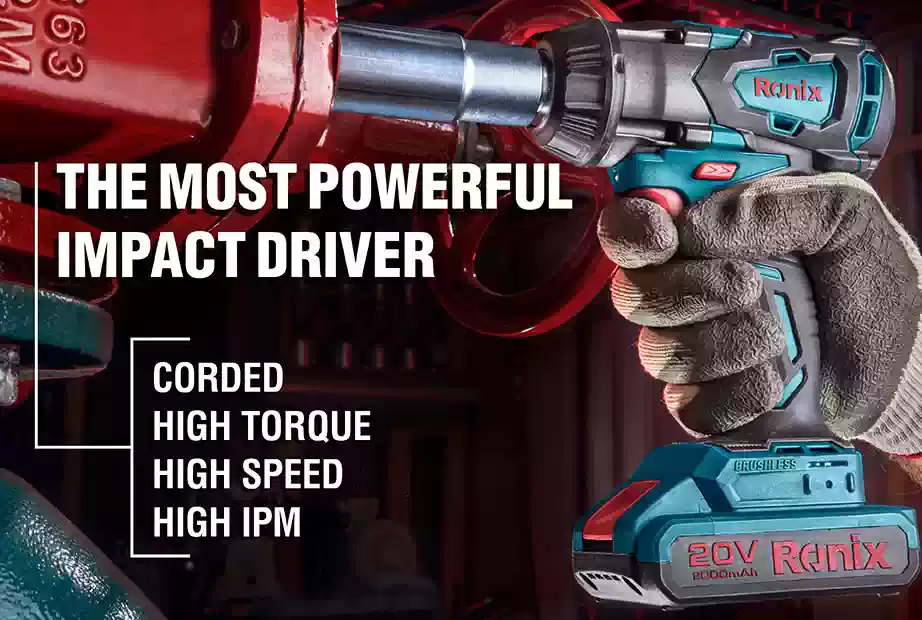 Source of Power
In spite of all the advantages the cordless models have over their corded counterparts, the latter is more powerful as they offer continuous power and more amperage while batteries eventually lose power and need to be recharged or may get weak in the long run.
Related article: impact drill vs drill
Rotational Force and Speed
The most powerful impact driver is the one that can deliver the highest twisting force (torque) while turning the screw at the highest possible speed with the most significant number of impacts per minute.
When it comes to power, Ronix 2520 has challenged its most famous counterparts offered by big brands like Makita, DeWalt, and Bosch! This corded tool has a powerful 450W motor that can deliver up to 75NM torque and 0-480 to 0-1800 revolutions per minute of no-load speed.

In addition to a 2-speed power selection for more control over the process, 2520 is equipped with a metal gearbox housing that makes it perfect for heavy-duty tasks.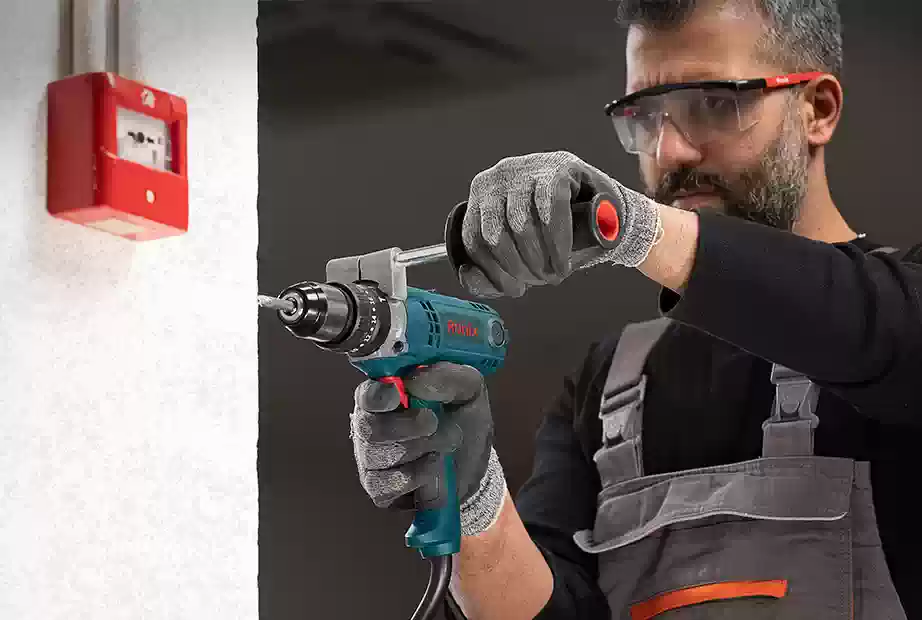 This handy power tool also has a lightweight and compact body to provide maximum power at minimum weight for less hand fatigue and more productivity.
Best Cordless Impact Driver
Although cordless models are less powerful than their corded counterparts, they are more convenient to use and easier to carry around.
If you are looking for the best cordless impact driver, there are many factors to consider before making a choice. To be worthy of this title, in addition to having a high torque and impact rare, a tool should be equipped with:
High-Performance Motor
To deliver high no-load speed and ensure optimal operation, a high-performance motor is a must-have for such a tool.
Quick-Change Tool holder
It should come with a quick-change tool holder for an easy and fast bit-changing process.
Compact and Ergonomic Body
Portability is one of the most important advantages of cordless tools. Therefore, the best cordless impact driver is the one that delivers maximum power at minimum weight and has a compact and ergonomic body for added convenience and mobility.
The Latest Battery Chemistry and Technology
Batteries are one of the most important components of a cordless tool. As they provide the tool with the power it needs to operate, it should be strong and of high capacity to maximize the performance of the tool and reduce its downtime.
Therefore, the ideal tool you are looking for should be designed in a way to feed on compact-cell lithium-ion batteries that charge face, have no memory effect and lower self-discharge rate, and are lightweight and low-maintenance.
Accessories
Each tool needs a series of accessories to deliver its best performance. Therefore, the best tool comes with all such add-ons which in this case are fast chargers and extra batteries for replacement with the old one on demand!

In the cordless category, Ronix 8906 can exceed all your expectations; it feeds on a 20V lithium battery and is equipped with a lightweight body of 1kg.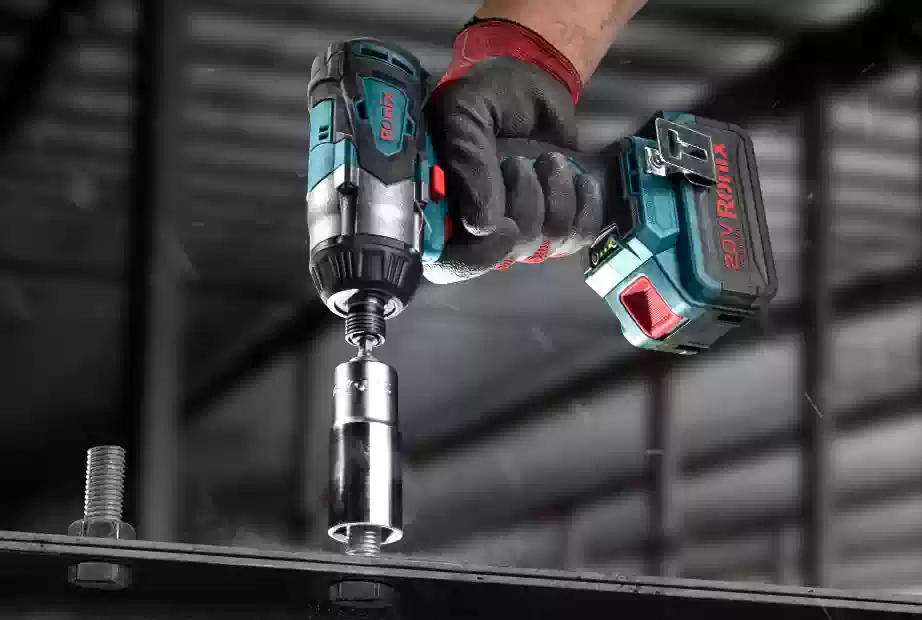 As one of the strongest players in Ronix's all-in-one family, this cordless beast has a powerful, brushless, and waterproof motor that ensures its durability and top performance. It delivers 280NM of torque and has a 3-speed setting for Hi-Mid-Low RPM & IPM to be the best fit for a wide range of applications.
Furthermore, it is compatible with both 2.0Ah and 4.0Ah lithium batteries and has a battery charging indicator to keep track of the battery level the whole time.
If you are not yet quite sure what the best choice is, keep in mind that 8906 comes with an LED light which makes it a great choice for taking care of tasks in hard-to-reach and dark places.
Best Lightweight Cordless Impact Driver
Some brands offer particularly lightweight and compact wireless models to the market for users that work at heights like on scaffolds or in confined spaces like pump stations or ship decks.
DeWalt's 1/4-inch, 18V can be titled as the best lightweight cordless impact driver currently available on the market.
With a particularly lightweight and compact design and an anti-slip and compact grip, it allows access into tight spaces and reduces hand fatigue.
This cordless beast comes with a heavy-duty impacting mechanism and a high torque combined with a rotational speed that can go up to 2400RPM to take care of a wide range of applications.
Best Brushless Impact Driver
In addition to providing a higher torque and speed, brushless motors are more efficient, less noisy, and more durable compared to their brushed counterparts. Due to all such benefits, this type of motor has a growing market worldwide. According to allied market research, the value of this market is projected to reach 72.2 billion dollars by 2030 which is an 8.1% growth from 2021.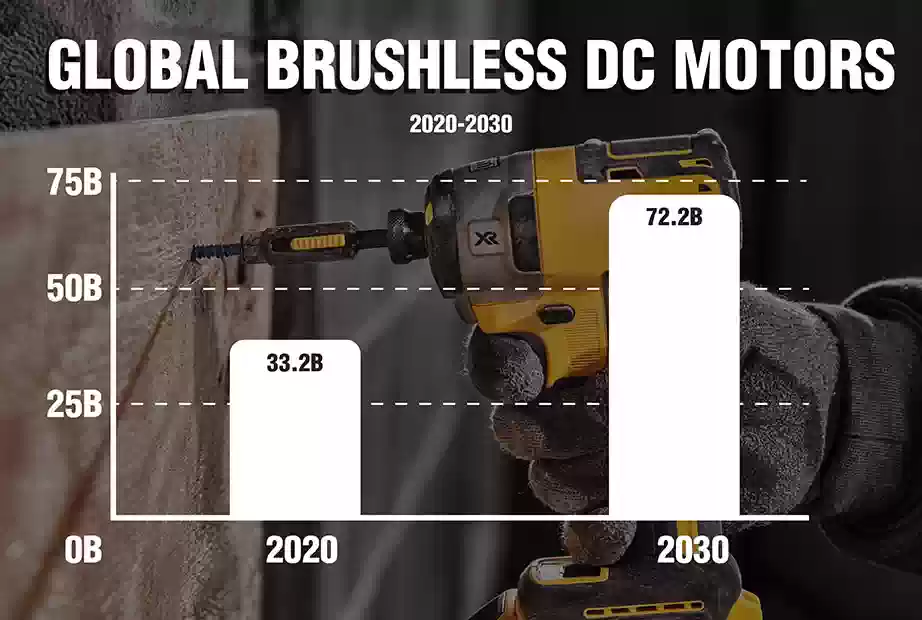 Equipping impact drivers with brushless motors can also work wonders because they increase the durability and the efficiency of the tool by up to 50%.
If you are looking for the best brushless impact driver, Ronix 8906 is a solid choice!
Best Impact Driver for Mechanics
Be it inspecting the engine of a vehicle or performing regular maintenance on different machinery, mechanics need to tighten and loosen screws all the time and impact drivers can be helpful assistants for them.
As they usually work in tight spaces and move around a lot, The best impact drivers for mechanics are the ones that are versatile and provide the most power at the minimum weight. They are:
Cordless
Cordless models are the best choice for mechanics mainly because they are lightweight and thus can be easily carried around the job site.
Secondly, unlike best corded impact drivers, they have no strings attached to an outlet and are of use in spaces where there is no electricity available.
Durable
To check all the boxes for the best impact driver for mechanics, a tool should be made of the best material for more durability to stand the workload.
Powerful
Such a tool should deliver high torque and a higher no-load speed to help the user get the job done without much effort.
Equipped with a Keyless Chuck
Mechanics deal with many screws of different sizes and lengths during each task, therefore the perfect driver for them is the one with a keyless chuck that allows a fast and easy bit changing.
Fed by Efficient Batteries
If not equipped with an efficient battery with long life, being Portable and lightweight would be of no use for this cordless driver of yours. The best impact driver for mechanics feeds on a compact cell lithium-ion battery that charges fast and keeps the charge for a long period of time, thanks to its zero memory effect and low self-discharge rate.

Let's cut to the chase by introducing you to Makita's DT01W kit. It weighs only 2 lbs. and has an ergonomic grip which makes it easy to handle. This cordless beast delivers a max torque of 800 in.lbs, a no-load speed ranging from 0 to 2,300 RPM, and 0 to 3000 impacts per minute to take care of various tasks.
Equipped with a built-in LED light that illuminates the workspace, it works with a 12V Lithium-Ion battery that charges in less than one hour and has a long life.
Best Impact Driver for Woodworking
Assembling different pieces of wood is an important step in woodworking that can only be done quickly and efficiently with the right tools. The best impact driver for woodworking is the one with: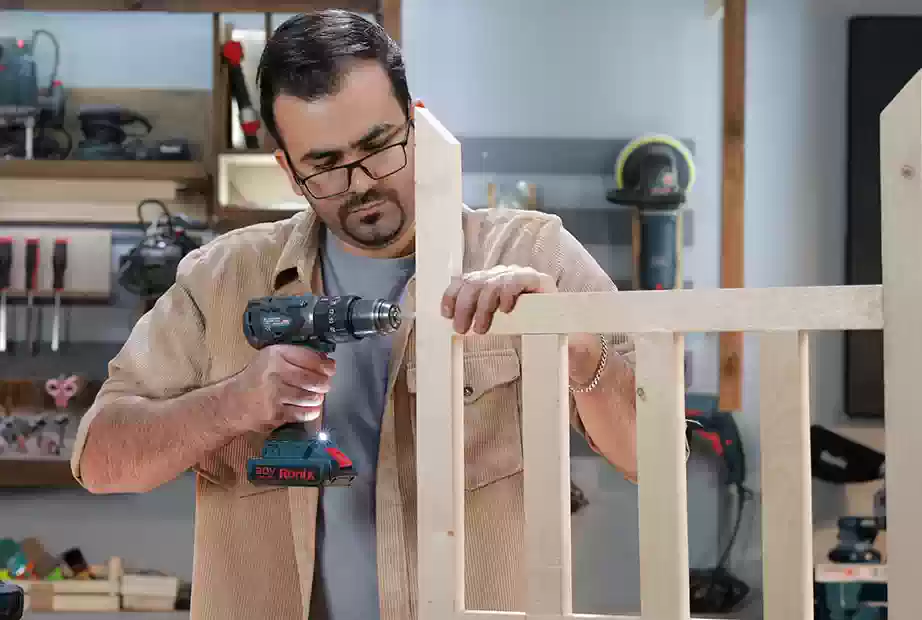 Adjustable torque and speed
Depending on how thick a wooden workpiece is, it needs a certain amount of torque and speed to drive screws without damaging the surface or the screw. Therefore, the best impact driver for woodworking is the one with a speed selector switch that can be adjusted in a way to give more speed or more control (higher torque) to the operation.
Adjustable Clutch Setting
For this tool to be ideal, it needs to be equipped with a clutch setting that allows the user to control the depth of driving the fastener into the surface and achieve a faultless result.
Best Impact Drivers for Home Use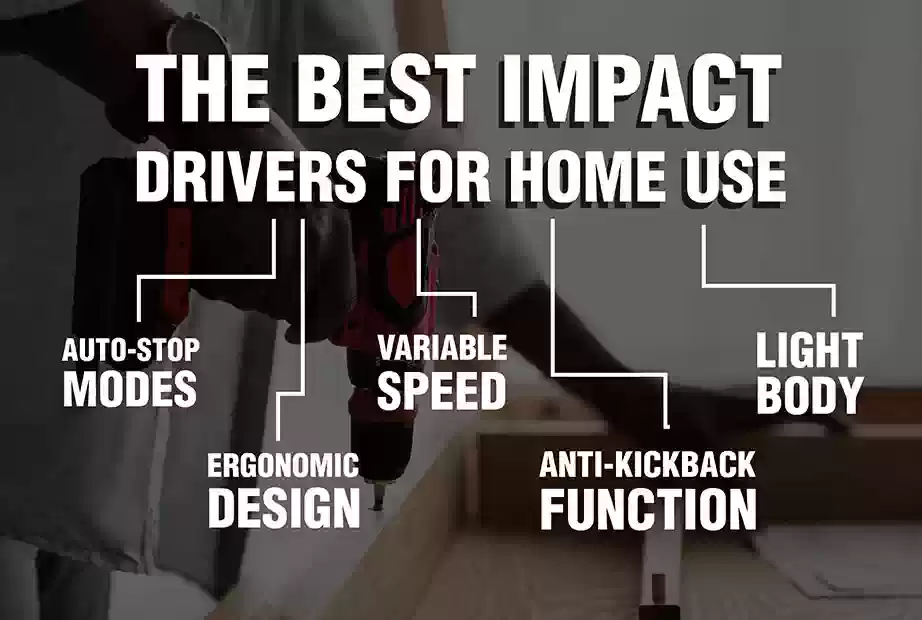 The best impact drivers for home use are not necessarily optimized for heavy-duty tasks. As most homeowners are not pros at using power tools like this, safety is the most important feature in this category. Therefore, an ideal tool is one with an anti-kickback function that ensures the safety of the user by shutting down the motor when needed.
Being equipped with auto-stop modes is yet another important feature for home users as provides them with a damage control plan that avoids any potential harm to the fastener or the workpiece.
The perfect impact drivers for home use should also be versatile and be able to take care of many tasks that might come up at the house. For such tools to be versatile, they should come with variable speeds the user can switch between to be fit for various applications.
Last but not least, such a tool should be lightweight and ergonomic to be easily carried around the house.
Best Impact Drivers for Cars
In addition to being compact, lightweight, and portable, the best impact drivers for cars are the ones equipped with a lithium-ion battery to charge fast and stay charged for a long time to be up for any task upon request.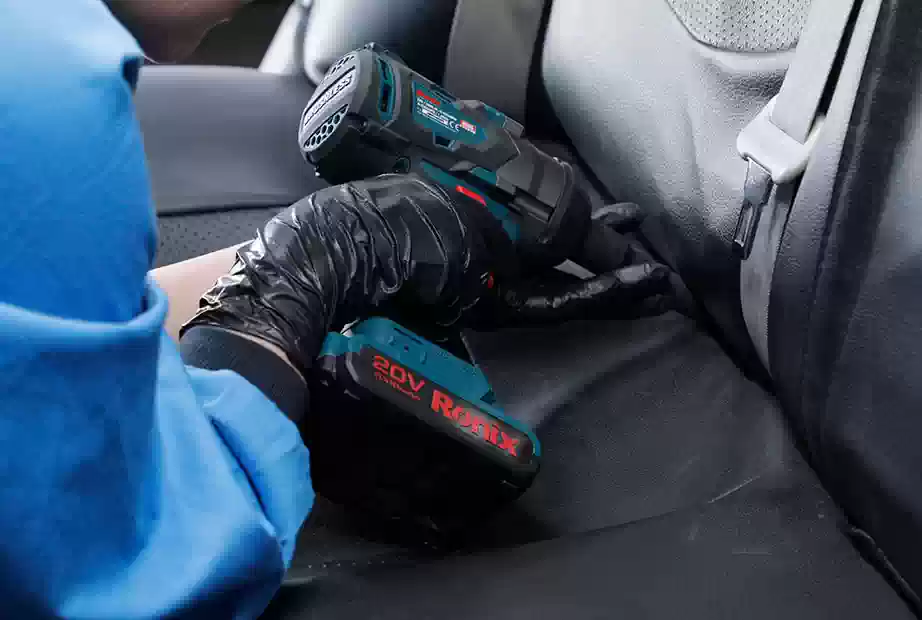 These tools are also equipped with an LED light and a waterproof motor to support the user whenever the car breaks down at night or in rainy weather.
Last but not least, the best impact drivers for cars are budget-friendly so that most car owners be able to add them to their emergency tool kit.
FAQ❓
What is an impact driver and how does it differ from a regular drill?
Unlike drills that rotate bits to bore holes on a surface, Impact drivers provide a rotational impact force needed to turn any screws and bolts.
What are the key features of the best impact drivers?
The best-rated impact drivers deliver the highest amount of torque and blows per minute. Such ideal power tools are lightweight and have highly resistant and anti-shock bodies.