Looking for a hairdryer but can't find one? Well, we can't help you. But if you are looking to strip paint or old wallpaper, make cells in resin art, remove flooring, repair furniture, and even solder heavy-duty electrical components, we have a similar tool for you. Except, it can heat up to 600 degrees and answer all of your loosening, shrinking, repairing, and soldering needs!
Alternative:
Looking for a hairdryer but can't find one? Well, we can't help you. Given that you're not chasing to use a hairdryer instead of a heat gun, we're here to help you. As you can't use a heat gun on your hair, considering different temperature ranges before choosing the best heat gun is a must.
In this article from Ronix, you will find the answers you need regarding working with a heat gun and you will have the ability to choose the best heat guns.
What is a Heat Gun?
Not to be confused by, but heat guns actually look a lot like hairdryers. Even the method of operation is the same for the two tools: they both use an electric heating element and a fan to blow out hot air. However, they don't have the same use; at all!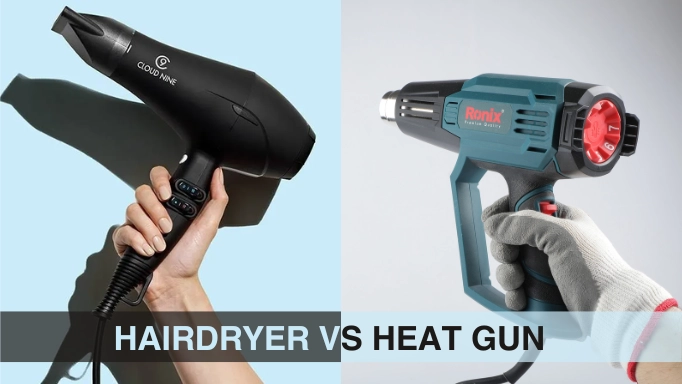 A heat gun can instantly heat up to more than 600 degrees and get ready for you to aim it at a specific area or object. As mentioned, you can use them to remove paint, shrink tubes, thaw frozen pipes, and many more applications.
Best Corded Heat Gun
Source of power categorizes heat guns into two groups: corded and cordless. Having an electrical outlet in a corded one helps with having a more continuous working session with it. Also, they can maintain a more consistent temperature for a larger amount of time.
Choosing the best corded heat gun for you may depend on your specific use. But there are some general tips that are worth considering while choosing one.
Temperature Range
If you need your heat gun for various needs, the best heat gun for you would be one that covers a wider range. So, you would want to choose a model with at least 50 degrees to 600 degrees and even higher.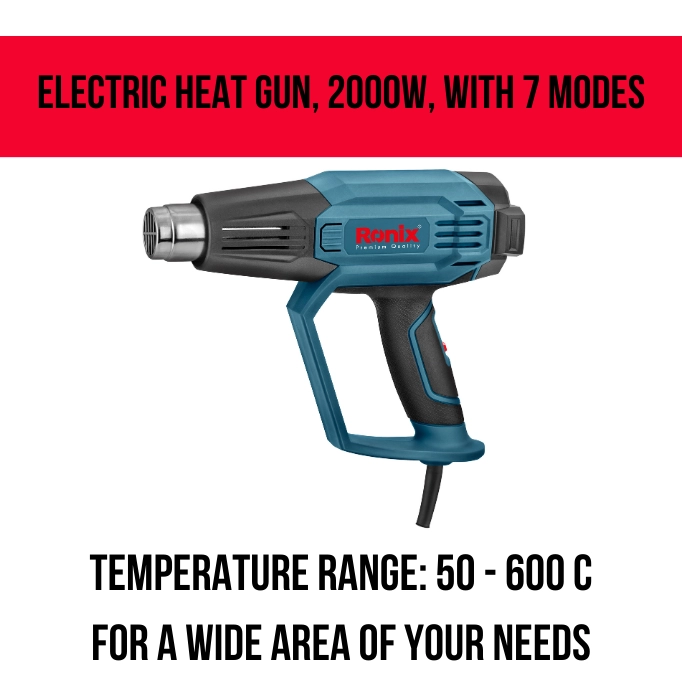 Power Rating
This factor refers to the maximum amount of electrical power a device can deliver. So, the more power rating a device has, the higher wattage it can reach and the faster it can heat up; resulting in a more efficient heat generation. The optimum range is from 1000W to 2000W. Take Batavia Heat Gun for example which has 1500 watts.
Airflow Control
You could say one of the features that makes the best heat gun is being able to shoot out hot air with different intensities and in different directions. Being able to tell your heat gun how to pass and with how much force, makes your work a whole lot easier.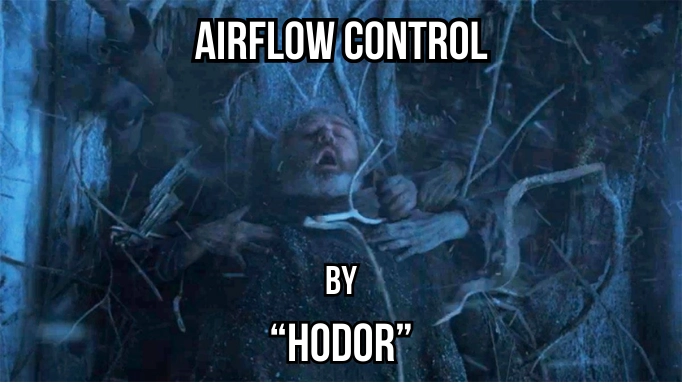 Nozzle Options
Having different nozzle options also helps with flexibility. You can focus the hot air on an object or area or spread it across a surface.
Build Quality
We're working with high temperatures here, obviously. So, the best heat gun is one that can bear high temperatures. Therefore, choose models that are durable and heat-resistant. Also, pay attention to it being ergonomic and having a manageable handle.
Safety Features
A thermal cutout or an overload protection system is necessary to shut down the heating elements and prevent burning up. This will also enable the longevity of the device.
Cord Length
Having a long cord lets you have more flexibility while using this device. You can freely work on different projects.
Brand Reputation
A tool like this can last you for quite a long time. Therefore, choosing smartly and from reputable brands that are known for the quality of their products is clearly the right choice. For example, DeWalt offers you a best-rated heat gun in a cordless form.
Price
You can't forget about the price. Although spending on tools and devices can be some kind of investment (Given that you can use them for various applications and many times), you might be worried about your budget and you are entitled to be.
Ronix is a way for you to smartly manage your budget and not forgo the quality. So you can enjoy using one of the best heat guns in the market.
Best Mini Heat Gun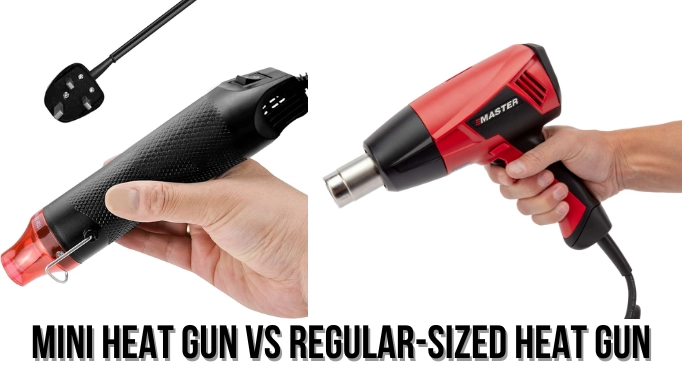 We love everything mini! They are easier to use in DIY and in-house projects and don't take up a lot of space. Also, a smaller tool allows you to freely do things that need detailing. Remember to consider these when choosing one:
Temperature
Weight
Cord length
Fast heating up
Nozzle protector
Stand
Best cordless heat gun
While a mini heat gun can be the top choice for household and DIY projects, having no cord is the next feature that makes it easier for DIYers to use.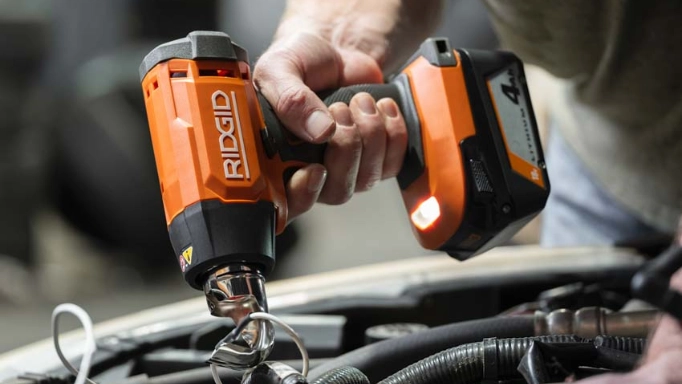 Cordless devices are battery-powered: you won't need to plug anything into anything! Also, they don't have the limits of a corded one and you can use them anywhere. Just remember these specifications of a good cordless heat gun:
Battery Type and Capacity
The type of battery has an undeniable effect on the runtime of the device. Batteries like lithium-ion can provide the needed power to get the job done.
Temperature Range
Just like a corded heat gun, temperature range is an important issue you need to keep in mind. Although a cordless one naturally has less maximum temperature than a corded one, you need to choose a model that answers your needs as much as possible.
Power Output
It goes without saying that having a higher power outlet helps your device heat up faster and all in all be more efficient. This can be considered one of the most important criteria for the best heat guns.
Airflow Control
Having options is always pleasant. Make sure your cordless device has different airflow speed options so you can control the intensity of hot air according to your liking.
Nozzle Options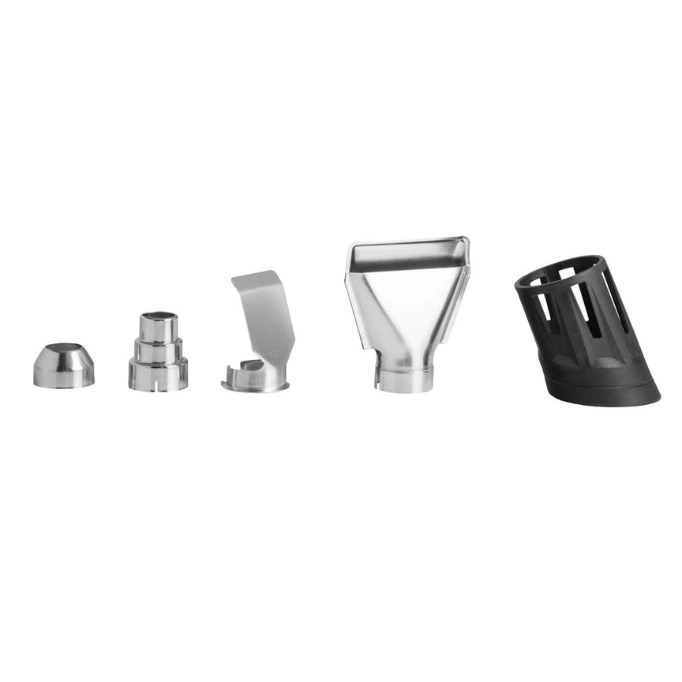 Different tasks require different amounts of receiving heat. So, it's best if the device's nozzle has options for attachments.
Heating Element
Is the heating element up for the task? The element should be able to bear high temperatures and keep it going. That's what it takes to make the best heat gun.
Safety Features
The cordless model that you should be choosing must have safety features such as a cool-down function to prevent getting overheated. It's necessary for maintaining the device's life.
Charging Time
You would want to be able to use your device for as long as you can. So, the best heat gun should have a reasonable charging time. That way you will have enough time to use it.
Weight and Ergonomics
Cordless means being able to move around with your device. That's why it's extra important for this device to be ergonomic and easy to handle.
Additional Features
A feature like an LED light can be a nice add-on that will make it easier for you to see what you're working on more clearly.
Best Heat Gun for Electronics
Heat guns can be used for soldering, de-soldering, shrink tubing, plastic welding, … in electronics. But in this case, you will need a device with different nozzle attachments so you can choose one with a narrow tip. Remember that precision is very important when working with electronics or you will damage other units while working.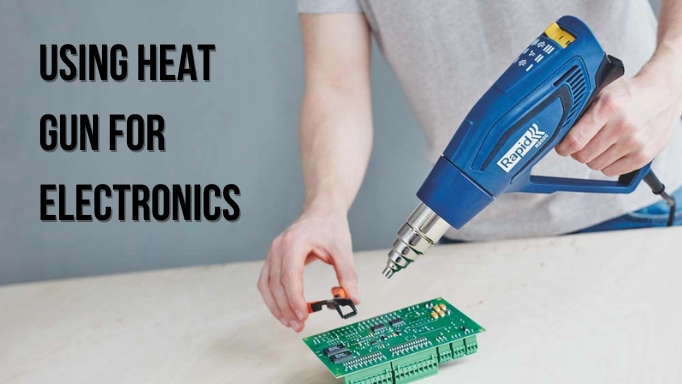 The heat you can receive from a DIY heat gun is enough for your electronics needs.
Best Heat Gun for Crafts
You will need heat guns when working with resin, paint, and ink, embossing powder, shrink wrap, wax, fabrics, vinyl wrap, decals, jewelry making, candle making, ….
The mini heat gun by Chandler Tools is one of the best devices for this use.
Best Heat Gun for Heat Shrink Tubing
Things to be on the lookout for when choosing a heat gun for shrink tubing are:
Temperature Settings
Brand Reputation
Durability
Functionality
Package Price
Ronix's 1102 heat gun by heating up quickly and letting you control the temperature and the speed of the airflow is considered a best-rated heat gun and will enable you to master shrink tubing.
Best Heat Gun for Epoxy Resin
Bubbles are a headache when it comes to working with epoxy resin. What you need for getting rid of the bubbles is a heat gun. Without it, you can't achieve that smooth mirror-like surface on your craft.
Some might say you can use a torch but we recommend using a heat gun so you have more control over the temperature.
The powerful 2000W Ronix heat gun can take care of your epoxy resin needs and you can kiss those annoying bubbles goodbye!
Best Heat Gun for Removing Paint
Do you really want to spend time scrapping and stripping a painted surface to get the paint off?! Of course not. Using a heat gun will get rid of a painted surface for you in no time.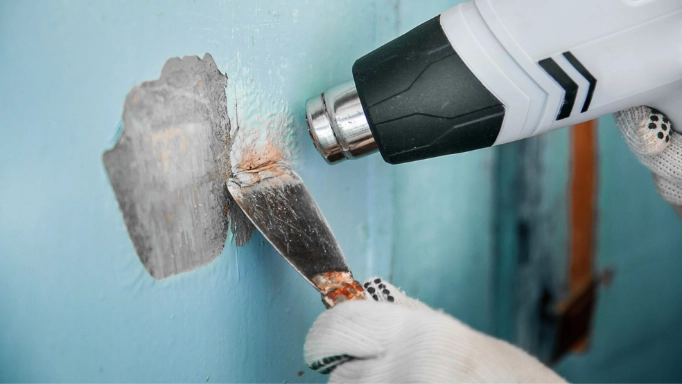 There are some factors you need to consider:
Adjustable Temperature Settings
It's important that you be able to adjust the temperature according to different paint types and surfaces. While high temperatures might be extra effective, they can damage the surface from which you are trying to remove paint.
Airflow Control
Alongside temperature control, being able to manage the airflow gives you more control over your work and prevents scorching the surface.
Different Nozzle Attachments
Pain removal might need specific nozzle attachments to cover certain areas.
Best Heat Gun for Window Tinting
Tinting the car window can bring you safety from UV lights and also give you a bit more privacy in your car. For doing that, using a heat gun is the best tool you can use that is easy and fast. But remember these features for finding the best heat gun for window tinting:
Low-Temperature Settings
Window films are sensitive and can be damaged under high temperatures. So, you want to choose a heat gun that allows you to apply lower temperatures.
Precision and Airflow Control
Nobody would want to have their car window views compromised by annoying bubbles or folded tinted film. Therefore, the applier needs to have control over the airflow to be precise. This also calls for the next important point.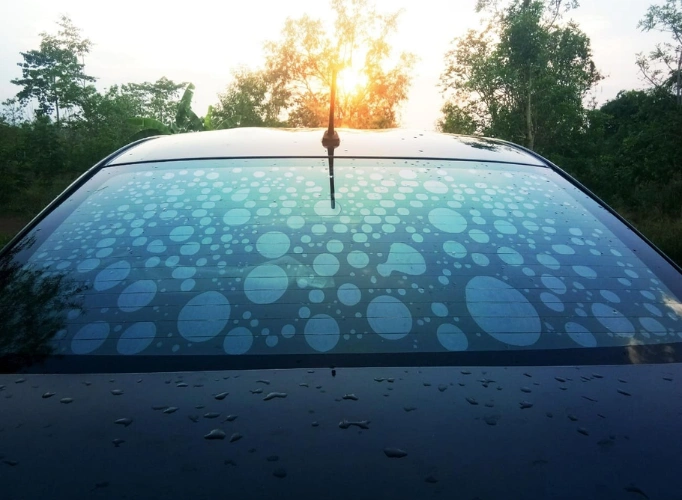 Even Heating
Having a consistent heat wave covering your window film is crucial for having a smooth and professional finish.
Specific Nozzle Attachments
Attachments used in window tinting are cones and deflectors. You would want to choose a model that comes with these attachments.
Safety Features
As the window films should be carefully taken care of, the best value heat gun should have overheat protection to avoid any damage to the film and itself!
Best Heat Gun for Vinyl Wrap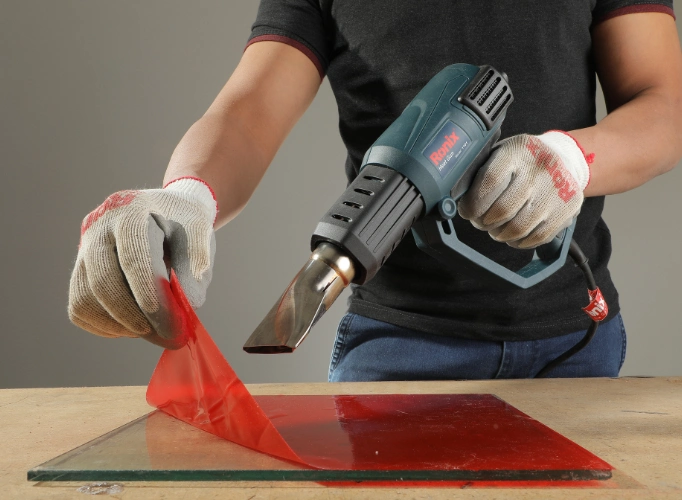 If you need to use a gun for vinyl wrapping, a standard device will work for you which covers from 50 to 500 degrees of temperature. Not bothering you with the already mentioned specifications of the best heat guns for different uses, just consider these extra tips:
Precise Temperature Control
Pay extra attention to temperature adjustments because vinyl is sensitive and might get damaged. Having a precise temperature is essential when working with vinyl wrap.
Low-profile Nozzle
Vinyl wrapping requires you to place the heat gun as close as you can to the surface in order to have a more accurate application.
Airflow Control
This ensures avoiding bubbles and overheating of the wrap in the application process.
Power Rating
Dealing with delicate materials while using this device requires you to pay attention to the power rating and keep it at an optimum low wattage.
Best Heat Gun for Shrink Wrap
As the name might declare, shrink wrap is a material that shrinks when in touch with high temperatures. This makes shrink wrap a vital part of the packaging and manufacturing process. Alongside what we've already pointed out, be cautious of the following:
Temperature Range
Not as delicate as vinyl or window film, shrink wrap asks for moderate temperature. Meaning a temperature between 200 and 350 degrees.
Also, you should be able to adjust the temperature in a way so you don't damage what is being wrapped. So, having an adjustable temperature setting on your device is what makes it the best value heat gun. Ronix's 1101 electric heat gun has an LED indicator that lets you keep tabs on the temperature.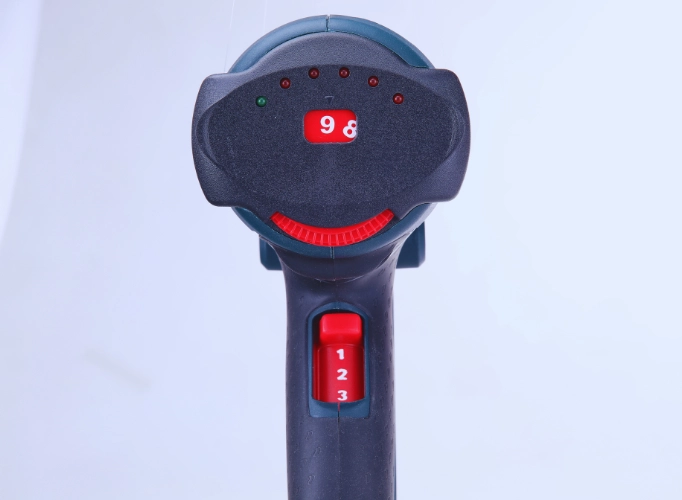 Even Heating
You want your packages to stay intact during shipping, storing, and until it's used. Therefore, even heating is your friend if you don't want distorted results.
Power Rating
A power rating between 1000 to 1500 watts will suffice for your wrap-shrinking needs.
Best Heat Gun for DIY
You might think that using a hairdryer will cover what you need to do in DIY projects. But the fact is if you are doing prolonged projects, a hairdryer would not be enough. And some projects require higher temperatures that can only be provided by a heat gun.
Best Heat Gun Temperatures for Each Use
To get a holistic view, you can take these ranges as a reference: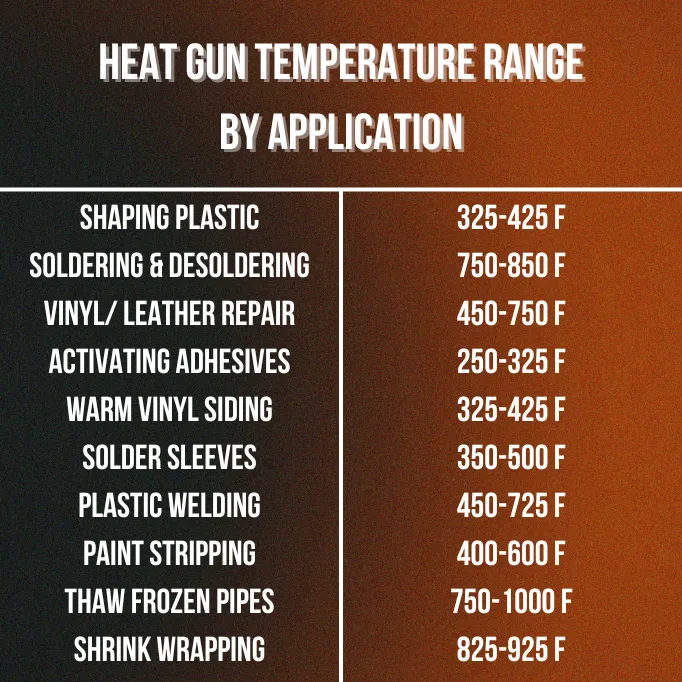 Buying Guide for the Best Heat Guns
Now, let's take a look at what we've learned and what you should pay attention to in general before buying the best heat gun.
Temperature Range: It's best if the device covers a wide range so you can use it for multiple purposes.
Power Rating: Durability is key when working with machinery. Pay attention to the power rating on your device so you can get the most out of it.
Adjustable Temperature Settings: Some works are too intricate to be done with vague numbers and ambiguous temperature ranges. The best choice for you can be a device that gives you control over the precise temperature.
Airflow Control: Having access to different airflow controls enables you to manage and set the intensity of the heat and have flawless results.
Nozzle attachments: Some works like crafting art require you to apply focused or dispersed airflow. Different nozzle attachments on your device ensure that you can do both.
Safety Features: Heat in its nature can be damaging. Not only does your device need to be durable in high temperatures, but also it should know when to stop and not get overheated. Make sure you check out if there are safety features on the device.
Ergonomics: You might need to work for a long time and we can't have being tired after 5 minutes of work! Or having a slippery handle on your device. Check out the ergonomics features on the device so you would be good to go.
Cord Length: Freedom while working is everything. You don't want to be tied up to work in a small space and not be able to move properly. So, have an eye for the longer cords if you are going to buy a corded device.
Brand Reputation: It's usually wiser to choose a brand that has a reputation for producing high-quality products. Opt for these brands if possible.
Price: Although buying tools can be an investment and can serve you in the long run, it's always pleasant to buy products that are both of good quality AND affordable. All in all, it's best that you don't sacrifice quality over price. Preferably choose from a brand that gives you both.
Reviews and Rating: Getting a second opinion before buying something like a tool that can be stuck with you for some time, makes for a safe and wise choice.
Application Specificity: Gain information to help you find a device suited for your specific needs.
Additional Features: Getting good things that you didn't wish for is always nice! For example, having an LED light on your device can make your job easier; even if you aren't looking for it in a heat gun.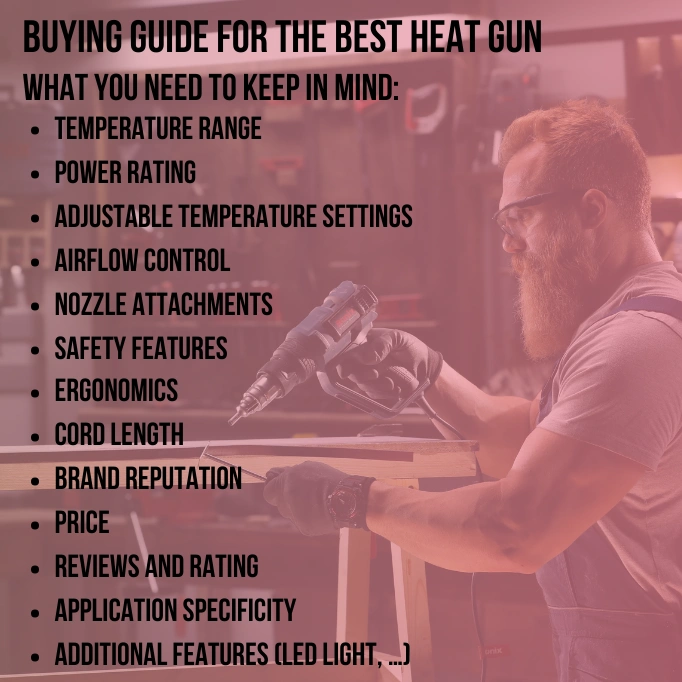 Best Budget Heat Gun
Choosing a device with a reasonable price should not mean that you have to give up on quality. Ronix offers you a varied collection of high-quality devices at affordable prices, making it possible for you to own the best heat gun.
Needless to say, choosing items that cover a larger temperature range will answer a wider range of your needs.
Best Heat Gun Overall
Choosing the best heat gun partly depends on your own needs and what you're planning to do with it. But for the most part, the best heat gun has some indications that knowing them can be your guide to finding one. The temperature range, power rating, variety of nozzle attachments, ergonomics, safety features, … are some of the criteria you should be considering when buying this device. A temperature range coverage and nozzle attachment variety in 1101 Electric Heat Gun 2000W can be a good choice that alongside quality, is affordable.
FAQs
What makes a good heat gun?
A device that covers a large range of temperatures and has a variety of nozzle attachments like Ronix 1101 electric heat gun, can be a good choice for you to heat surfaces you need.
How do I choose a heat gun?
Keeping in mind the use you want out of them, choose one that is more versatile and you can get the most out of it. The most important thing that you need to be on the watch for might be the temperature range.