Why should I choose a Drill Press over a hand-held?" "I can carry my corded or cordless drill wherever I want and don't bother about its weight or how many places it will take up!" You may have raised such questions facing a drill press for the first time as well! What was your answer? Were you convinced to drop by a tool shop and take the best drill press you found or you just skipped it for an ordinary portable drilling machine?
Once, a YouTube tools influencer, Steve Ramsey, told that: "Having drill presses makes some boring tasks easier and more accurate". At first glance, it seems that drill presses are not useful that much, but let's think twice!
The more precise you need to be, the more you need repetitively get into boring details. But for every professional outcome, you need this: Precision in its ideal form no matter if it is exciting or not!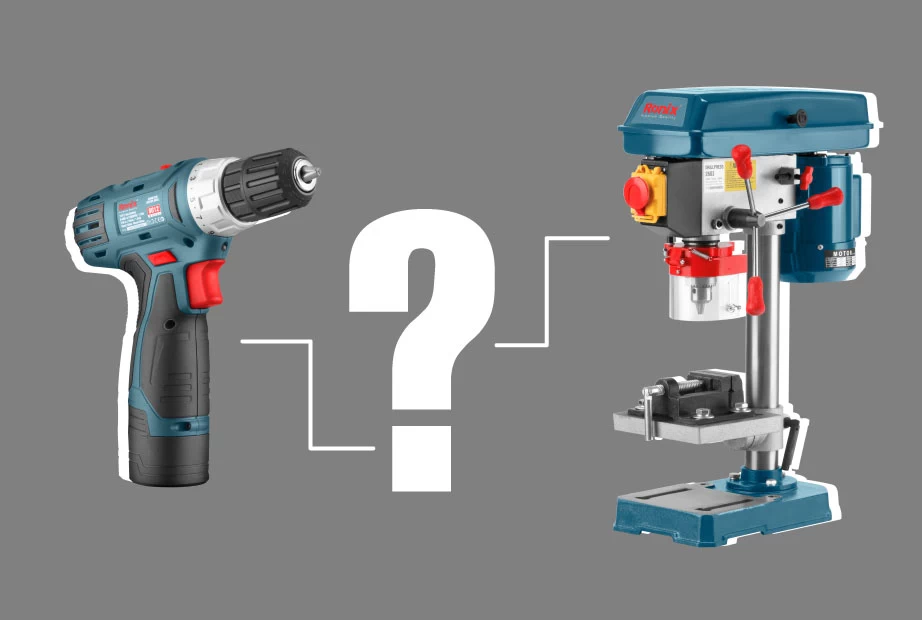 For getting such an accurate performance, along with high speed, less hand fatigue, and doing repeated drilling jobs easily, you won't rely on every pillar drill you find in the market technically. But do you know what exactly it should be like to operate ideally?
Here, in this article, we are going to talk about the leading aspects of the best drill press that can cover all your needs as a professional, DIYer, or a beginner whether you are seeking a fixed drilling machine for wood or metal.
Let's start with a general piece of information about them, then get more elaborate.
The Best Drill Press Overall
No matter you are a newcomer to the field and need an overview of the features, or you just want to have an overall list of whatever you need to notice about the best drill presses, this section will be a helping hand. Drill presses do have a specific structure consisting of a supporting pole (also called a column), a head, a base, a table, a chuck, and a pair of guide rails. Each of these parts should perform at their best. But there are some more points that you should consider.
Let's Drill Deep!
Choosing a drill press is not an easy job to do. You have to pay more and provide a specific space for it. So, you have the right to expect more of it, and when it comes to drilling depth, you have to be stricter in getting more.
While you can only drill 10-13mm deep with a regular drill, the pillar one should provide a 50 to 150mm depth. That's one of the ways by which a drill press work to extend the drilling capacity in more heavy-duty jobs.
Find an Enormous Power
When you want to drill such deeply you need considerable power, much more than what regular drills perform. So, if you want to get the best out of it, you should consider power as a priority. Then if you want your drill press enough impactful, you should find one with a power range of 300W to 2300W. Then you can drill larger diameter holes and work on denser materials such as hardwood.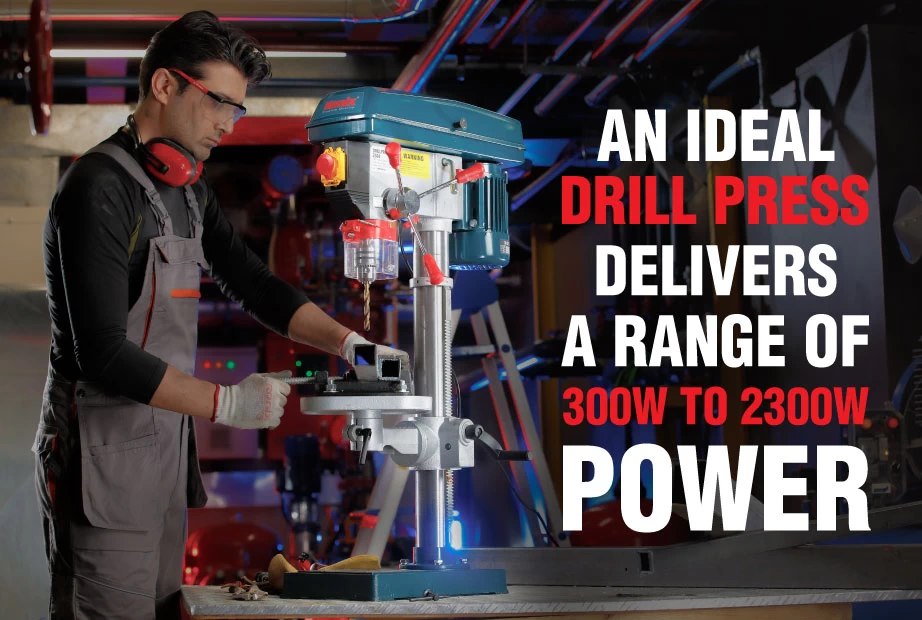 Don't Miss the Main Actor: The Chuck
What is more important than chuck in all types of drills? As a handy person or a tool enthusiast, you know that if you want to check the drilling capacity of a drill, you should check the chuck, and Drill Presses are no exception.
No doubt that the best chuck size and capacity in the best drill presses will depend on the specific needs and requirements of the user. However, the most common chuck size for drill presses is 13mm, which can accommodate a wide range of drill bits. This size is suitable for different fields like woodworking, metalworking, and DIY projects.
Then if you are looking for a versatile drill press, one with a larger drilling capacity is generally what will answer your needs. Because it can handle larger workpieces. The drilling capacity is usually measured by the distance between the center of the chuck and the column, also known as the swing or throat depth. For most small to medium-sized projects, a drill press with a swing of around 25cm to 30cm is sufficient. However, if you frequently work with larger workpieces, a drill press with a larger capacity may be preferred.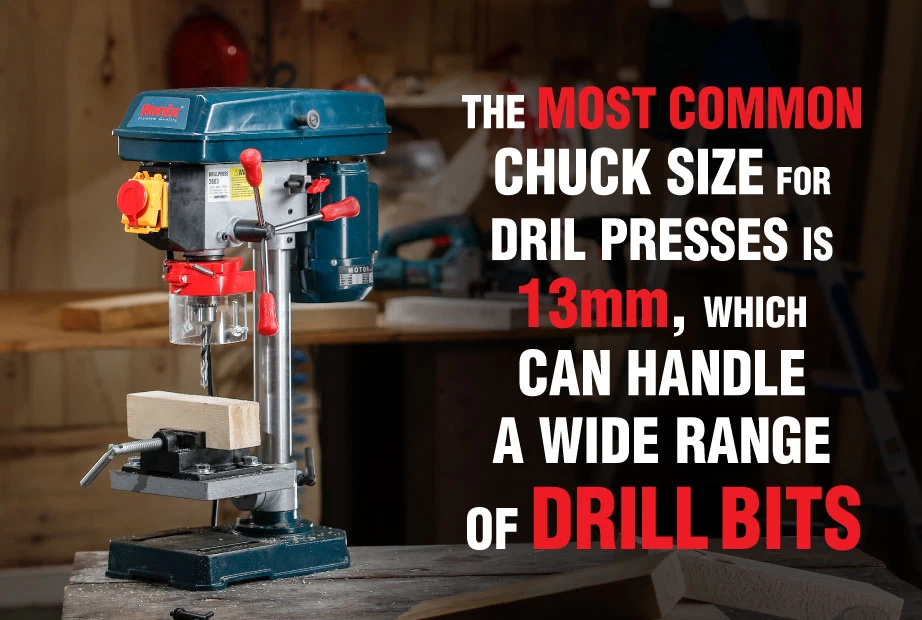 Explore the Speed Ranges
If you are curious about elevators and further structures that work the same, you may have seen how their pulley system works. It is made up of pulleys attached with some belts, adjusting the speed. Then if you unscrew a drill presses head, you will see a full pulley system consisting of two pulleys bonded with belts. Thereby you can set the speed range you need for your job, based on the guide attached to the head.
But what are the best speed ranges? The answer is not limited to one. For each material, you need a specific range of speed in RPM.
Let's check them on the table.
| | |
| --- | --- |
| Material | Speed Range (RPM) |
| Wood | 1500-3000 |
| Plastic | 1500-3000 |
| Aluminum | 2500-5000 |
| Mild Steel | 500-1500 |
| Stainless Steel | 500-2500 |
Go for Easy Adjustments
At the end of the day, the best drill presses should provide a simplified user experience that won't take your time to figure out how to work with. Easy-to-read depth indicators, a clear and readable speed display, and user-friendly controls labeled with their features make it easier for you to work with.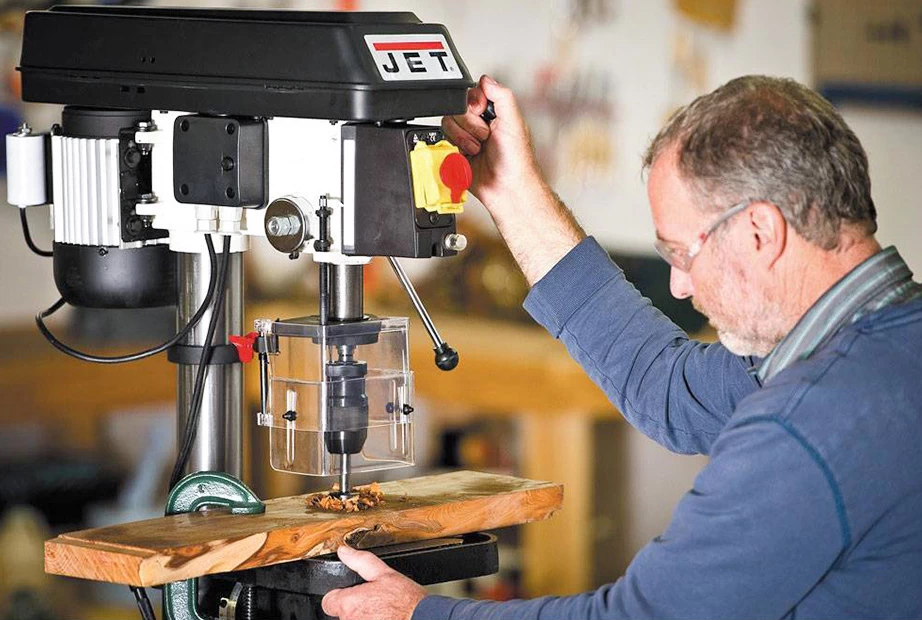 Besides, a proper table tilt and height adjustment will help you easily set angles of workpieces and work with various sizes. Being facilitated with quick and effortless tool changes will ensure efficiency and saves time during projects as well.
At last, we suggest Looking for a drill press with a solid and stable base that can be securely mounted to your workbench, or workspace's floor ensuring safety and precision during drilling.
After talking about it generally, let's get more specific and get into the best drill presses for working with different materials. Here we want to extend my discussion to the ideal ones for Metal and Wood.
Best Drill Press for Metal
No matter which material you are working with, when seeking the best drill press for it, you need to consider specific features, like Power, speed, chuck, and drilling depth. We don't go long and just tell you the exact numbers and degrees you require. We have gathered them in a table:
The Features of the Best Drill Presses for Metal
Power
400W -750W (for Aluminum, steel, and brass)

750W-1100W (for Hardened steel and Cast Iron)

Speed
500-5000 RPM
Chuck Size
18mm
Drilling Depth
8-15cm
Best Drill Press for Woodworking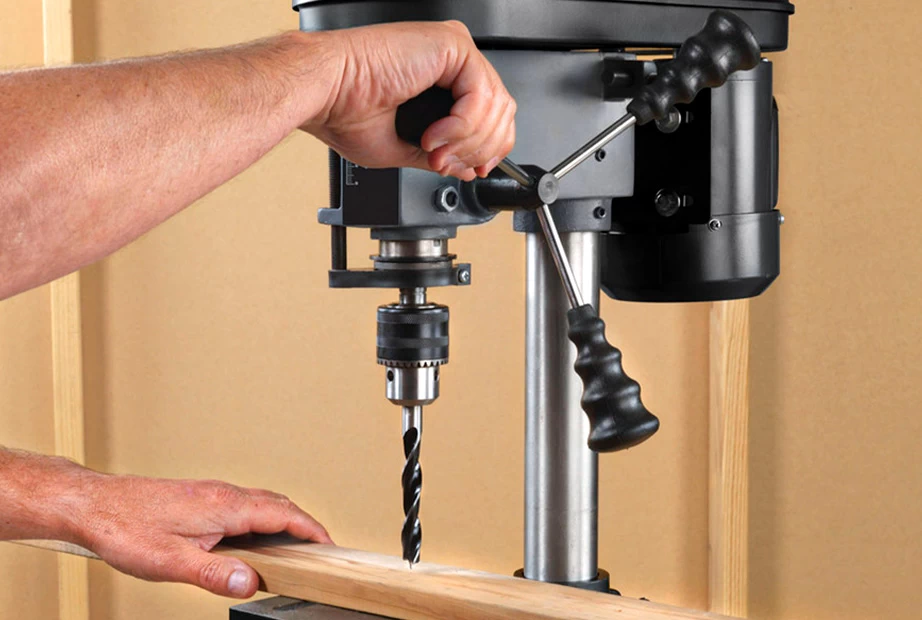 Now, let's change the workspace from a full-of-spark and fume and gray place to a world of woods, chips, and nature-to-home products. Woodworking has a lot to do with this huge drilling machine. The list of jobs that woodworkers and carpenters do through them is so long that we cannot name but some, including building furniture, cabinets, drawers, jigs, fixtures, dowel joints, decorations, toys, crafts, and so on. So, it is so important to find the best drill press in this field to extend the job level. As told above, all you need to know about the ideal option is the four factors that we have mentioned in the table below. The best drill press brands for you are the ones delivering them in the best way. The table below will tell you more:
The Features of the Best Drill Presses for Woodworking
Power
380W- 750W (for general use)

750W and more (for drilling large holes in hardwood)

Speed
500 RPM-800 RPM (for large drill bits)

1500 RPM-3000 RPM (for smaller drill bits)

Chuck Size
13mm, 15mm, and 18mm

(Depending on the type of wood)

Drilling Depth
50-100mm
After discussing the material requirements, we would like to change the channel to talk about some other aspects of drill presses. As you know, there are different types of drill presses out there. We can name three of them which are categorized based on their setup status. The floor-standing, benchtop, and portable ones are the types we mean. Each of them can have specific features that make them ideal for the users. In the three upcoming sections, we are going to define the issue widely.
Let's start with the TITANIC one!
The Best Floor-Standing Drill Presses
Beyond a doubt, they are one of the most enormous assistants you can have at your workplace. The floor-standing drill presses are massive, heavy, and hard to transport, but considerably powerful and practical. There are drilling jobs that are highly dangerous, like drilling big holes in highly thick materials like hardwoods and dense metals such as lead alloys or needing large-diameter holes. The point is that not the hand-held drills nor even the benchtop ones cannot support them. So, the features that make them perfect should be somehow intense. Let's delve into them!
Obviously, regarding their heavy-duty function, their performance should be way different when it comes to power. A span of 750W to 1500W power is considered to be ideal for them, but if needed they should be able to deliver more than this to 2300W.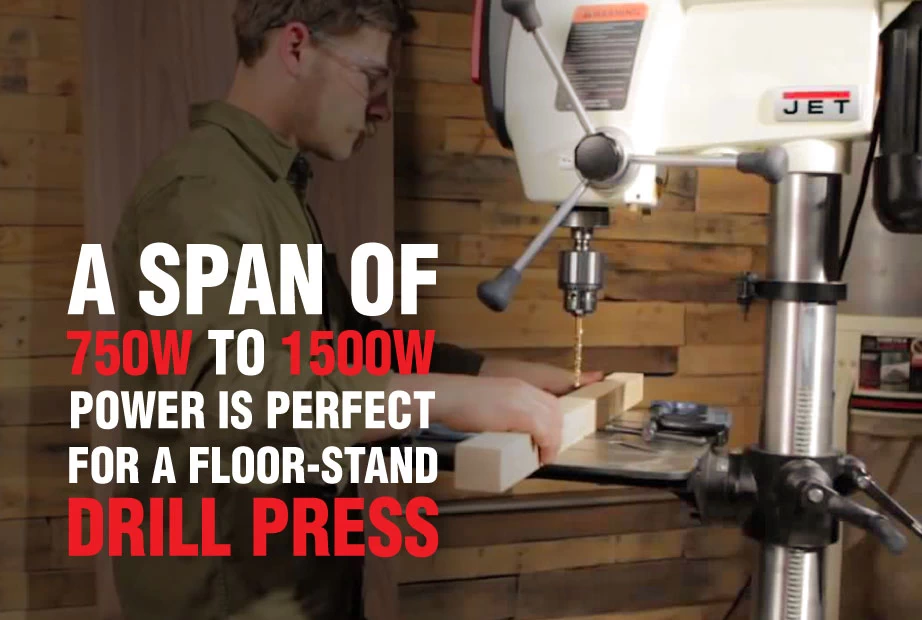 Besides, you may have been dealing with different types of drills in your professional life and you have found out that each work needs a specific depth of drilling which is so important to consider. You should pay attention to the spindle travel it performs. It allows for drilling in different depths and accommodates various workpiece sizes. The common range of it is around 8-15cm. So, it allows for drilling holes of depths with ease.
Further, as they work with massive workpieces they should have a sturdy and versatile table that can bear them well and be adjusted in height and angle properly to provide flexible drilling angles and workpiece sizes.
Then, you don't want to get in trouble with the huge, heavy body of it, so if you are choosing a floor-standing one, you need to consider its stability. The more we explored the professional world, the more we discovered the importance of their setup system. In fact, No Floor-Stand Drill Press Can Claim to Be the Best except when they are constructed and set with durable materials and have a stable base that minimizes vibration and ensures accurate drilling.
The Best Bench-top Drill Press
Surely, floor-based drill presses are so practical and powerful, but if you need a drill press that you can carry to different workspaces for temporary jobs, a bench-top one will be one of your options. Why one of them? because we have another type called portable drill press which is so mobile. But leave it here, we will talk about it in detail later.
Now, let's see what we should look for in the bench-top drill presses. As their name suggests, they are mounted on a workbench but can be removed and attached to another table.
Compared to the former ones, they are used for more small-scale projects. They can drill precise holes in wood or metal with the least effort. But what makes them unmatched?
When we were checking the features of the top-ranked drill presses over the world, found that they weigh a range of around 12kg to 40kg. This seems really heavy. I agree, but for such heavy-duty tools, these weights are so normal!
Besides, the best drill press brands which we checked, such as RIKON, DeWalt, and Ronix deliver a speed range of 300 to 3200 RPM, based on their functions and power. By the way, the power range that they deliver is at least 400W.
But when it comes to their chuck size, you don't need to seek a single number, because based on the material and the level of jobs you are using, you can choose either a 15mm or 18mm chuck and get the best results.
How much deep they should let you drill? It actually depends on your drill press level and your job but the best span would be 50 to 100mm. Along with all the technical factors, you should consider the table size, adjustability, and quality as well. It plays a leading role, actually. In case, your machine has a larger table, you will be allowed to work with larger pieces of material. While adjustable table height and tilt angles provide greater flexibility in positioning the workpiece.
The Best Portable Drill Press (Mini Drill Press)
Drill presses help you bore holes in a fixed situation. That's why they are more precise. But what if it is so much for you to buy a heavy, huge tool? What if you are a home user and do not have enough space and don't want to spend so much money on it?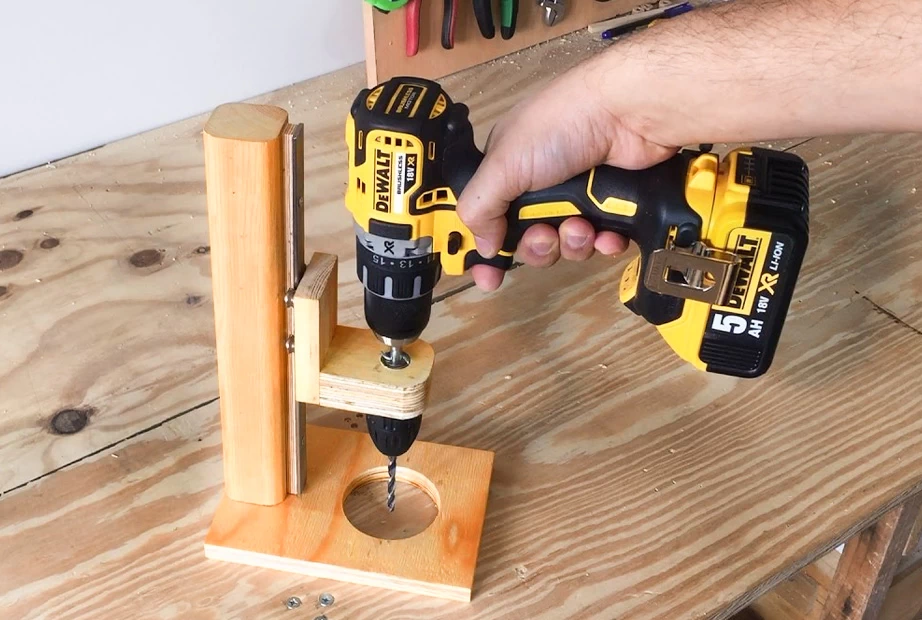 Of course, there is a SOLUTION and that is a portable drill press (also called a mini drill press). In fact, they are not complete tools, but an apparatus. It consists of a frame that you can fix your hand-held drill in and enjoy the accuracy and stability it provides.
A well-built body made of high-quality, lightweight raw material is the first feature you need. Then you should be strict about the chuck. It should fit into a great span of drills and can travel along the rails to let drill in different depths, and a guide rail which is easy to move in, providing a proper angle adjustment, are the features that you need to meet in a portable drill press to call it the best.
Best Drill Press for Beginners
Just compare the first days you started your job with now if you are a professional. The tools and machines might have seemed so complicated those days. You needed to take a big deal of time to tackle their systems, and of course, you had to stay aware of your safety consciously then.
Regarding it, if we ask you what features you needed in the past, what would you name?
Safety and a simple user experience would be among your answers you bet!
To avoid metal chips that may eject from a rotating drill bit, all beginners need to be equipped with a chuck guard. Then you need readable and wisely located switches. Their functions should be easily detected by you as a beginner. So, if you want to find the best drill press as a newcomer, go for the ones with the highest safety technologies and the most intuitive UI.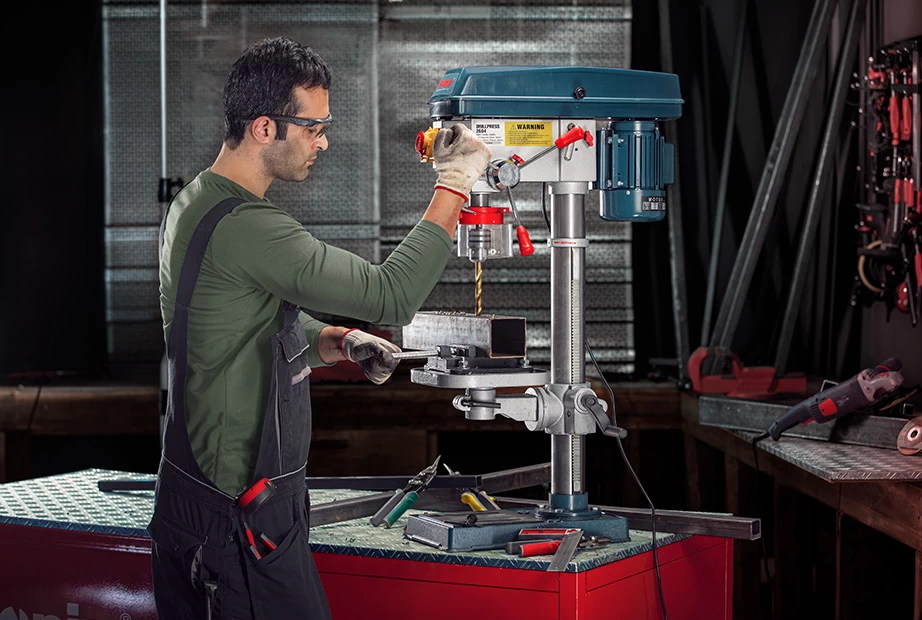 Best Drill Press for DIYers
Do It Yourselfers have a great spirit of creation. It is not their job! They do it out of enthusiasm. For such enthusiastic creation, they need a PERFECT TOOL! They may not need a floor-stand one. It is so heavy and spacious for a home workshop. So, you can choose between portable and bench-top ones.
It goes with no doubt that they both should deliver all of the features talked about in the article. Based on your job and the material you work with, you should expect specific swing, power, speed ranges, and chuck sizes and capacity. But just as we said about beginners, safety is the specific factor that you should put in priority.
Floor-stand ones wouldn't be good fits for you as a DIYer, so, you should consider the features of the best benchtop and portables.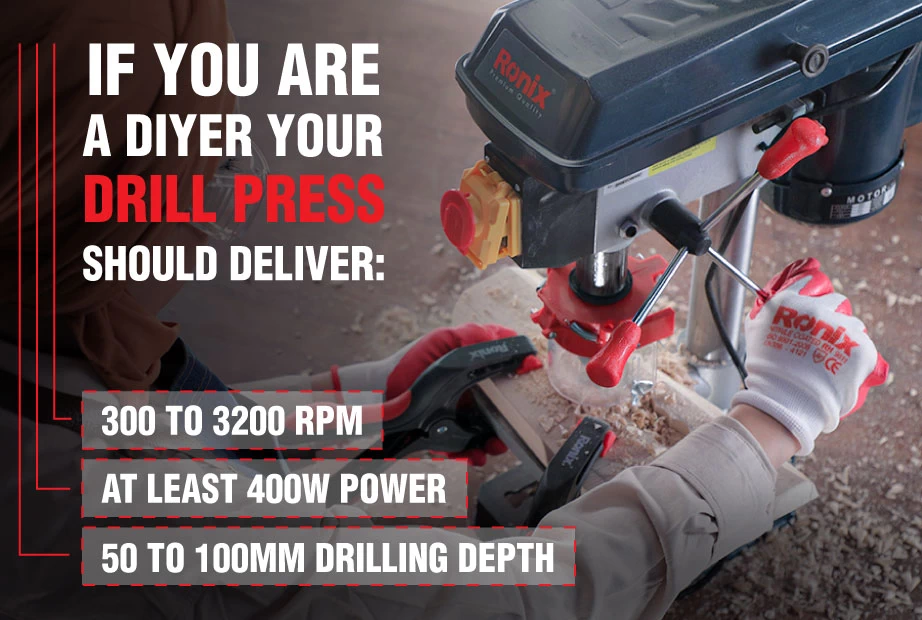 Best Heavy-Duty Drill Press
If you want a drill press for heavy-duty uses, you should put floor-stand ones first. Then you may have bench-top ones at hand as well but portable ones won't help! But what you need the most is the professional ones, we mean the floor-based ones. Let's review it again, the best drill presses for heavy-duty jobs (floor-stand ones) deliver the following features:
750W to 2300W power
Spindle travel of 8-15cm
sturdy and versatile table
anti-vibration body and well-fixed base
Best Drill Press on a Budget
Drill presses are usually sizeable tools that are more expensive than the average of other tools. But when you need one, the best job is to find one that is more affordable than the average stationary drilling machine but performs a high quality.
Most people find it nearly impossible! But Let me debunk it! Yes, it is rare, but not IMPOSSIBLE!
Buying Guide for Best Drill Presses
Here is where we want to wrap the entire text up and let you know about the steps that you should take to buy The Best Drill Press.
First Step: Consider Technical Features
All the numbers, degrees, and dimensions we discussed matter and are the first factor you should be so strict and obsessive. Check every single number regarding power, rotation speed, drilling depth, capacity, spindle cover, and swing.
Second Step: Consider the Prices
Find tools that match your budget, but don't fall short of quality. Right, for finding such an ideal tool you need to search a lot. Of course, you need to take time, but it is worth it.
Third Step: Find a Reliable Brand
The best drill press brand that you can find is the one that combines both the highest technical traits with the affordable brand. That means that it provides a two-aspect profit for you; financially and technically.
There are various brands in the tool market that are of great quality. WEN, Milescraft, Dremel, Ronix, and Ryobi are a number of them.
But if you want both factors gathered together, we offer you our reasonable prices coupled with the most cutting-edge innovations and technologies. At Ronix, we are working hard to balance quality and fair prices. If you want to see how just contact our experts via the Ronix website and get the entire price list.
FAQ
What size of a drill press is popular?
It differs based on the field you are working in. For example, for heavy-duty jobs, a big-sized floor-stand drill press is ok, while for DIYers a middle-sized benchtop would be proper.
Are there specific drill press features that enhance accuracy and performance?
A wide range of drilling depth, drilling capacity, RPM, and swing rate coupled with a well-built and resistant body can make drill presses perfect.