No one appreciates a good air impact wrench like a victim of stubborn nuts would! While you may not immediately recognize the value of such handy tool, it becomes apparent once you come to deal with a stuck rusty fastener that won't budge, particularly when you are tired or pressed for time.
These efficient, powerful and versatile power tools have made life much easier for anyone, from construction workers, mechanics and factory workers to DIY enthusiast. To extend the range of applications, air impact wrenches come in different sizes, power levels, and can be used with different sockets and accessories.
In this article from Ronix, you'll learn the ins and outs of choosing the best air impact wrench for different needs and expectations and add the best option to your shopping cart!
But let's start with the basics:
How Does an Air Impact Wrench Work?
A pneumatic impact wrench (gun) works by converting the energy of compressed air to rapid and high-torque impacts, enough for tightening and loosening any nut and bolt.
Air Impact Wrench: Advantages and Applications
Unlike its battery-operated and electric counterparts, a pneumatic impact wrench does not depend on batteries or a motor to work and is therefore lighter in weight.
Moreover, it has fewer moving parts which make it less vulnerable to corrosion and is capable of delivering high levels of torque which make it well suited for demanding tasks like auto repair and maintenance, repairing heavy machinery, product assembly in factories.
Having said that, relying on the right socket and accessories you can also use your pneumatic wrench for lighter tasks such as installing shelves, repairing your bicycle, changing a car's tires or assembling furniture at home.
The tool market is filled with air impact wrenches that vary in torque output, BPM and drive size. With a detailed buying guide, you can avoid confusion and narrow down your options based on your needs and the intended use.
The Best Air Impact Wrench: A Buying Guide
When looking for the best air impact wrench, always check the specifications for the following information:
Max Torque
Weight
Working Pressure
Impact Mechanism
Driver Size
Max Torque
Torque measures the tightening force an impact wrench applies when turning a fastener. While a not-tight-enough bolt can come loose and lead to safety risks or equipment malfunctions, overtightening it is also problematic cause it can damage the fastener or the surrounding components. Therefore, it's important to choose a tool that can apply the appropriate amount of torque for your specific application.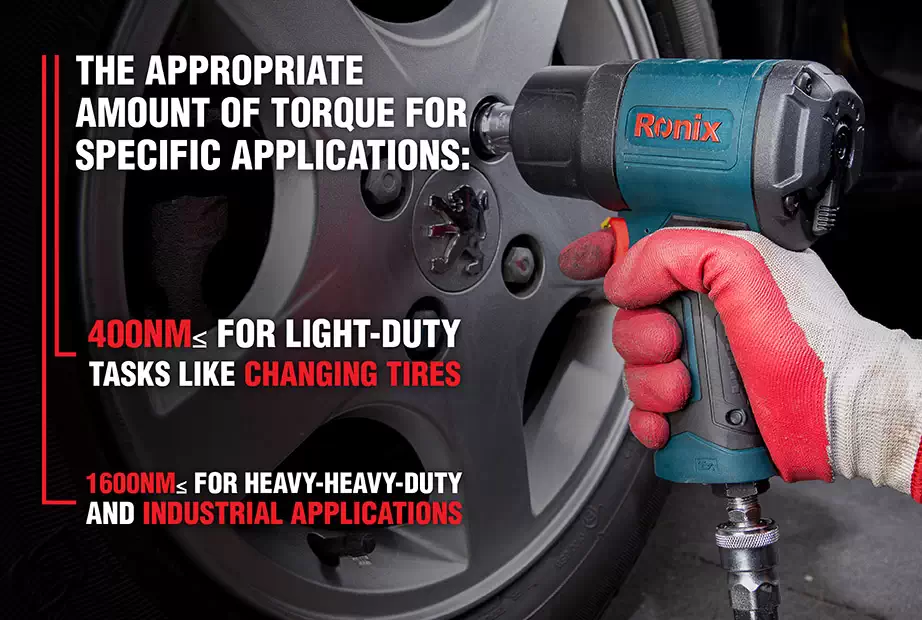 For light-duty tasks like changing tires, a tool with 400Nm of torque may be sufficient. For heavy-duty industrial applications, you may need a tool with up to 1600Nm of torque or more.
Weight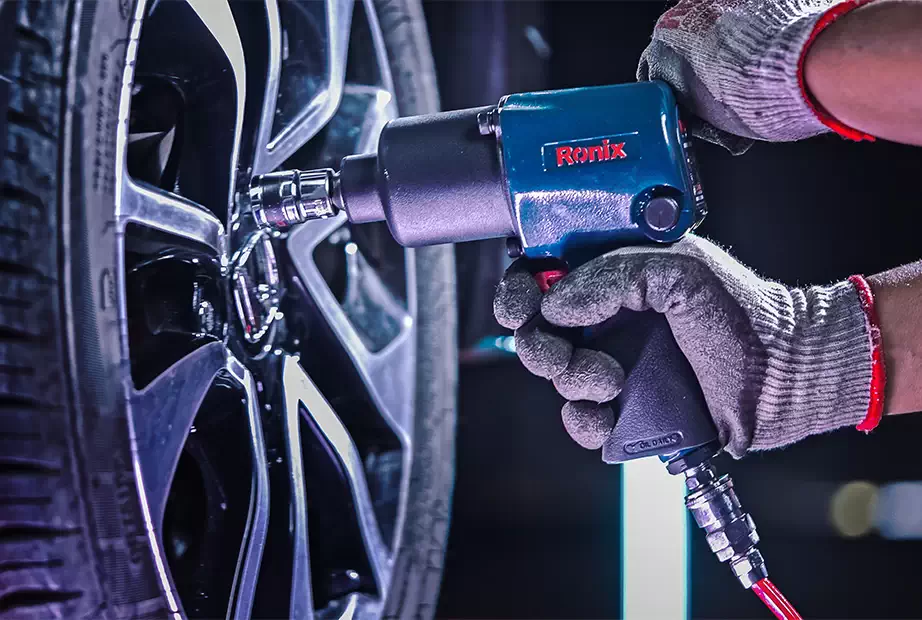 As impact wrenches are handy tools for everyday use, you better go for a model that is light in weight and ergonomic in design. That way you can guarantee comfortable and fatigue-free operation during extended use.
However, more torque and power often translate into more weight, and that is inevitable!
Working pressure
Working pressure determines the air pressure your pneumatic machine needs to operate at its best.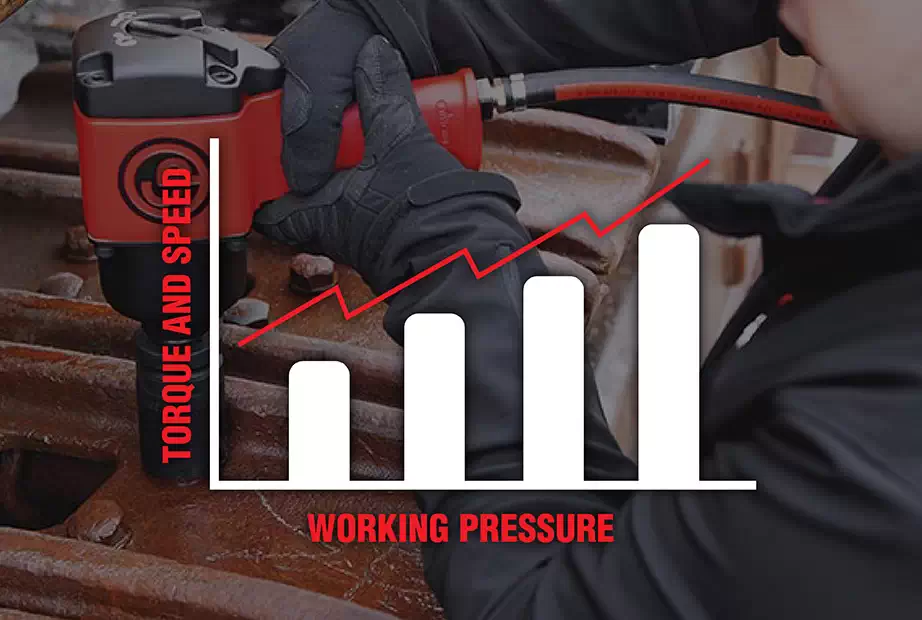 The higher the working pressure of a wrench is, the more torque it will generate and the faster it can fasten bolts and nuts. However, higher working pressures are not always good because they result in more wear and tear and less durability.
Most top air impact wrenches work with 90 pounds per square inch (psi).
Impact mechanism
As mentioned above, impact wrenches can loosen some of the most stubborn fasteners by applying rapid impulses of torque.
Based on this so-called impact mechanism, there are two main types of pneumatic wrenches: hammer and anvil models and pin clutch ones.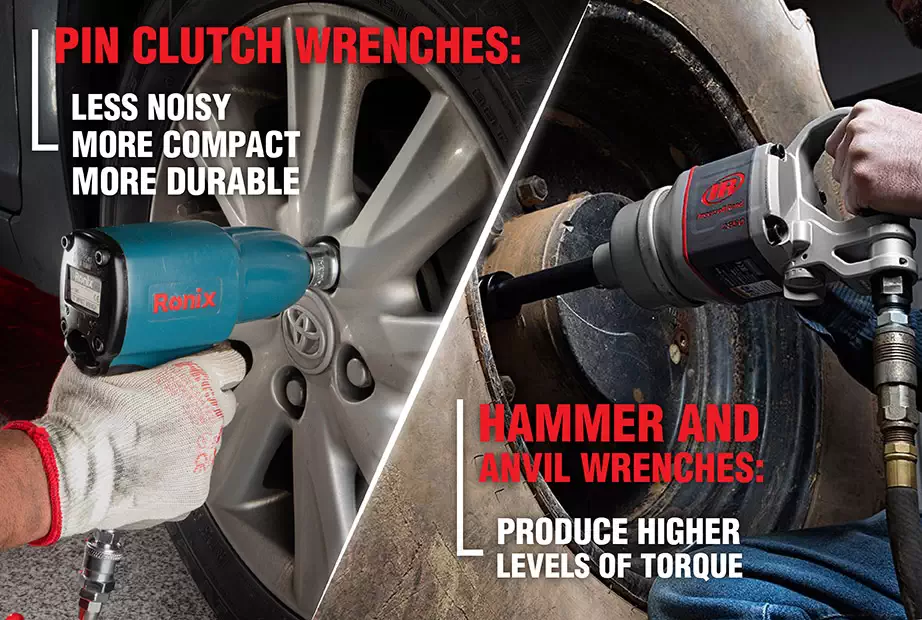 Compared to hammer and anvil wrenches, pin clutch ones are less noisy, more compact and durable but produce lower levels of torque.
Driver size
The driver size of an air wrench is a crucial factor in determining its suitability for different fastening tasks.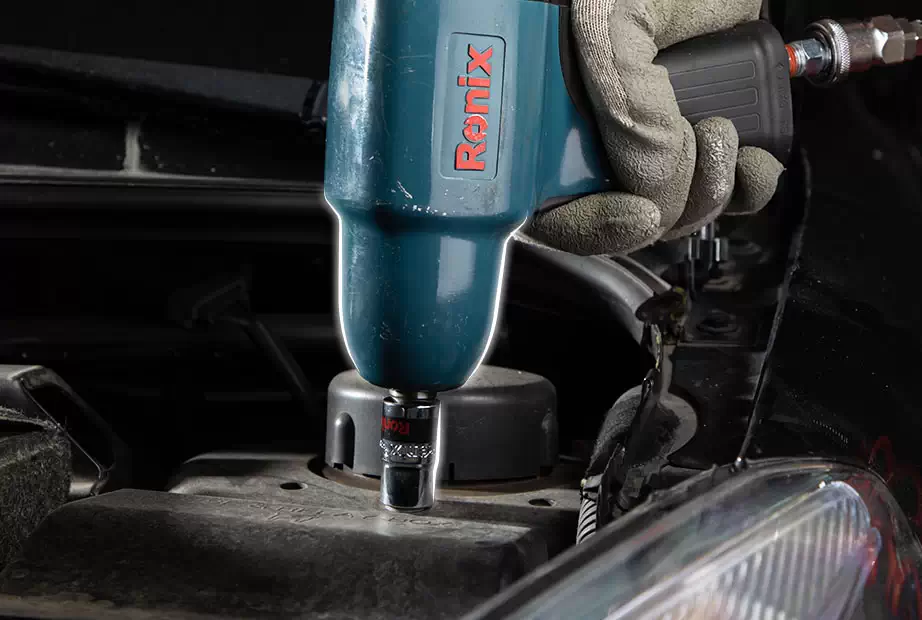 The most commonly available driver sizes are 1/2, 1/4, and 3/8 inches. Larger drivers are designed for heavy-duty tasks, while smaller ones are better suited for turning smaller fasteners or bolts in hard-to-reach areas. Therefore, it's important to choose a driver size that best fits your needs based on the type of tasks you'll be performing.
Let's dive deeper:
Best 1/2 Air Impact Wrench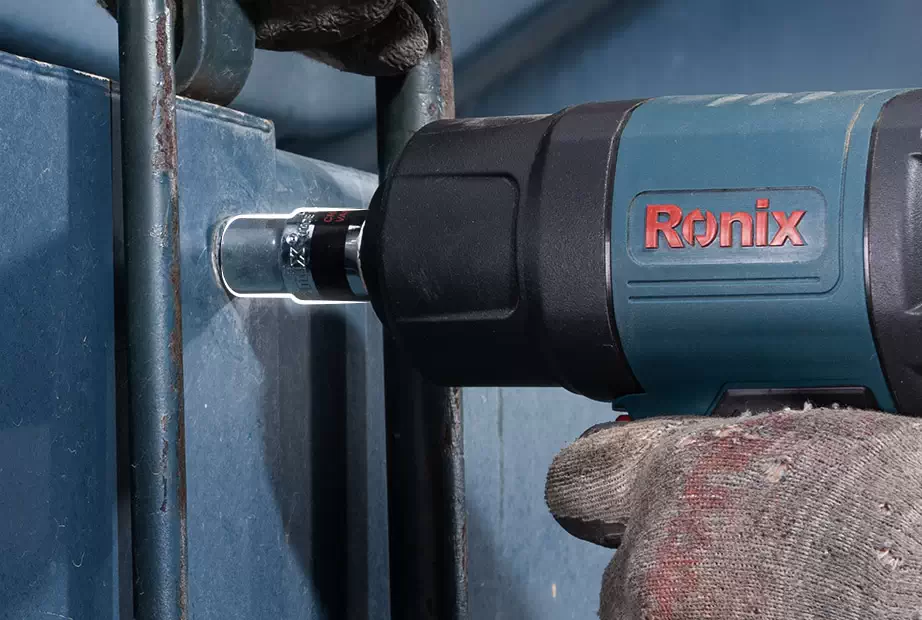 Wrenches with a 1/2″ driver are well-suited for heavy-duty tasks that require high torque output. Their ability to accommodate larger sockets increases their compatibility and improves their efficiency for demanding applications like construction work and machinery maintenance.
Their high power and speed enable them to:
· Remove and install stubborn nuts and bolts
· Drive fasteners in heavy materials like metal and concrete
· Complete tasks more quickly than conventional wrenches
To withstand the wear and tear caused by heavy-duty operation and enable an effortless extended use, the best air impact wrenches with 1/2" drivers are engineered to be durable and user-friendly.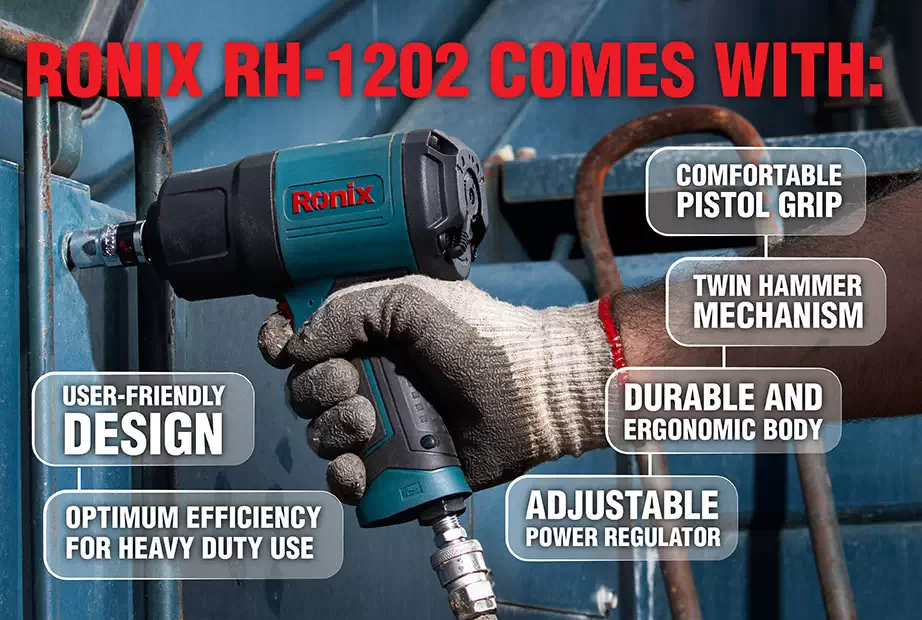 If you're searching for the perfect 1/2″ pneumatic wrench, try Ronix RA-1202and you'd love it. As one of the top air impact wrenches on the market, RH-1202 is lightweight, ergonomic, and easy to use. It delivers up to 1150 NM of torque and enjoys a twin hammer mechanism to take care of any heavy-duty task with high efficiency.
Its adjustable power regulator allows you to customize the power output for each task, and the comfortable pistol grip handle makes operation more convenient.
In terms of durability, the RA-1202 is impressive, with a resilient body that can withstand falls and exposure to chemical materials.
Best 3/8 Air Impact Wrench
If precision and portability are more important to you than power, consider a 3/8″ wrench instead.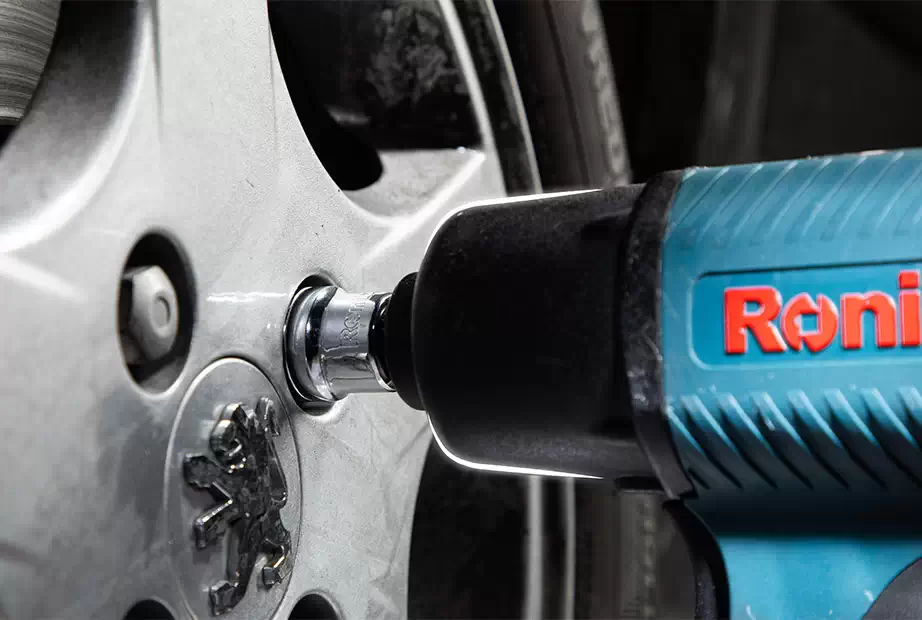 3/8″ models are best suited for:
· medium-duty use in DIY projects or general maintenance
· removing and installing fasteners in tight spots
Since they are designed for lighter-duty tasks, the best 3/8 wrenches have an ergonomic design for added convenience and come with additional accessories, such as sockets and adapters, for added versatility. Easy maintenance and durability also come naturally to these ideal options.
Now that you have a picture of what you need, it's time to choose the best model and brand based on your needs and preferences:
The Ultimate Air Impact Wrench
When looking for Top air impact wrenches, user choices are different based on their preferences. Some put quality over anything else, some look for affordable options and others care about nothing but high power. However, sometimes you just want to have your cake and eat it too! That's when you need to go for a product with all the following features:
Superior quality
Lightweight
High efficiency
Various Accessories
Easy Maintenance
Affordable price tag
Adjustable for both light and Heavy-duty tasks
proper packaging
A flexible air inlet
Comfortable grip
The Ronix RA-1201 1/2″ gun checks all these boxes. As one of the top air impact wrenches available, it has a durable aluminum housing weighing only 2.6kg. It consumes 142.5L of air per minute to deliver 900 N.M of torque – making it super-efficient.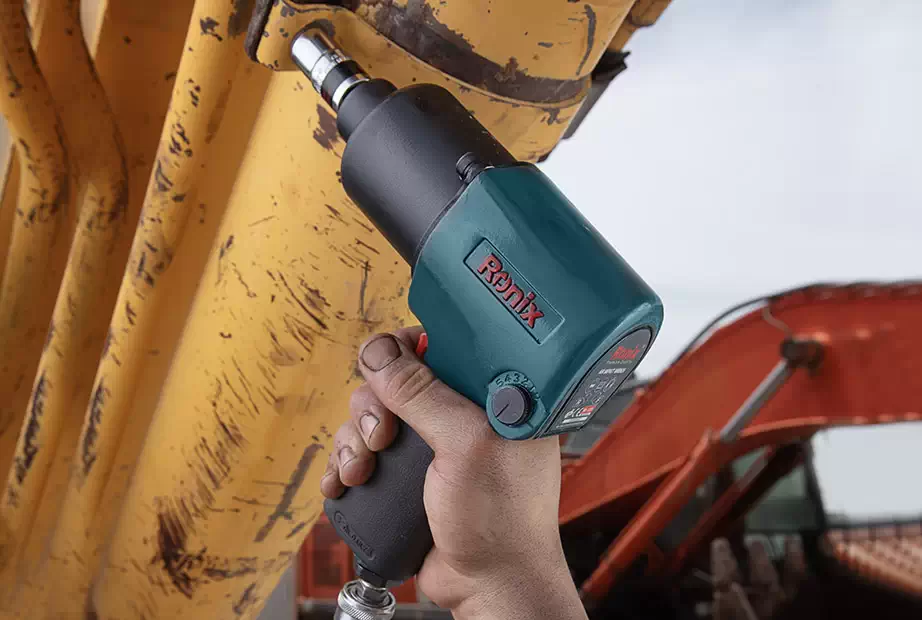 This pneumatic tool has an adjustable power regulator for both professional and casual use. The two-piece construction makes servicing easy and it comes in a convenient color box for an easy storage and transport.
The best part? All these great features come at an incredibly affordable price not expected from a super brand!
You might have just met the ideal pneumatic impact gun in above paragraphs, but one size does not fit all. Here, you can find a detailed guide on best air impact wrenches for different needs and expectations:
Best Compact Air Impact Wrench
Compact air impact wrenches are an excellent solution for loosening and fastening nuts and bolts in tight and hard-to-reach spaces. They are easy to handle, store, and are a great choice for those on a budget.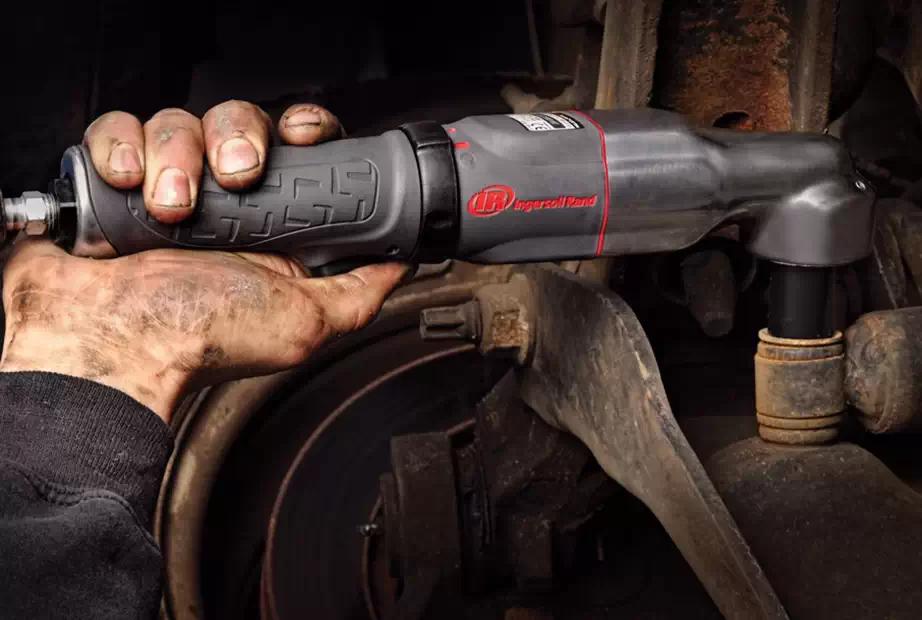 If you are looking for the best member of the compact crew, consider the Ingersoll Rand 2015MAX 3/8″ model, which weighs only 1.5 kilograms and delivers an impressive 244NM of torque output.
Best Ergonomic Air Impact Wrench
Ergonomic guns are what you need to work for extended periods of time without experiencing hand fatigue.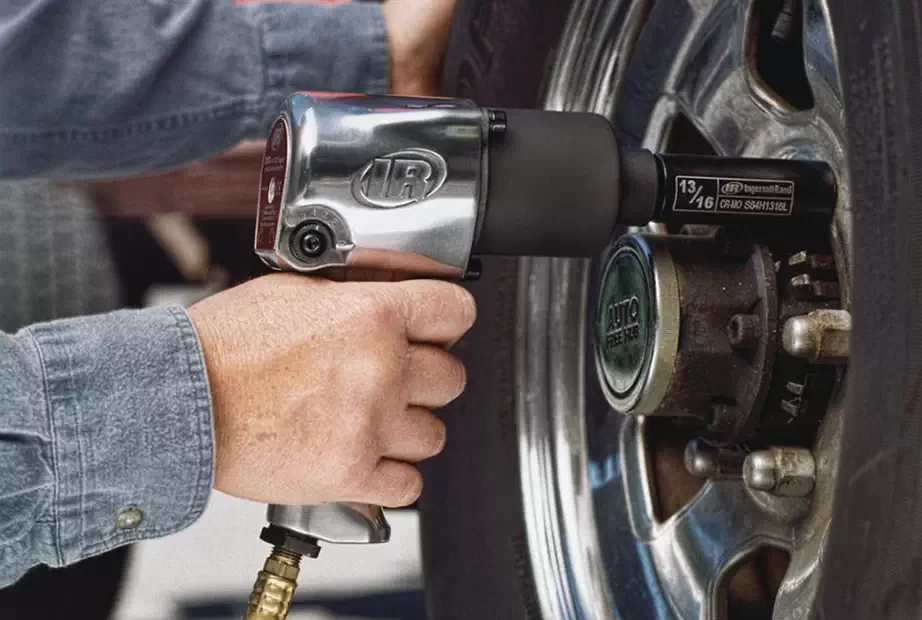 In terms of ergonomic design, Ingersoll-Rand 231C Super-Duty gun is one of the best air impact wrenches in its class.
Best Heavy-Duty Air Impact Wrench
The best heavy-duty pneumatic wrenches have a high torque output and are durable enough to take a beating.
If you are looking for an industrial wrench that can outmatch your ambition, Ronix RA-1211 is the one. It has a powerful and durable motor that delivers up to 1800NM of torque for an optimum performance.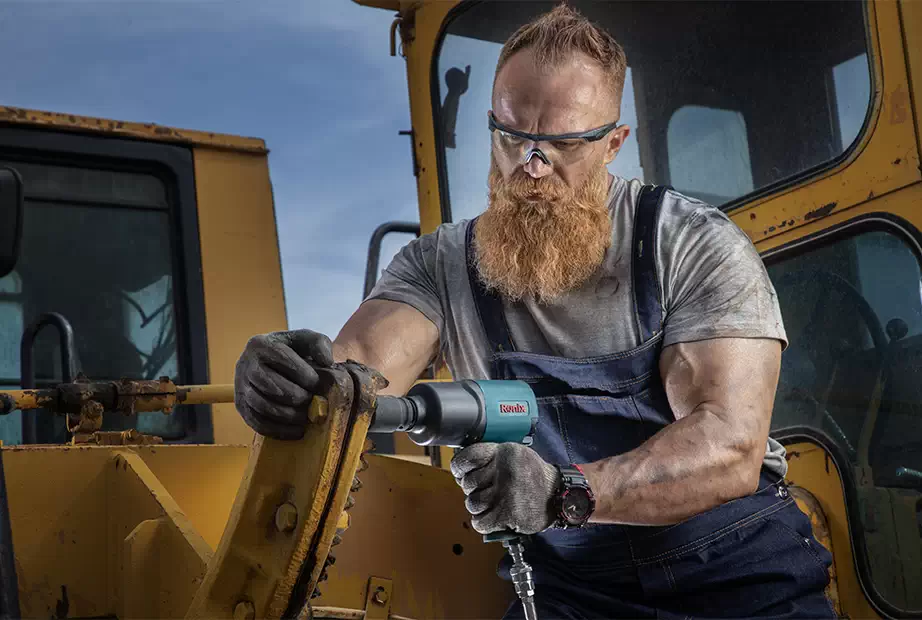 Additionally, this well-designed gun offers ultimate convenience with its lightweight yet strong composite body and adjustable power regulator, allowing you to control the pressure on fasteners based on their type and size.
RA-1211's user-friendly pistol grip handle provides better control during prolonged heavy operations, and the 360-degree rotating air inlet ensures the air hose won't get twisted or bent.
Best Air Impact Wrench for The Money
For those of you who want to get the most bang for their buck, the best air impact wrench is built to last, has a good toque to weight ratio, is affordable and comes with an adjustable power regulator for added versatility.
Best Air Impact Wrench for Mechanics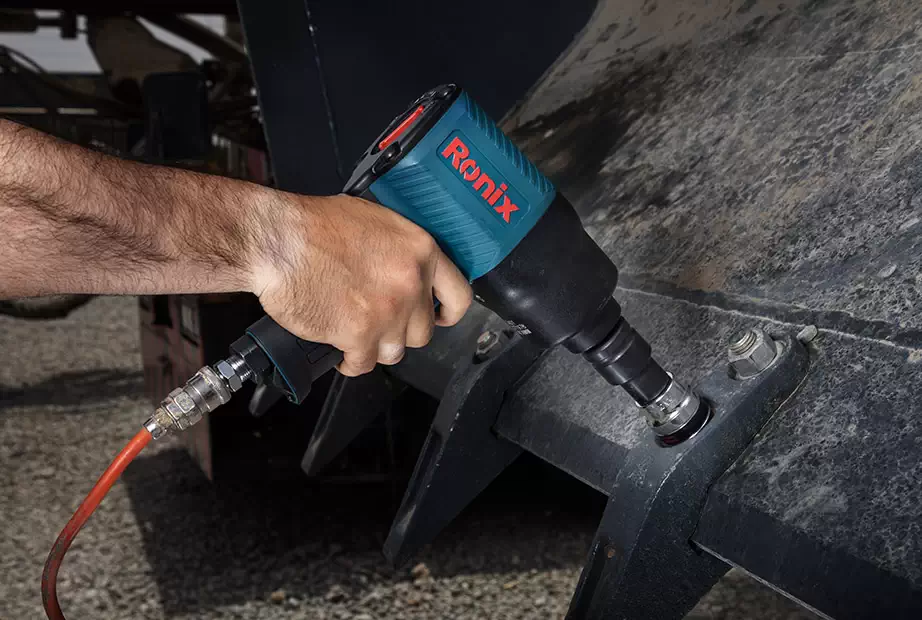 If you are a mechanic, the best air impact wrench for you is the one with:
Forward And Reverse Function: for faster and more efficient operation
LED Light: For more visibility and precision while working down in the service pit
Compact Body: to be of service in their tight work space under vehicles
Best Air Impact Wrench for Changing Tires (Lug Nuts)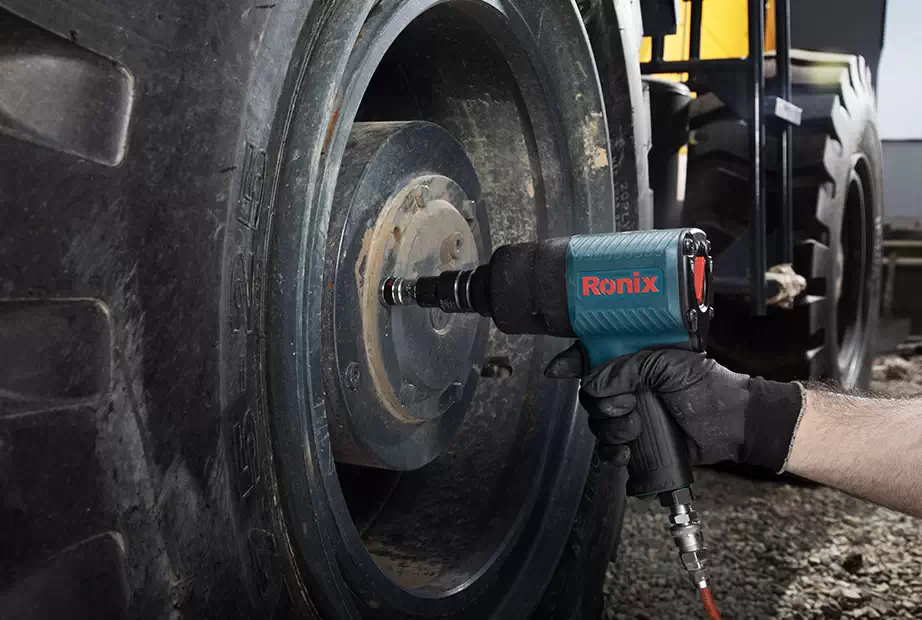 Choosing the best air impact wrench for changing tires depends on the size of the vehicle and the condition of lug nuts. However, here's a to the point guide for beginners:
For personal cars and compact trucks: 1/2" gun with 400 to 800NM of torque
For large trucks, busses or concrete mixers: 1/2" gun with 1626-2706NM of torque or more
Nuts and bolts join the components of every machine together, enabling the secure assembly of different structures. To work with them effectively and effortlessly, never settle for anything but the best air impact wrench you can find!
FAQs❓
What is the best impact wrench for automotive or mechanical applications?
The best air impact wrench for mechanical applications has a high torque output, a compact body, an LED light and a forward reverse function.
How does the driver size and torque rating of an air impact wrench affect its performance?
They determine the tools mission. Higher torque outputs and larger driver size are for heavy-duty applications and lower torque and smaller drivers are better suited for lighter tasks