Gardeners heavily rely on their tools to help them complete difficult tasks. Using the right tools for the job will make you perform faster, whether you're sowing seeds, pruning shrubs, or maintaining a lawn. Then, for finding the one, the best choice is to make a list of the proper Gardening Tool Brands and pick the one brand that matches your needs better.
To make your job easier, we have provided you with a list of 10 gardening tool suppliers whose products have received a seal of approval and are placed in the best-seller category on Amazon.com.
Each of these pieces of equipment offers specific features that can take care of an aspect of your gardening project. So, we suggest you read the list and inspect the qualities. This will help you put together a reliable and professional gardening toolkit that will assist you for a long time.
Order Wholesale Garden Tools Designed to Attract Customers
What Company Makes the Best Gardening Tools?
There is a countless number of Gardening Tool manufacturers in the market, such as Bosch, Black & Decker, Fedo, and Ronix. Each offers different types of them, ranging from simple tools to the ones with the most complicated structures. By scrolling websites, seeking tool shops, or asking agents of garden equipment suppliers you can find many gardening manual and power tool brands that can equip you with such products regarding your needs.
Among all the brands, there may be some companies working specifically on hand tools, while others have put their focus on power tools or both. Let's take a close look and see which brands produce what kind of tool.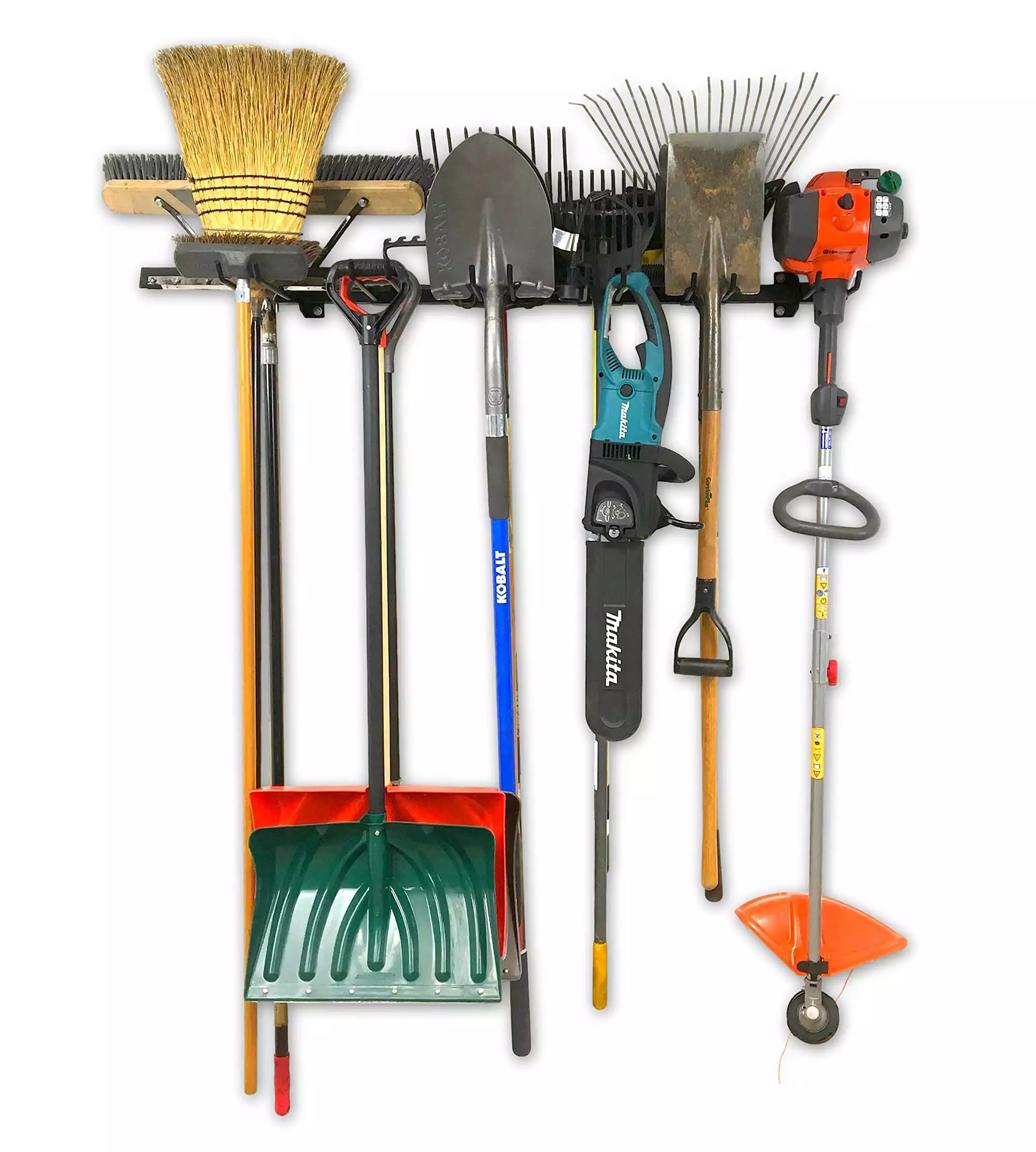 Related Articles: German Gardening Tools
Gardening Hand Tools Brands
Despite all the high-tech power tools in the market, manual equipment is still practiced in most cases. With their simple structures, they can handle many tasks such as trimming, pruning, watering, and digging. There are many gardening tool brands names that has focused exclusively on hand tools, most of them are old-established ones with a long history of working in this field.
Felco, Corona, Fiskars, Burgon & Ball are among the most well-known and first-rate one. let's take a close look at them:
Felco
Felco is one of the Swiss gardening tool companies manufacturing hand tools for 75 years. It is mainly known for its high-quality pruning tools worldwide. They are famous for being durable and convenient enough to be used by both experts and amateurs. Another point about this brand is that all its parts are replaceable and come with a lifetime warranty.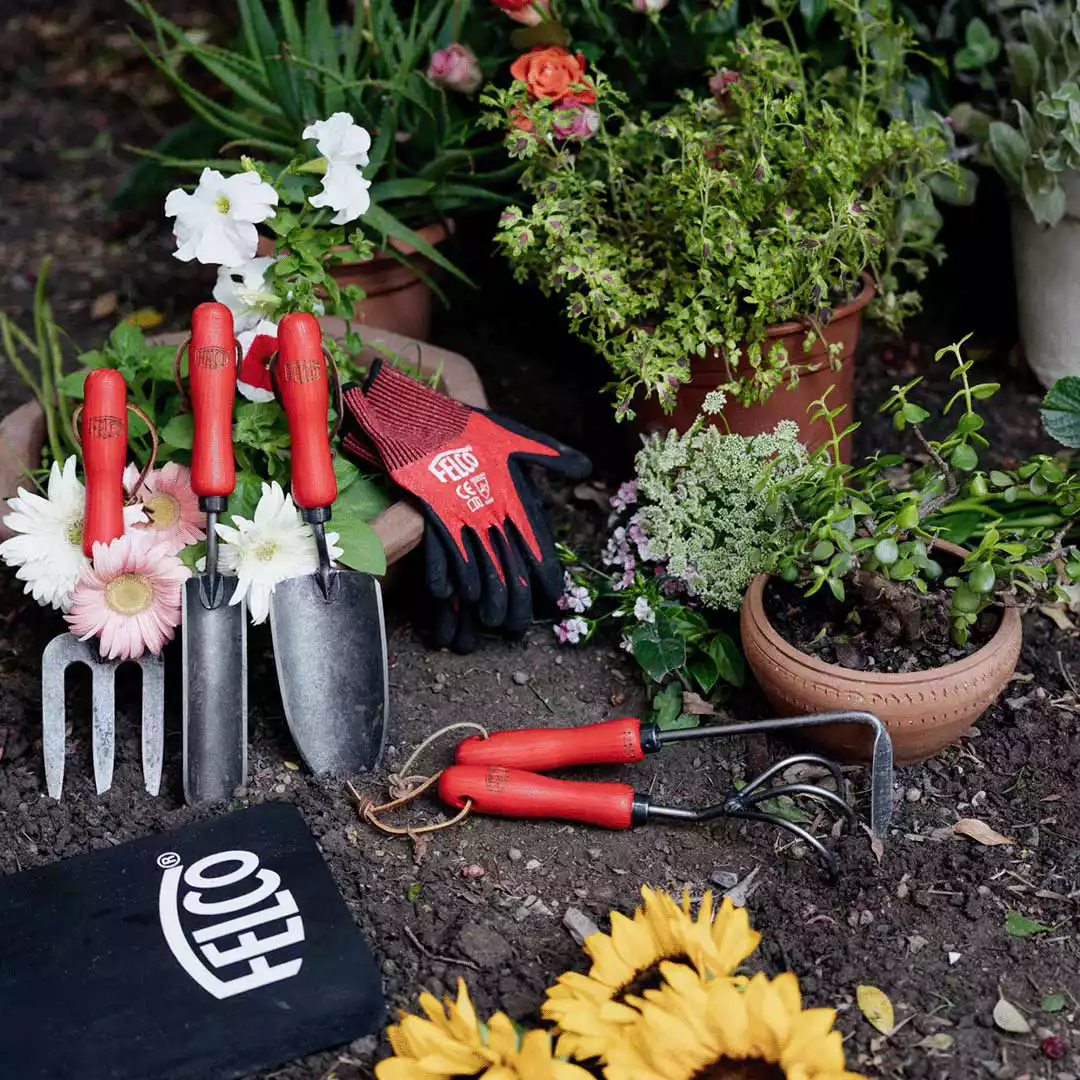 Corona
Corona is a leading garden tools supplier and manufacturer of professional and consumer equipment for the lawn and garden, landscape, irrigation, construction, and agriculture industries, was founded in the 1920s.
Corona's proven designs, quality manufacturing processes, and customer loyalty make it a good option for contractors, agricultural professionals, and enthusiastic gardeners alike, with a retail and distribution network spanning the United States and Canada.
Corona has been relied on by generations of agriculturists, gardeners, landscape, irrigation, tree maintenance, and building professionals for high-quality and high-performance items that work hard.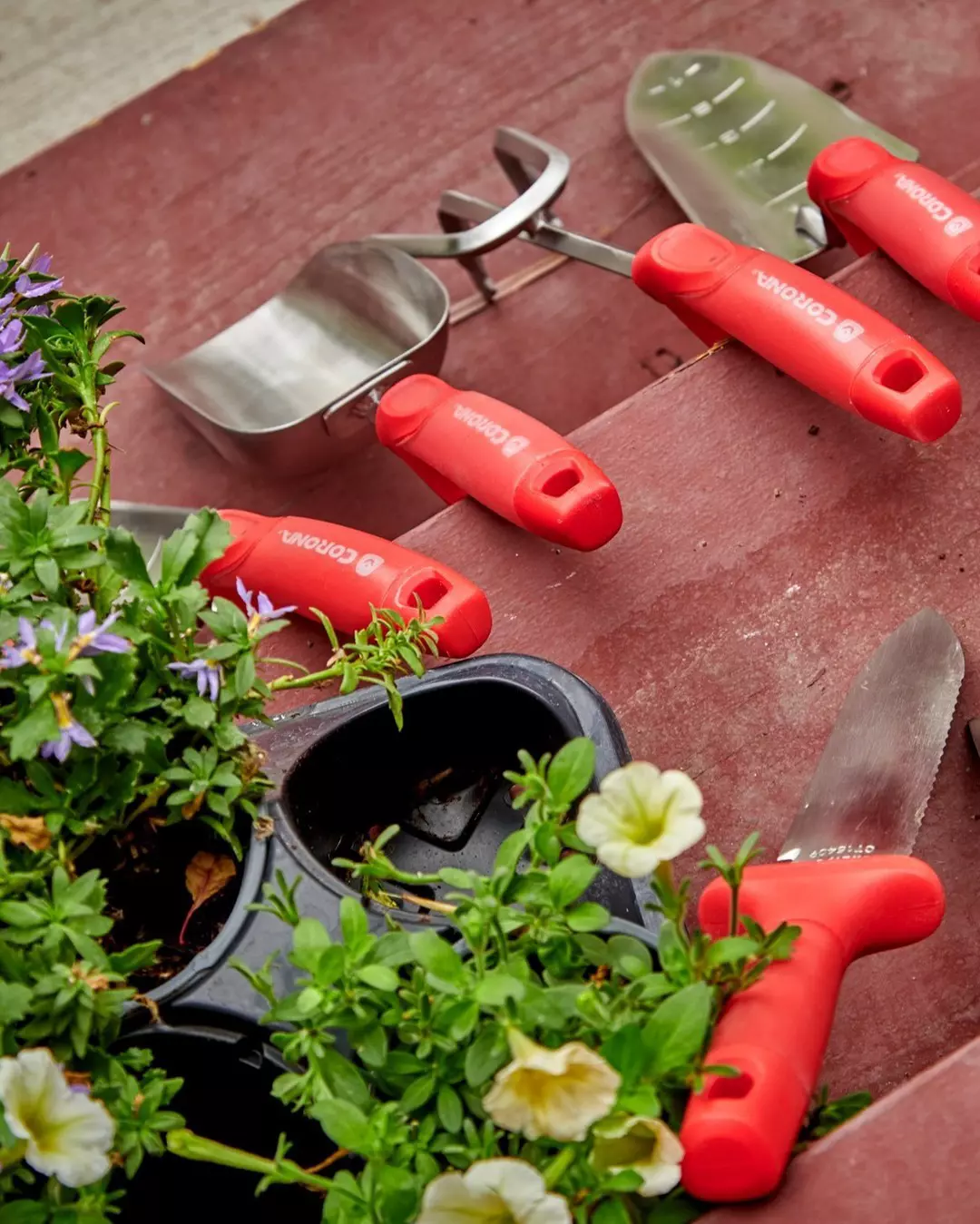 Fiskars
Another gardening tool company worth mentioning in a list of 10 garden tool suppliers is Fiskars. Fiskars began as an ironworks in a small Finnish village of the same name in 1649 and has since developed to become a big name in consumer products for the home, garden, and outdoors.
Fiskars products are sold in more than 60 countries, and their efficiency and design make daily home, garden, and outdoor projects simpler and more enjoyable.
Fiskars has introduced a new line of gardening tools that would appeal to both pros and homeowners. It strives to make difficult tasks simpler with features like Power Gear technology and Soft grip handles. Garden tools from Fiskars provide outstanding performance, features, and value, making them a great option for all users.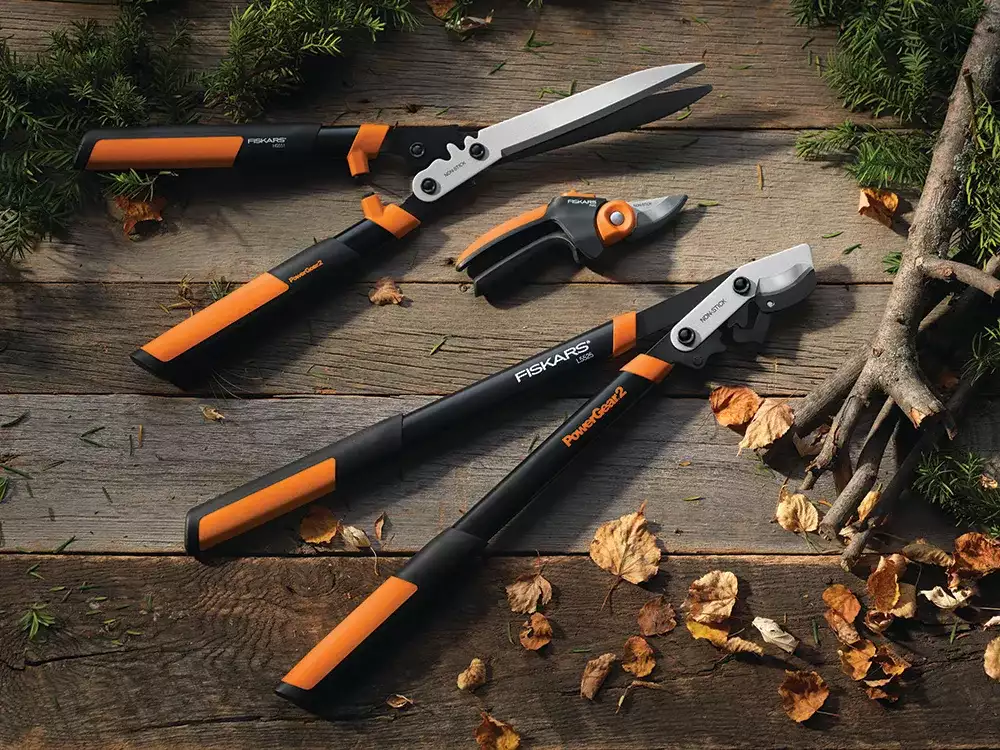 Related Article : Use of hand tools in gardening
Burgon & Ball
Another member in the list of 10 garden tool brands prepared by me is Burgon & Ball. Since 1730, Burgon & Ball has been working with steel in Sheffield. Their history is particularly significant to them, as they feel it is their expertise that makes their tools among the best available.
Burgeon and Ball tools outperform the British model load measure by more than 50% and are supported by a lifetime warranty against manufacturing defects. The Royal Horticultural Society has also approved them (RHS).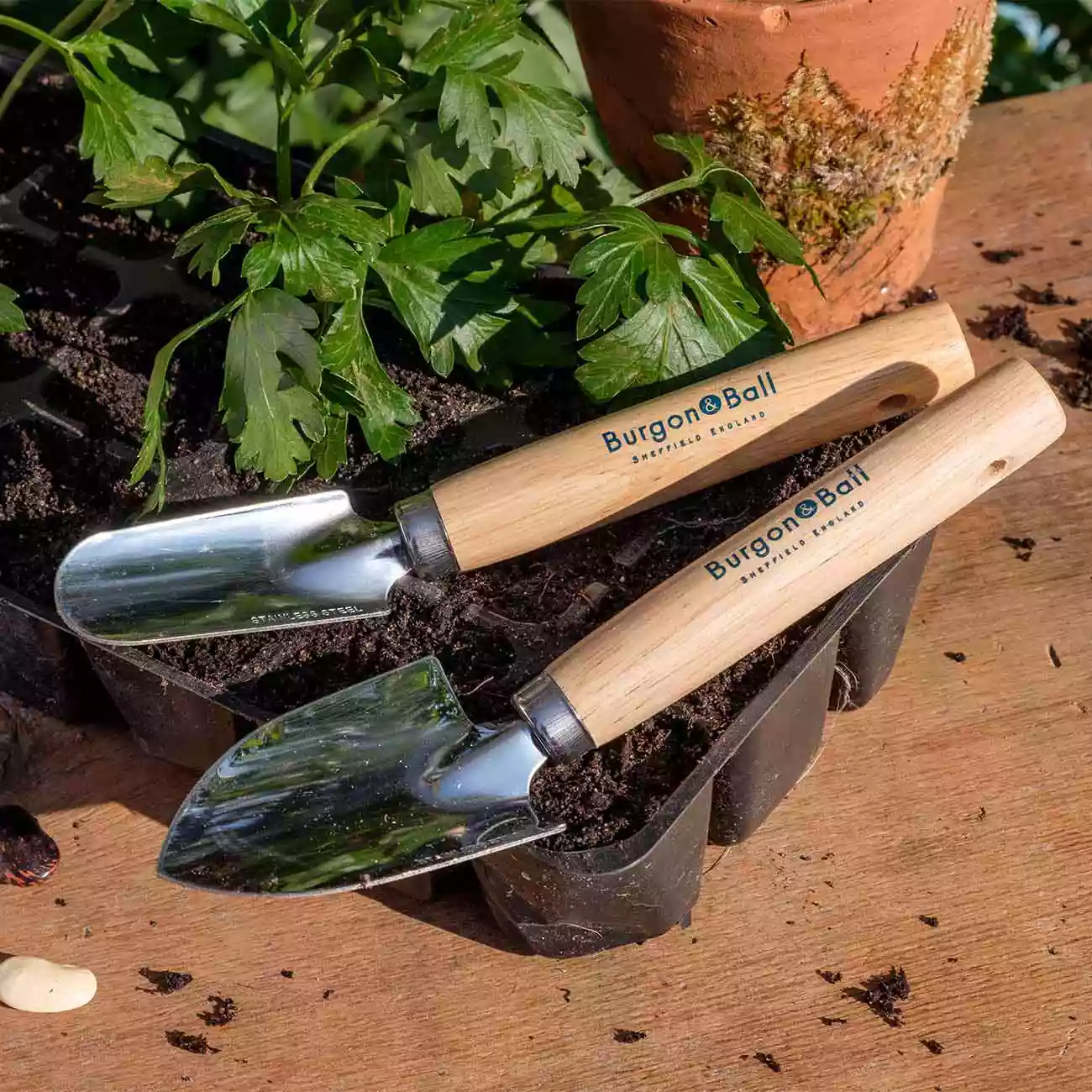 Garden Power Tools Brands
Gardening would be a more complicated job sometimes, so they need much more complex tools. Sometimes you need to prune a large number of tree branches or mow lawn in a vast area, despite the fact that hand tools are very practical they definitely cannot be helpful in such situations.  So, you need to have some of them at hand. But having the best quality garden power tools is what will make it a more easy and enjoyable job. Here you can see a number of them.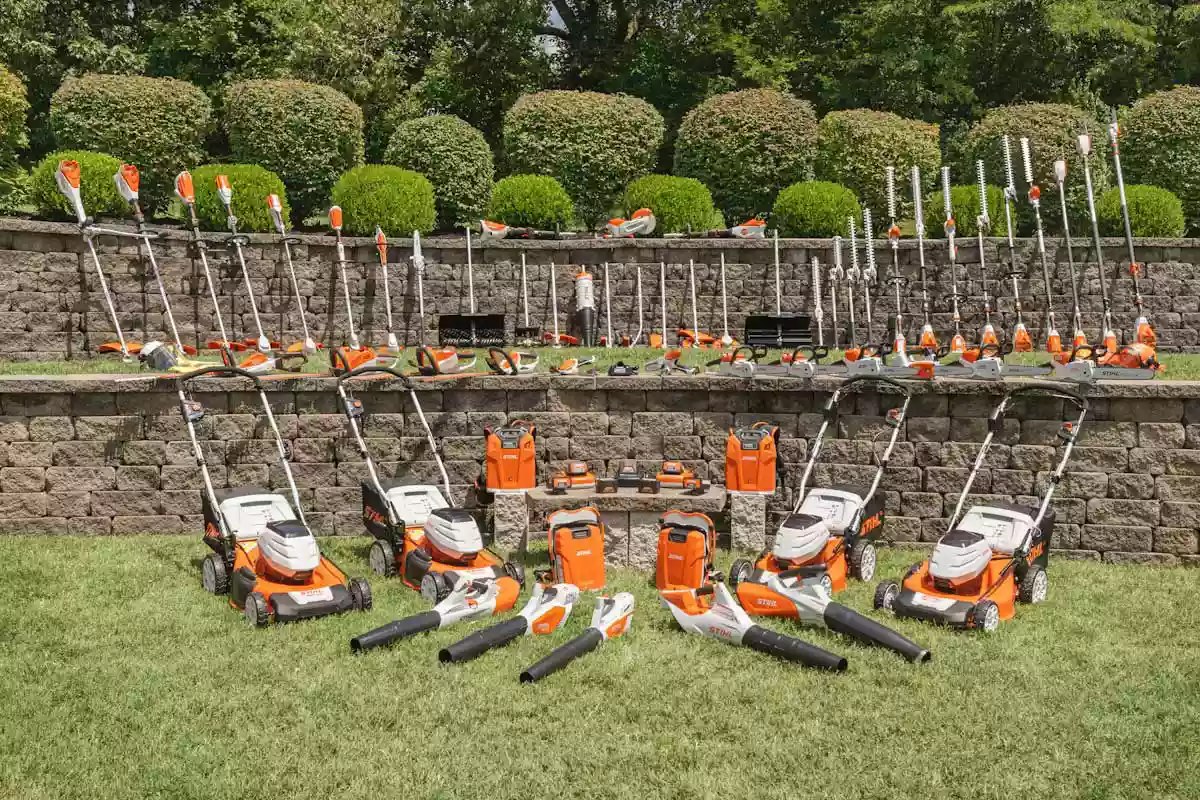 Bosch
Bosch is almost the world's most famous power tool company with the best quality and services. This is a good option for people that look for a top-rank company to select their garden power tools.
Bosch sells a variety of professional cordless garden products that use an innovative, long-lasting battery system. Bosch's products are built to last and are engineered to be versatile and easy to use.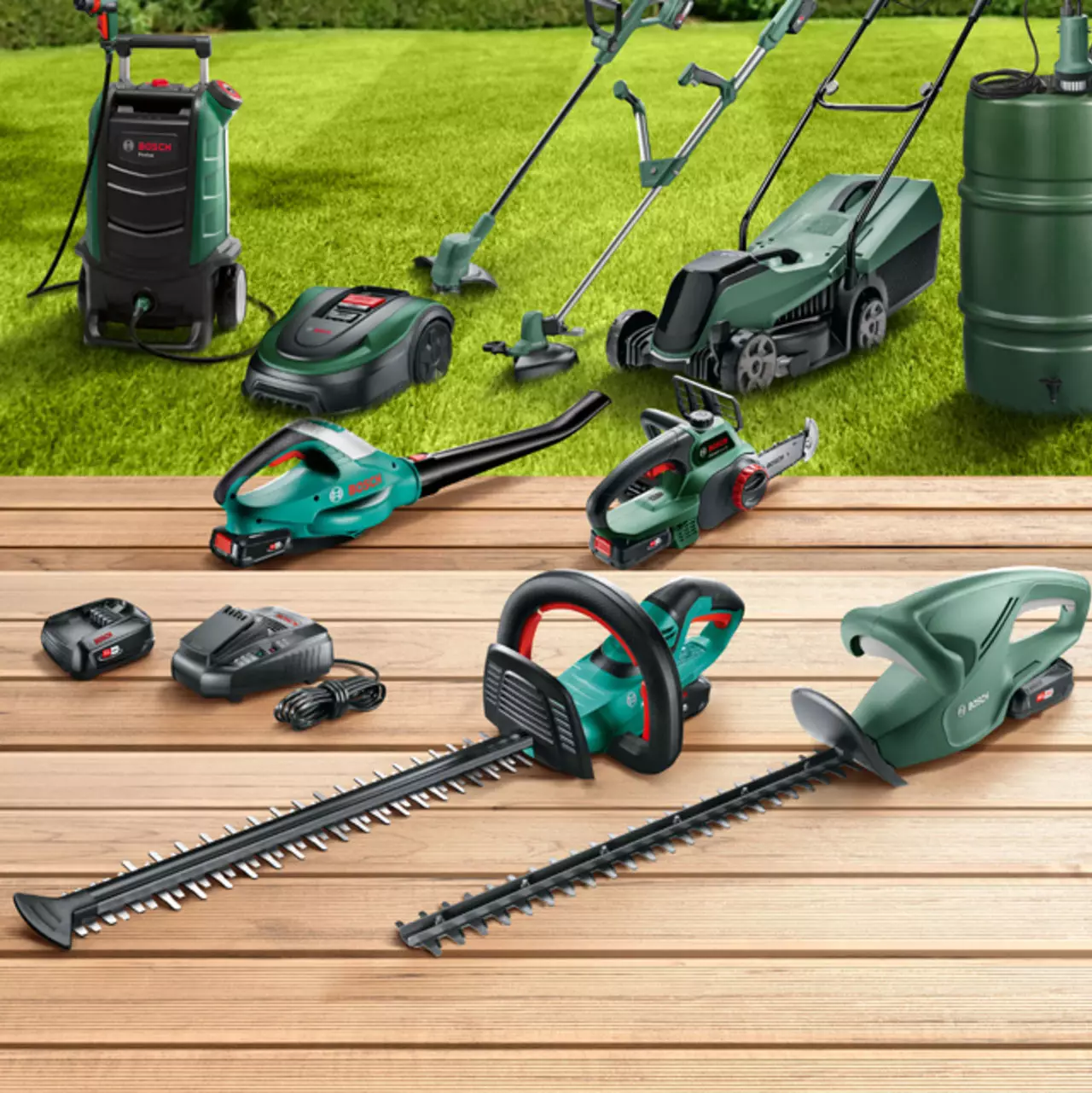 Black & Decker
You've probably heard of Black & Decker, another member of a list of best garden tool manufacturers with high-quality tools.
It is famous for its hedge trimmers, lawn mowers, string trimmers, and leaf blowers. But you should notice that this brand provides its products mostly for home gardeners and landscapers.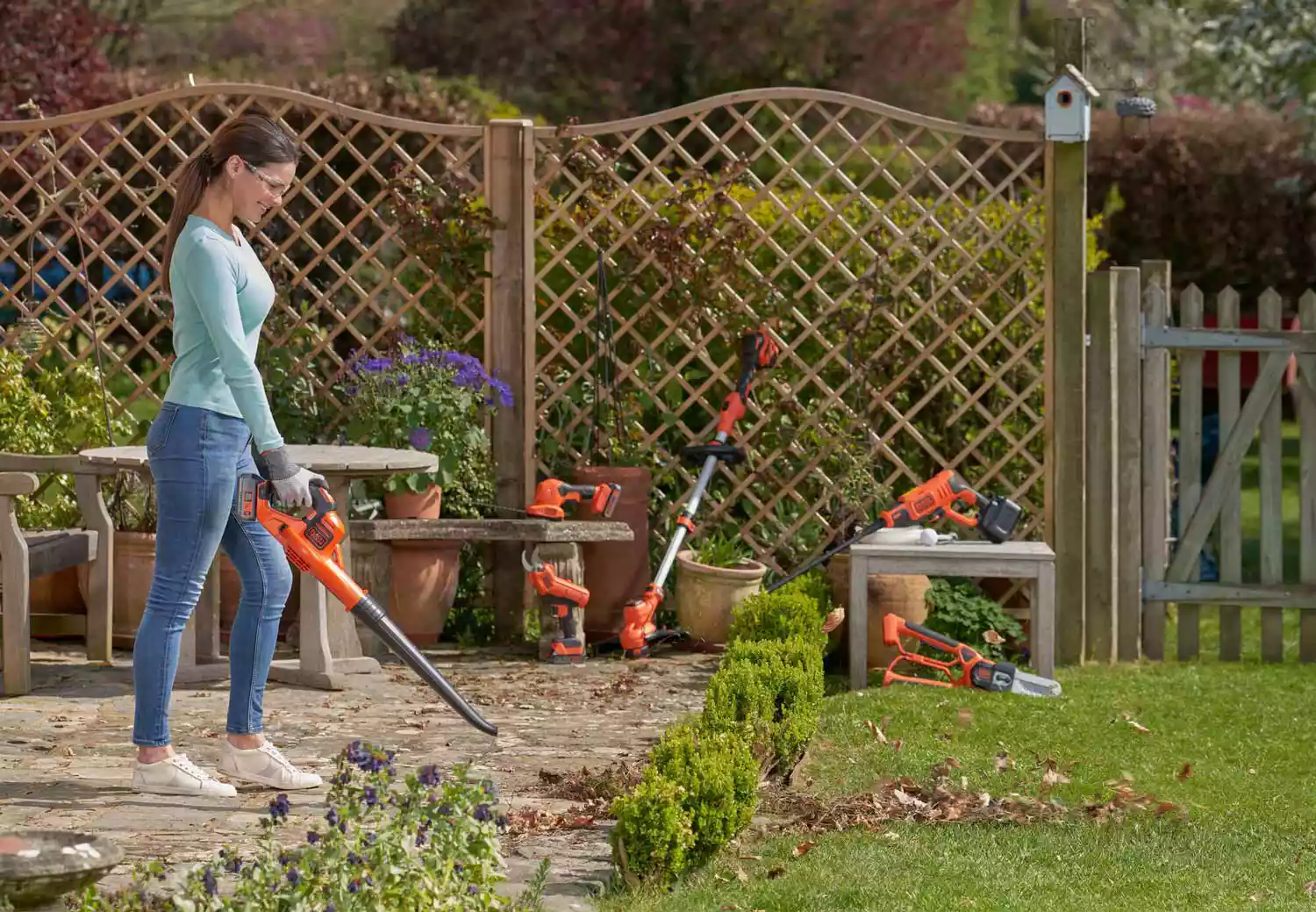 Husqvarna
Husqvarna is a forest, park, and garden tool manufacturer with over 330 years of innovation and passion. They combine high efficiency with accessibility and protection, ensuring that you can get the job done quickly. Husqvarna produces a diverse range of products and devices, from chainsaws and power cutters to robotic lawnmowers.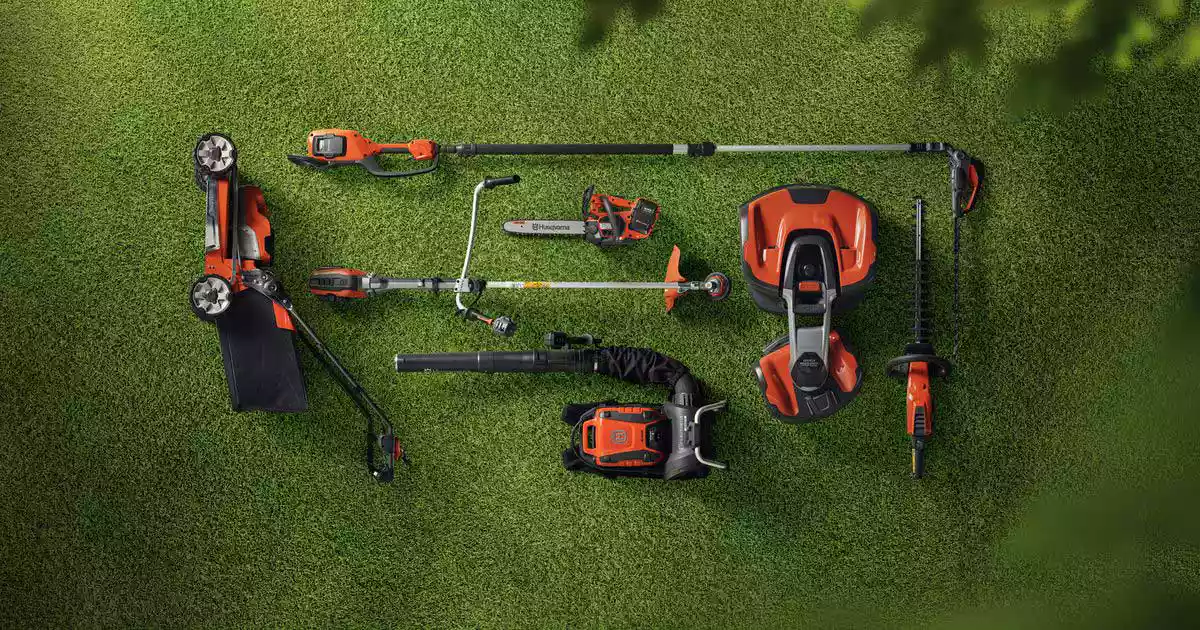 Gardener's Supply Company
Gardener's Supply Company is one of the best. This company assists consumers with creating a good garden. Founded in 1983 by a group of dedicated Vermont gardeners, it now services millions of gardeners around the world, providing everything from seed starting materials to garden furniture to flower supports and garden carts. Despite their power tools are offered in limited numbers, this gardening tool brand is worth mentioning in this list. Because the specific products of this enterprise such as leaf blowers, chainsaws, hedge trimmers, and battery-powered string trimmers and lawn mowers bring a high performance.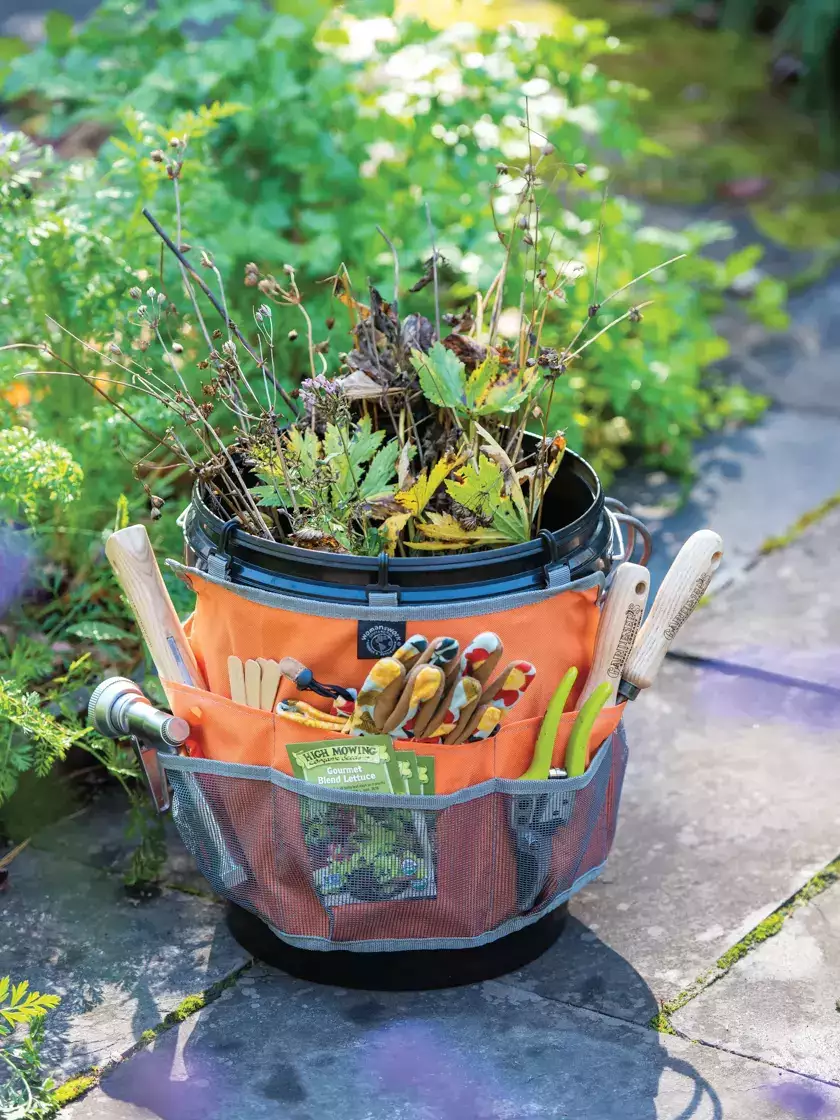 Spear & Jackson
From its base in Sheffield, Spear, and Jackson has been selling hand, garden, contractor, agricultural, landscaping, and technical equipment since 1760. Over 250 years of experience and relentless creativity have earned the company an enviable reputation and a market-leading product line that includes high-quality, high-performance tools for a wide range of applications.
Given that, this gardening tools manufacturer has a rightful place in a list of the most preferable garden tool manufacturers.
Spear and Jackson products are ergonomically designed for maximum comfort, making them ideal for professional gardeners.

Ronix
Ronix is a garden tool supplier. Ithas entered the global tool market since 2004 and now exports its tools to more than 90 countries around the world.
It has been specializing in manufacturing a wide range of professional hand and power garden tools of different types and models. Ronix believes that their activity is based on variety, quality, reasonable pricing, after-sales services, and professional behavior.
Ronix is more importantly known for its high-quality garden power tools, and that is why we have considered it in a list of 10 garden tool suppliers.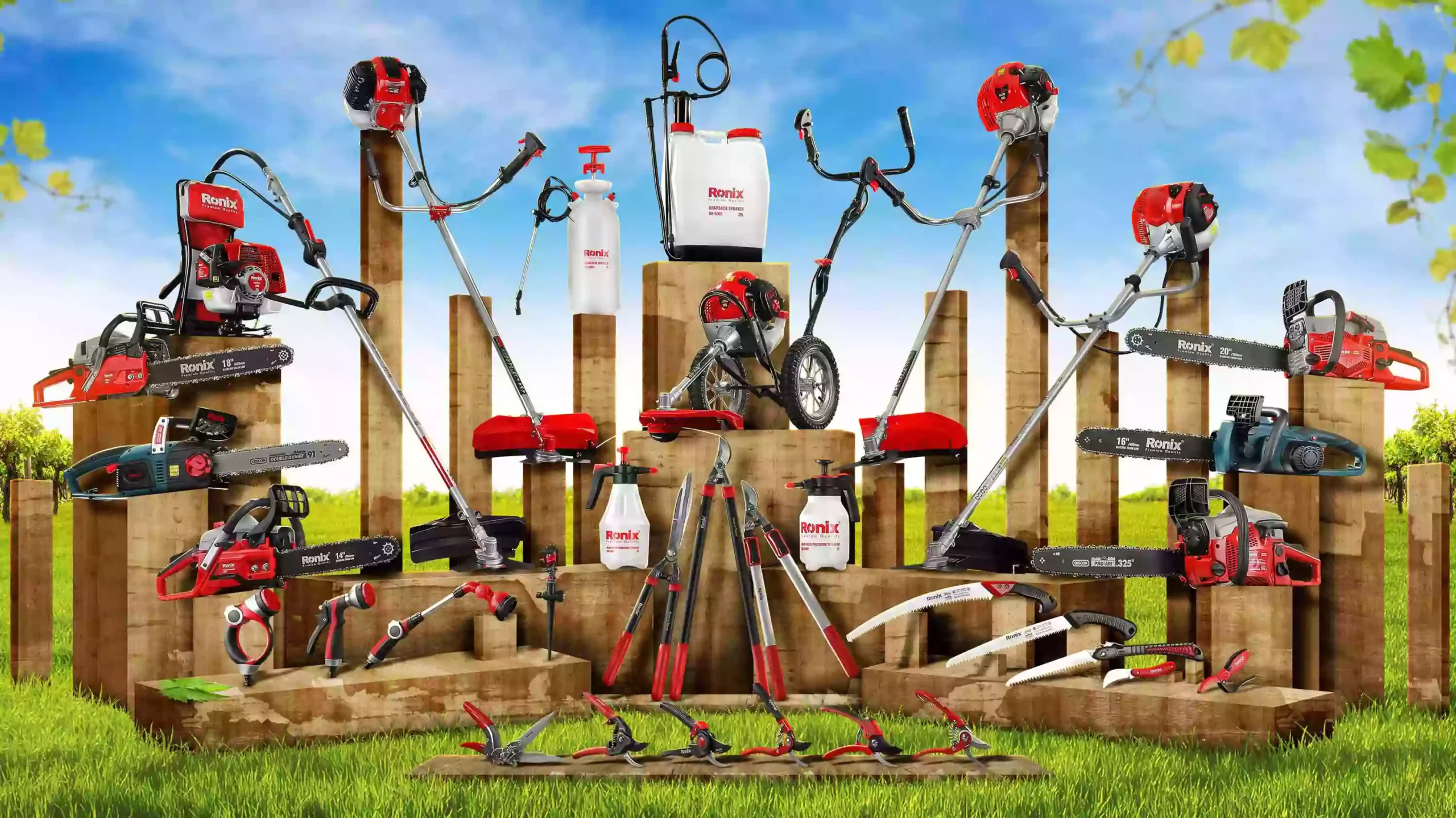 Ronix's gardening tools are designed for both professional and home use, and they are known for their quality and durability. They are made of high-quality materials and feature ergonomic designs for comfortable use.
Ronix gardening tools include a wide variety of items such as hedge trimmers, brush cutters, loppers, and pruners.
In addition to their hand tools, Ronix also produces a range of gardening power tools. These tools include hedge trimmers, lawn mowers, grass trimmers, and leaf blowers. Like their hand tools, Ronix's gardening power tools are designed for durability and convenience, with features such as adjustable cutting heights and cordless designs.
Related Articles: DIY Wooden Garden Fence
Overally, Ronix's gardening tools are a good option for those who are looking for high-quality and durable tools for gardening tasks. Their range of hand tools and power tools covers a variety of tasks, from planting and weeding to trimming and mowing, making them a versatile choice for home gardeners and landscapers alike. So, if you are seeking agarden tool wholesale supplier to import from you can count on this brand.
FAQ
Are Ronix-branded gardening tools approved by customers?
Ronix is more importantly known for its high-quality gardening power tools, and that is why we have considered it in a list of 10 garden tool suppliers.
What do customers say about Bosch tools on Amazon?
Bosch's products are built to last and are engineered to be versatile and easy to use.
which gardening tool manufacturer has the longest history behind it?
Burgon & Ball company has been working with steel in Sheffield for more than 330 years; their history is particularly significant to them.
What are the best brands of garden tools?
There is a countless number of Gardening Tool manufacturers but if you are seeking for best ones, you should consider Bosch, Black & Decker, Fedo, and Ronix.
Where are the most famous gardening tools company from?
They come from different countries such as Switzerland, England, and Germany.