Bosch is definitely one of the best names in the industry. It has been around for many years and is highly trusted by DIY-ers, woodworkers, home-builders and other professionals. RONIX on the other hand has been present in the industry for more than a decade now. It has gained the trust of users inside its birth place and its entering countries beyond the borders fast.
Choosing between them can be a challenging task for many reasons. Hopefully, I can at least attempt to simplify your decision-making process by reviewing their history and power tools.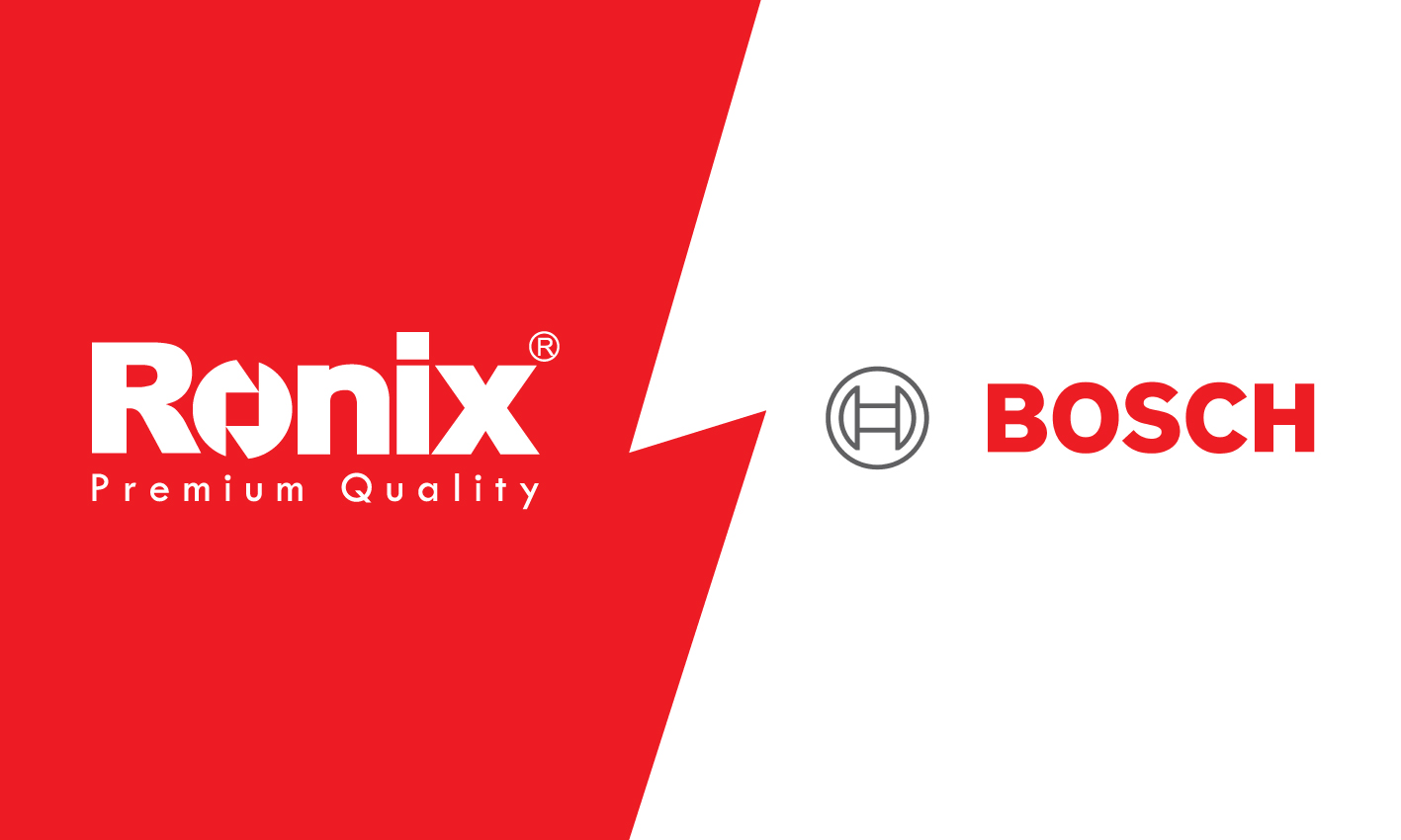 A Little History on Bosch
After being around for 130 years, it is easy to say that Bosch definitely has a deep history. Its history begins in Stuttgart, Germany, where Robert Bosch created the "Workshop for Precision Mechanics and Electrical Engineering" in 1886. Here, they entered the business world with their birth of the spark plug and better ignition systems.
From then until now, Bosch has had their hands in a multitude of different areas of the business world, from the automotive industry to Telehealth. To list all of their innovations could take pages, but a few examples include a round electric fridge, the first mobile hydraulic lift, three-way catalytic converters, electronic antilock braking systems for vehicles, hybrid vehicle technology and eBike drives.
Today, the Bosch group includes four business sectors: mobility solutions, industrial technology, consumer goods (which includes power tools), and energy and building technology. Specifically, Bosch's power tool division was started in 2003. Most of their products are made in Malaysia, Mexico, Taiwan, and China but there are still some products manufactured in Europe; specifically Germany and Switzerland.
A Little History on Ronix
Ronix is an international brand, active in the tools industry and its related equipment. They produce a variety of high-quality products, all according to the global state-of-the-art technology, through 500 suppliers in 15 countries worldwide.
This soon to be popular brand, with creative engineers, has a an eye on the future. Over 300 experts work in Ronix, in Europe (Germany), the Middle East (Tehran), and China.
Since 2005, Ronix has become a leading tools company in the Middle East and an international brand, specializing in manufacturing a wide variety of professional tools. Currently, the company has offices in Europe (Germany) and China. Over the past 15 years, Ronix has developed more than 2,000 different types of tools, all lovingly crafted with Ronix's undisputed and world-class standards.
Apparently, they are investing in advanced R&D, high-end technologies, and professional human resources to develop a variety of efficient tools that meet expert's needs.
Ronix has been present in the global markets since 2011 by registering its offices in Europe (Germany) and China. Ever since, they have been offering and delivering high-quality products to customers. Their products have been accepted and used by many expert users around the world.
Ronix vs. Bosch Quality
To compare the quality of these two brands you need to be nonjudgmental, to say the least. Both companies have a good reputation and have been trusted by their consumers. I will do my best to point out a few pros and cons of each, based on two similar drills each has out on the market currently.
Bosch DDS180-02 cordless drill driver
The cordless Bosch DDS180-02 is both a drill and driver that can be used in around the workshop or home. Powered by an18-volt, 1.3 amp-hour lithium-ion battery, the tool delivers a maximum speed of 1700 rpms and up to 600in-lbs of torque.
The drill has a depth of 19.0", width of 14.5", and height of 4.5 inches.
The battery-powered drill features a keyless clutch that has 18 +1 positions. Like most other Bosch drills it also comes with Durashield coating which is a blend of nylon and ABS.
Also, it boasts of the patented gear train and clutch system, Electronic Cell Protection (ECP), 4-Pole Open Frame motor, and Optional Flexible Power System (FPS). Other features worth noting include a built-in LED light, variable speed trigger, soft-grip housing, and 1 /2-inch ratcheting single sleeve chuck.
Speed
Coming with two speed variations, a task that requires more torque is best suited with the 0-500 rpm range while the 0-1700 maximum rpm is effective on applications that require more power.
Battery
Although the drill comes with two 18V, 1.3 Ah batteries, and it is also compatible with a range of chargers as well as Li-on batteries.
The 1.3 Ah (slim Pack) is light and best for light duties, the 2.6Ah (FatPack) is ideal for more demanding tasks, while the 3.0Ah (FatPack HC) is the most powerful. At least you have choices.
High Torque and Power
With a maximum torque output of 600inch-lb, and 1700 rpm Max, the Bosch drill can handle a variety of needs. This is further improved by the Optional Flexible Power System (FPS) that allows a user to select between minimum weight and maximum run time.
Price
The price of bosch products are really high, which may be important to many users. Like this drill which will cost you around 120$.so it may not be the best choice price wise.
Ronix 8618N 18V Cordless Drill Driver
Ronix 8618N is a powerful, high performance drill with three functions: drilling, screwing, and hammer drilling. It has a high resistant, waterproof, and robust motor that allows the user to work with it in wet situations. Ronix 8618N 18V Cordless Drill Driver with the maximum torque of 35NM, delivers more twisting force. By delivering 25N.m of torque, your 8618N 18V Cordless Drill Driver will not have any issues during drilling, screwing, and drilling hammer through any surfaces like wood (with the max drilling capacity of 25mm), metal (with the max drilling capacity of 10mm) or in masonry (with the max drilling capacity of 10mm).
21 clutch settings enable efficient and accurate screwing and reduce fastener damage. The 2-speed function competent for both high-speed and high-power applications and the no-load speed of 0-400RPM (working with high power) and 0-1500RPM (working with high speed) helps the motor run efficiently.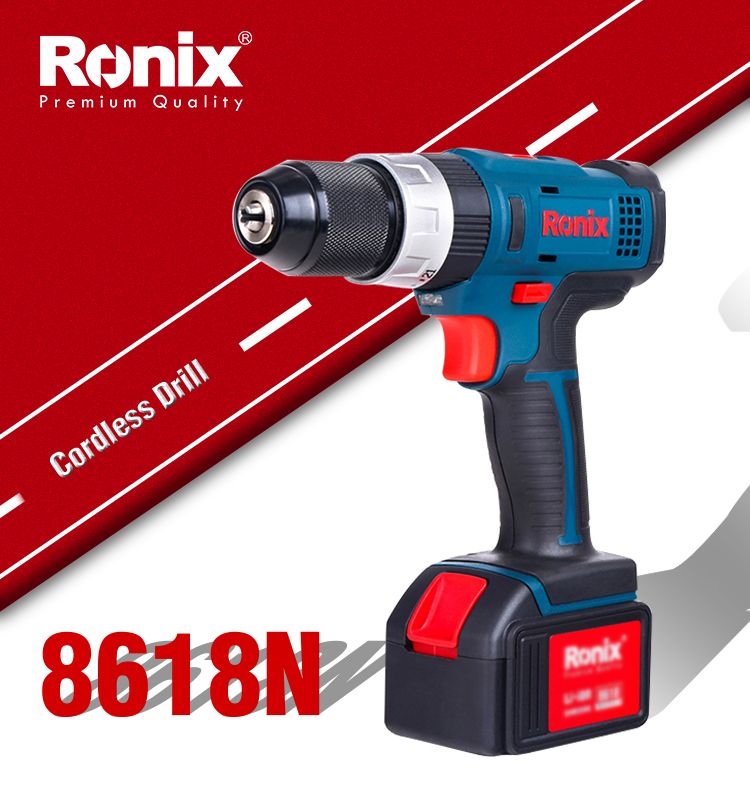 Chuck
The design of the 10mm full metal keyless chuck in Ronix 8618N ensures high durability in tight workspaces. Loosen the chuck to remove a bit, and tighten it again to secure the bit before using it. As this chuck is keyless, make sure to use enough force to tighten it right up.
Body
Ronix 8618N has a lightweight ergonomic small body but with considerable power. Its high resistance, anti-shock body with only 1.86kg that is designed with rubber grip, removes the risk of damage in case of falling or any kind of stroke.
This cordless drill driver is equipped with the best LED work light which illuminates the dark zones and brings optimal brightness in the work area.
Battery
The fast charging system in the charger provides optimum performances in tight working situations. Ronix 8618N has two 1.5Ah 18V lithium batteries in its BMC case.
This battery-powered hole maker and a fastener driver for screws which is equipped with 21 clutches can be used anywhere you need to make a hole.
Price
Ronix drills are much more affordable. With reasonable pricing and high quality, they are paving the way to success quickly. This drill from Ronix costs only about 50$ which is a great deal actually.
Ready to choose? ​
The Conclusion
After all that, choosing between Bosch and Ronix tools can be easier. Although, it all comes down to each individual's personal preferences, needs and budget.
Ultimately, the decision is yours. Hope you make the best choice and enjoy using your tool.