Ronix News
Ronix Is One of the Best Suppliers to Import Brushless Power Tools from China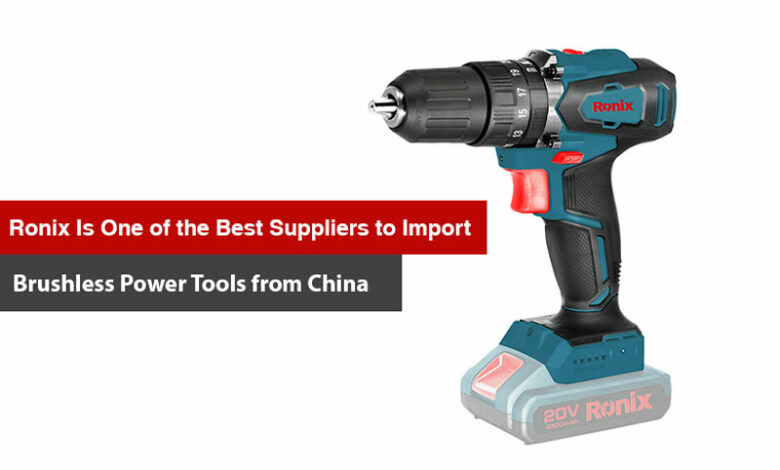 If you are opening a retail tool store, and aim to import power tools for the first time, you may have decided to import brushless power tools from China. In order to import power tools, you need to be aware brushless power tools' features, and which power tool manufacturers in China you can buy these products from. Let's first be more familiar with brushless power tools and their features.
What Are the Features of Brushless Power Tools?
The fact that power tools have grown in usage is undeniable, and it is expected that their use and popularity will grow even further in the near future. The versatility and applicability of such tools not only satisfy the needs of people working in factory workshops and building sites, but also a wide range of power tools that can be used for a number of tasks and jobs. Innovation in designing power tools and upgrading the functionality of such tools has led to creating more sophisticated and developed version of power tools.
Brushless motor technology is one of the progresses that has occurred cordless power tools in recent years. Any prominent power tool manufacturer now offers a brushless tool lineup, but is it useful for you?
Brushless motors aren't new to power machines, but the competition was on after Makita, DeWalt, and Milwaukee introduced full-fledged lineups of tools with long operational platforms to fit.
The brushless motor in a tool adjusts to the job. The more resistance a drill or saw detects, the more force it absorbs, and vice versa, a lack of resistance reduces the pull. This is a significant development in battery management, increasing runtime, and decreasing power consumption.
A brushless motor also does not have the friction or voltage drop that a typical motor does, which extends the motor's life and improves overall efficiency.
With So Many Advantages, Why Aren't Brushless Motors Used in All Cordless Tools?
Due to the motor's scale and the integrated electronics used to operate the motor efficiently, there is already an additional expense to the design and production of the tool. Brushless tools are about 30% more costly than traditional lithium-ion cordless tools, making them more attractive to trades and technicians who use their tools every day to increase their output on every task. Unlike a weekend DIYer who only uses the drill when necessary and gains nothing more than the tool's badge.
High-efficiency (and expensive) lithium-ion batteries are often recommended to power brushless power tools because they are uniquely designed to meet the demands of these motors.
Why Retailers Prefer to Import Brushless Power Tools from China?
Knowing that you can rely on a power tool provider to help you import brushless power tools from China so that their offer is the best on the market and shipments come on schedule is critical if you want to stay in business.
Building stable partnerships, weeding out the best vendors, and comparing their deals, on the other hand, will take time.
In addition to the official and authorized manufacturers, approved resellers should be considered for the best sales price. Sure, going to official resellers is good if you only need a couple of chainsaws or cordless power tools. However, if you want your company to be sustainable, you must look beyond local resellers.
Today, China has the world's most considerable potential for importing brushless power tools and is the world's second-largest exporter of tools. Furthermore, several tool brands have their products made in China because it is very cost-effective for small companies that do not have their production capability.
If you are starting a retail tool store or merely purchasing wholesale equipment for the first time, you may want to import brushless power tools from China. The first step in importing brushless power tools from China is to consider the wholesale buying process. The more you know about Chinese vendors and equipment makers, the more profitable your resale tool business would be.
Chinese factories and workshops are now eager to create designs and samples of new merchandise in a timely and cost-effective manner. Small companies in China should seek assistance from American business groups in finding Chinese suppliers for new goods and small product runs.
As a tool retailer, you would like to import brushless power tools from China-based manufacturers rather than other vendors. That is why tool stores purchase their merchandise from wholesale dealers.
Furthermore, since the consistency of the tools you offer has a significant impact on your bottom line and the credibility of your tool shop, the reputability of a Chinese manufacturer is critical when you decide to import brushless power tools from China. There are numerous tool manufacturers in China, so selecting the right tool supplier is vital.
Due to the improved quality of their tools and the advances provided by several new Chinese tool suppliers, they have been able to compete with many of the world's leading tool brands. Ronix, Homelite, Shakti, and other relatively recent tool manufacturers are among them. In addition to the durability considerations that these new manufacturers have applied to their tools, the affordability of their product prices has become a key feature for the compatibility of these power tools.
Ronix tools company is a good option for the retailers who aim to import brushless power tools from China. Ronix was founded in 2004 with the aim of developing innovative hand and power tools. Ronix has ever since made many efforts to find its rightful place among all the famous brands that manufacture tools around the world. Today, Ronix tools with more than 2000 various items that Ronix offers to the tool users, with the most diverse tools and technical equipment in international markets in this industry.
Ronix Brushless Series 89
A sophisticated cutter can be the best assistant for professional users because these tools are perfectly suitable for long hours of working. Ronix 4554Wheeled brush cutter is equipped with a powerful 51.7cc, two-stroke, 1350W engine. The high-torque engine in this brushless cutter allows you to cut through the toughest areas with less strain on the engine. Its two-cycle engine uses a 1:40 ratio of gasoline to oil which is a great feature for a cutter. This whole shaft designed machine with its outstanding performance is what you need to put an end to all kinds of heavy-duty operations. It has a durable high-quality steel shaft installed in a way to increase the life span of the machine. The max speed of 7500 RPM is another great feature of this product. Its shaft is made of durable high-quality steel, for a longer life-time. Ronix 4555has an engine clean air-intake system as periodic maintenance since it is working with fuel, which helps the durability of your tool. This machine is equipped with a new smart primer bulb start system that makes the machine start easier and effortlessly. Thanks to such a great feature, its carburetor would stay safer. Ronix 4555Wheeled brush cutter has a new design clutch system that causes better performance and higher efficiency. In addition to all these great features, an excellent CHAMPION ignition system of this tool results in powerful smooth running.
Conclusion
Brushless power tools are the innovated products manufactured by many tool producers worldwide in recent years. Retailers and tool suppliers can import brushless power tools from China as it has the world's most remarkable capacity for manufacturing power tools and is the world's second-largest tool exporter. Ronix is a leading tools company that is considered as a reliable Chinese tool manufacturer that can supply all the retailers and tool users with brushless power tools.