Ronix News
Ronix Brushless Power Tools One of the Pioneers in China Tools Market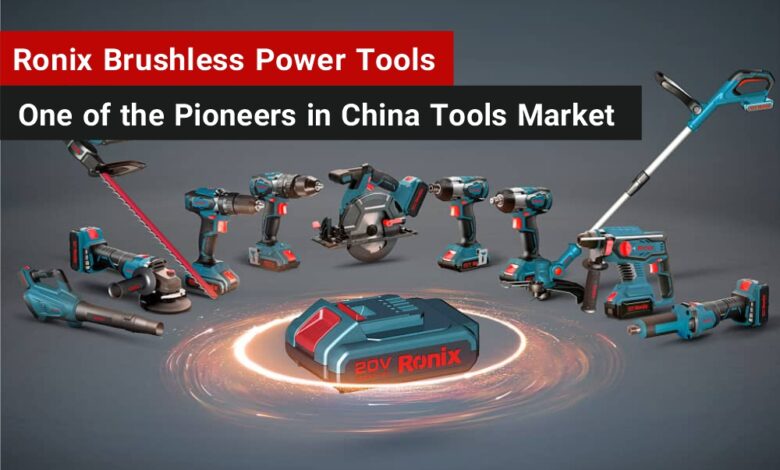 There's a long list of China tools, many of which are vastly popular and well-known for retailers and tool users worldwide. When it comes to purchasing the best brushless power tools, you may seek the brand that seems perfect to you. Tools with Ronix brushless technology that is applied based on the up-to-date technology of brushless tools is a highly recommended option among all the various China tools manufacturers. 
What is Brushless Technology?
Today, believe it or not, certain power tools with brushless motors will do as well as, if not better than, corded machines.
Brushless motors aren't new; in reality, they've been around since the 1960s, but in the last decade, we've seen them creep into almost every type of cordless power tool.
The first modern power tool was invented some 16 years after Edison's discovery. The modern machine tool was invented by the German firm C&E, which developed a revolutionary form of drill by integrating the power of an electric motor with a manual drill, which revolutionized the tools industry.
Since 1916, relentless advances aimed at making power tools smaller and easier to use have resulted in advancements in power tools. Another important feature of developing power tools was safety.
Brushless motor innovation is one of the developments in cordless power tools in recent years. Any major power tool company now has a brushless tool lineup, but will it be useful to you?
Brushless motors aren't new to power machines, but the competition was on after Makita, DeWalt, and Milwaukee introduced full-fledged lineups of tools with long operational platforms to fit.
The brushless motor in a tool adjusts to the job. The more resistance a drill or saw detects, the more force it absorbs, and vice versa, a lack of resistance reduces the pull. This significant development has led to battery management, runtime increase, and power consumption decrease.
In addition, a brushless motor lacks the friction or voltage drop that a typical motor does, which extends the motor's life and improves overall efficiency.
To summarise the advantages of power tools with brushless motors:
They're more compact and more lightweight. They run at a lower temperature. They have more runtime from your battery, whether you're either using 3Ah or have upgraded to 5Ah or higher. In the advancement of cordless power tools, they are a significant step up from brushed engines.
Why Brushless Technology Is Not Applied in All Cordless Tools
Due to the motor's scale and the integrated electronics used to operate the motor efficiently, there is already an additional expense to the design and production of the tool. Brushless tools are about 30% more costly than traditional lithium-ion cordless tools, making them more attractive to trades and technicians who use their tools every day to increase their output on every task. Unlike a weekend DIYer who only uses the drill when necessary and gains nothing more than the tool's badge.
High-efficiency (and expensive) lithium-ion batteries are often recommended to power brushless power tools because they are uniquely designed to meet the demands of these motors.
Why Ronix Brushless Technology?
If you want to remain in the tools business, you need to count on a power tool supplier who provides you with the most up-to-date tools and machines, including the power tools with brushless technology, to help you run a beneficent business. Ronix brushless technology is the right option for you when importing power tools from China. 
In addition to the official and authorized manufacturers, approved resellers should be considered for the best sales price. Sure, going to official resellers is good if you only need a couple of chainsaws or cordless power tools. However, if you want your company to be sustainable, you must look beyond local resellers. So, Ronix brushless technology, involving all the power tools, Ronix is again the best option for the ones who look for top-quality brushless power tools with reasonable prices.
As a tool retailer, you would like to import China tools that have been manufactured based on new technology development and innovation, such as brushless technology.
Furthermore, since the consistency of the tools you offer has a significant impact on your bottom line and the credibility of your tool shop, the reputability of China tools is critical when you decide to import tools with Ronix brushless technology.
Thanks to the improved quality of their tools and the progress gained by Ronix, today Ronix brushless power tools are able to compete with many products of the world's leading tool brands. In addition to the durability considerations that Ronix has applied, the affordability of tools with Ronix brushless technology has become a key feature for the compatibility of Ronix products.
Ronix tools company is a good option for retailers who aim to import brushless power tools from China. The company was founded in 2004 with the aim of developing innovative hand and power tools. Ronix has ever since made many efforts to find its rightful place among all the famous brands that manufacture tools around the world. Today, Ronix, with more than 2000 various items, including tools and accessories, is also providing retailers and power tool users throughout the world with Ronix brushless technology. 
In Summery
Brushless power tools are the innovated products manufactured by many tool producers worldwide in recent years. China tools have the world's most remarkable capacity for importing brushless power tools as China is the world's second-largest tool exporter. Ronix is a leading tools company that is considered a reliable tool manufacturer and can supply all the retailers and tool users with Ronix brushless technology.