Ronix News
Ronix Offers Its Brushless Power Tools, As the Best Option for Tools Wholesale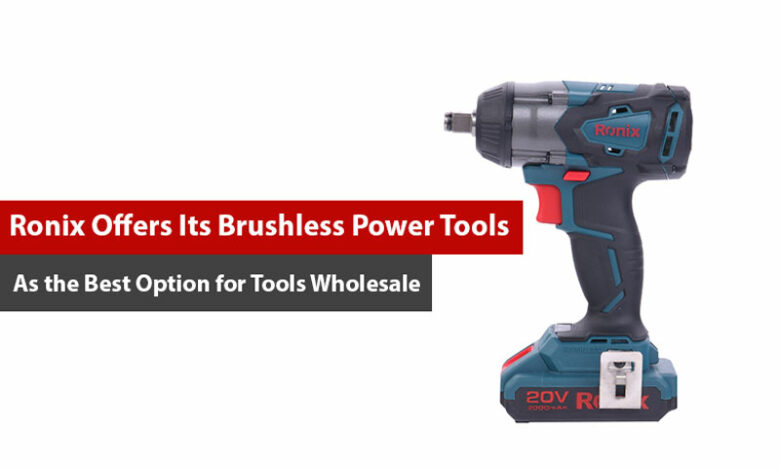 The function of a drill motor is to transform electrical energy into mechanical motion. There are many motors on the market that can handle a wide range of applications and power requirements. Brushless and brushed motors are the two most popular types of motors. Their structure and efficiency vary greatly, even though they are designed with the same physical principles.
Tools with brushless motors are becoming increasingly popular among DIY, professional users, and tools wholesale companies for marketing reasons, and this is not new. It's important to look back to Mr. Ernst Werner von Siemens' inventions in 1856 to grasp how this new technology of brushless motors emerged. The inventions have experienced a series of improvements over the decades; one of these improvements was a rheostat for precisely regulating the shaft's rotational speed.
The brushless motors became popular in the early 1960s when a power dimmer with the ability to convert alternating current (AC) to direct current (DC) was introduced. The units were equipped with magnetism-based technology that was then balanced by an electric battery. The absence of a switch to transmit current was a major improvement in the brushless motor's design, and most tool wholesale companies manufacture these types of power tools since they sell more than brushed tools.
The brushless motor, on the other hand, did not gain fame until the 1980s. Permanent magnets and high-voltage transistors have made it possible for this kind of motor to generate the same amount of power as brushed motors. For the past three decades, brushless motors improvements didn't decrease.  As a result, tool manufacturers and tool wholesale companies are now offering more reliable power tools. As a result, customers benefit from key advantages such as increased variety and lower maintenance costs.
Brushed or Brushless Motors? What are the differences?
The rotor (machine's rotating part) is driven within the stator in a conventional electric motor. The collector or commutator, which is in contact with carbon brushes, connects the rotor and stator. The rotor in motors with brushless technology is made up of magnets, while the stator is made up of coils that are alternately charged positively or negatively. As a result, the poles draw and repel each other, causing the motor to rotate. The benefit is that the rotor and stator do not make any physical contacts. Electromagnets use magnetism to transfer energy from one to the other.
The motor is powered by direct current and runs on an alternating current produced by an electronic card that converts the direct current into three-phase variable frequency. As a result, the coils are alternately fed, resulting in a rotating field and hence rotation. The electronic module, which is either built into the motor or housed in a housing, continuously controls the current to ensure that the motor runs at optimum efficiency. As a result, average efficiency increases, and you get more value for the money.
Tools wholesale companies are currently manufacturing brushless tools and exporting them to other countries. Ronix Tools company is one of the well-known tool whole companies that is exporting its tools to more than 80 countries worldwide.
Brushed or Brushless Motors? Which is better?
In summary, brushless motors outperform brushed motors. Users will benefit from lower maintenance, improved performance, and decreased heat and noise when using tools with brushless motors. Brushless motors use one or several permanent magnets and are synchronous. Brushless motor power tools are now called high-end products.
Ronix Introduces Its Brushless Power Tools as 89 Series
Ronix, one of the best tools wholesale companies, just like other well-known brands such as Metabo, Dewalt, Bosch, etc., has used brushless motors in its brand-new series of 20V Lasting Tools. Ronix is well aware that the friction and heat will decrease in a tool if the motor is brushless, and as a result, the tool will last for a longer period. Due to the mentioned benefits, Ronix has introduced a set of brushless mini angle grinders, die grinders, impact drills, screwdrivers, impact wrenches, rotary hammers, blowers, hedge trimmers, and grass trimmers to the market, all working with a single battery. Imagine working with a single battery that can do everything: sawing, drilling, trimming, polishing, and so on. These new compatible batteries will, in turn, improve not only performance but also save time and space. As a result, you can quickly charge your tools once and get hundreds of jobs done with only one battery that matches all tools. As Ronix, one of the top tools wholesale companies respects its customers; it has provided them with this Ronix 89 series that gives them more flexibility and saves their time and money.
This long-lasting series of brushless tools are equipped with two efficient batteries: one 20V battery pack, 2.0AH Li-ion Battery, and one 20V battery pack, 4.0AH Li-ion Battery. If you need to work for a long time, the 20V 4.0Ah battery pack is the right choice since it provides power to the tools for longer periods. Otherwise, if working with the tools does not take a long time, the 20V battery pack with a 2.0Ah Li-ion battery is a better choice. Additionally, there are three other chargers for Ronix cordless tools in the 89 series, allowing you to charge the batteries for various purposes. These chargers are 20V fast chargers with three different outputs that are 22V 2.2A, 22V 4.5A, 22V 4.5A(Dual Model).
As the demand for tools wholesale and specifically cordless tools has grown in recent years, tool manufacturers are focusing more on these types of tools and introducing revolutionary products like Ronix cordless tools 89 series, which allow you to charge a battery once and work with all of your needed tools, including those you often use.