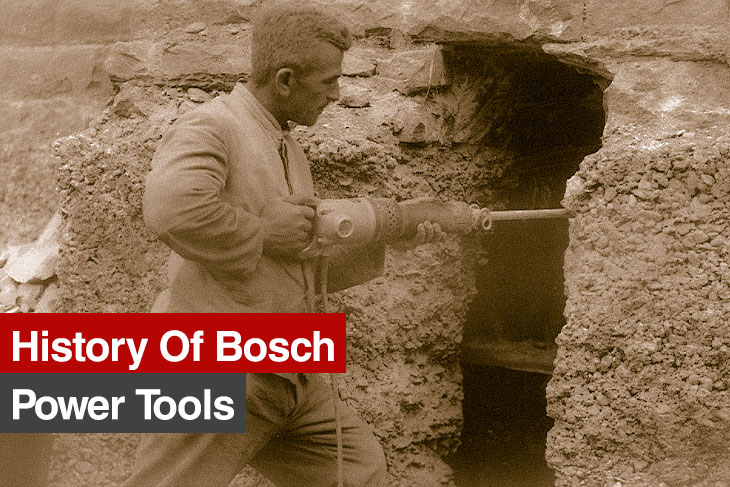 Do you want to know how Robert Bosch started his company and managed to create an innovative and large company? In this article we are taking a look at how Robert Bosch (the founder of Bosch company) managed to start a business and became successful in many areas, including power tools.
This is how Bosch did it!
Visit this page: power tools company
1886–1920 –Early Years
The history of the company started in a backyard in Stuttgart-West as the Werkstätte für Feinmechanik und Elektrotechnik (Workshop for Precision Mechanics and Electrical Engineering) on 15 November 1886. One year later, Bosch presented the first low voltage magneto for gas engines.
From 1897, Bosch started installing better-designed magneto ignition devices into automobiles and became the only supplier of a truly reliable ignition within the industry. In 1902, the chief engineer at Bosch, Gottlob Honold, unveiled the high-voltage magneto ignition system with spark plug. This product paved the way for Bosch to become a leading automotive supplier.
The first factory was opened by Bosch in Stuttgart in 1901. In 1906, the company produced its 100,000th magneto. In the same year, Bosch introduced the 8-hours day for workers. In 1910, the Feuerbach plant was founded and built close to Stuttgart. In this factory, Bosch started to produce headlights in 1913. In 1917, Bosch was transformed into a corporation.
1920-1945-During World War II
In 1926, Bosch started to produce windshield wipers, and in 1927, injection pumps for diesel. Bosch bought the gas appliances production from Junkers & Co. in 1932. In the same year, the company developed its first power drill and presented its first car radio.
As early as the end of 1933, negotiations between ROBERT BOSCH AG and the National Socialists began on relocating parts of armaments production to the interior of Germany. Bosch founded two such alternative plants in 1935 and 1937: Dreilinden Maschinenbau GmbH in Kleinmachnow near Berlin and Elektro- und Feinmechanische Industrie GmbH (later Trillke-Werke GmbH) in Hildesheim. Both plants were used exclusively for armaments production. These "shadow factories" were built under great secrecy and in close cooperation with the Nazi authorities. In 1937, Bosch AG became a limited liability company (GmbH).
The Bosch subsidiary Dreilinden Maschinenbau GmbH (DLMG) in Kleinmachnow employed around 5,000 people, more than half of whom were forced laborers, prisoners of war, and female concentration camp prisoners, including many women from the Warsaw Uprising. They had to produce accessories for German Luftwaffe aircraft. In Hildesheim, a secret plant for the entire electrical equipment of tanks, tractors, and trucks of the Wehrmacht was built. During the Second World War, a total of 2,711 people who had been deported to Germany from the occupied countries had to work at the Bosch plant in Hildesheim.
In the last years of the war, no new German tank ever drove without the starter elements from the Bosch factory in Hildesheim. Bosch also had a monopoly position in the outfitting of German Luftwaffe aircraft.
During the war, production was further decentralized, Bosch produced in an even larger number of factories, and relocated parts of its production to 213 plants in more than 100 locations.
On 12 March 1942, the company's founder, Robert Bosch, died at the age of 80.
Angela Martin and Ewa Czerwiakowski interviewed numerous former forced laborers and concentration camp prisoners of Dreilinden Maschinenbau GmbH and Trillke-Werke as part of a Berliner Geschichtswerkstatt project, researched the history of the two shadow factories, and published several books and exhibitions on the subject. In 2016, they published the website z.B. Bosch. Zwangsarbeit im Hildesheimer Wald.
Until 2000
After the second world war, Bosch established a partnership with the Japanese company Denso.
In 1964, Robert Bosch Stiftung was founded. Bosch founded a new development center in Schwieberdingen in 1968, and the headquarters moved to Gerlingen in 1970.
In 1981, the company participated on an equity basis in the Telefonbau & Normalzeit GmbH that was renamed Telenorma in 1985, and acquired completely in 1987. In 1994, this part of the company was renamed as Bosch Telecom GmbH.
The most relevant inventions of the company until 2000 were the oxygen sensor (1976), the electric motor control (1979), the traction control system (1986), the xenon light for cars (1991), the electronic stability control (1995), the common rail direct fuel injection (1997), and the direct fuel injection (2000).
In 2000, Bosch sold the Private Networks area (nowadays, Tenovis and Avaya, respectively).
21st century
In 2001, Bosch acquired the Mannesmann Rexroth AG, which they later renamed to Bosch Rexroth AG. In the same year, the company opened a new testing center in Vaitoudden, close to Arjeplog in north Sweden. A new developing center in Abstatt, Germany followed in 2004.
In 2002, Bosch acquired Philips CSI, which at the time was manufacturing a broad range of professional communication and security products and systems including CCTV, congress and public address systems.
Important inventions in these years were the electric hydraulic brake in 2001, the common rail fuel injection with piezo-injectors, the digital car radio with a disc drive, and the cordless screwdriver with a lithium-ion battery in 2003.
Bosch received the Deutsche Zukunftspreis (German Future Prize) from the German president in 2005 and 2008. A new development center was planned in 2008 in Renningen. In 2014, the first departments moved to the new center, while the remaining departments followed in 2015.
In 2006, Bosch acquired Telex Communications and Electro-Voice.
In 2009, Bosch invested about 3.6 billion Euro in development and research. Approximately 3900 patents are published per year. In addition to increasing energy efficiency by employing renewable energies, the company plans to invest into new areas such as biomedical engineering.
Bosch Power Tools
Bosch Power Tools division is a supplier of power tools, power-tool accessories, and measuring technology. In addition to power tools such as hammer drills, cordless screwdrivers, and jigsaws, its extensive product portfolio also includes gardening equipment such as lawnmowers, hedge trimmers, and high-pressure cleaners. One of the division's focal points is convenient, high-performance cordless tools, and increasingly also web-enabled tools and services.
Bosch Batteries
Bosch Power Tools launched the first cordless power tools on the market 50 years ago: a hedge cutter and a drill with a battery to hang over the shoulder. The battery, a 12-volt lead-gel battery, nowadays reminds of a car battery and weighed a proud 5.5 kilograms in 1969 ‒ the hedge cutter was therefore ready for use for one whole hour. It was possible to cut a hedge around 20 meters long. Afterwards, the hedge cutter had to be charged for a period of between six and eight hours. Bosch thereby laid the foundation for the development of numerous cordless power tools.
Pioneer in battery development: First cordless power tools as early as 1969
Bosch consistently expanded its expertise in batteries and just under five years later, launched a grass shear, the first tool with an integrated battery for hobby gardeners. The grass shear had a cutting width of 80 millimeters and was able to cut lawn edges, small grass areas and ornamental bushes for around 45 minutes on a single charge. Bosch used a new battery cell technology for the first time: The grass shear was operated with a dry battery containing four nickel-cadmium cells. The main advantages of this battery: High energy density and a long lifetime. It could be recharged a hundred times. This was well received by the users: The cordless grass shear from Bosch led for the first time to the development of a market for cordless power and garden tools in Germany in 1974. The Business with cordless tools at Bosch picked up speed.
Bosch set the next milestone in 1984 with the world's first professional cordless hammer drill – the GBH 24 V. By bringing battery technology to the hammer drill, Bosch was able to meet the needs of professional users and continued to expand its position as a battery pioneer. The cordless hammer drill represented the only way to carry out certain work far away from power sockets, for example, during installation work in the revived prefabricated house construction industry. Scaffolders needed the cordless tool to drill holes in the wall high up while electricians required it to affix antennas and lightning conductors. The GBH 24V offered professionals the flexibility they needed while maintaining high performance and capacity. The basis for this was a dry battery containing 20 nickel-cadmium cells, whose internal resistance was more than one third lower than that in conventional batteries and thereby ensuring high level efficiency: With one battery charge, professionals were able to drill over 60 holes.
In 1998, a series of innovative cordless drill for professionals followed: two models with 14.4 and 12-volts ran on new cadmium-free battery cell technology. The battery packs made out of nickel metal hydride were considerably more compact and lighter than conventional nickel-cadmium batteries, and at the same time had more capacity. A 2.0 Ah battery with nickel metal hydride technology, for example, offered the same capacity as a 2.0 Ah battery with nickel-cadmium technology, but it was 20 percent lighter and around one third smaller.
In 2003, the world's first power tool with a lithium-ion battery revolutionized the market: the Ixo cordless screwdriver. Thanks to lithium-ion technology, which at that time was only known in mobile phones, the Ixo was always ready to use – without battery self-discharge or a memory effect: Most of the energy was therefore still available even after one year without use and without any losses during recharging. The battery cells were also up to 40 percent lighter than conventional nickel-cadmium cells: Weighing just 300 grams, the Ixo was a light-weight.
The batteries have become increasingly more compact and at the same time more powerful.
Related Article: Everything About Power Tools History
Refrence: https://www.bosch-presse.de