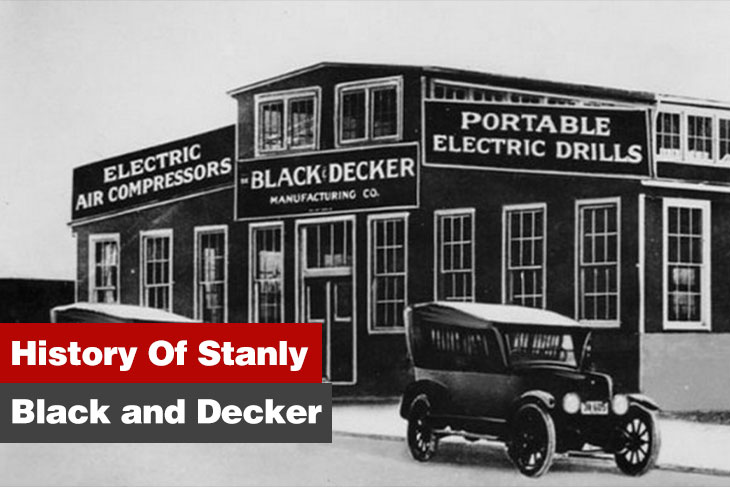 Stanley Black & Decker, Inc., formerly known as The Stanley Works, is a Fortune 500 American manufacturer of industrial tools and household hardware and provider of security products.
Stanley Black & Decker 175th Anniversary
History of the Stanley Tool Company
1943
Frederick Trenck Stanley founds The Stanley Works, a small factory making bolts and hinges.
---
1857
Frederick Stanley's cousin, Henry Stanley, founds the Stanley Rule & Level Company to manufacture measuring and layout tools.
---
1865
James Sargent and Halbert Greenleaf become partners and establish a manufacturing facility to make high-security locks for safes, vaults, and SCIFs.
---
1885

Charles Irwin patented the auger bit and formed the IRWIN Auger bit company.
---
1896

Thomas Briggs founds The Boston Stitch Wire Company (BOSTITCH®) to manufacture industrial staplers.
---
1907

Proto Tools is founded, making chisels and punches from the axles of Model T automobiles.
---
1910

S. Duncan Black & Alonzo G. Decker found Black & Decker in a small shop dedicated to manufacturing the world's first portable power tool.
---
1917

Black & Decker acquires patent for the pistol grip and trigger switch on its drill.
---
1918
Louis Moses founds the Société Franco-Américaine de Construction d'Outillage Mécanique (Franco-American Mechanics' Tool Production Company). It would subsequently be known by its initials: FACOM.
---
1920
The Stanley Works & The Stanley Rule & Level Company merge to become a powerhouse in both hand tools and hardware.
---
1924

Raymond E. DeWalt invents the radial arm saw and founds his namesake company DEWALT INDUSTRIAL TOOLS.
---
1927

The Craftsman trademark was registered by Sears.
---
1931
---
1933

CRC-Evans founded as a leading oil and gas pipeline contractor.
---
1938

The Mechanics Tools and Forge Company is founded to manufacture the finest tools in the world, and would become Mac Tools®.
---
1957

Black & Decker enters the outdoor market with the first electric lawn edgers and hedge trimmers designed for consumers.
---
1958

Weidemar cabinets begin manufacturing in the United States under the name Vidmar®.
---
1961

Black & Decker introduces the world's first cordless electric drill powered by nickel-cadmium cells.
---
1962
Black & Decker introduces the world's first cordless outdoor product, a cordless hedge trimmer.
---
1963

STANLEY® introduces the iconic PowerLock Tape Measure.
---
1964

Sonitrol® is founded, with an integrated audio sensor designed by a police officer.
---
1966

The Stanley Works is officially listed on the New York Stock Exchange as SWK.
---
if you intersted in this article, you may want to read related article here:
Related Article: Everything About Power Tools History