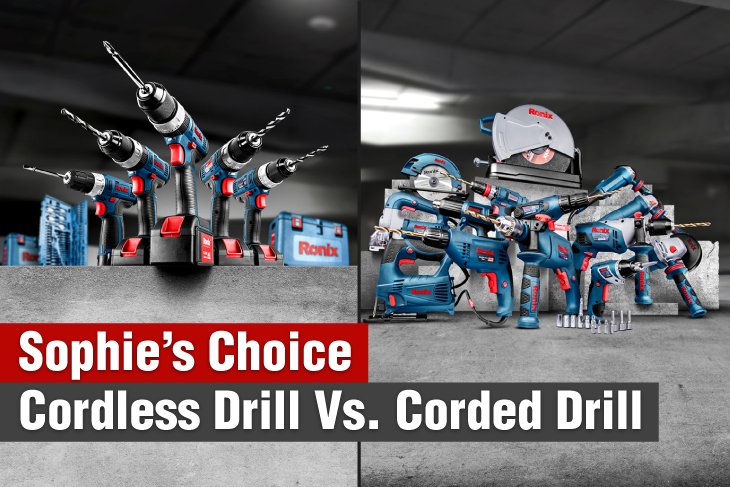 In the vast world of power tools, drills are the most important and sophisticated ones. When it comes to DIYs or when you are new to technical works, you don't need to buy your own set of tools from a simple plier to a heavy-duty electric saw, drills are your first and foremost partner to overcome all your personal needs. Two types of electric drills are currently available on the market to users, depending on their power sources, namely cordless/battery-powered and corded drills. Since the introduction of cordless drills this has become a challenging issue for Handymen, contractors and home owners for years which kind of drills to take; cordless or corded? That's the question! In past, cordless drills were not as popular as they are today because their capabilities were wrongly known and underestimated. Actually, the misconceptions were partly true, corded drills provide more power in comparison to last generation of cordless drills which were exclusively powered by NiCd (NiCad are the heaviest (and cheapest), NiMH sit in the middle and Li-Ion are the lightest (and most expensive)) batteries with their relatively low energy density. Unlike old cordless drills, modern ones bring the pleasure in your garage. All you need to do is place the long-life lithium battery and drill until the battery runs out of juice. In this article we discuss the case, considering the pros and cons, whether cordless or corded drills are best suited for you.
Cordless drills history
The history of today's cordless drills began a long time ago. In 1867 Emil Fein founded the company "Workshop for electrical and physical apparatus" (C. & E. Fein). In 1873 the company ATLAS COPCO was founded in the USA. Here, tools needed for the construction of the railways were manufactured. It was not until 1886 that Robert Bosch founded the company "Workshop for Precision Mechanics and Electrical Engineering. But it was not until 1898 that the first hand drill was developed by the Fein company, and it was not until then that it finally had an electric motor. But now things were happening all at once, and in the same year the company AEG, which is still known today, launched electric drills on the market. At that time, it was a sensation that this electric drill was also transportable.
Different criteria to compare corded and cordless drills
By evaluating the main purpose of a DRILL , you can come up with a more informed answer to the type of drill which helps you the most in terms of power, handling, chuck size (keyed or keyless) and type, brand, bits and other features.
Power
In a head-to-head comparison between a power-supported and a battery-supported mechanism, the result is blindingly obvious. Thanks to the minimum constant 110-volt power flow, cable drills prevail by far over their 12-, 16-, 18- or at most 20-volt rivals. Most of the current cordless drills work with a lithium-ion battery, which is estimated to last between 300 and 500 charge cycles. However, the numbers and especially the watt or voltage numbers will give you an overview of the functions a device has to offer, don't let them fool you. In general, the maximum output power depends on the size of the electric motor with which the drills are equipped. In a nutshell, watts and voltage are not necessarily the best unit to judge a drill. In buying a new power tool and particularly a new drill speed (measured in RPM) and torque (measured in N.M) take priorities over other performance-related criteria. Both cordless and corded drills are available here at Ronix, giving you a wide range of options in choosing the right tool according to price and need.
Size, handling and weight
Since they are not equipped with a bulky external battery, corded drills are not only a great advantage for durable tasks, but also on narrow and difficult to access jobsites where fat cordless devices do not fit. Drilling will be the hardest work of all if you have to drill overhead with a heavy drill bit. due to their less weight and mor ergonomic design, corded drills also provide a firm grip on the tool, which results in a desirable fatigue-free operation. Ronix follows ergonomic principles not only for cordless drills, but also for corded ones.
Portability and mobility
Portability and mobility are the point where cordless drills can tip the balance and beat the opponent. Not being bound or restricted by a power cord, which limits your freedom in small garages or workplaces, is obviously the massive advantage of cordless drills over corded ones. Since the device can be taken anywhere as long as a charged battery is connected, you don't have to worry about failures and interruptions in your operation.
Visit this page: power tools company
Lifespan
When you are at home not doing many installations and renovations take the corded drill. Most people say that the worst thing about a battery is to leave it unused for a long time. Of course, even with frequent use, batteries don't last forever – you can expect them to last several years, but not decades. The average estimated lifetime of batteries is at most 2 or 3 years, which means 300 to 500 charge cycles.
Multiple use of battery
An essential feature of batteries is their multiple use. They also fit into other machines, which frees you from the immediate need for a unique battery for each device and by reducing your expenses saves your pocket.
Conclusion
So, what is the conclusion – you choose cordless or corded?
Now we know the pros and cons of each type of drill, which can help us decide, whether cordless or corded ones suit us the most. While one type of drill offers more power, the other offers more comfort for the users. Now it's time to summarize all the information we pointed out in details before.
Corded drills:
Advantages:
Devices with cable can also be used for longer periods without any problems, and this without having to stop to recharge in between
They can perform more demanding work due to a higher wattage.
Due to the lack of battery this drill is less heavy in the hand.
Disadvantages
Where there is no suitable power source, it is not possible to use a wired machine.
Cordless drills:
Advantages:
Flexibility and the independence from power sockets – the battery technology offers some advantages, especially for mobile use on construction sites.
Some current devices already have the same performance as comparable wired models.
Disadvantages:
However, the disadvantage is the partly low capacity of the power storage units.
If you're looking for a drill not considering, cordless or corded, Ronix tools company offers you the tools of the best quality.