For more than 25 years, Ronix has been developing tools using the latest technology, to boost up efficiency and help users make the most out of their devices. From hand tools to power tools, all have been designed and invented to make life easier and to work much more precisely, flexibly, and safely. Since the beginning, the heart of our activities at Ronix is based on our five core values in which every value is essential and shapes the nature of our business: Diversity, Quality, Reasonable Pricing, Aftersales Services, and Professional Behavior.
Whether you are a professional construction worker or a DIY enthusiast, there is always the choice to purchase the normal type of the tool you are looking for; but why not going for the one with better and more practical features? That is what Ronix looks up to. Using direct user feedback, professional engineering analysis, and quality control, to develop innovative, high-quality tools that are designed to produce professional results in all fields of craftsmanship.
In the following article, we have brought up one of many Ronix tools with its unique feature and technology, just to give you convenient use and the best results.
Tiny Monster
Advances in technology have changed power tools, and absolutely angle grinders capabilities in an extent that is not comparable with what they were before. In this regard, there is a tough competition among power tool producers to develop their products in a way that can suit all the user's needs. Ronix is one of the leading hand tool and power tool suppliers that always surprise its users with its spectacular innovations and novelties. With the growing use of metals and different types of stones, ceramics and even concretes, the need for powerful, lightweight power tools like angle grinders are becoming vital in everyday works. Indeed, angle grinder is one of the most versatile power tools in every professional user's tools collection. This multifunctional power tool can be used for different tasks including cutting, grinding, sharpening, removing and trimming excess materials, and even sanding and polishing. No doubt that there are just a few power tools that can be able to do a wide range of various tasks by itself like what an angle grinder does. Ronix 3110 Mini Angle Grinder is a light-weight powerful tool suitable for both industrial and DIY applications.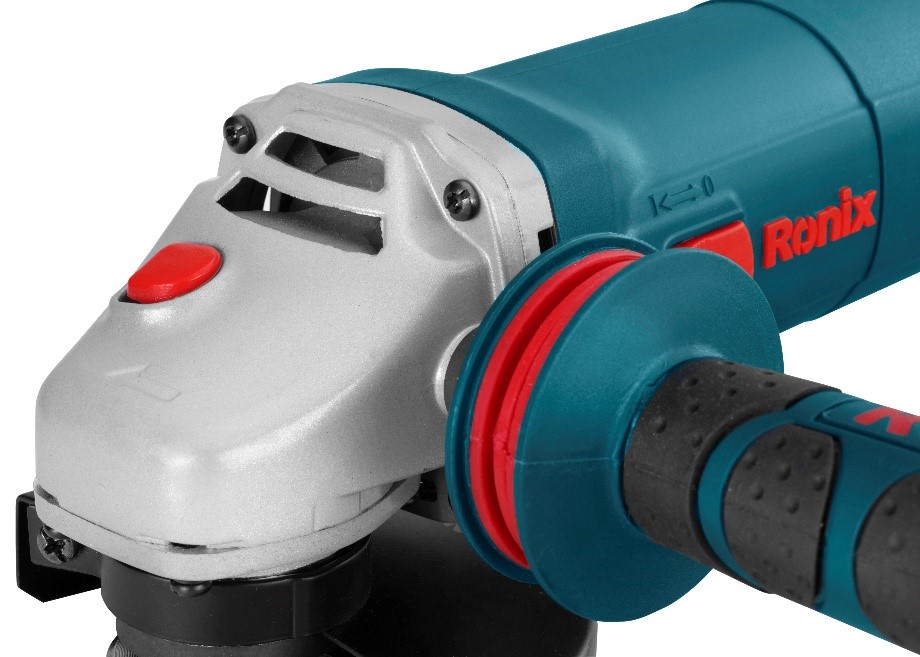 The worker perspires under his safety goggles while holding an angle grinder in his gloved hands. He tries to smooth the bumps on the welded seams. The vibrations and exhausting weight of the tool makes the work harder and harder. That is where you can find Ronix 3110 Mini Angle Grinder technological superiorities much beyond the ordinary angle grinders. Heavy-duty 880W powerful motor of this handy power tool delivers up to 11000 RPM no-load speed while it's just 2.2kg. This incredible power-to-weight ratio comes into focus when you use this power tool for longer periods of time. Also, the auxiliary Ronix-design handle of 3110 mini angle grinder helps the operators to use the tool effectively for different applications and minimizes the fatigue. The superiority of Ronix 3110 Mini Angle Grinder does not score points only for its light weight and efficient motor, but for its special consideration on producing cost-effective tools with longer service life. To get this goal, Ronix 3110 Mini Angle Grinder puts high quality epoxy-coated field windings into service to ensure longer life-time of the motor by preventing dust and small pieces from penetrating into the motor windings. By the way, a direct air flow system is prepared for cooling the motor in industrial applications.
Related Article : The history of angle grinders
What makes an angle grinder special and versatile is their ability to handle different wheels and accessories. You can find a wide variety of angle grinders; each is designed for different usages. Ronix 3110 Mini Angle Grinder is ideal for DIY and small scale industrial applications. Angle grinders can perform three basic functions: grinding, cutting and polishing. One of the most spectacular advantages of Ronix 3110 Mini Angle Grinder is its capability to work in high speeds. In spite of the larger angle grinders which work in low speeds, this mini angle grinder's high speed makes it suitable for both cutting and polishing purposes. To suit all needs of the users, Ronix provides professional high-quality wheels to use with angle grinders for different uses. 3110 mini angle grinder can be used with different 115mm discs including steel cutting discs and even ceramic or granite cutting discs. In the following you can find a list of Ronix professional cutting discs that is suitable to use with 3110 mini angle grinder:
RH-3723 with 115mm diameter, 22.2mm arbor, 3mm segment is perfect for steel cutting.
RH-3741 has a 115mm wheel diameter, 22.2mm arbor, 1mm segment. These features can make Ronix-3521 perfect for INOX cutting.
RH-3502 with its 115mm diameter, 22.2mm arbor, 10mm segment is quite tough to cut all granites and marbles.
RH-3507 with its 115mm diameter, 22.2mm arbor, 10mm segment is quite tough to cut all kind of ceramics.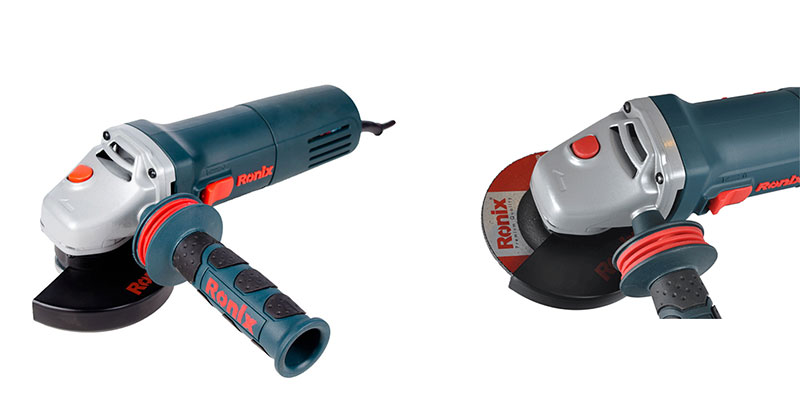 One of the things that needs serious attention during working with an angle grinder is the position of wheel guard. Ronix 3110 is designed in a way that you are able to change the position of wheel guard quickly which allows you to position the guard while working in different situations.
Mini Angle Grinder
Ronix 3110 Mini Angle Grinder is not just a tool, but a tool that sets you and your work apart from the rest. You are using or going to use this tool without thinking of how it could help you differently. But it's just a matter of time that shows how the unique features can make a huge difference during the process and also at the final results. Making the most out of your device is the purpose. To use the device itself and the special features can prevent damaging not just your tool, but also the workpiece. Longer lifetime, safer work, and more enjoyable time are the results of having a high-tech tool – at a worksite, in your garage or at home.
And always remember, you are good as the tools, equipment, and devices you use.