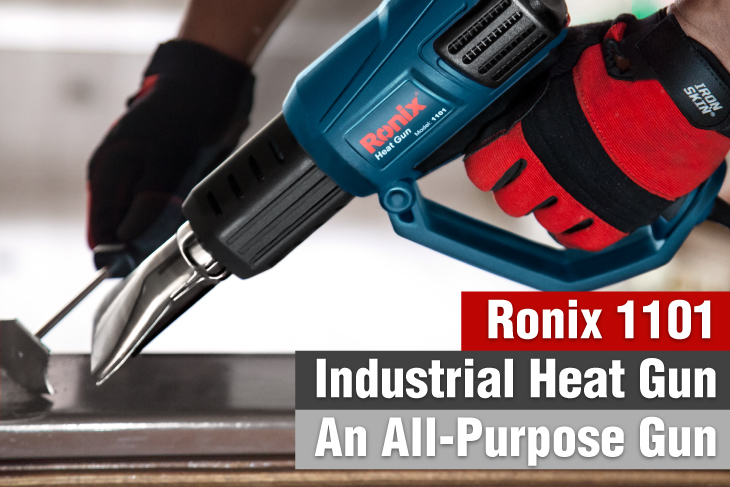 For more than 25 years, RONIX has been developing tools using the latest technology, to boost up efficiency and help users make the most out of their devices. From hand tools to power tools, all have been designed and invented to make life easier and to work much more precisely, flexibly, and safely. Since the beginning, the heart of our activities at Ronix is based on our five core values in which every value is essential and shapes the nature of our business: Diversity, Quality, Reasonable Pricing, Aftersales Services, and Professional Behavior.
Whether you are a professional construction worker or a DIY enthusiast, there is always the choice to purchase the normal type of the tool you are looking for; but why not going for the one with better and more practical features? That is what Ronix looks up to. Using direct user feedback, professional engineering analysis, and quality control, to develop innovative, high-quality tools that are designed to produce professional results in all fields of craftsmanship.
In the following article, we have brought up one of many Ronix tools with its unique feature and technology, just to give you convenient use and the best results.
The Simple Job of Heating!
Whether building a house, renovating, or simply doing handicrafts in your own workshop, a heat gun is one of the tools that you should have. Most jobs are easier with the right tools. For professional work results, however, the right tool is of course crucial. Every craftsman and ambitious do-it-yourselfer certainly knows about the advantages of a powerful heat gun. Ronix 1101 Industrial Heat Gun as a high-power industrial tool offers various technical advantages that are not comparable with any other heat gun. With this power tool you can easily remove paints and varnishes, bend plastic pipes, remove stickers, and much more. Even charcoal can be easily lighted with this heat gun. So, you see: a heat gun can do a lot of different tasks. In addition to a jigsaw, cordless screwdriver and drill, a heat gun simply belongs in every well-equipped workshop and is an essential power tool that you won't want to be without.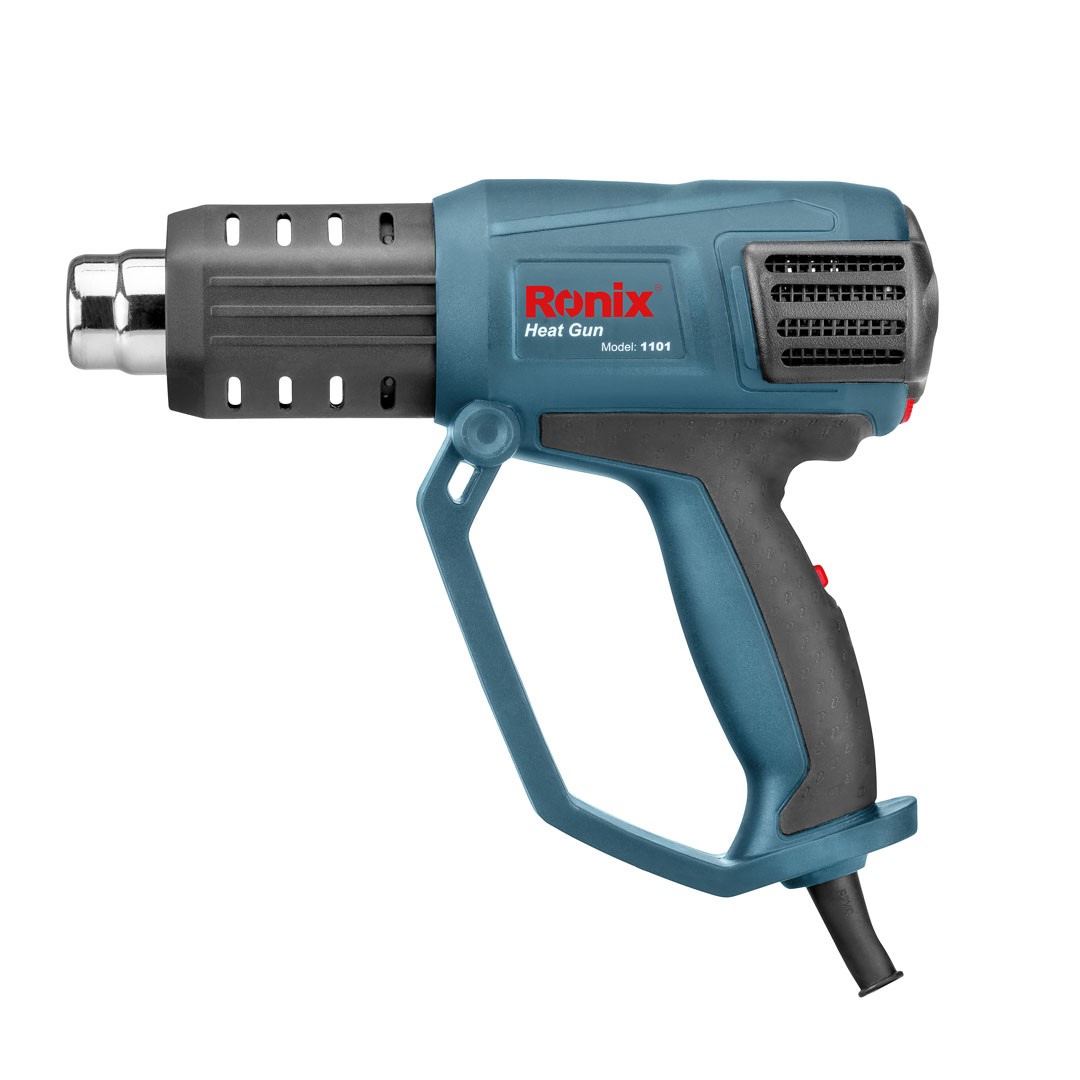 All heat guns have some essential parts: motor, a heating element and absolutely a fan. To draw the hot air, byproduct of the heating element, a fan is used which directs the produced heat through the nozzle of the tool. Yes, the construction of a heat gun is relatively that simple. In addition to heat guns' wide range of applications, this simple structure is another reason that they are usually among the most affordable power tools. The professional strong 2000W motor of Ronix 1101 Industrial Heat Gun is powerful enough to quickly heat up to 600℃ in a few seconds. Using this powerful motor enables you to easily adjust heat settings in 9 different temperatures ranging from 50°C to 600°C and 3 air flow speeds: 1st:250L/min, 2nd:250L/min, 3rd:500L/min. This is just one of the particular features of this handy tool to enable it to tackle different tasks. While most of the heat gun models on the market just have two or three fixed temperature adjustment settings, the advanced variable controls of Ronix 1101 Industrial Heat Gun, enable precise temperatures to be used in.
1101 heat gun is equipped with full ceramic heating elements for longer service life. Controlling the heat is not that easy and this is one of the other superiorities of Ronix 1101 Heat Gun; using constant heat control makes this power tool to be suitable for continuous work without overheating. Also, the high-quality ceramic used in the heating element can cool very fast and consequently brings optimum efficiency. Moreover, to increase the service life, this heat gun uses built-in overload protection system which shuts the heating element down and prevents burning up. Ronix 1101 Industrial Heat Gun designed in a way to be as light as possible. This ergonomic power tool with non-slip surface provides convenient handling. With the help of this ergonomic design and the handle with its non-slip surface, convenient gripping is the result in your hands.
Among other important features of this specialized industrial heat gun, we can mention the useful LED display, which provides visual data to see and adjust temperature. Although most of the heat guns don't have a tool case, the sturdy BMC case of Ronix 1101 Industrial Heat Gun, makes it quite easy to handle this power tool anywhere you want. By the way, this BMC case contains 5 nozzles in different sizes and a scraper tool. These nozzles are especially useful for shrink wrapping, epoxy resin, shrink tubing, crafts, cell phone repairs, paint removal, and electronics repairment.
Ronix 1101 Industrial Heat Gun is not just a tool, but a tool that sets you and your work apart from the rest. You are using or going to use this tool without thinking of how it could help you differently. But it's just a matter of time that shows how the unique features can make a huge difference during the process and also at the final results. Making the most out of your device is the purpose. To use the device itself and the special features can prevent damaging not just your tool, but also the workpiece. Longer lifetime, safer work, and more enjoyable time are the results of having a high-tech tool – at a worksite, in your garage or at home.
And always remember, you are good as the tools, equipment, and devices you use.
Visit this page: power tools company