It is a brand that has been around since the early 1920s. From its humble beginnings in Pennsylvania, it has grown into a global tool provider. Whether its construction, manufacturing or woodworking, DeWalt continues to create power and hand tools to help workers all across the globe finish their jobs in a timely manner.
How did this American staple grow into a power tool powerhouse? Where did it come from? How did it become what it is today? On this edition of Throwback Thursday, Tool Parts Direct takes a look at the history of DeWalt Tools!
Humble Beginnings
Following in his father's footsteps, Raymond E. DeWalt was born in Oakland, Pennsylvania on October 9th, 1885. He began his career in toolmaking at a young age. Since leaving school, DeWalt drifted from mill and construction jobs to other mill and construction jobs. No matter where he went, Reymond DeWalt was always concerned with high labor costs, but wanted to maintain high efficiency. DeWalt would usually try to rig a machine to help meet the needs of the moment.
Eventually, DeWalt was offered the head position at a woodworking mill that manufactured a range of items from boxes to full-fledged houses. Eventually, demand began to rise and the heads of the mill demanded more output from their workers. DeWalt tried to get more money to increase payroll, but the President of the company refused.
Feeling the pressure, DeWalt created a yoke and attached it directly to a motor and a saw. He then mounted it on a standard arm. The saw could be raised, lowered, slid back and forth, moved to any angle or tilted to any bevel. The saw cut down the work of four men and cut costs beyond his expectations. He then become the superintendent of Seabrook Farms in 1922. It was there that he perfected the first radial arm machine in order to provide more versatile woodworking operations.
The Founding of a Giant
After his success at the woodworking mill and Seabrook Farms, DeWalt started the DeWalt Product Company in 1924. Offices and plants were moved to Leola, Pennsylvania. It was there that DeWalt began to manufacture and market the DeWalt Wonder-Worker.
The Wonder Worker was a huge success and revolutionized the woodworking world. When it came to crosscutting, unlike table saws or band saws, the radial saw kept the stock in place on the table and the blade was pulled through. Table saws would rip stock and it was awkward for workers to push the stock into the saws. The Wonder Worker saved a lot of woodworking institutions time and money. By 1929, DeWalt Products moved to more modern facilities in Lancaster, Pennsylvania.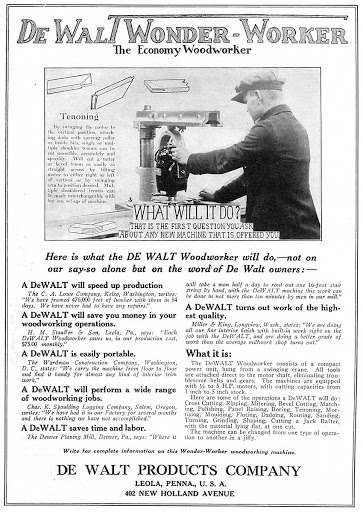 When World War II started, DeWalt shifted more towards war time needs until the war's conclusion in August of 1945. In 1947, DeWalt reorganized itself and re-incorporated itself as DeWalt Incorporated. DeWalt Inc. continued to prosper and in 1953, extended its operations into Canada. The company then increased its working space to 40,000 square feet at its facility in 1955.
In 1960, DeWalt was sold to Black and Decker and continues to be its subsidiary to this day. As technology continued to change, use of the radial saw declined. People started using miter saws which was more effective and much safer than its radial counterpart. DeWalt discontinued producing radial saws in 1989.
The Modern Era
In 1992, wanting to rebrand its image and increase its sales of its own power tools, Black and Decker rebranded its high-end power tools under the DeWalt name. In 1994, DeWalt revolutionized the industry again as it launched a number of cordless power tools. This included cordless drills, cordless saws, screwdrivers, impact drivers and much more. Black and Decker's profits increased dramatically and DeWalt continues to be one of the most popular brands in the world.
In 2005, DeWalt created shock absorbers for the tools, decreasing vibration on tools such as SDS Rotary Hammers which reduced vibration up to 50%. This was called SHOCKS – Active Vibration Control. It also introduced a line of lithium batteries, making cordless tools even more versatile.

Today, DeWalt continues to innovate and leave its mark on the power tools industry. As for Raymond DeWalt, he saw his company grow to new heights and enjoyed his success. He died in Mechanicsburg, Pennsylvania on May 8th, 1961. He was 76-years-old.
DeWalt is now a popular brand of tools for commercial contractors. In 2004, Black and Decker bought rival power tool manufacturer Porter-Cable and combined it with DeWalt in Jackson, Tennessee. In 2011, DeWalt launched a line of contractors' hand tools (including utility knives, pliers, adjustable wrenches, tape measures, saws, and hammers). In 2013, the line was expanded to include mechanics' tools (wrenches, ratchets, and sockets).
In December 2013, DeWalt issued a press release stating it would be bringing some assembly of a small selection of their products to the United States using globally manufactured parts from Brazil, China, the Czech Republic, Italy, Mexico, the United Kingdom, and the United States. The products assembled in the United States would be branded under the label, "Built in the USA with global materials."
As of 2015, DeWalt has seven manufacturing facilities building DeWalt branded products in the United States: New Britain, CT, Hampstead, MD, Shelbyville, KY, Greenfield, IN, Cheraw, SC, Charlotte, NC, and Jackson, TN. In April 2016, DeWalt created an Android powered smartphone designed for building industry workers. The device costs £379 ($544), is designed to survive a 2m drop onto concrete and can operate in temperatures ranging from −20C to 60C.
On September 1, 2016, DeWalt debuted an industry first hybrid voltage battery pack it branded "FLEXVOLT". The pack runs at either 20V (18V nominal) or 60V (54V nominal) depending upon whether it is placed into a 60V FlexVolt tool or one of their 20V Max tools. The pack switches between connecting the battery cells in series (60V, 2Ah) or parallel (20V, 6Ah) depending upon the activated pin configuration determined by the power tool.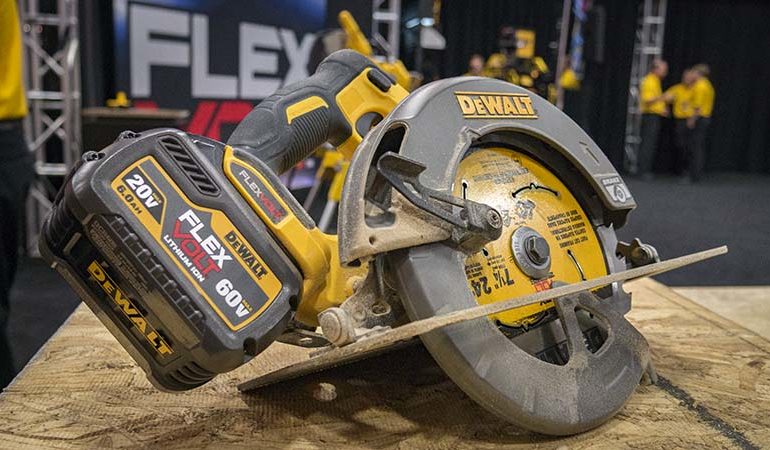 In May 2018, Dewalt released a line of cordless lawn mowers, that uses either their 20V or 60V batteries.
If you were interested in this article, you would love to read this article as well:
---
Related Article: Everything About Power Tools History
Refrence:Toolpart,https://en.wikipedia.org/wiki/DeWalt