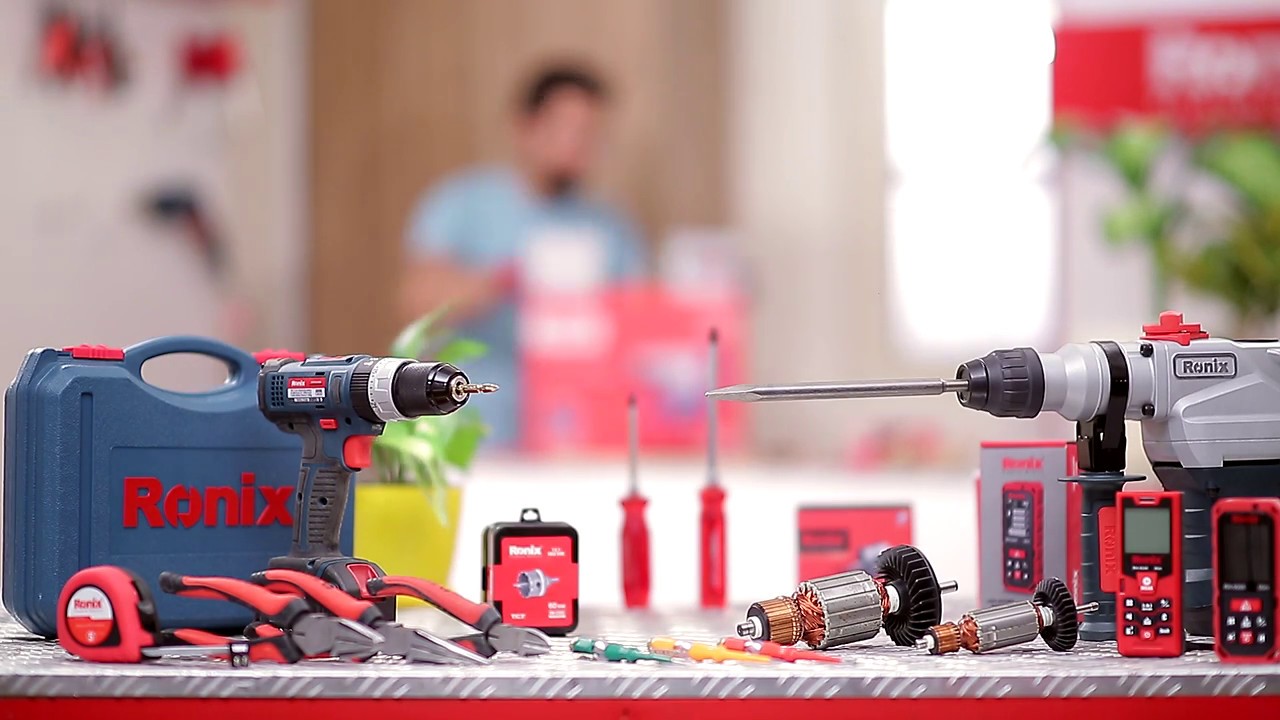 In case you are looking for a successful tool manufacturing brand, you are on the right website. Ronix offers a wide variety of hand tools and power tools with high quality and reasonable prices.
Ronix is a world-renowned manufacturer of technical instruments and computers. Ronix company was founded in 2004 with an innovative approach to manufacturing hand and power tools; since then, Ronix has worked hard to gain its rightful place among the world's most well-known tool manufacturers. Today, the Ronix brand is popular in international markets, with over 2000 different products that Ronix offers to tool customers, including the most varied tools and technical equipment. Since a wide range of customers, including manual workers, carpenters, technicians, mechanics, and electricians and all homeowners who may need a basic tool, will benefit from Ronix's impressive versatility, and this feature is a cornerstone for the Ronix brand.
What Happens in Ronix's Departments?
Each department at Ronix company works as a ring in a chain to accelerate the Ronix brand's progress, and these departments have been doing all they can to stay on track and achieve such a lasting reputation, as well as informing the world about Ronix equipment and tools and what products Ronix offers to the global tools industry.
ICT Department at Ronix
The Information and Communications Technology mission at Ronix company is to establish and maintain a high-quality and comprehensive technology system and provide quality, prompt, cost-effective, and trustworthy technology services.
Communication & Branding Department at Ronix
The Communication & Branding Department's main responsibility is to develop the brand, improve it, and do general branding. This department increases Ronix's exposure to the customers, and it uses proper market analysis to meet the demands of all users.
Supply Chain Department at Ronix
Ronix company has lowered existing or added costs in Ronix products, manufactured marketable Ronix products, and increased competition by establishing an efficient and effective supply chain.
DM Department at Ronix
To introduce the Ronix brand and build up innovative ways to push the limits of time and space and bind Ronix products to customers' needs, the Ronix brand has used modern methods such as digital and up-to-date marketing.
Sales Department at Ronix
The sales department is the link between Ronix's products and its clients. A well-trained sales team is capable of more than just selling. Ronix's sales department is split into two sections: domestic and international. Both sectors distribute Ronix products in different markets.
Process Planning and Control Department at Ronix
At Ronix company, process planning and control entails a collection of tools, processes, expertise, and perspectives that, when combined, provide the right information at the right time for the right decision.
Warehouse at Ronix
Controlling the daily operations of a warehouse, such as delivering the goods that Ronix offers to tool customers, as well as receiving, packing up, and arranging the equipment and accessories, is part of the warehouse management system at Ronix company.
Are Ronix Customers Satisfied?
One of Ronix's top priorities has always been customer satisfaction and support. They agree that trust in business is gained over time and that even a minor misunderstanding regarding your priorities will destroy all of your hard work. Any slight degradation of product, packaging, or presentation may result in a customer loss. So, if you want to gain your consumers' lengthy loyalty, you must demonstrate that you value their satisfaction