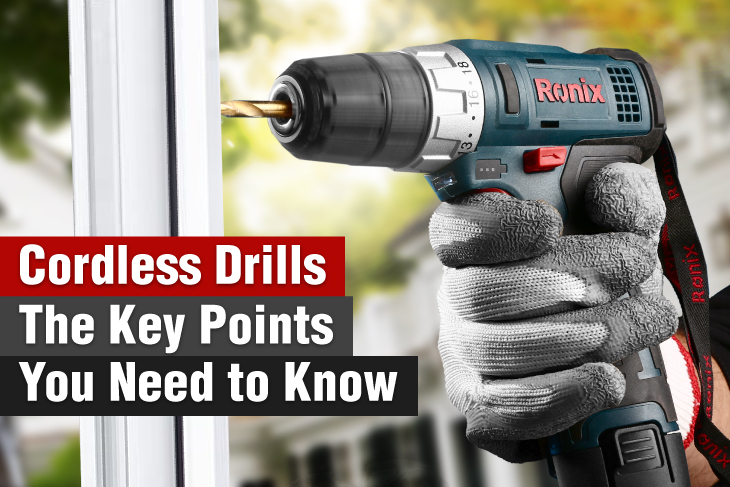 From building shelves to hanging up a mirror, or even attaching skirting boards – you need cordless drills everywhere. These are just some of the simple applications of the versatile battery drills. What should you pay attention to when working with a cordless drill and which device is the right one for which type of task? To make their work easier, most craftsmen use cordless drill-drivers; machines that are operated with a rechargeable battery independently of the power supply. In this article we explain which type of cordless drill is suitable for you, how to choose the correct chuck type and how bits and batteries differ. Since Ronix Cordless Drills & Screwdrivers are among the most popular and at the same time high-quality drills in the market, we want to introduce different features of a battery drill in this article using examples of this highly appreciated tool company. Ronix Cordless Drills can be used as part of the standard equipment of every ambitious do-it-yourselfer and is also increasingly used by professionals at the construction sites.
First Steps in Choosing the Right Cordless Drill
Cordless drill-drivers are available in a variety of versions that differ in their functionality. The term "cordless drill" is often generalized and used for several types. Two main types are introduced in the following paragraphs.
Drill-drivers
Cordless Drill-Drivers are the most popular. No wonder, because they combine a drill and a cordless screwdriver in one tool. Most devices like Ronix 8014 Cordless Drill have a two-speed built in gearbox: usually the slow gear is used for screwing and the fast gear is used for drilling. In order to be applicable for different types of screws, you can use different bits.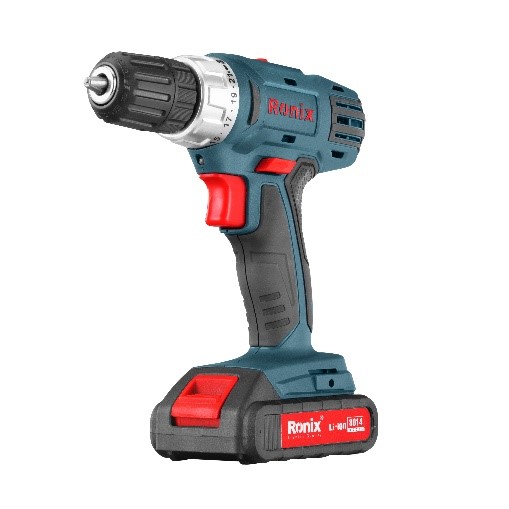 Also, Ronix 8014 Cordless Drill with its 14.4V motor can deliver 1350RPM no-load speed. To get the power suitable for conventional uses, drill-drivers should have a power of at least 10V to 15V – the more the better. For more professional usages and long-time tasks, you can get more powerful ones like Ronix 8018 Battery Drill which is applicable for heavy-duty tasks with its powerful 18V motor. To know more about this incredible cordless drill, you can see Ronix 8018 Battery Drill features and detailed description.
Combination Drills
Cordless Combination Drills can be used not only for simple screwing and drilling tasks, but they have an impact-drilling mode for harder materials such as concrete, brick, or even paving slabs. These kind of battery drills can deliver more force, thanks to their ribbed metal discs which move in and out against each other and push the bit forward with higher force. This mechanism enables drills like Ronix 8618 Cordless Combination Drill to be usable for concrete and similar hard surfaces. This 18V battery drill is a good example of an efficient cordless drill not just from the functionality perspective, but from other points of view like the battery type and security features.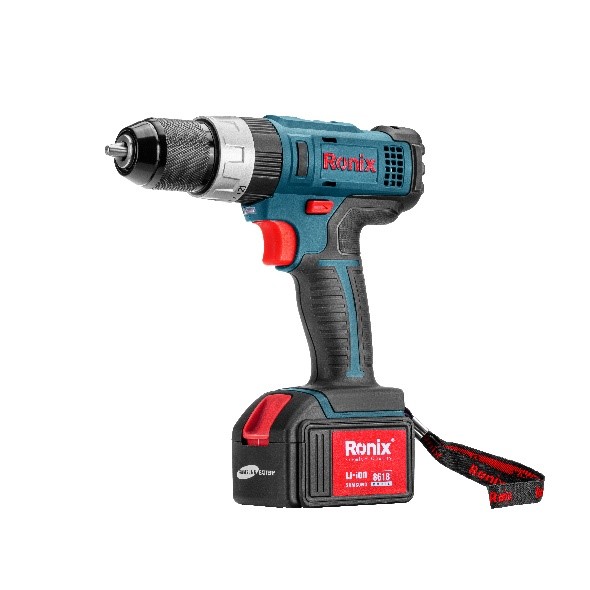 Once the right cordless drill type has been found, new questions arise again immediately: Do I need one or more batteries? What kind of chuck is better? It should be emphasized at this point of the article that the performance of the batteries is subject to constant use, which is also reflected in the operating time of the drill-driver. This is where modern lithium-ion batteries prove their worth. If your new cordless drill is also equipped with accessories such as a quick charger, the charging time is sometimes less than an hour, as tests on the high-quality Ronix 8614k Cordless Drill have confirmed.
Take a step-by-step approach to the cordless drill that meets your needs. The really large range of different manufacturers, types, and categories becomes gradually narrower through a clever approach. By the way, there are now well-known manufacturers like Ronix who offer special cordless drills usable even by women. A cordless drill for women is not always a device in a certain color, but rather it offers better handiness and lightness such as Ronix 8512 Cordless Drill which is just 1kg. After all, more and more women are giving a hand when it comes to renovating or beautifying their own homes.
You should actually differentiate very clearly which term you are using, since different functions are actually hidden behind the names. A real cordless screwdriver is just a device that takes over the work of a screwdriver with an electronic drive. If you also want to drill with a cordless screwdriver, you have to get a so-called cordless drill. Ronix offers a wide range of cordless drills; the company specializes in devices that can both screw and drill. The advantage of cordless drills is that they combine the function of a drill and a cordless screwdriver. Instead of storing several machines with similar functions in the workshop, you can save space with modern Ronix cordless drills. In addition, you only have to service and maintain one device.
Once you have got basic information about different types of cordless drills, you only have to choose between what feels like a hundred different models. Among other things, the voltage of a battery also plays an important role in the functionality. The more voltage a cordless drill has, the heavier the device is. Therefore, for home use, twelve volts are completely sufficient. If you use the drill regularly, it should be at least an 18 volts drill.
In general, it is important to look at the technical data before buying. For example, the higher the Newton meter (Nm), the more powerful the device is. The value of ampere hours (Ah) of the battery indicates how quickly the device discharges. Values ​​from 2.0 Ah are recommended. In order to don't need to take long breaks while working, most of the Ronix Cordless Drills come with an additional battery.
It's the Little Things That Count: Take the Chuck Seriously!
Anyone who not only wants to screw but also drill should invest in a keyless chuck. This allows the different drills to be changed quickly and easily. They are already part of the standard equipment in the collection of Ronix Cordless Drills. These efficient drills with their 10-millimeter keyless chuck are the best – even large-size bits can be used without any problems. In addition to a two-speed gearbox for heavy screwdriving work, Ronix Cordless Drills come in 2 different torque settings with 18-mode and 21-mode torque settings. In this way, screws can be screwed evenly into the workpiece.
Depending on which drill chuck you choose for your cordless drill, you can use different bits. If you work regularly with tools, such as a cordless drill-driver, or a drill you will know about the importance of the drill chuck for various applications. This is especially important if you already own various drilling and screwdriving kits. The most common drill chucks are listed below:
1) Keyed chuck
The bits are placed in the chuck, which is then can be tightened or loosened with a wrench. The wrench allows the bit to be tightened safely, but it is not very practical and you have to be very careful not to lose it.
2) Semi-automatic quick-release chuck
Two hands are required to operate a semi-automatic quick-release chuck. While one hand firmly grasps one part of the chuck, the other part is rotated with the other hand to tighten or loosen it.
3) Automatic quick-lock chuck
This is the most practical option, as it can be operated with just one hand, leaving the other free to hold the tool or accessory. There are different models of Ronix Cordless Drills equipped with full-automatic quick-lock chucks.
4) SDS chuck
This chuck system is only offered on impact drills and is only compatible with special SDS bits. These bits are very easy to fit. If you want to drill wood and metal with normal drill bits, you will need a special SDS + adapter.
5) Hexagonal connection
Cordless screwdrivers usually have a hexagonal magnetic connection. This hex connection for cordless impact drivers works a bit differently. The chuck must be pulled forward to position the accessory. The chuck can then be released. In neither case will you need additional tools to connect the accessories.
Regardless of the brand, the advantages and disadvantages of the tool-free drill chuck systems are listed below:
ADVANTAGES:
tools can be changed with one or two hands
no additional key is required
Apart from the SDS system, it is suitable for practically all tools
DISADVANTAGES:
often higher acquisition costs when replacement is needed
Depending on the system, attention must be paid to the diameter of the drill or screw attachment
Almost all devices have a right-left rotation to push the screw in or pull it out, but attention should be paid to the positioning of the switch. Ideally, it is located directly on the handle so that you can switch quickly; like what you can find in Ronix Cordless Drill. Also, these drills are equipped with a soft grip that increases comfort when working. Some of cordless drills like Ronix 8614K Cordless Drill have their own case for safe transport and storage. In this way, the accessories such as the charger, bits and drills or the operating instructions are never lost and are always accessible easily.
The Battery – the Heart of Every Cordless Drill
As different as the various cordless screwdrivers and drills are, they have one thing in common: Without a battery, it is not possible to screw and drill. Three different types of batteries are currently used in these tools: nickel-cadmium batteries (NiCd for short), nickel-metal hydride batteries (NiMH) and lithium-ion batteries (Li-Ion). The battery type of a cordless drill can be found either directly on the battery or in the data sheet or the operating instructions. In the following you can find a short description on each of these battery types, then it would be easy to understand why Ronix uses Li-Ion batteries in its cordless drills.
The power pack: the Li-Ion battery
Undoubtedly, the best batteries currently available are based on lithium-ion technology. They differ fundamentally from nickel-based batteries and, with a cell voltage of 3.6 volts, have a cell voltage three times higher than NiCd batteries. This means that fewer battery cells are required and the power tool is smaller and lighter or in other words more powerful for the same size. Ronix Drills' Lithium Ion batteries with up to 40 percent less weight than NiCd and NiMH batteries are ideally suited for continuous use. Due to their small size, Li-Ion batteries are mainly used where a lot of energy is required, but there is little space available for the battery.
With Li-Ion batteries there is usually no memory effect. They can be charged at any time without the charging capacity being reduced. Also, these batteries don't degrade when they are subjected to stress conditions. Even when partially discharging and charging, the performance and stamina of the Li-Ion battery are not reduced.
Visit this page: power tools company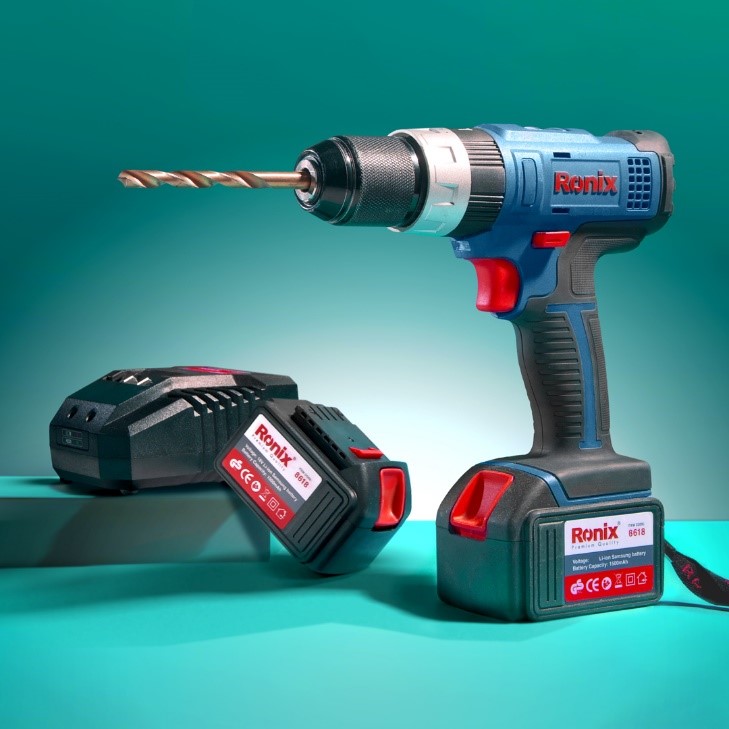 Low self-discharge SAMSUNG batteries of Ronix Cordless Drills when not in use for a long time (around one percent loss per month) ensure that these battery drills are always ready to use. Even if the battery is empty, there is no need to take a long break. It has already reached around 70 percent of its capacity after just 20 minutes of charging. As another advantage there are no heavy metals in Li-Ion cells, so they are environment friendly.
The all-rounder: the NiMH battery
Older digital cameras, electric toothbrushes or remote controls – nickel-metal hydride batteries are used in a wide variety of electronic devices. Cordless tools, especially cordless drills, are not exception.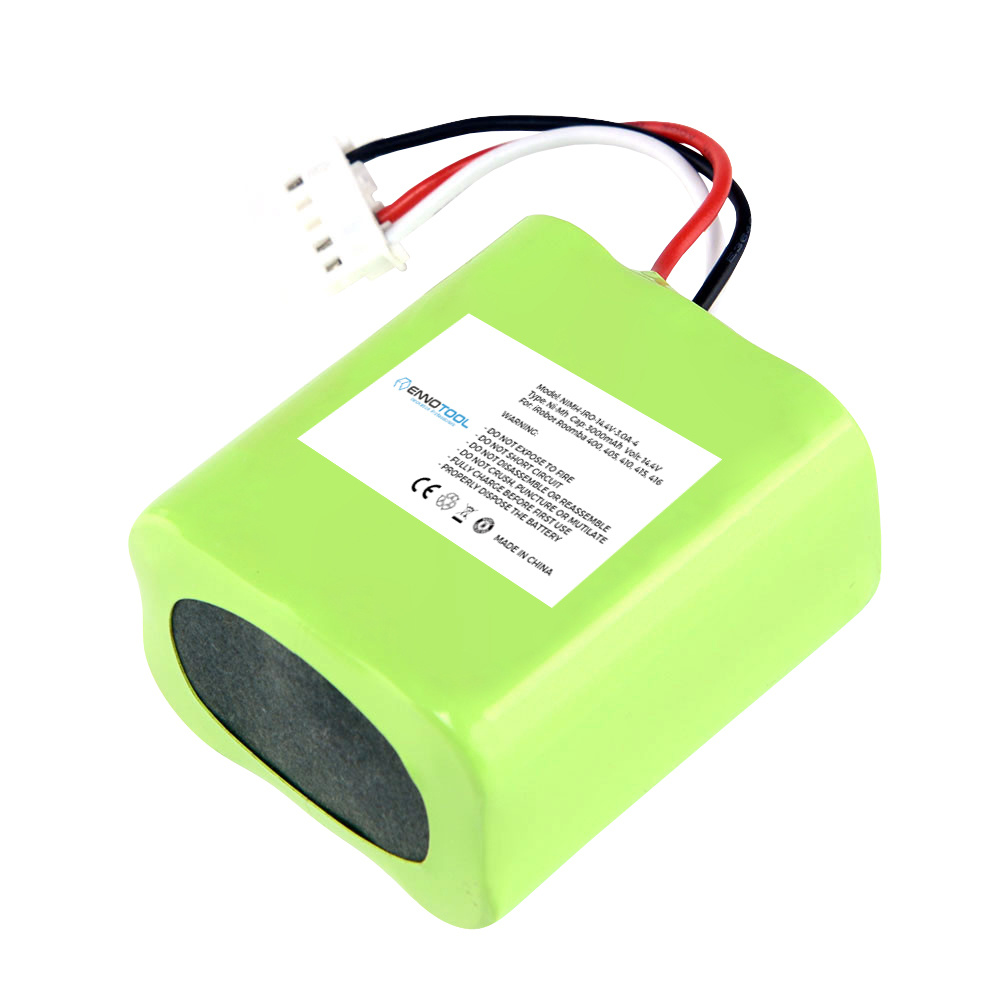 Their biggest advantage over Li-Ion batteries is the price – a battery of the same performance costs around half. In terms of performance, however, they are worse in all aspects. The battery degradation in extreme temperatures is a common problem in these batteries. If the NiMH batteries are never completely discharged, the performance of the cordless device can deteriorate. However, the effect can be eliminated by five complete charging and discharging processes with a suitable charger. Compared to NiCd batteries, NiMH batteries of the same size have about 50 percent more capacity.
The robust one: the NiCd battery
Nickel-cadmium batteries have been prohibited by law in some countries. Cordless power tools such as cordless screwdrivers or cordless drills are exception. They contain the toxic heavy metal cadmium and can therefore only be disposed separately using special collection systems.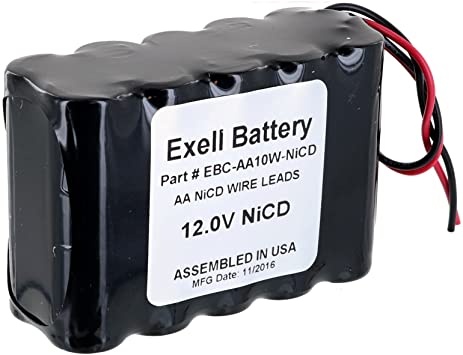 The great advantages of NiCd batteries compared to NiMH batteries are the significantly greater robustness against deep discharge and overcharging and the long service life with around 1500 charging cycles. They are also particularly suitable for use at very low temperatures. Even at temperatures below zero, they still have enough capacity to be able to use the devices. In addition to the environmental factor, the low capacity is against a NiCd battery. Compared to a NiMH battery, it is only about half the size, with a lithium-ion battery the difference is even clearer. In the following table you can find a complete comparison. Also, you can get detailed information about all types of cordless tools batteries in this article: Power Tool Batteries, the Ultimate Guide-power tool batteries
| | | | |
| --- | --- | --- | --- |
| Battery Type | Lithium-ion | nickel-metal hydride | nickel-cadmium |
| Abbreviation | Li-Ion | NiMH | NiCd |
| Energy density | 180 Wh / kg | 80 Wh / kg | 50 Wh / kg |
| Cell voltage | 3.6V | 1.2V | 1.2V |
| Charge cycles | 500-800 | 350-500 | 800-1500 |
| Self-discharge / month | 1-2% | 15-20% | 10-15% |
| Memory effect | No | No | Yes |
| Battery degradation in extreme temperatures | No | Yes | No |
In a nutshell, Ronix Cordless Drills are reliable tools for every use since they combine several functions in one device with their modern and high-quality designs. Depending on the model, the battery and the gearbox provide a performance that completely comparable with corded drills. Even with the smallest versions, which are only suitable for assembling furniture and similar tasks, the great advantage of is the independence from the power supply. Ronix Cordless Drills can be used flexibly and are almost essential for every workshop.