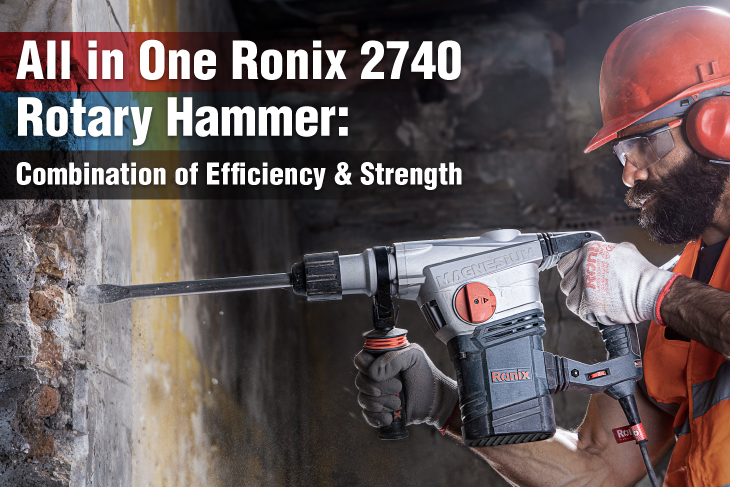 Tools Review
All in One Ronix 2740 Rotary Hammer: Combination of Efficiency & Strength
For more than 25 years, RONIX  has been developing tools using the latest technology, to boost up efficiency and help users make the most out of their devices. From hand tools to power tools, all were designed and invented to make life easier and to work much more precisely, flexibly and safely. Since the beginning, the heart of our activities at Ronix is based on our five core Values in which every value is essential and shapes the nature of our business: Diversity, Quality, Reasonable Pricing, Aftersales Services and Professional Behavior.
Whether you are a professional construction worker or a DIY enthusiast, there is always the choice to purchase the normal type of the tool you are looking for; but why not going for the one with better and more practical features? That is what Ronix looks up to. Using direct user feedback, professional engineering analysis and quality control, to develop innovative, high quality tools that are designed to produce professional results in all fields of craftmanship.
In the following article, we have brought up one of many Ronix tools with its unique feature and technology, just to give you convenient use and the best results.
A Rotary Hammer for All Seasons!
Choosing the right rotary hammer for your construction job or concrete demolishing is not that easy, considering the endless array of specialized tools claiming to be the best in their class. However, choosing the wrong one can be a waste of money or time.  So, in this article we introduce you with Ronix 2740 Rotary Hammer as an excellent choice for heavy-duty jobs and at the same time for precise applications. In spite of the fact that there is a sheer number of power tools designed specifically for drilling concrete and demolishing applications, there are just a handful rotary hammers that have the ability to deliver outstanding high power and demolition speed in combination with light weight and ergonomic design.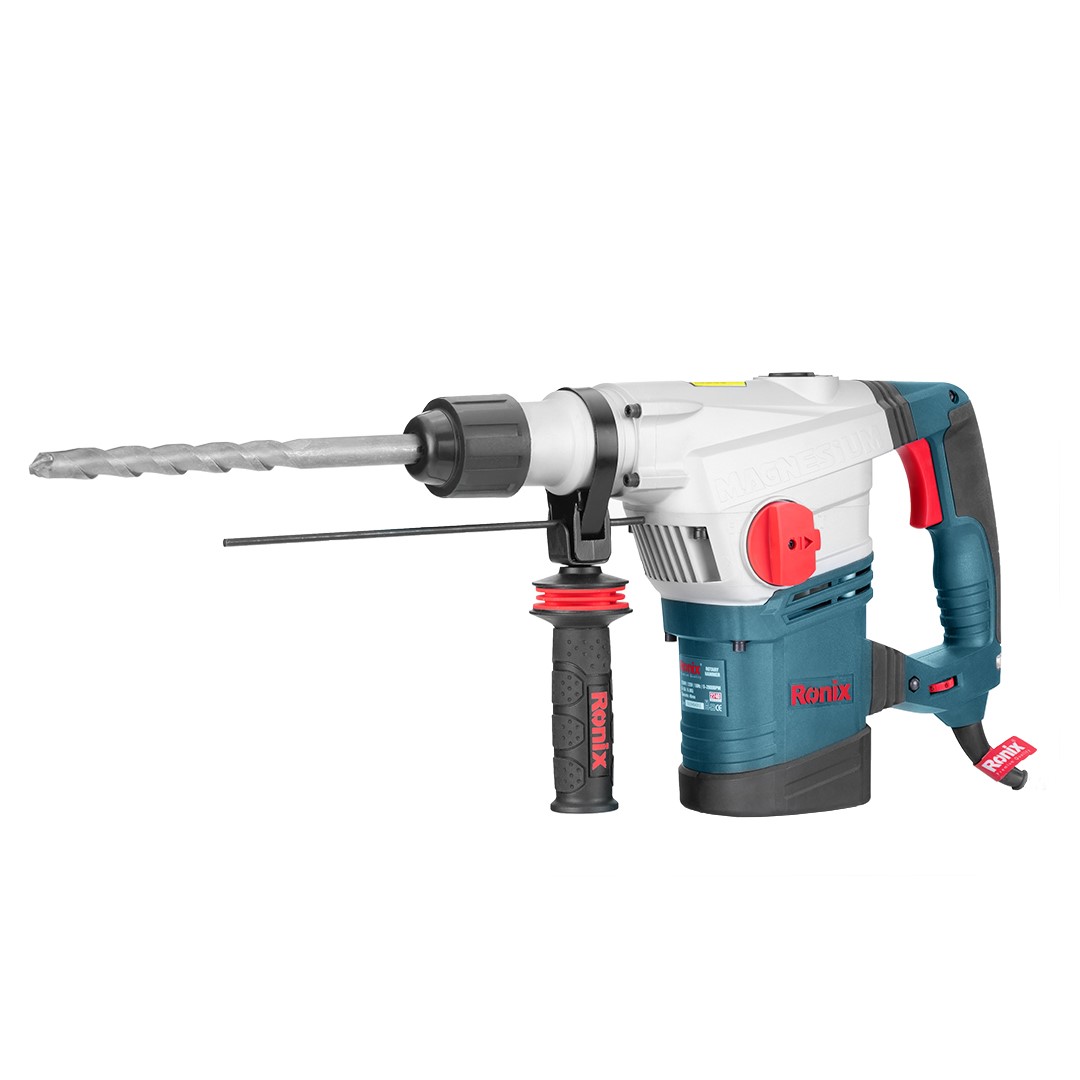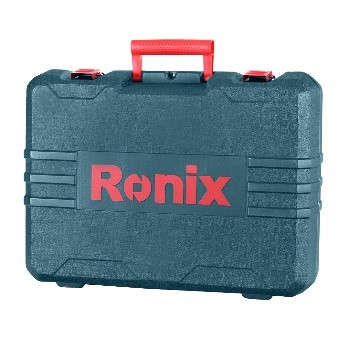 Anyone who wants to drill holes in hard materials will soon reach their limits with a classic impact drill. In order to master concrete and granite, it is better to use heavier equipment: Ronix 2740 Rotary Hammer with its powerful motor and powerful hammer mechanism designed to drill holes even in the toughest materials. In order to assure you to find everything you expect from a rotary hammer drill in Ronix 2740 at your workshops or construction sites, this power tool uses efficient 1250W motor. The extraordinary high-power motor of Ronix 2740 Rotary Hammer can be used in 2 different modes to be applicable for various applications: hammering and hammering with rotation. Protecting the essential parts of a power tool is not a simple duty, specially when you use your tool for heavy-duty applications like drilling or demolishing a concrete structure. It is very common to stop rotating when the chisel gets stuck in the workpiece, and absolutely this might have very disastrous consequences. But what if you use some advanced technologies like what Ronix provided in 2740 rotary hammer? Overload safety clutch system is the exact thing that you need in this situation. It is not only the overload safety clutch system that protects the armature, but also auto-stop carbon brush system is another efficient feature that makes this rotary hammer one of the best ones in heavy-duty rotary hammers class.
Demolition operations on different workpieces like concrete with different levels of density and rough stones need high quality pointed or flat chisel. But everyone knows that it's not just about the quality of the materials. Ronix 2740 Rotary Hammer Drill's unique chisel rotation system helps to adjust the hammering position and this means accuracy along with safety and power. This innovative unique chisel rotation system can be used in 12 positions; a capability that is so rare especially when you using a flat chisel. With the use of this spectacular chisel rotation system, Ronix brings better efficiency in chiseling function.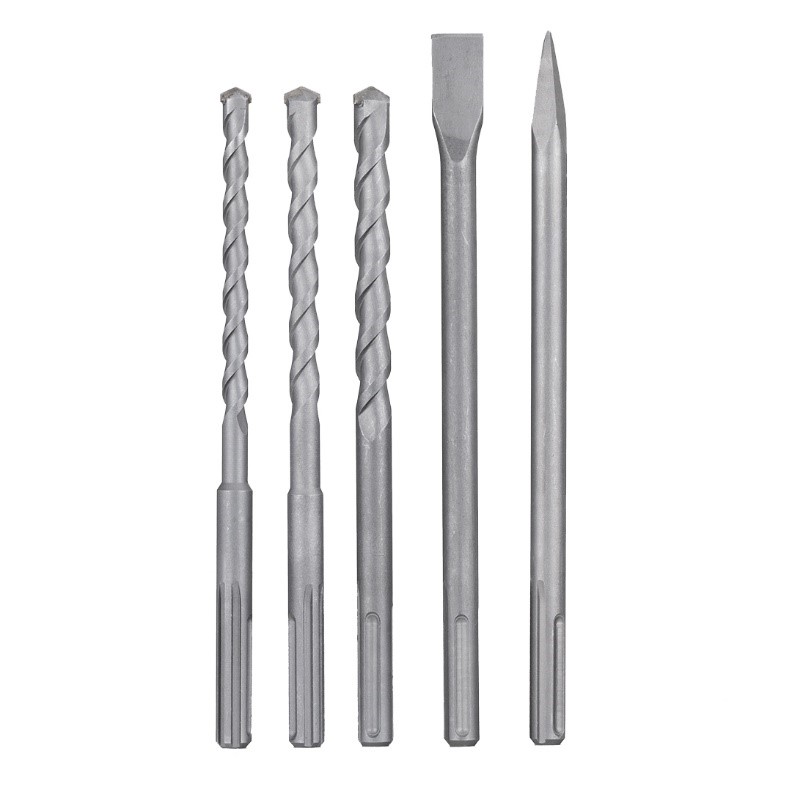 The material used in the body of a rotary hammer is one of the essential considerations. In continuous use on the construction site, the weight of the rotary hammer gets more importance than ever. 2740 rotary hammer is 6.8kg; one of the lightest ones in its class. This power to weight ratio enables the users to work in a more efficient way with less fatigue. The increasing heat always is a problem when you use a heavy-duty power tool for a long period continuously. When it comes to innovations and high-tech, Ronix is always among top power tool brands; this is the reason behind the superior heat dissipation of Ronix 2740 Rotary Hammer. Along with the superior heat dissipation, this great power tool's die-cast magnesium housing enables light weight and enhances body strength. The vibrations of the rotary hammer is another problem that makes using a heavy tool very difficult to work with. Again, Ronix with using its special technologies solves this problem. Double anti vibration system design specifically to reduce operator's fatigue. 360° anti-shock auxiliary Ronix-design handle provides a wide range of movement and a comfortable work condition for the operator.
The above-mentioned product is not just a tool, but a tool that sets you and your work apart from the rest. You are using or going to use this tool without thinking of how it could help you differently. But it's just a matter of time that shows how the unique features can make a huge different during the process and also at the final results. Making the most out of your device is the purpose. To use the device itself and the special features can prevent damaging not just your tool, but also the workpiece. Longer lifetime, safer work and more enjoyable time is the results of having a high-tech tool – at worksite, in your garage or at home.
And always remember, you are good as the tools, equipment and devices you use.