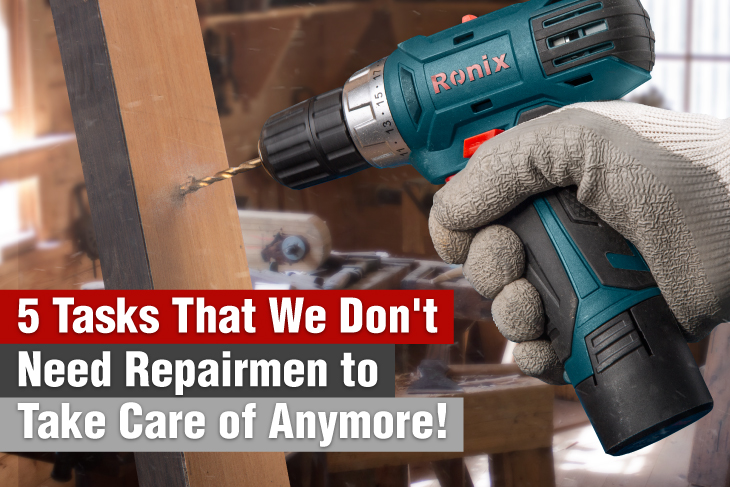 As you know, the cost of repairs is the biggest concern of homeowners. Weekends are ideal for DIY projects; there are many things you can do with your skill and interest. From carpentry to the best home repair and maintenance. There is a wide variety of activities that can always be fun to do at home. But if you do not have the right tools, it will be impossible for you to finish the job. That is why it is always recommended to have the essential tools in your toolbox, then it won't be difficult to do anything. In this article, we are going to introduce you everything about five must-have, useful, and practical tools that you may absolutely need for your DIY tasks at home. you will not be disappointed! If you want to learn more about these tools, follow this article to the end.
Why DIY?
Do-It-Yourself!
We are all familiar with the term Do-It-Yourself. DIY is a culture; A culture that encourages people to take action themselves.
Why not make my own home library? There is definitely a small guide about how to make a home library on the internet. Why not make pancakes at home? The recipe can be found everywhere. Why not make a beautiful vase with some beautiful flowers? Isn't it more fun than buying a ready-made vase? Why not make a scarf for me? Doesn't it feel good to make your own scarf?
If we were talking about DIY culture twenty or thirty years ago, listeners would be more concerned with making crafts and creating small household products.
But does DIY mean the same thing today? It seems that every day and every moment, the DIY fans are growing. DIY activities allow us to come up with ideas and creativity, these kinds of activities evoke a sense of life and pleasure in us.
Imagine that you are starting a new carpentry project for a part of your house that needs repairments; to get the job done you need tools! But don't worry, with all the basic items below you will have everything you need. For more information check here.
5 essential tasks for yourself
Do you need to nail a picture to the wall? Do you want to connect two pieces of wood to make a table? Or remove a nail from the wood? To do all these activities you may need a hammer.
The hammer is probably the most essential tool in your toolbox; it is one of the most practical, useful, and multifunctional tools on the whole list. If you need to hit or pull the nail out of anywhere, a hammer will be a must-have tool. While hammers seem simple, there are different types of hammers such as hammer drills, rotary hammer drills, hammer claws, etc.
Tightening or loosening screws, nuts, or bolts is probably one of the most important things you can do when working with wood and carpentry. A screwdriver is what you need to hold the pieces together and it gives you the confidence to get your projects and tasks done. Screwdrivers can sometimes be useful for connecting parts or separating them from any product. From small tools to large tools, screws are used everywhere, so having a screwdriver is completely vital in any situation. A screwdriver is a tool for repairing, tightening, loosening, or connecting and unscrewing two or three pieces together. Depending on different types of screws, different types of screwdrivers can be used. Ronix  offers different screwdrivers with different sizes, heads, functions, etc.
When a piece of metal, plastic, or wood is not attached to another piece, this will be done using bolts or nuts. You will not find a more useful tool for tightening bolts and nuts than a wrench. Wrenches are available in a variety of dimensions, sizes, and shapes, so they can be used with different bolts or nuts with different shapes and sizes. So, having one at home in your toolbox will be practical.

When you need to grab something well and it is not easy to use a wrench because that is too big for your job, you can get a pair of pliers. It works exactly like a wrench but it has a smaller design that makes it ideal for you to hold things with just one hand. Pliers can also be used for twisting, bending wires, and other things. These are always the smallest tools you can have in your tool collection. Hand pliers are the best tool for loosening very tight screws, pulling nails, or loosening the screws that are difficult to pull out. You can find different types of pliers for different tasks with different purposes. But the most common and useful pliers are: Leo pliers, combination pliers, locking pliers, etc.
When working at home, especially with woods or metals, proper measurements are essential to have an exact result. You do not want the furniture or the other things you make, look bad. That's why a tape measure is always useful and it is a crucial tool that you should have it in your toolbox. These tools are usually made of a thin sheet of colored metal that is visible for more accurate measurements. You can find tape measures in a variety of shapes and lengths; make sure you choose a model that fits your needs and meets all your expectations.

Being a DIY user helps you to save money and the environment. Making your things gives you your own and personal style and that makes you not to be like everyone else.